Fabulous Frugal Fashions for Women over 50 (and the rest of you, too!)
This post may contain affiliate links which won't change your price but will share some commission. Read more here.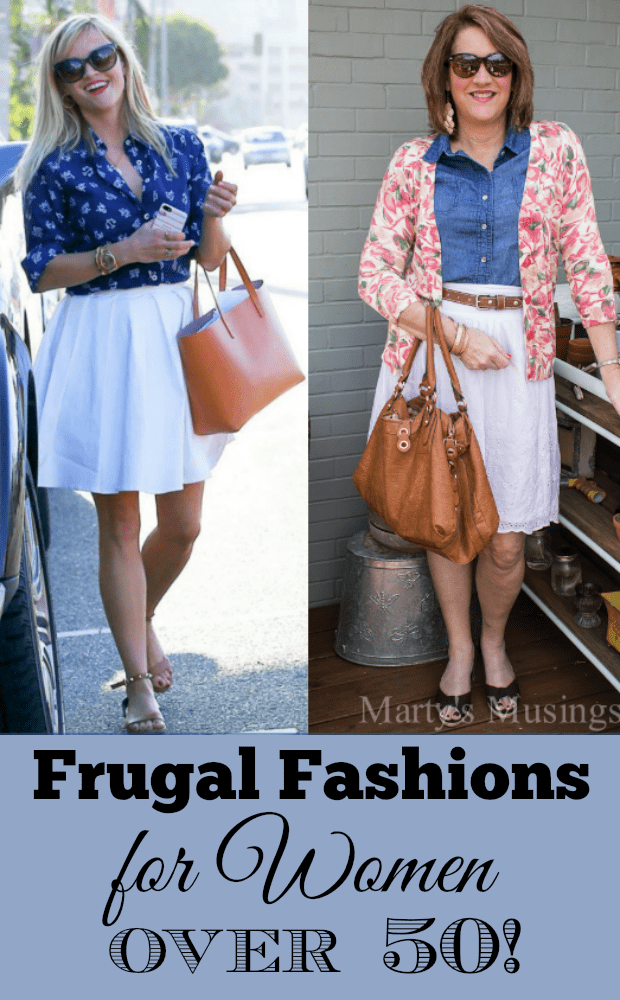 The deepest desire of my heart for my writing is to be an encouragement to women of all ages, but I have an extra special bit of compassion for those of us over 50!
I have always, always shopped secondhand for my wardrobe, mostly through yard sales. More recently I have added a bit of thrift store shopping in order to pick up some items I couldn't find.
Last April when I went on my trip to TGI Fridays headquarters I was in a panic the week before trying to come up with wardrobe pieces that I felt looked good. My insecure high school self was having a field day!
It was one of my first "real" business trips since turning this blog into a business. I have worked hard for the opportunities blogging has given me but I'm still very much a wife and mom first.
Therefore, wanting to prove I haven't been hiding in my home over the last 20 years just "raisin' them kiddos of mine" showed me I still have some work to do in this new season of life!
In the past my oldest daughter would dress me on Sundays when she was in high school. I say that tongue in cheek but Rachel has always had a sense of her personal style. Me? Not so much!
She would take the wardrobe pieces I had purchased and put things together in a way that was fashionable and up to date. Of course, she had a bit more free time than I did but I was grateful she wanted me to look my best.
Or either she just didn't want to be embarrassed by my yoga pant, sweat shirt wearing self!
Then she had to go and get married. What was she thinking? Leaving me alone with no fashion sense whatsoever.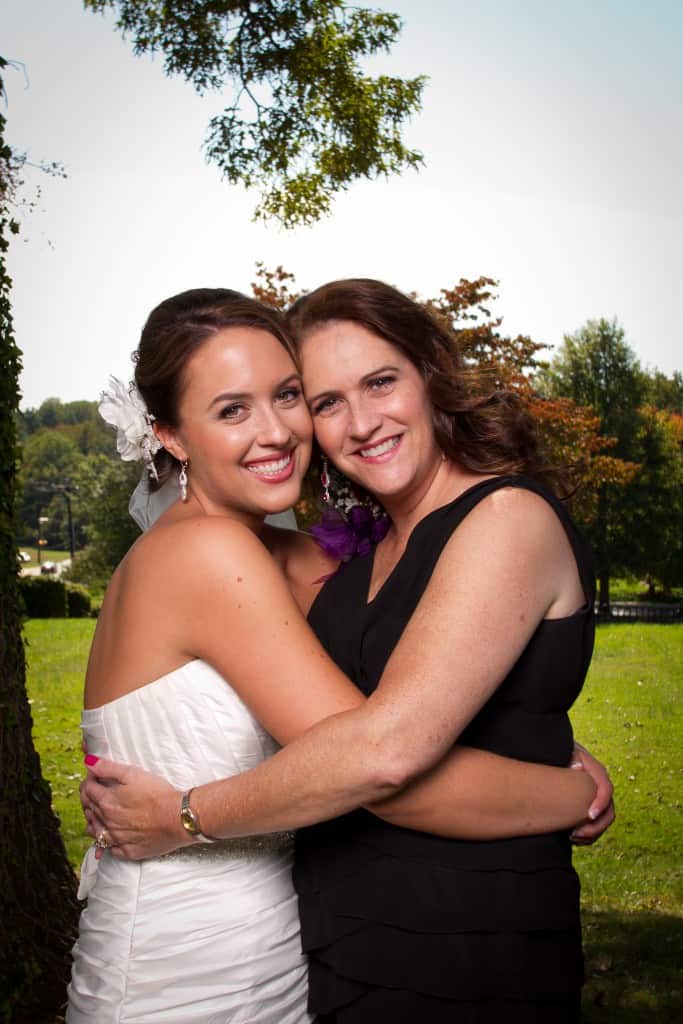 Since Rachel and I enjoy spending time together and brainstorming about the blog we decided to take a trip to the local thrift store to see if we could match an outfit of a popular celebrity with clothes purchased at Goodwill.
Here's Rachel to tell you all about our adventure!
I was really excited when my mom mentioned expanding her blogging horizons and venturing into fashion! I've loved all things beauty and fashion related since I was little. As I was looking online at celebrity fashion websites I found this picture of Reece Witherspoon and fell in love! I wanted to immediately trade in my yoga pants and t-shirt for this casual and chic look.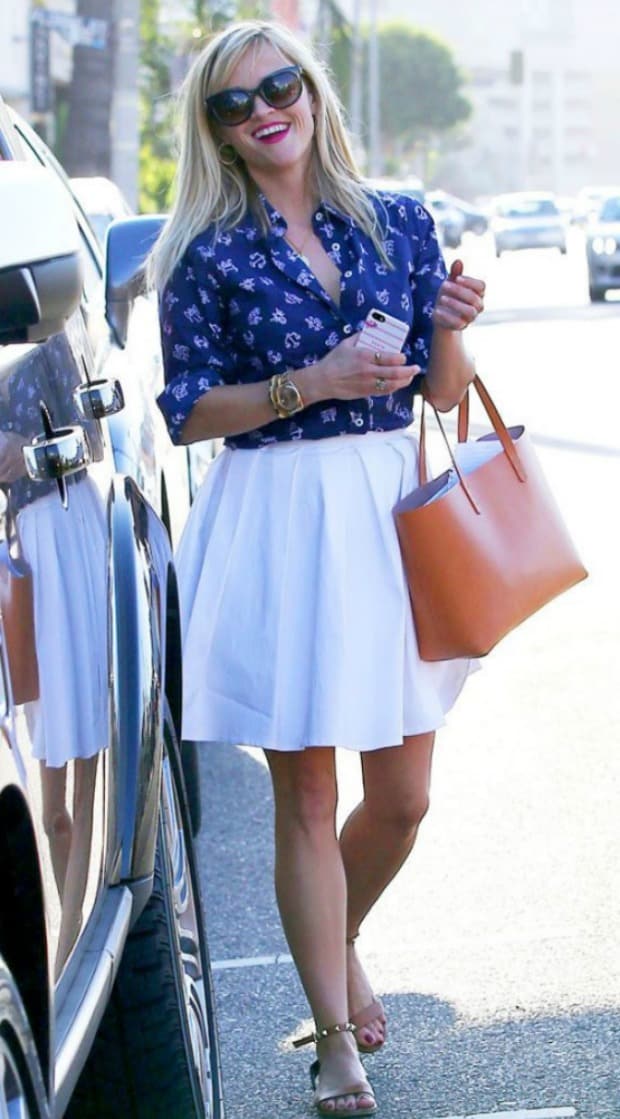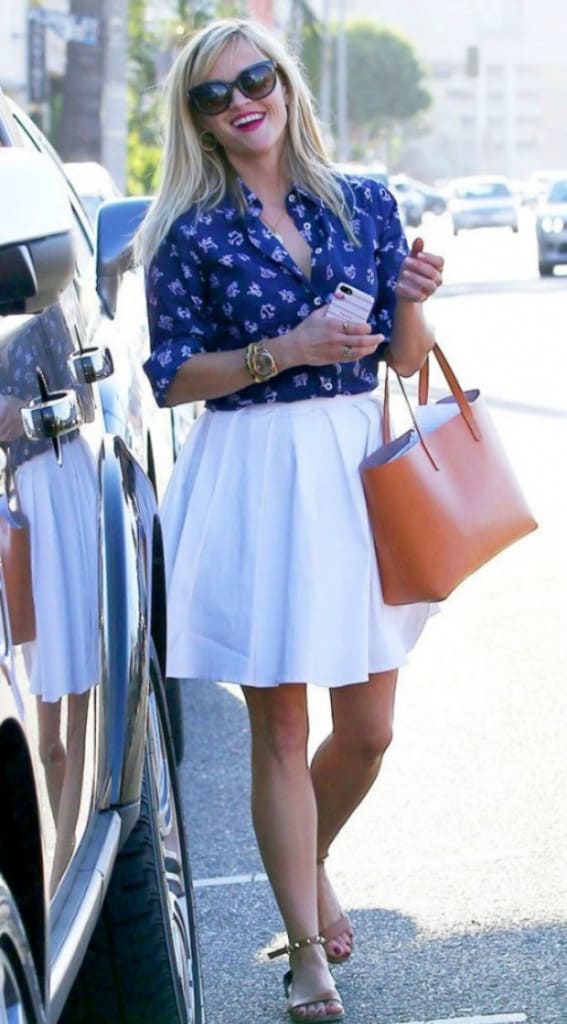 As women – especially women who have had babies (I am new to the mom club, read about my thoughts on post baby body) our stomachs can be a huge source of concern for us. It doesn't help that the media idolizes women with abnormally long, narrow, and toned mid sections.
For the rest of the 98% of the female population a lot of us fall into the "mumu" trap. You know what I'm talking about. That big baggy shirt you intentionally bought 3 sizes too big just to make sure it covered every "imperfection" you see in the mirror…the one that you've convinced yourself is "in" because, well, isn't flowy "in" right now?
I have been challenging myself to put that mumu in the back of the closet for a while – and I issued the same challenge to my adorable mother!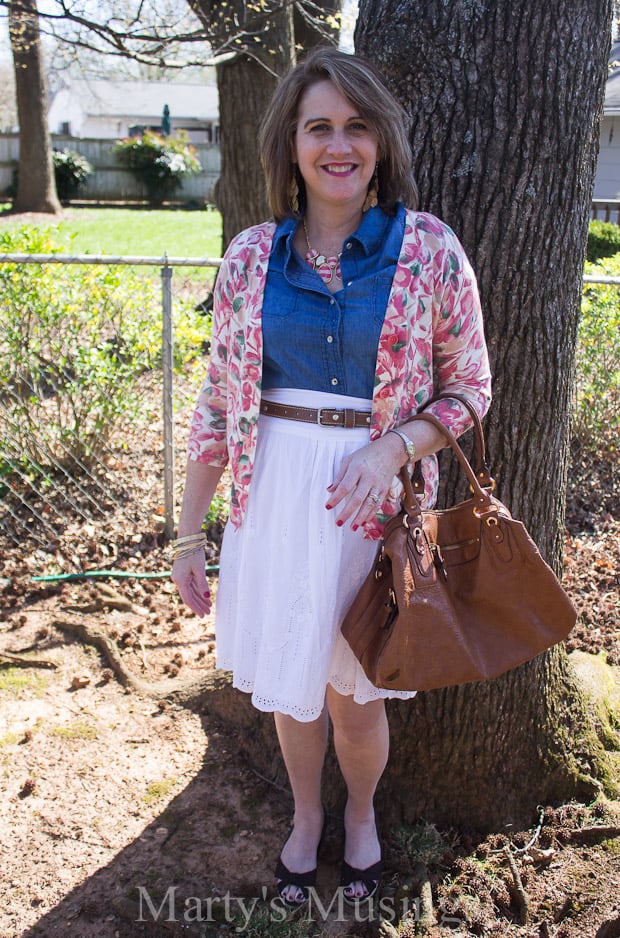 One of the things I love about this look is how the defined waist makes her have an hourglass shape. By tucking the jean shirt into the white skirt that had a flat panel at the top it drew your attention to the smallest part of her frame instead of illuminating any problem areas (yes, Stacy and Clinton from What Not To Wear really were right!).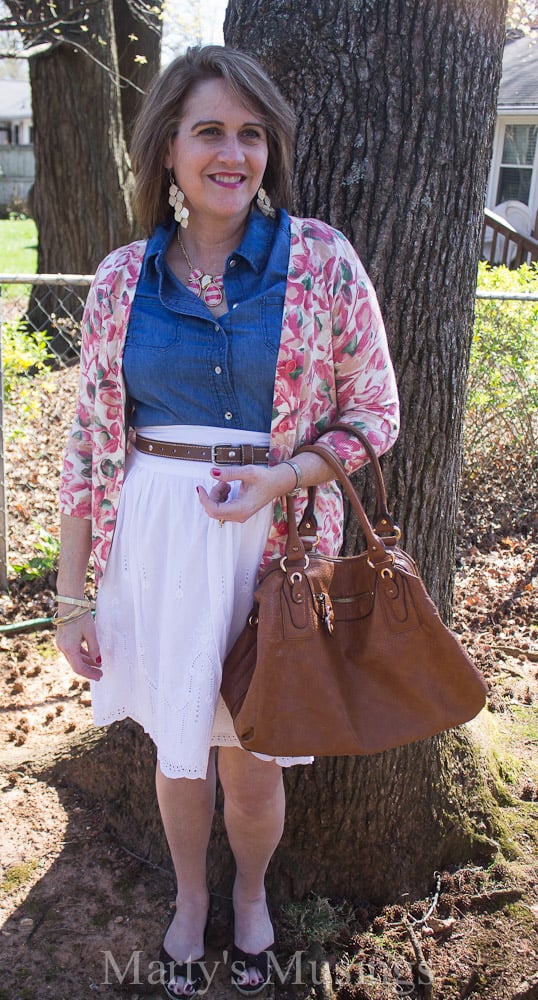 And while we are on the topic of the skirt, notice the length in both pictures – an inch or so above the knee. This keeps her from looking matronly and outdated and is timeless without too much leg showing!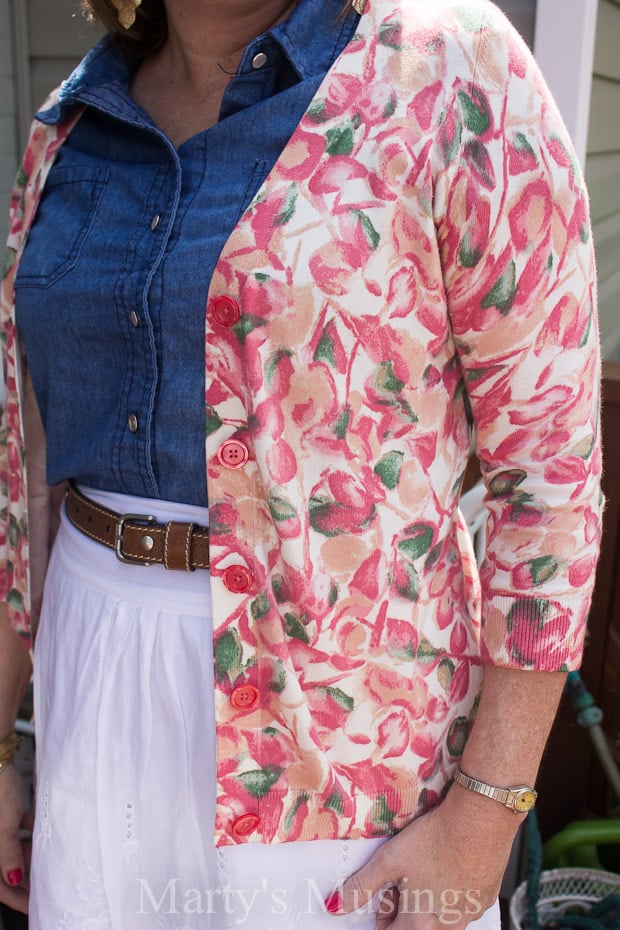 I also love the sweater with this outfit for a pop of pattern and color that ties the whole thing together!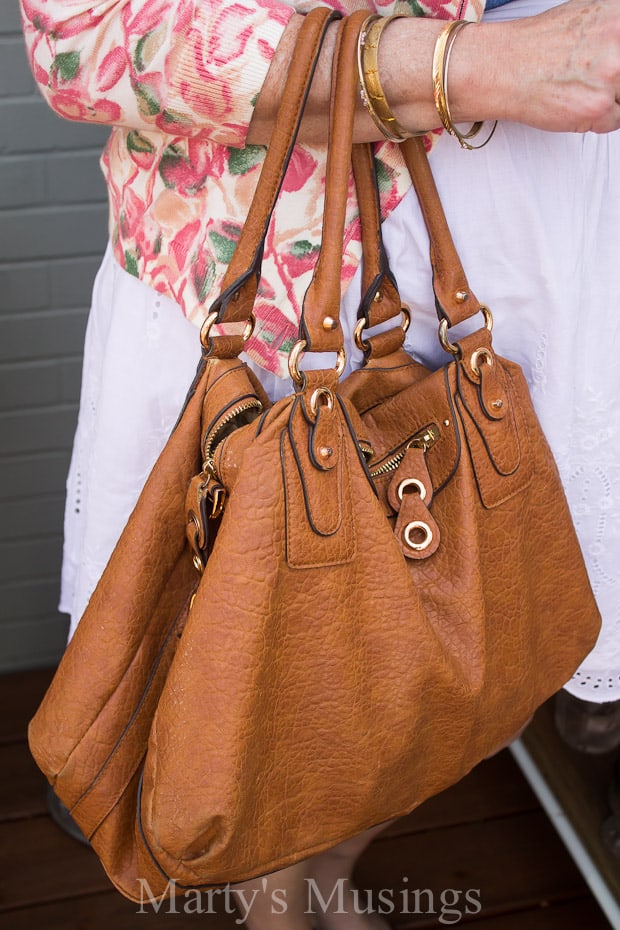 But what I love the most? Its a classy look that is affordable at any budget. Proof that if you make time to do a little digging you can find treasures while bargain hunting!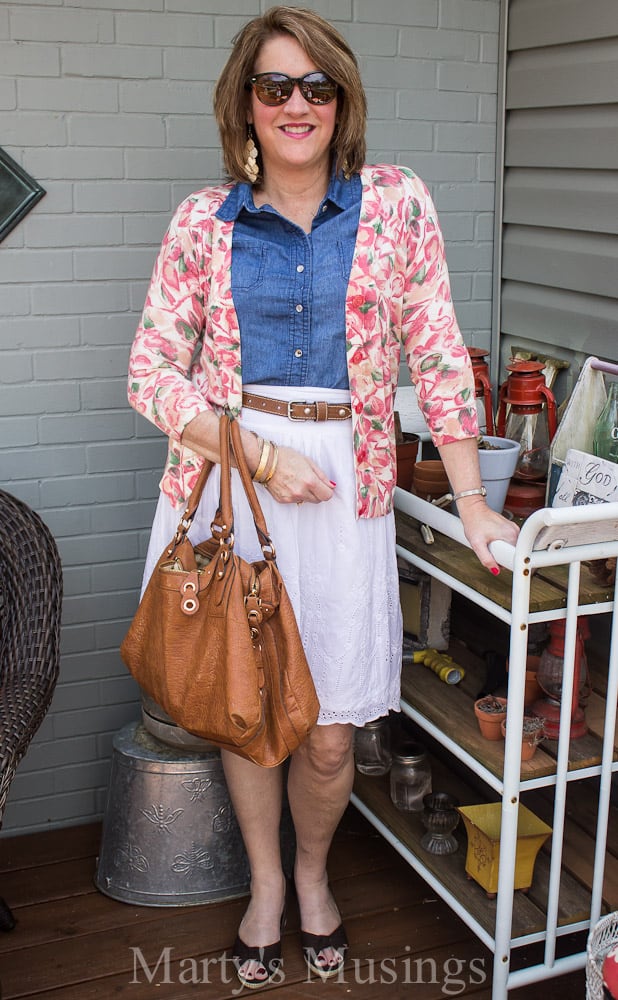 Don't you love Rachel's passion? Here's a breakdown of the pricing for this outfit. I will tell you that the purse was a BIG splurge for me. I do NOT usually pay $15 for one but it is in style and is in great shape (plus it worked for the picture, bonus points.)
(Rounded Up) Prices: Purse $15
Skirt $4
Belt $1.50
Shoes $4
Sweater $4
Shirt $4
So how did I do?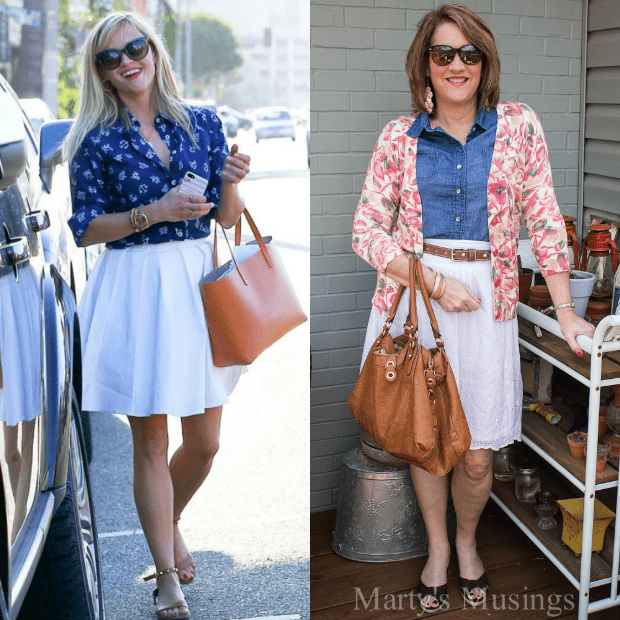 If you want to see my attempts at dressing better I'd love for you to follow me on Instagram.
We would love to have you follow along on our journey to better style on a budget. Here are some of our ideas and goals.
Learn how to disguise those problem areas we all have. And we ALL have them because we're human and our bodies change through pregnancy, eating choices, aging and even that dreaded "M" word. "Menopause." There. I said it.
Learn how to dress fashionably on a budget.
Figure out your style preferences.
Where to find frugal fashions.
Most of all, embrace the body God has given you.
We'd love to know what you think and any ideas you have for us!