Worthing Court Blog Laundry Room Makeover
This post may contain affiliate links which won't change your price but will share some commission. Read more here.
Blogging has stretched me in ways I never imagined but one of the sweetest blessings has been new friendships with women who share a passion for writing, creating and taking beautiful pictures. I asked a few of my blogging buddies if they'd help me out during my recovery from carpal tunnel syndrome surgery so I have some fun posts coming up for my readers in the next several days.
First up is my friend Suzy from Worthing Court. She's just the dearest, most down to earth lady with a drop dead gorgeous home! Seriously, her knack for pulling rooms together just amazes me. I know you're going to love her!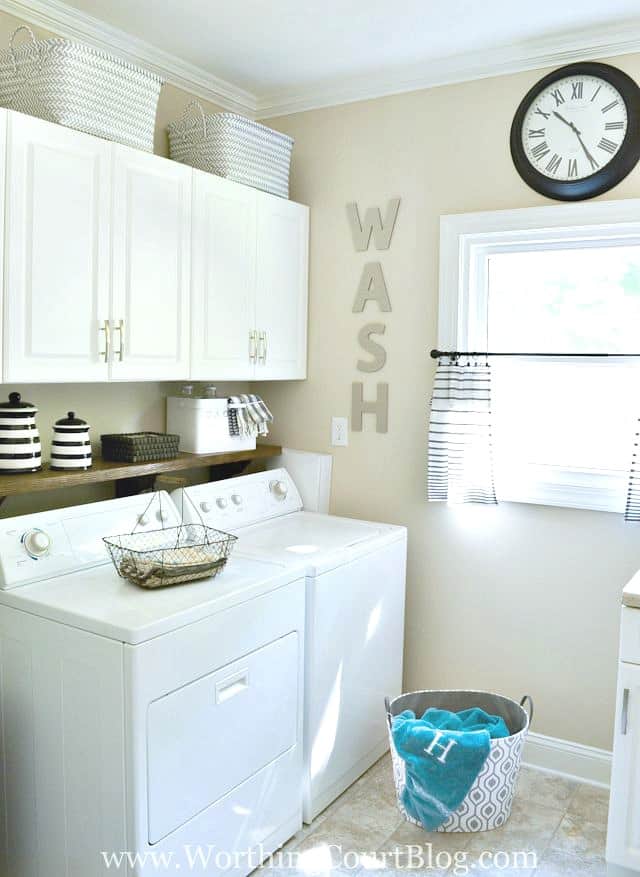 Hi everyone! I'm extremely honored to be visiting with you here at Marty's Musings! Marty and I live in the same town, so it's truly a blessing whenever we can fit some time in together. Marty is such an amazing wife, mom, grandma and overall encourager! I'm honored to count her among my friends.
In case you don't already know me, let me take a moment to introduce myself. I'm Suzy and I've been blogging here at Worthing Court for going on four years. (Wow, where has the time gone?!?) I'm all about affordable home decorating and diy projects. I'll throw in a craft and recipe every now and then too. The hubs and I moved into a very dated, new-to-us home, a little over a year ago and have been giving it a full remodel. Every single room in the house has been touched, some even received a full-on gut job. The basics have been completed in all of the rooms – now I'm going through and adding the finishing touches, one room at a time.
One of those gut-jobs was our laundry room. Come on in and let me show you around – ya know, because who doesn't like to hang out in a laundry room – right? LOL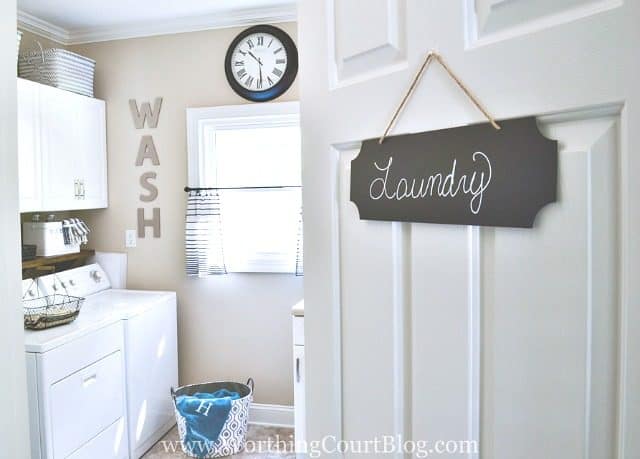 Before we go any further, let me show you what we started out with. This is what the room looked like the day that we looked at the house. Sure the room was a hot mess, but it was huge for a laundry room. I couldn't wait to get my hands on it.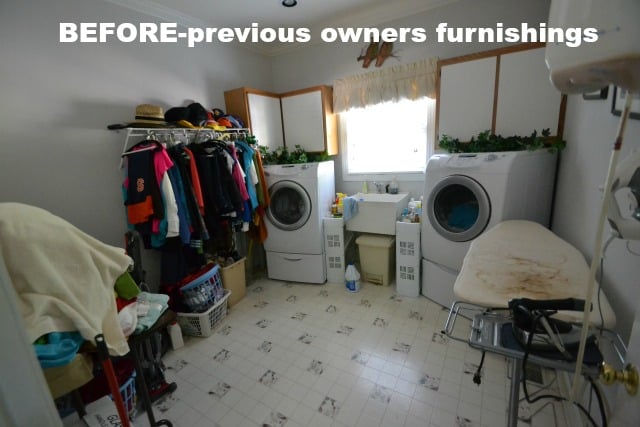 The room sat like this for several months. We stayed stuck at this stage for so long because we had a little trouble getting the cabinets and countertop for the sink just right. So, we walked away from it for awhile to focus on the hundreds of other projects awaiting us. The laundry room was functional, in terms of getting the clothes cleaned, and that was the main thing at the time.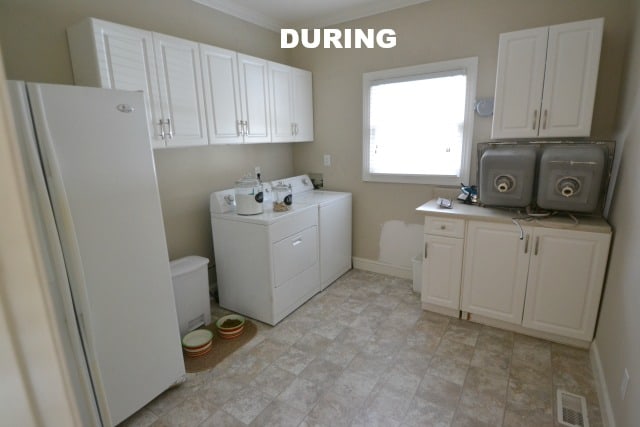 At this point we had removed the wallpaper, replaced the flooring, moved plumbing around (to accommodate the new sink and washer location) and had mounted some of the cabinets that came out of the original kitchen. We placed the former owner's fridge in here too. It is a very nice one and sure does come in handy, especially around the holidays.
And here she is today! Come on in and look around. I didn't use my wide angle lens for the after shots, so we'll have to look around in snippets.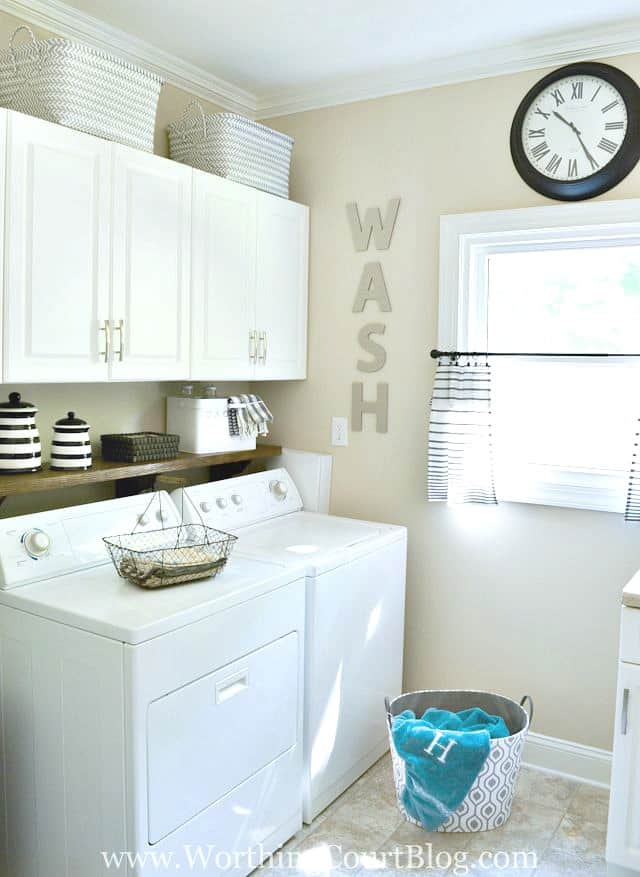 The laundry room has quite a few diy projects. One of them is a rustic'ish shelf I made to conceal the roughly 12″ gap behind the machines that was created by the location of the dryer vent in the wall. Another is a solution that I came up with to conceal the faucet connections in the wall that are always such an eyesore.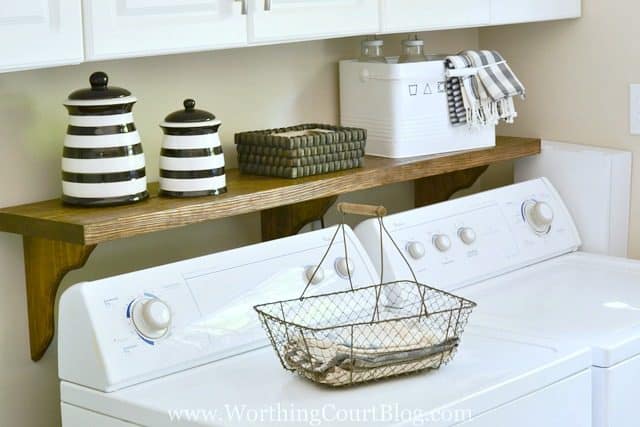 The small basket on the shelf is perfect for holding my dryer sheets and keeps me from having to stand on my toes to reach across the dryer and up into the cabinet to get them. All of my detergents and other cleaning supplies are located in these cabinets, but for some reason it isn't as much of a struggle for me to get to those items.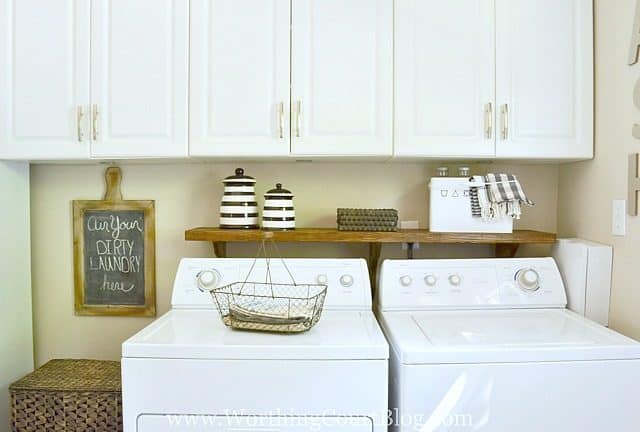 The laundry room sink is located opposite from the washer and dryer. In case you're wondering, the gray round thing to the left of the cabinets is a retractable clothesline. I run it across the room and attach it to a sturdy hook in the opposite wall whenever I need to use it. It works great for drying a lot of clothes at one time.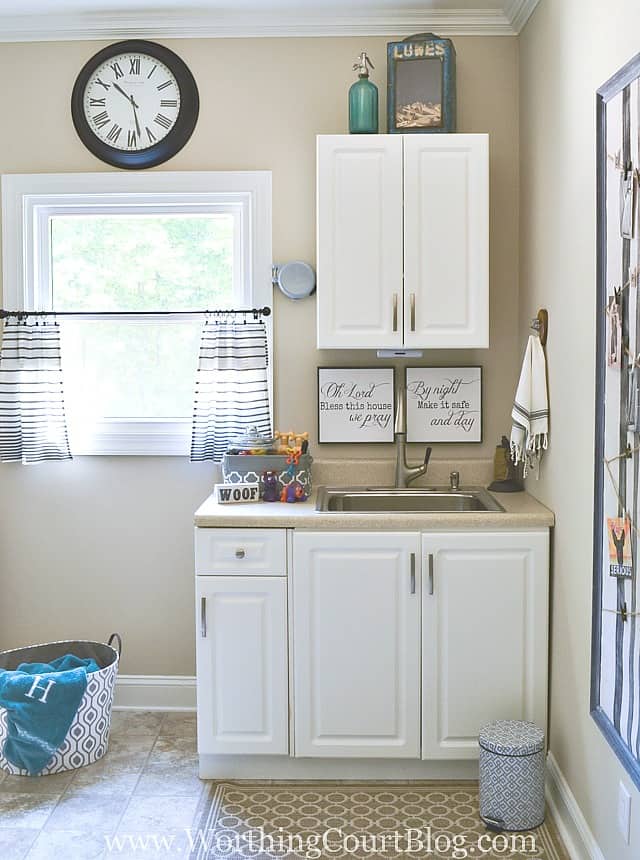 This is where I give my dogs a bath so their shampoos and brushes are in the fabric bin located beside the sink. A glass canister tucked into the bin keeps all of their squeaky toys within easy reach for me. My dogs are kind of like kids in that they get tired of playing with the same toys all of the time, so I frequently switch them out.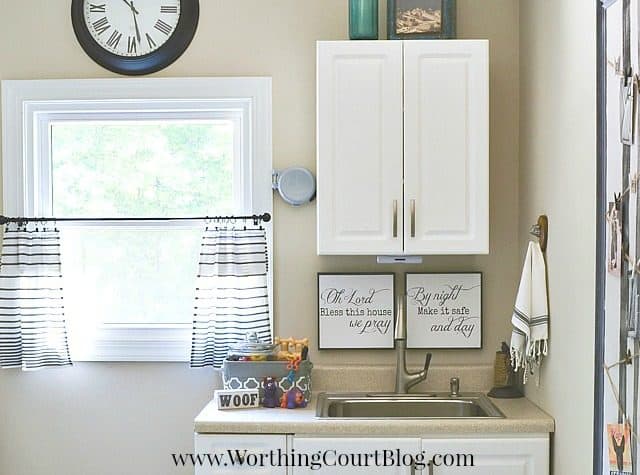 I needed something to fill the blank wall above the sink and couldn't find anything that I loved, so I created these "Bless This House" printables and ModPodged them over a couple of old plaques from my stash. You can find the printables HERE, in case you'd like to print them for yourself. They're available in both 8″x10″ and 11.5″ square sizes.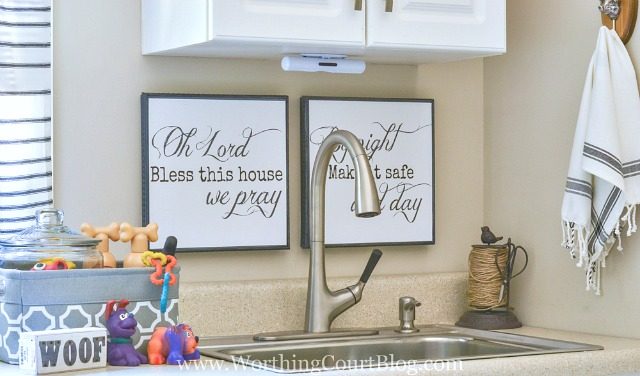 On one wall, I hung my oversize bulletin board that I originally made for the kitchen in my previous home (to hide the ugly exposed side of my refrigerator). I tweaked it bit by adding a few rows of twine so that I could display cute photos and cards with some mini clothespins. Click HERE to see how I made it. It served me well in our former home, but I spiffed it up a little and really love it in my laundry room.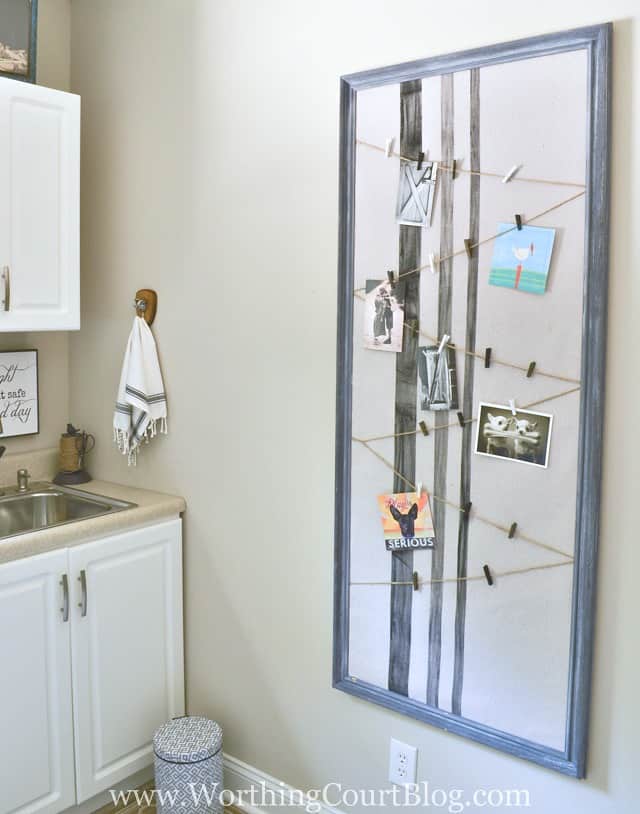 And lastly, I made an easy-peasy holder for my ironing board to hang on the wall opposite from the sink. All I did was stain a scrap of leftover wood over from the shelf behind the machines and add a couple of hooks to it. A new black and white cover for the ironing board keeps it from being an eyesore in the room.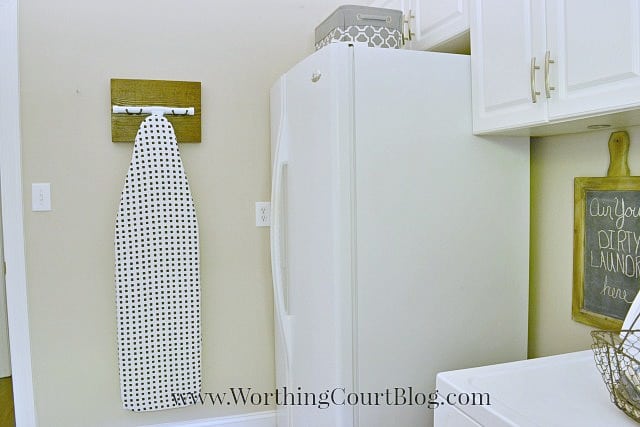 In case you're interested, here a couple of other remodel projects that we've completed.
Remodeled Farmhouse Style Kitchen And Breakfast Area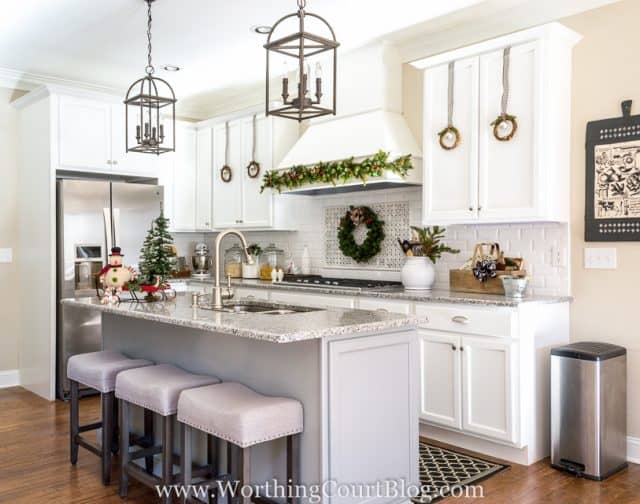 Amazing Fireplace Transformation – Before And After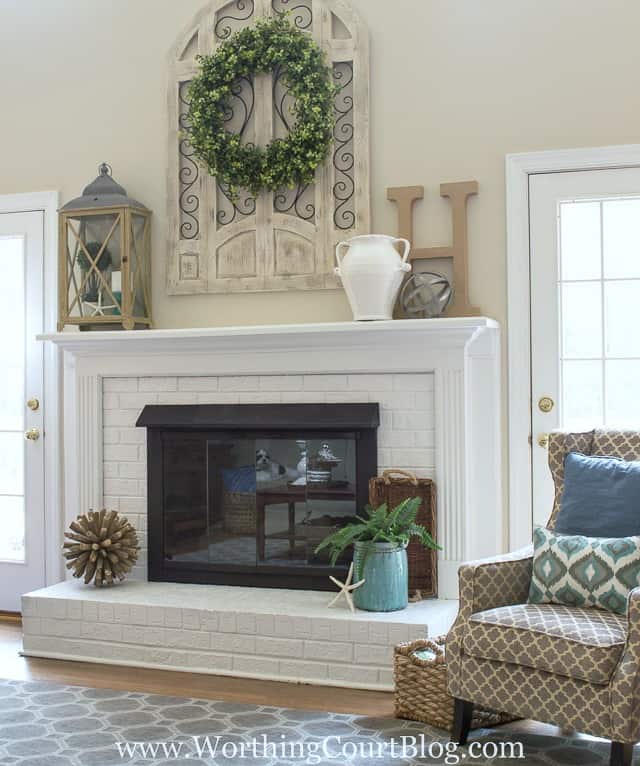 I enjoyed getting to know Marty's readers today! I'd love to get to know you better, so click HERE to follow along with my adventures.
Thank you for having me over for a visit today, Marty!