Your kids will love this marshmallow snowman craft that is even more fun to eat! Great activity for snow days and long winter days at home!

We've just survived the holidays, waved goodbye to 2014 and said hello to 2015. You know what is probably around the corner?
This lovely white stuff that is beautiful to look at and often treacherous to drive in.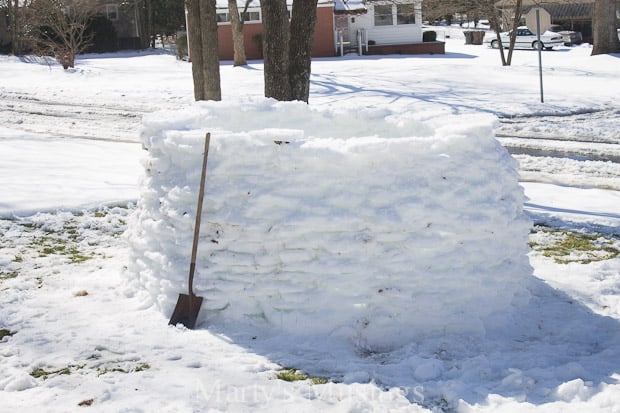 That's right. It's the most wonderful "snowy" time of year.
I freely admit I'm a southern driver and would prefer to stay at home when travel is more dangerous. (In our neck of the woods that also means running to the grocery store for milk three days before there's even a cloud in the sky!
Even if you live in a balmy climate this is a fun edible craft for the kids (and mama, too!)
Moms, why not be prepared for those unexpected days with this marshmallow snowman craft that will fuel your kids creativity and appetite!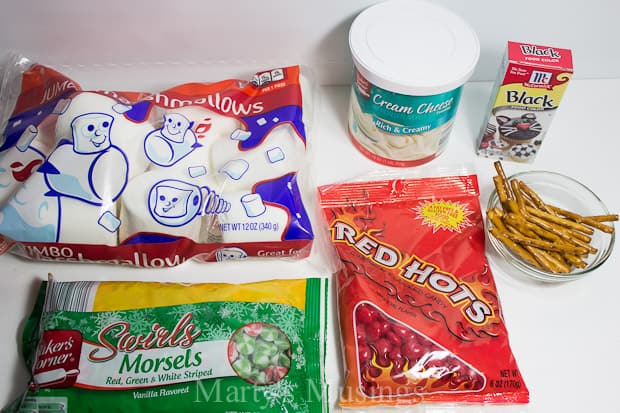 You can make this entire snowman family with both jumbo and regular marshmallows (not minis). 
Mama and papa have to have hats!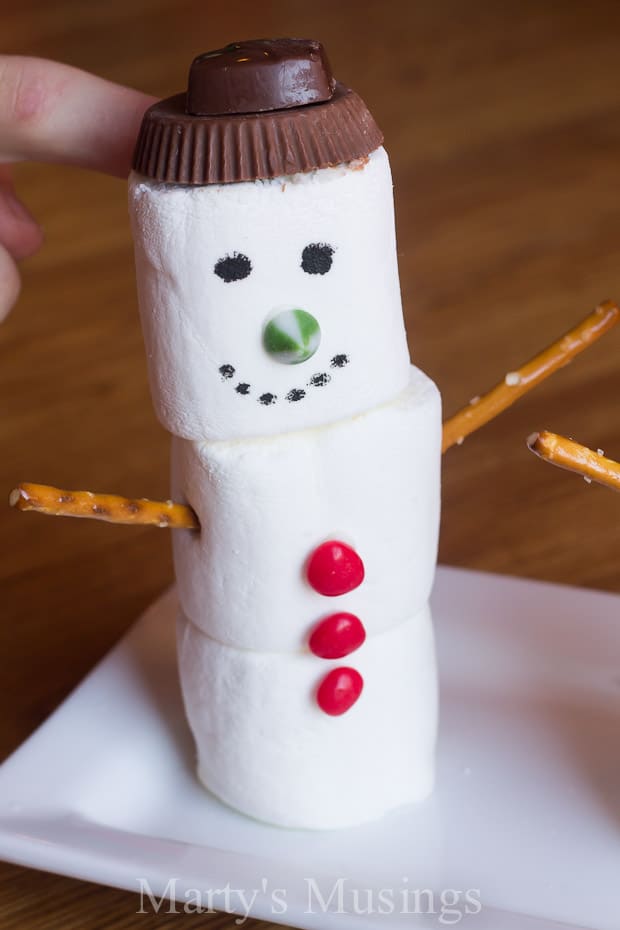 Don't have cinnamon red hots? Maybe you can cut some other candies in half, or just use the chips for buttons.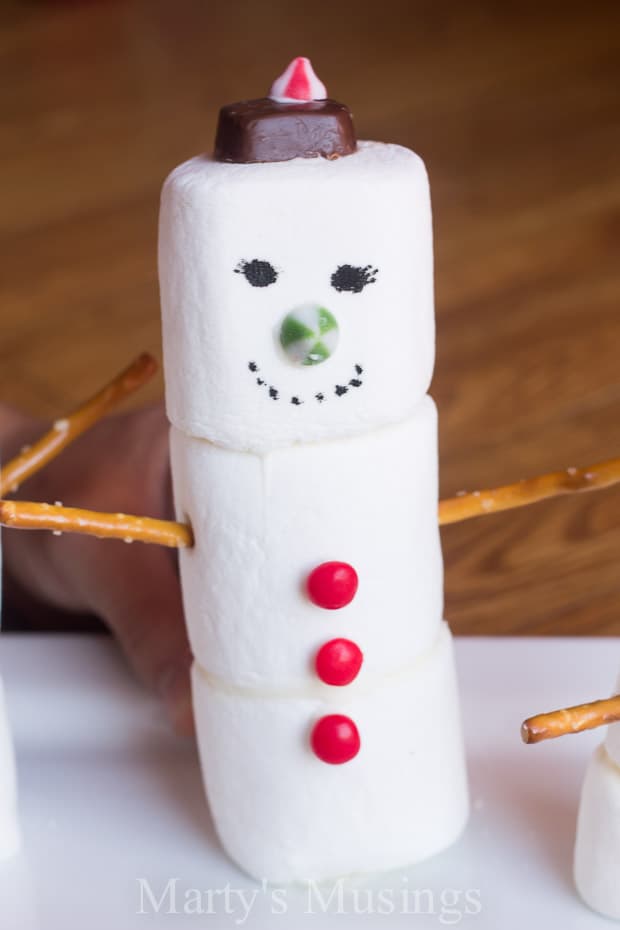 If you don't have striped chocolate chips just use whatever you have available.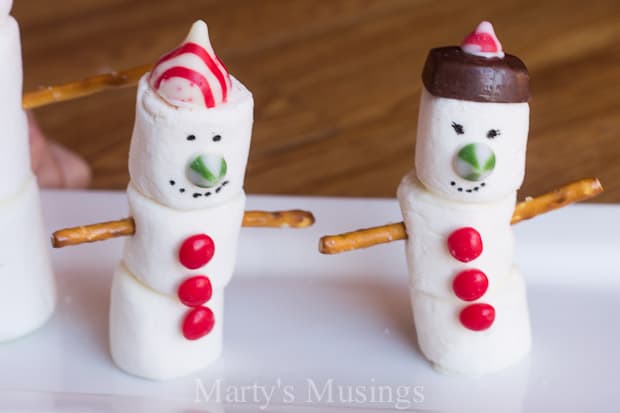 Our marshmallow snowman craft family needed a little assistance from my helper.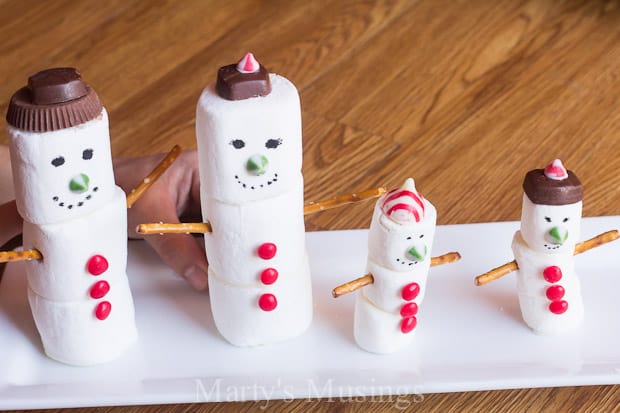 In fact, after all that playing in the snow they were just plain ol' tired!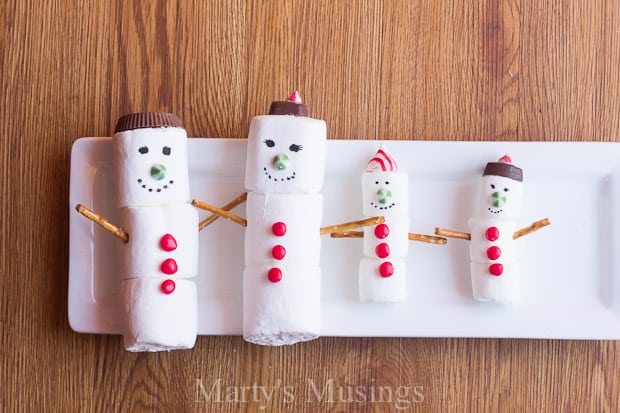 And this is what happens when mama ain't happy!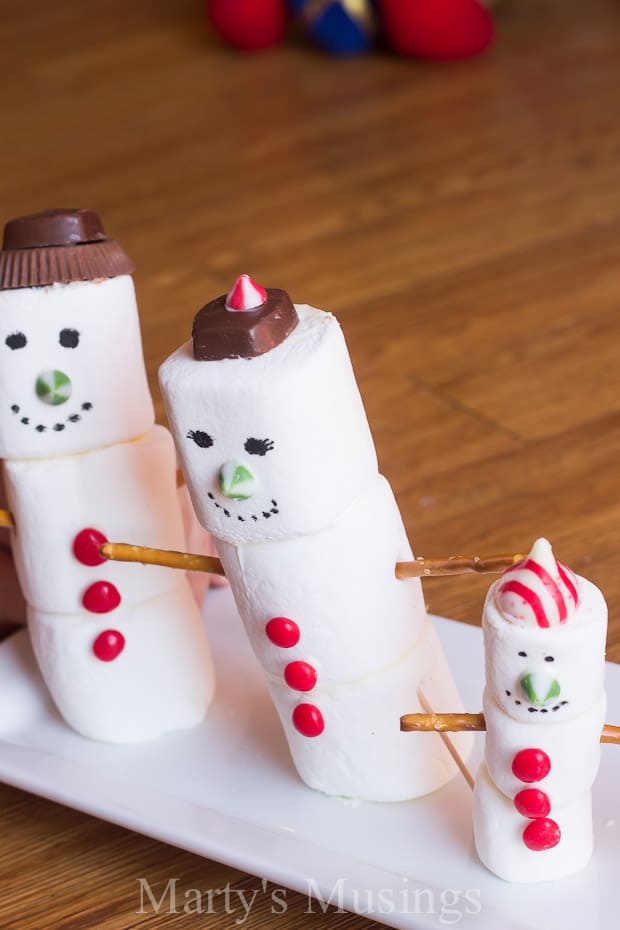 What's your favorite part of snow day?
Marshmallow Snowman Craft
Marshmallow Snowman Craft (that you can eat!)
This easy and tasty Snowman Craft will entertain your kids and bring out their creativity!
Ingredients
large and/or jumbo marshmallows
pretzel sticks
cinnamon red hots
chocolate chips
mini peanut butter cups
rolos candy
white icing
black food coloring
Instructions
Use the jumbo marshmallows for the adult snowmen and regular large ones for the little snowmen.
Using icing as glue, paste three marshmallows together and let dry.
Paint eyes and mouth with black food coloring and a toothpick.
Use a dab of icing to attach chocolate chip nose and make hats.
Make pretzel stick arms and paste on buttons.
Notes
Let your kids get creative with other candies and baking supplies and just have fun!
Nutrition Information
Calories:
2248
Fat:
92g
Saturated fat:
21g
Unsaturated fat:
68g
Carbohydrates:
353g
Sugar:
322g
Sodium:
1025mg
Fiber:
3g
Protein:
6g
Cholesterol:
5mg
Want to fill their tummies, too? My slow cooker Chicken Noodle Soup is the best and easiest and can be started before you join your family in the snow!
Or have more fun baking in the kitchen with my Cookie Monster Brownie Cookies or Oreo Dirt Cake recipe!