5 Easy DIY Christmas Wreath Ideas
This post may contain affiliate links which won't change your price but will share some commission.
These 5 easy DIY Christmas wreath ideas will have you pumped to decorate simply and inexpensively for the holidays!

Just FYI, I'm a terrible wreath maker. I really want to make beautiful ones but some part of me just doesn't want to spend the time and energy. Can anyone relate?
This is pretty funny since I really love to craft. But sometimes you have to know what floats your boat and what doesn't.
Maybe it's because there's so much pressure at Christmastime to create a beautiful home, bake all the goodies and spend your free moments (ha!) volunteering.
Sometimes you just need easy breezy project and today I have it for you!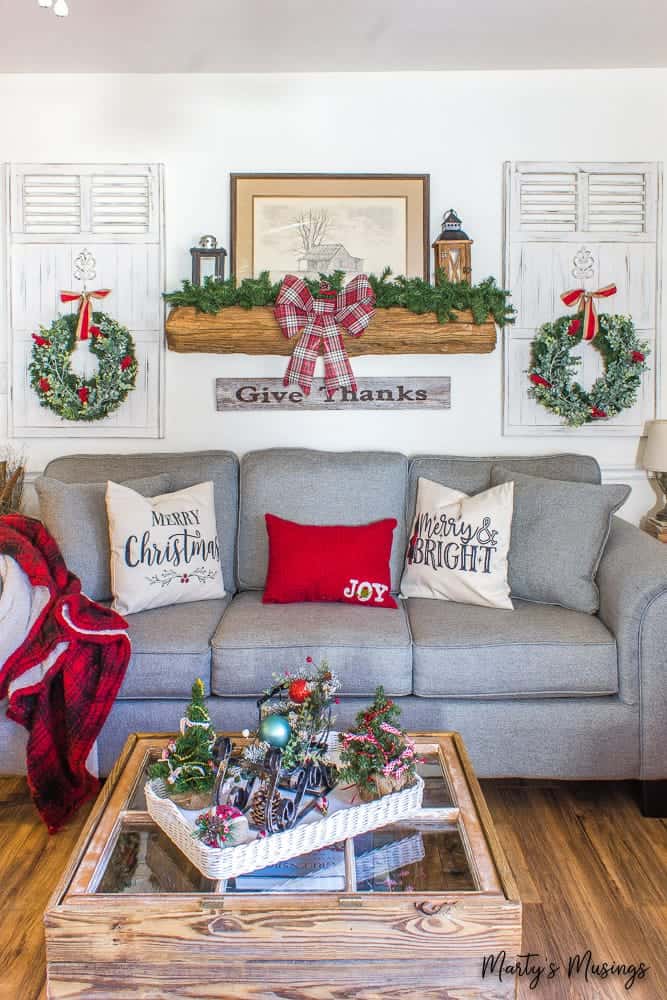 5 DIY Christmas Wreath Ideas
Watch the video here!

Materials:
(I've included some affiliate links for your convenience. Click here to read my full disclosure policy.)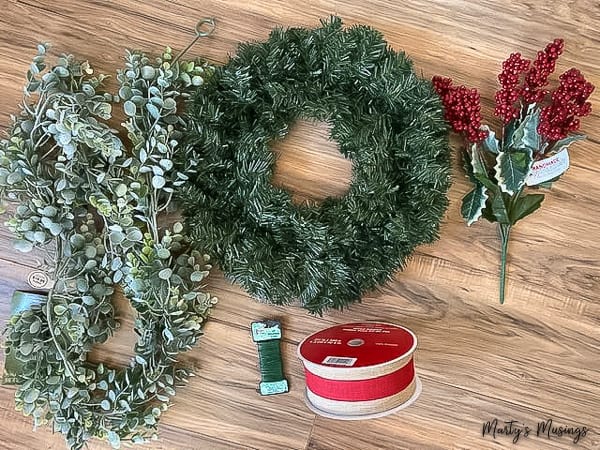 24″ Noble Fir Christmas wreath
Burlap Ribbon (I couldn't find a link for the one I used but here's a buffalo plaid one.)
Floral Wire
6 Ft. Eucalyptus Garland
Red Berries
I didn't take pictures of each step because this craft is SO SO EASY. But I'll talk you through it (and the video will help!)
Step 1. Fluff branches on wreath.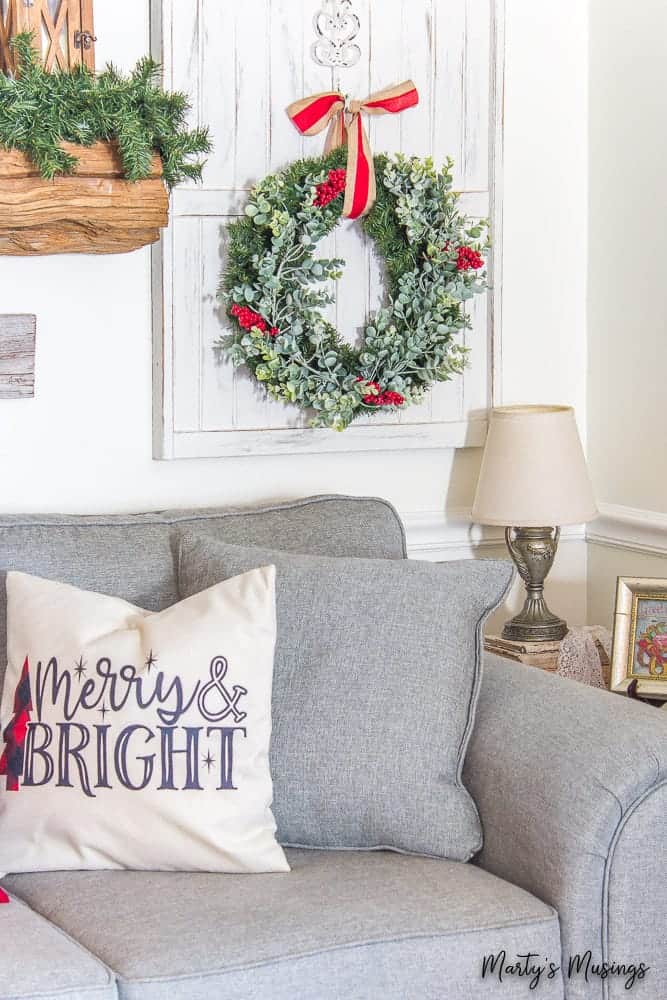 I usually buy these types of wreaths very inexpensively around Black Friday or after Christmas. But they do need to be pampered a bit since they'll be the bottom layer of the wreath.
Step 2. Cut the 6 ft. garland in half and half again (you will have four sections.)
You will only need two of the sections for one wreath. You could use any type of greenery here but I think Eucalyptus is so pretty!
Step 3. Attach two garland sections to the wreath with floral wire.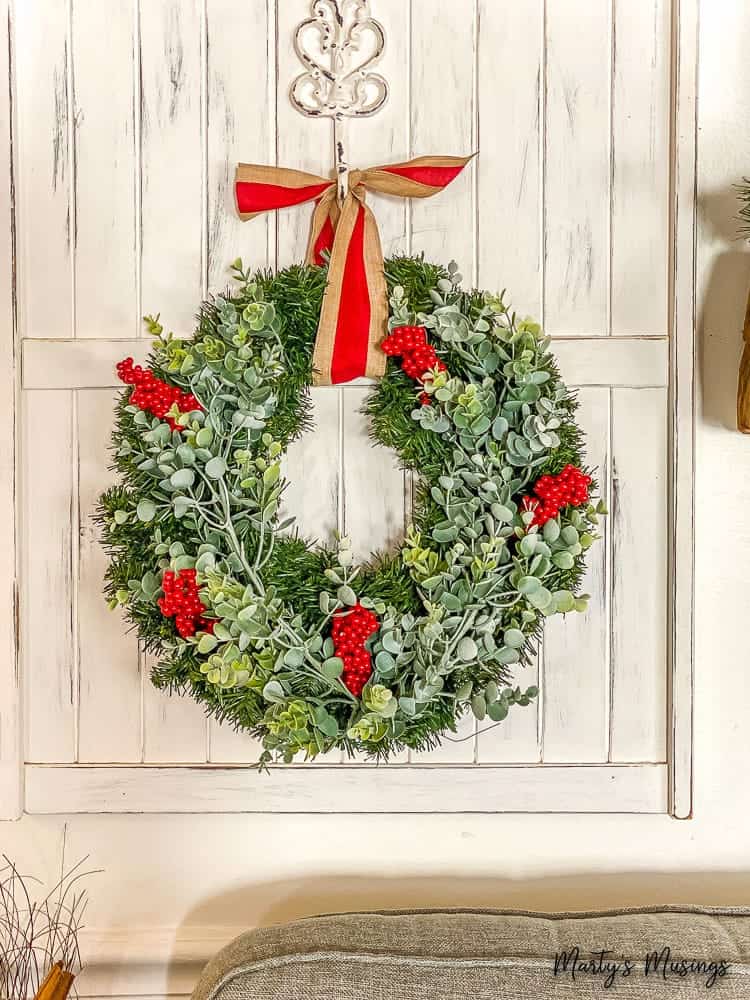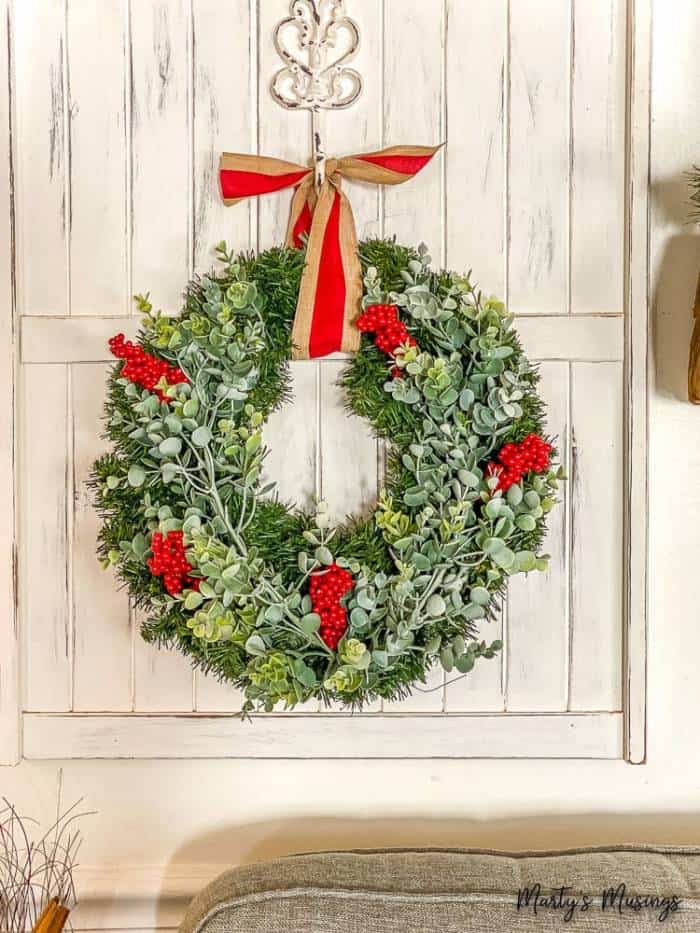 I attached the garland at both the top and bottom for each section, making sure the leaves face upward. Just do whatever you need to in order to make sure it's secure.
Step 4. If berries are in large sections, cut them apart and add to the wreath where desired.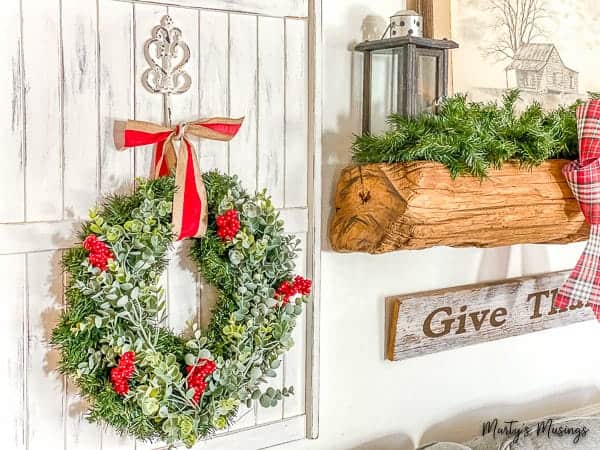 This is totally your preference as to how many berries you add. You can also use a floral pick with wire to attach to the berries and secure to the wreath if necessary.
Step 5. Cut ribbon to fit where you'l be hanging it.
I hung my wreaths on these $1 shutters I got at a yard sale but I also hung one on a large black frame.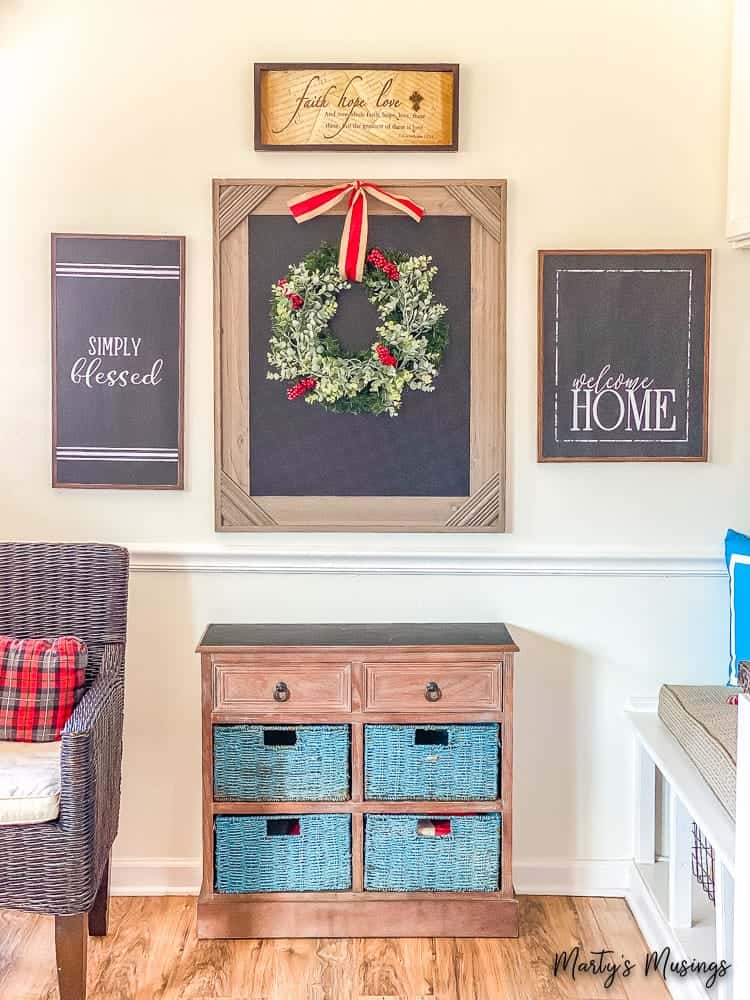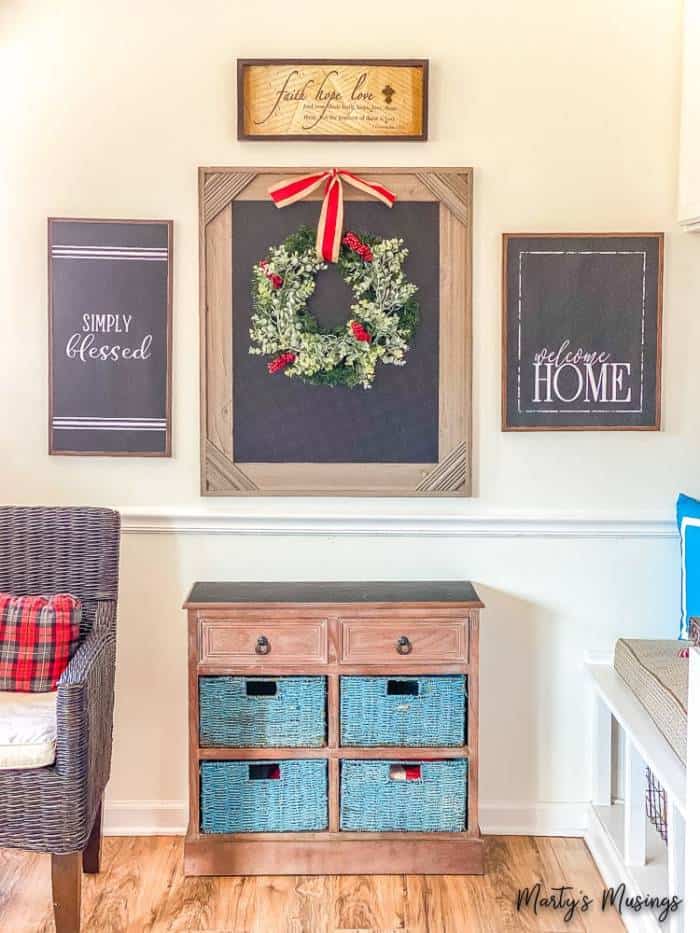 Check out four additional simple Christmas wreaths!
Have some old shirts or sweaters you don't want anymore? Save them for this unique wreath!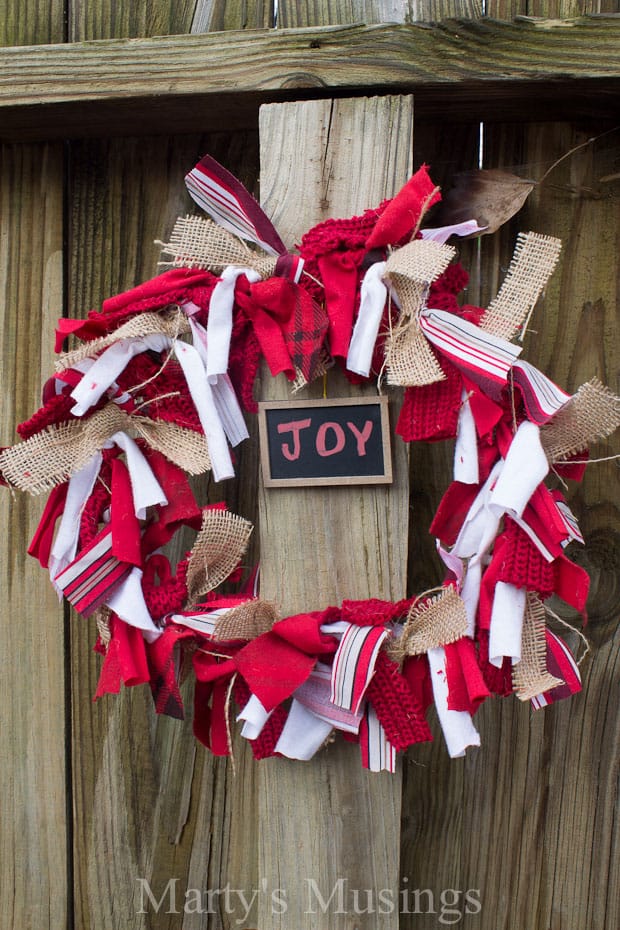 This simple wreath I hung on my range hood is simply a strand of beads, a few pinecones and silk flowers.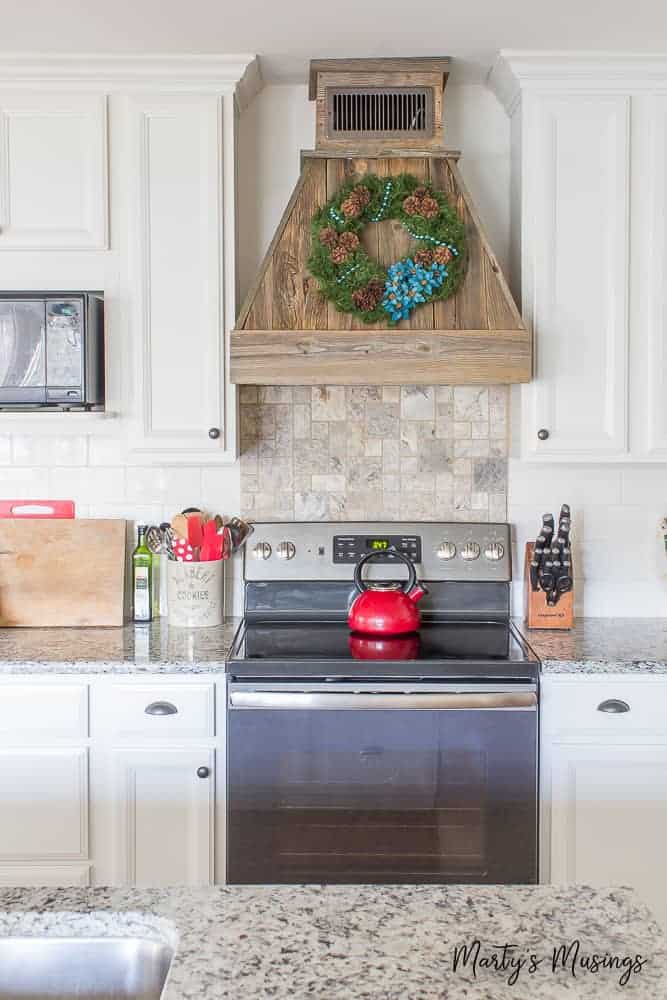 Rustic Christmas Kitchen Decor
One of my favorite places to hang a wreath is on an old window. The one below also has beads, berries and a simple ornament anchoring the wreath.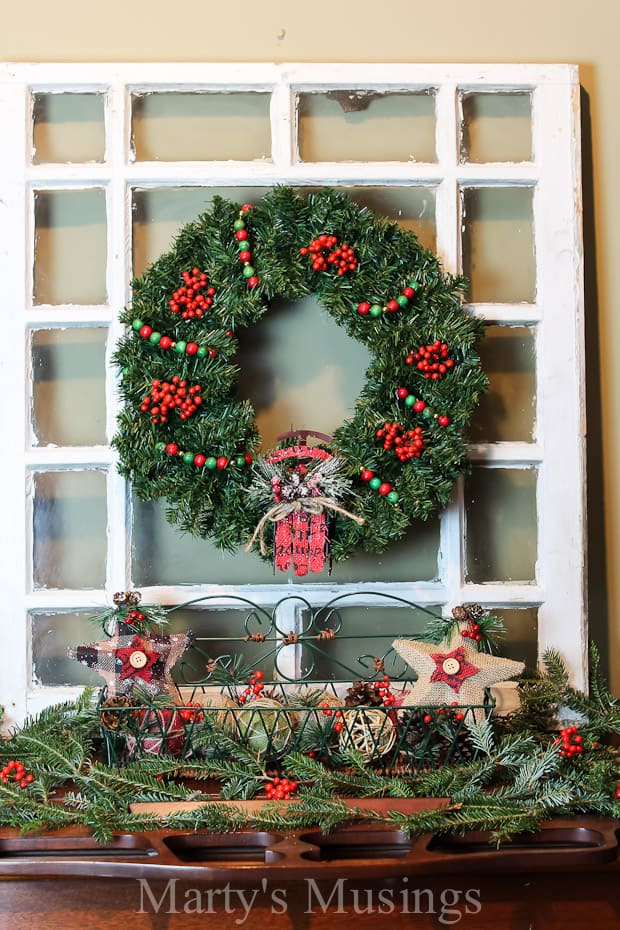 Christmas Mantel Decorating Ideas
You can't get any more simple than a red ribbon! Here I used my fun shutters again! (This post shows our home before we took down this exact wall and gutted our kitchen!)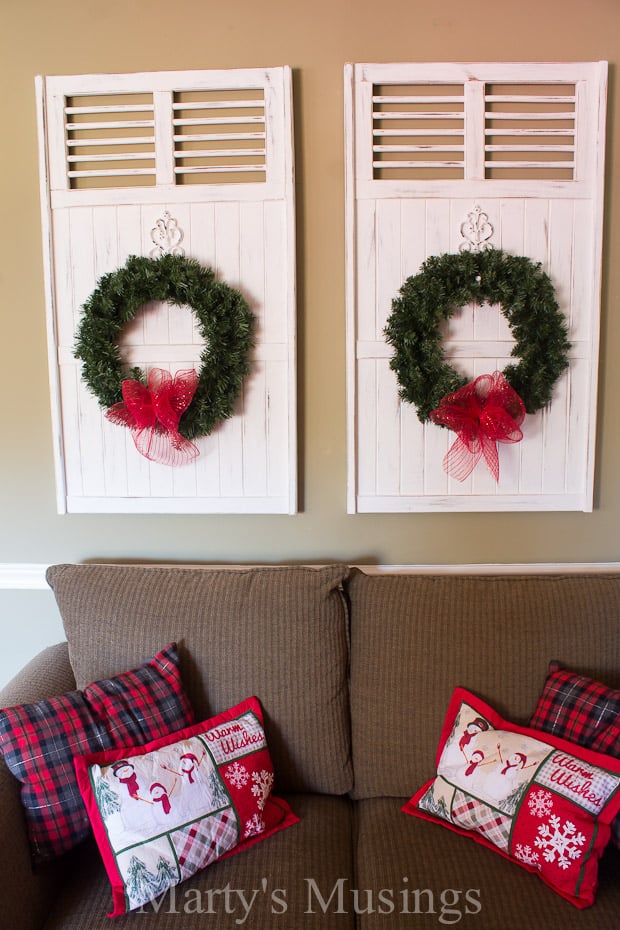 Any other suggestions for easy wreaths? Just comment below!