Add a Touch of Fall Decorating
This post may contain affiliate links which won't change your price but will share some commission. Read more here.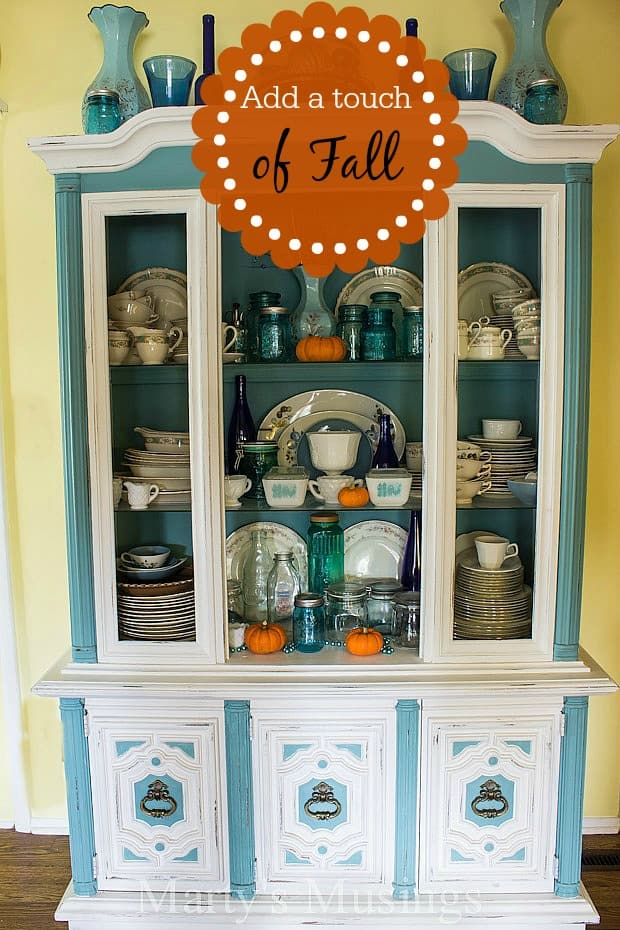 I realize that a lot of my posts tend to be fairly heavy in content so today I'm going to give you one for my 31 day series that is short and sweet!
(I know I just heard my husband breathe a sigh of relief! As I'm churning out content this month I'm trying to have him proofread for me. I need help, y'all!)
It's almost mid October and I have only shared one post this year with anything remotely resembling fall. My 5 Minute Dollar Store and Burlap Wreath has been my only attempt at a fall project. (I do have tons of projects from last year if you need some inspiration!)
Somehow life is racing by and I'm hanging on for dear life! I'll confess and tell you that I'm just finishing up a bit of decorating
Going along with simplify, my word for the year, I'm honestly not making anything new in terms of decor this year.
I am, however, shaking things up and moving things around. I love figuring out how to use the same item from last year in a new way.
This year I'm telling myself that just because I'm a blogger doesn't mean my house has to be perfect or hours have to be spent transforming it for every.single.season.
Sometimes good enough is just that. Good enough.
I mean, I'm not Martha Stewart!
My chalk painted hutch is one of my favorite places where I add just a touch of fall decorating.
Here's the hutch with some of my basic collection of dishes and such. I am constantly finding goodies at yard sales that I love.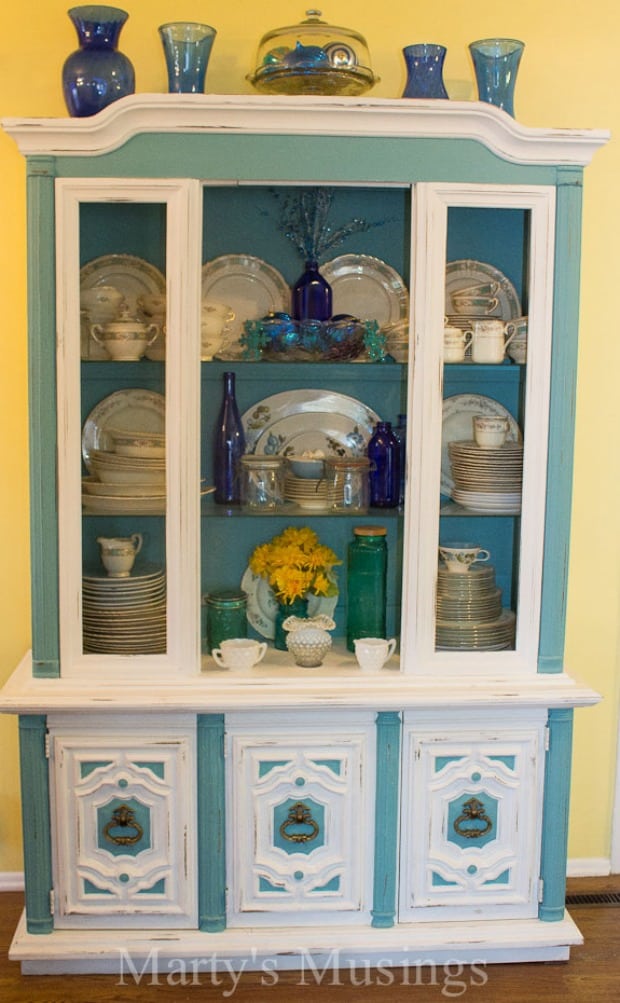 Here's the hutch now with the tiniest seasonal accents.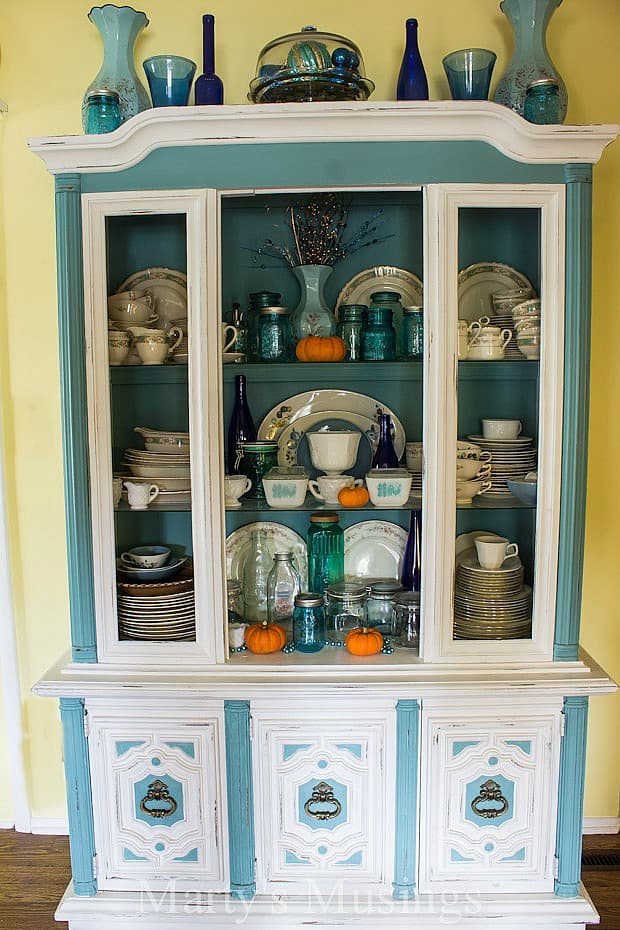 Do you see the vases on top and on the highest shelf? Those are new and are my latest crush! They were a couple of dollars at a yard sale for all three and blend perfectly with my aqua accents.
And of course, gotta have a little bit of bling! Who cares that it's from the after Christmas sale?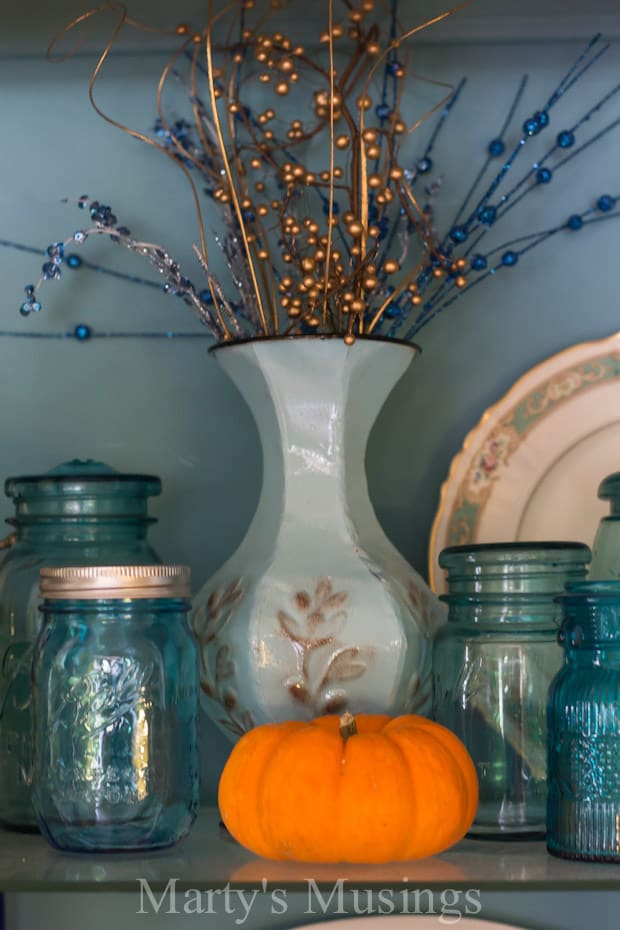 The other recent yard sale score? These mini pyrex dishes at $3 for both. Are they not the cutest?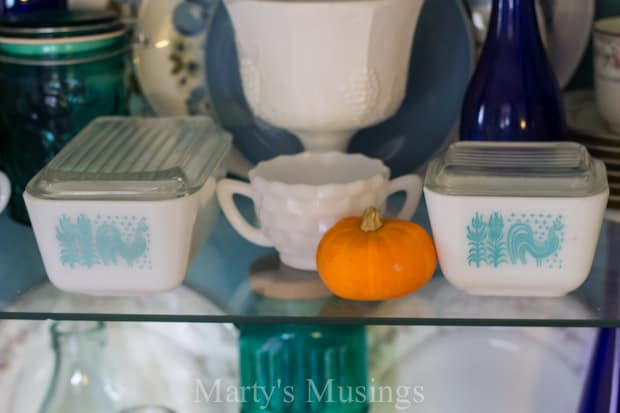 The only other change? Four little pumpkins.
To me, the little pop of orange adds just the right amount of punch.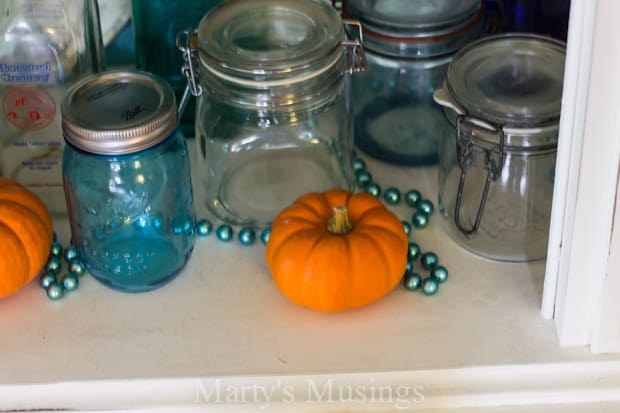 Could it be any easier? I'd love to know how you add a bit of fall to your home without a lot of work!
Have you been following along with my 31 Days to a Beautiful Home?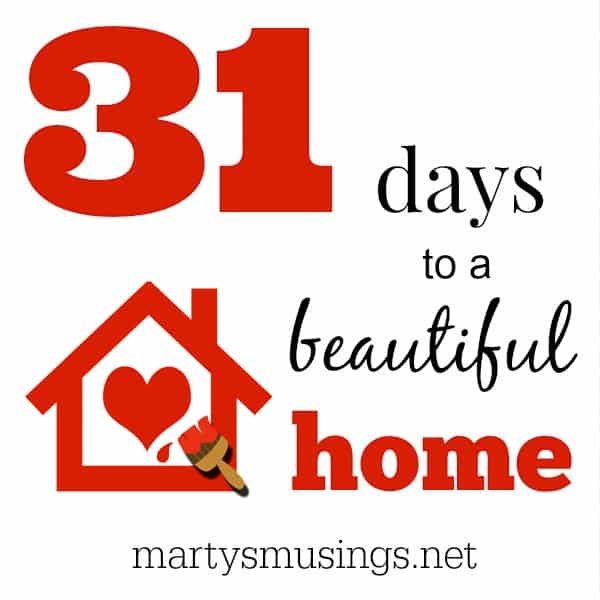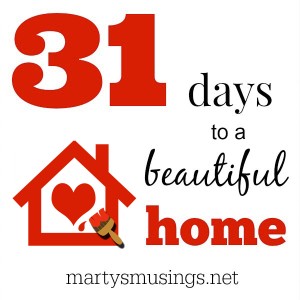 My hope is that my 31 Days to a Beautiful Home series will motivate and inspire you to spend just a bit of time creating a home you will love and embracing the life you have been given! Click here to view all the posts.