Inexpensive 4th of July Table Decorations
This post may contain affiliate links which won't change your price but will share some commission. Read more here.
Inexpensive 4th of July table decorations from yard sales, thrift stores and around the home with seasonal flowers create a perfect rustic, outdoor setting.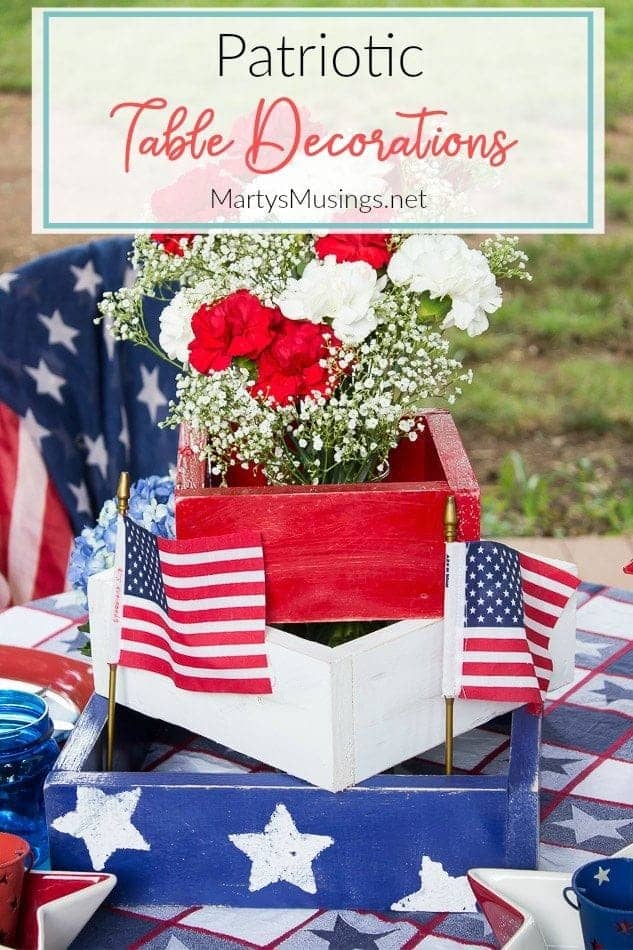 Happy 4th of July everyone! Although no one in my immediate family served in the armed forces of our country, I have a deep appreciation for those who fought and continue to fight for our freedom. Thank you for your sacrifice!
Today I want to show you just how easy this table was to put together using inexpensive 4th of July table decorations gathered from yard sales and shopping my own home.
Just a few days ago I shared the DIY Rustic Patriotic Centerpice my hubby and I created as part of a challenge supporting the 2016 Olympic games.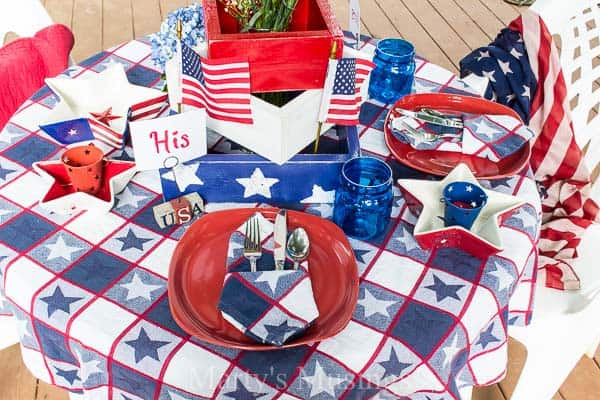 If you've followed me for very long you know I love to create but I also want to squeeze every penny I can out of my dollars!
After Tim and I built and painted our centerpiece I knew fresh flowers would add the perfect accent for our rustic box.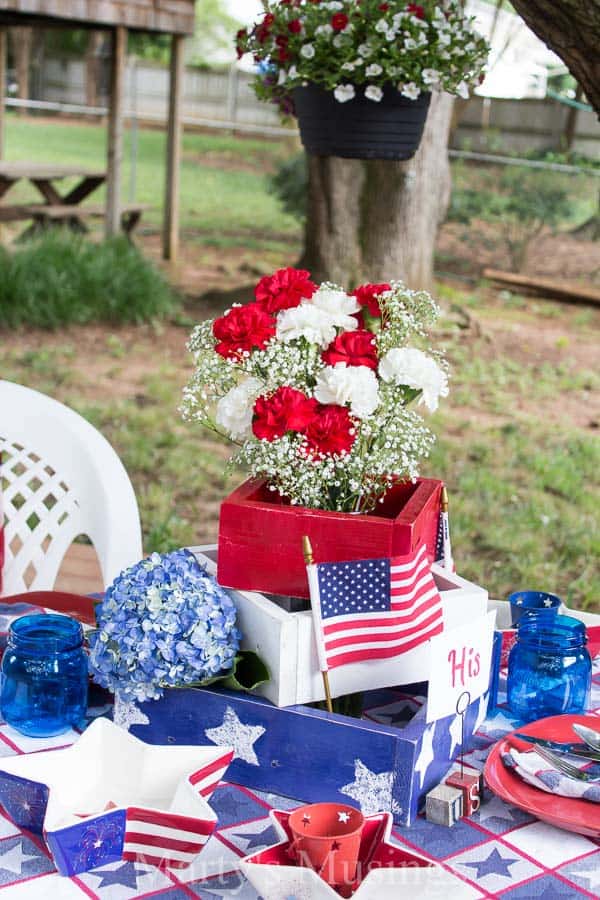 I picked up the flowers at my local grocery store for such a reasonable price and they are an easy way to add warmth to any table.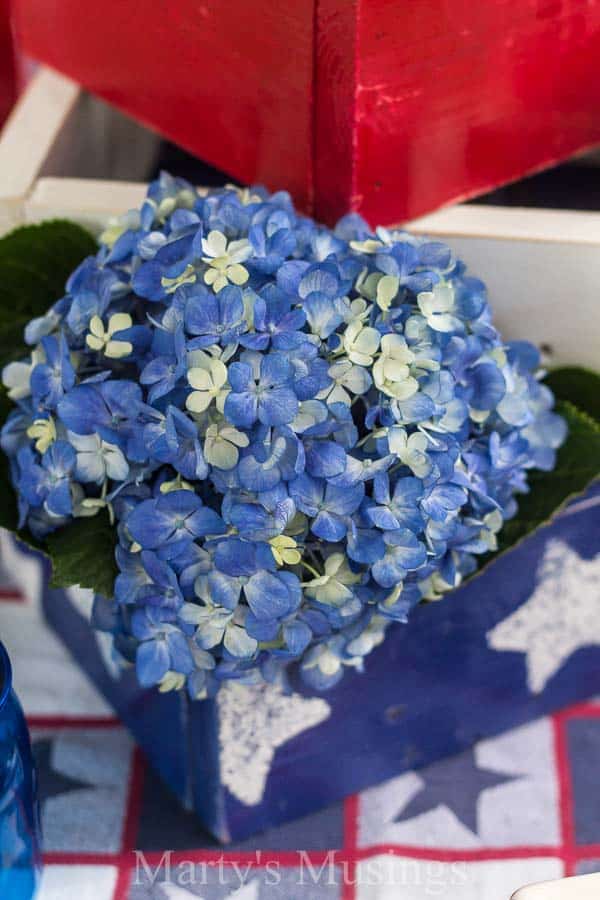 Love this hanging basket for ambiance as well!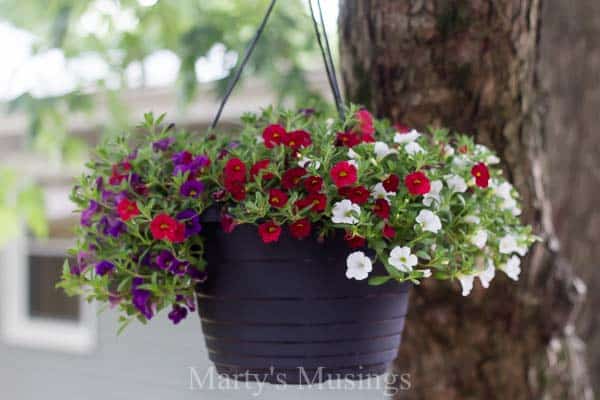 A perfect gesture for the ladies is a simple carnation and baby's breath tied with a red bow.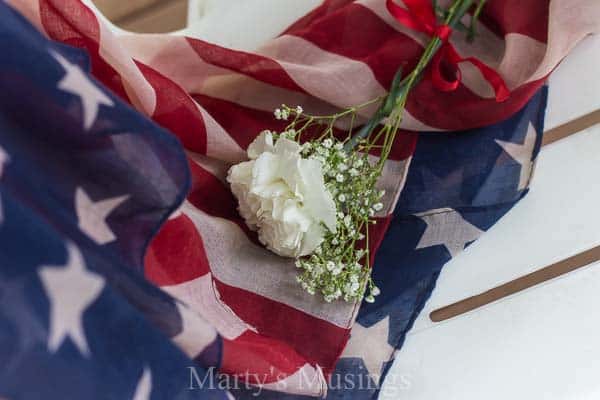 Since I wanted a cozy table set for two I used a table and chairs our neighbor literally handed over the fence to us when she moved. More like hefted, or hurled, but you get the point!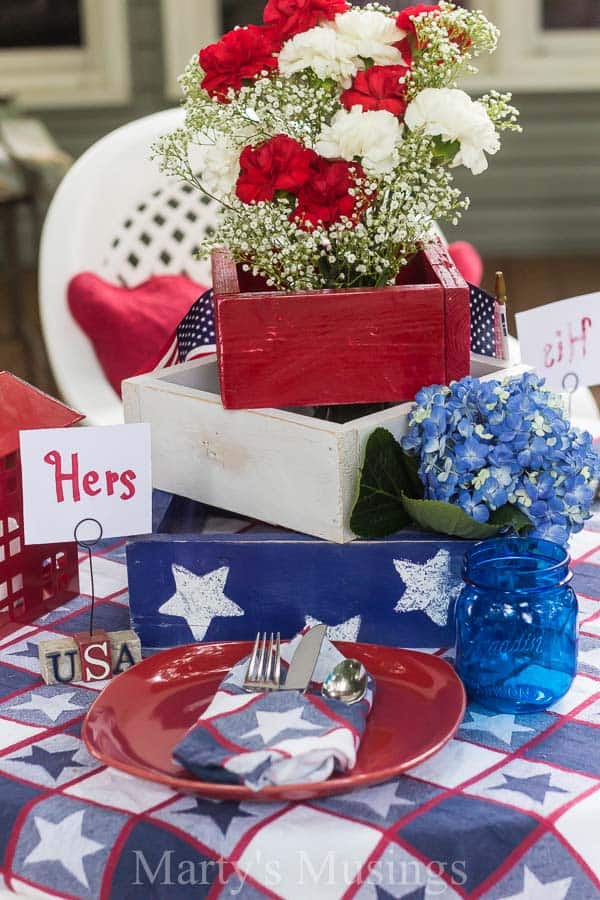 The red, white and blue table linens were from a yard sale and only cost a couple of dollars. Aren't they just perfect? I almost forgot I had them but now they'll be stored with my seasonal decor.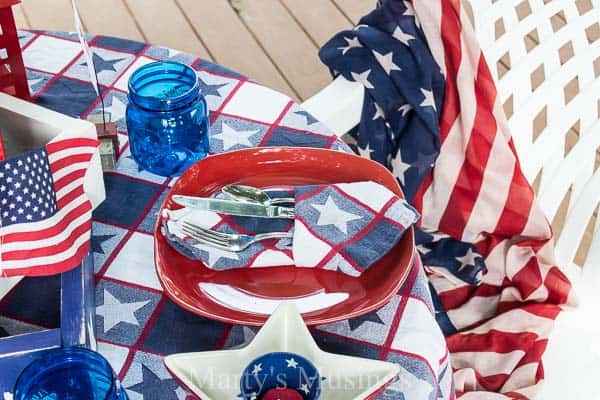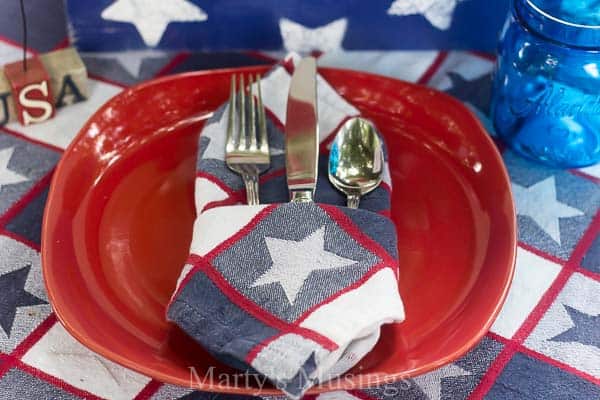 Tim and I are going to be empty nesters sometime in the not too distant future so we'll be getting used to meals alone together again after 27 years! Just a little reminder of those days with his and hers name cards. The USA wood blocks were also yard sale goodies.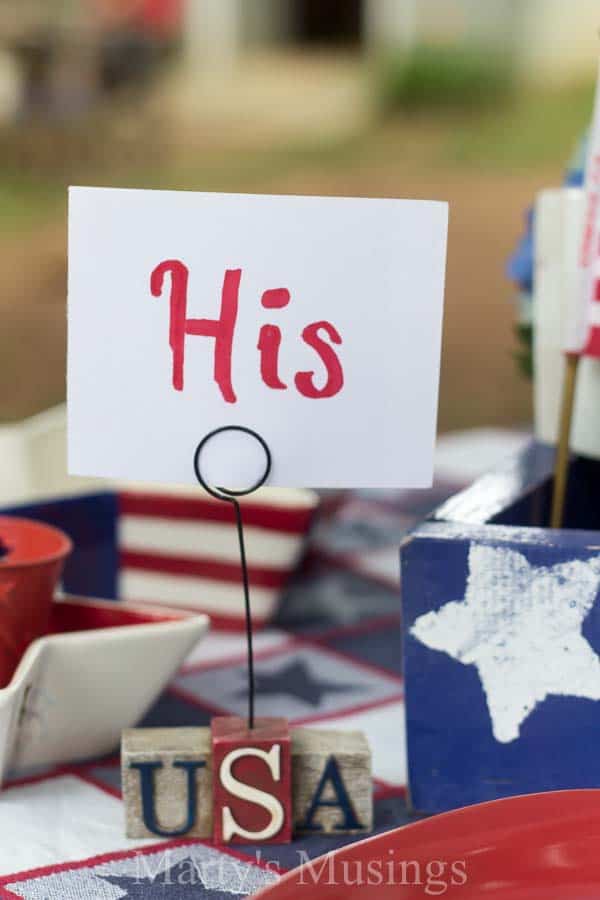 A simple quilted cover for one pillow and a patriotic scarf I stole swiped borrowed from my teenaged daughter cozy up the chairs.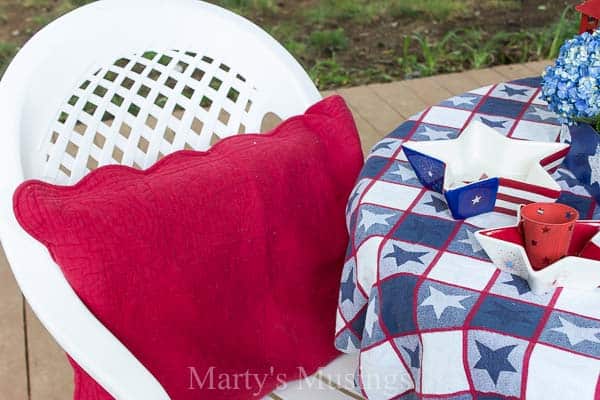 A beautiful table adds a celebratory feel to any occasion.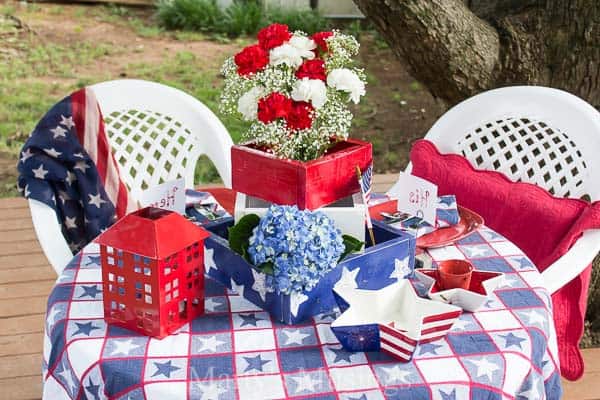 These stoneware serving pieces were also from a yard sale. One of my best tricks for saving money on entertaining is to mix and match pieces purchased throughout the year.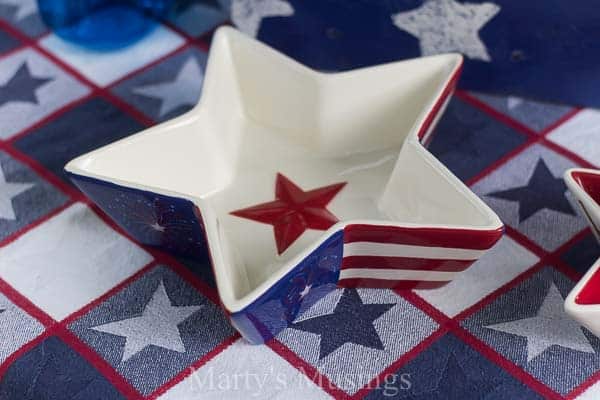 With this dish I added a votive candle holder, but I've also used these adorable stars for serving hot dog toppings at a cookout before.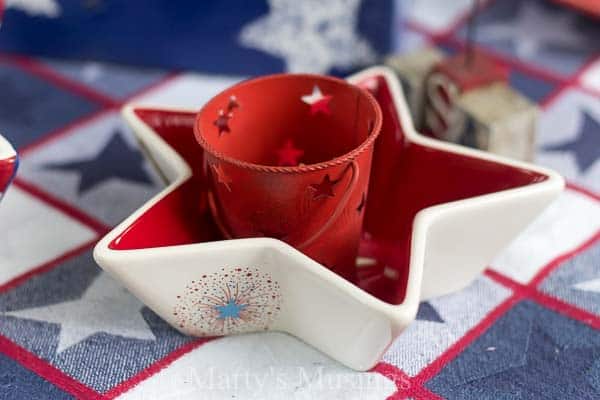 One of the themes you'll hear repeated on the blog is repurposing. This red candle holder was also used at Christmas and was another yard sale treasure.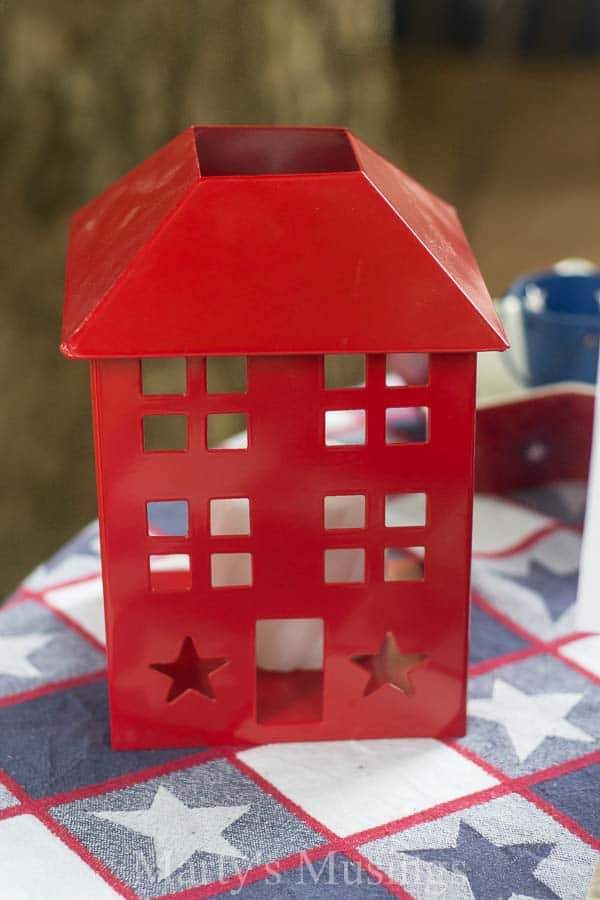 All decked out with my inexpensive 4th of July table decorations and ready to celebrate!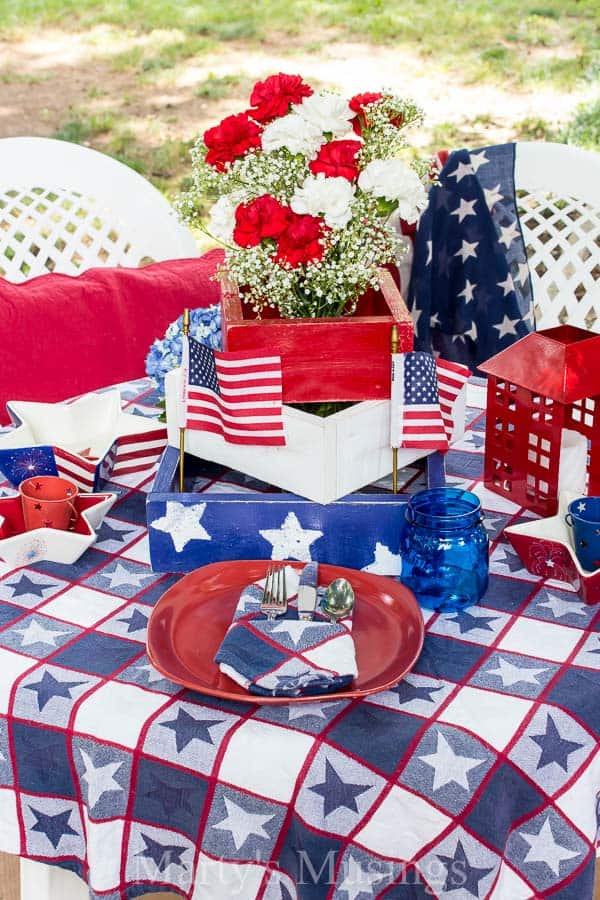 How are you celebrating the Fourth of July this year?