Project Life Ideas for the Busy Woman
This post may contain affiliate links which won't change your price but will share some commission. Read more here.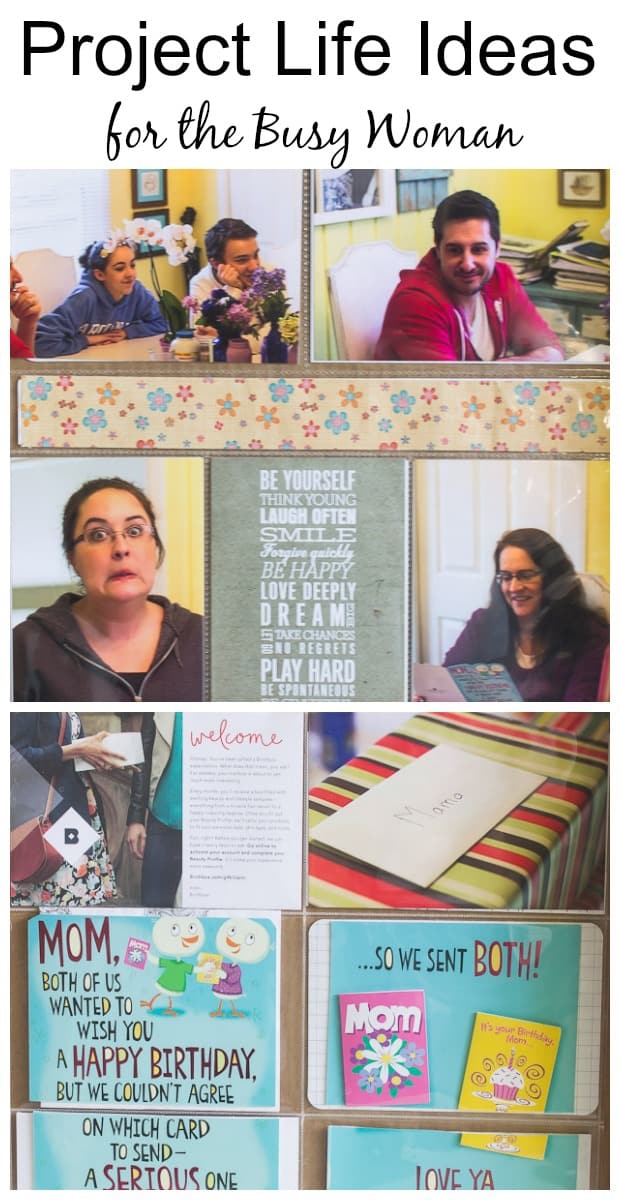 Too tired and too busy to record your family memories? Think the best you can do is a bunch of cellphone pictures that never make it into an album?
I hear 'ya. I really do. I've been a scrapbooker for 17 years. When I first began I cropped my pictures with patterned scissors and gave people square heads instead of round. Anybody out there remember that? Apparently I never learned to cut in first grade.
Fast forward several years to Project Life. Have you heard about it? No?
Then let me tell you just a bit about this system that I love. In its simplest, this is simply a memory keeping system using pocket pages, photos and journaling cards. The pages can be as elaborate or as simple as sliding 4×6 photos into the pockets and writing a few words or dates on journaling cards.
Since I began falling jumping running with this blogging thing I now have less free time to record our family memories.  I wanted some Project Life Ideas for the busy woman – me!
I know many ladies consider the heavy duty child raising years the most important for capturing these moments. However, I believe that the later years are equally important. I want my children to remember the way their parents transitioned from active duty parenting to having teenagers and adult children. I want them to know they are still cherished even when our lives don't intersect on a daily basis.
If I don't record the treasures of our lives, who will?
At one time I was sharing a Project Life layout each week, but my blog sort of headed in a different direction. My husband and I started seriously updating our 1950's ranch home about two and a half years ago. Our den makeover was the impetus for a steady stream of both cosmetic (like our family gallery wall) and larger projects (our small bathroom remodel).
Somewhere along the way I stopped sharing my passion for Project Life, but today I'm back!
The first two years I did Project Life I used the standard (landscape) pockets for 4×6 photos and journaling cards. I took all the pictures for the albums as a landscape shot, slipped them in the pockets and I was mostly done.
Now there are many more choices in protectors, sizes, number of photos, orientation, etc. Since I print my pics locally I don't plan my layouts ahead of time but sort through and decide which photos I want to use and pick the page protectors from there. Any extra photos are saved for regular scrapbooking layouts.
These two pages are from my birthday this year. I love the 4×6 card with that holds great advice on living life!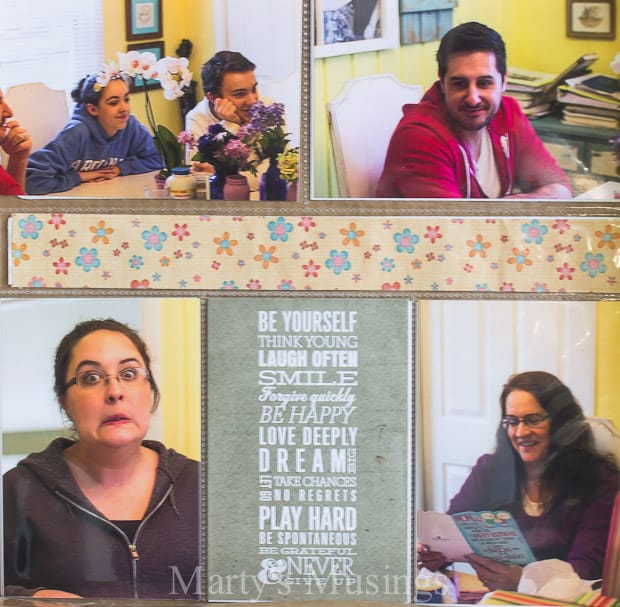 One of my gifts was a 3-month subscription to Birch Box so I included the welcome card. I also cut up the card my daughter Rachel gave me so it would fit into the page protector.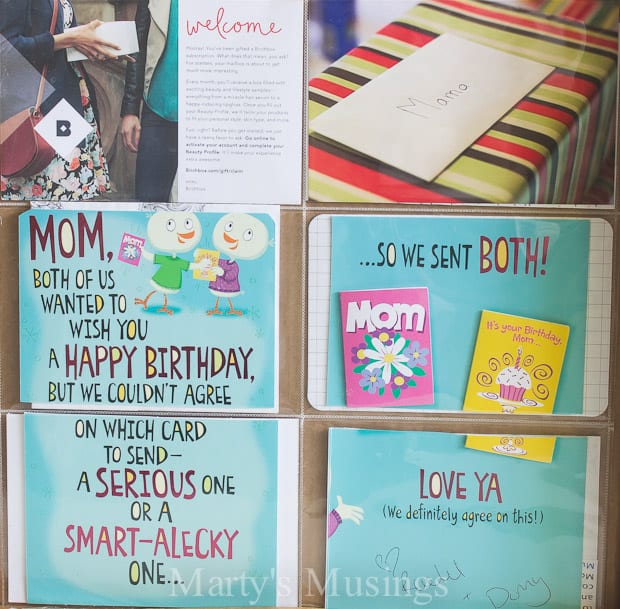 I included the letter my youngest daughter wrote me, the card from the orchid from my husband, art work from my son and two facebook messages I printed.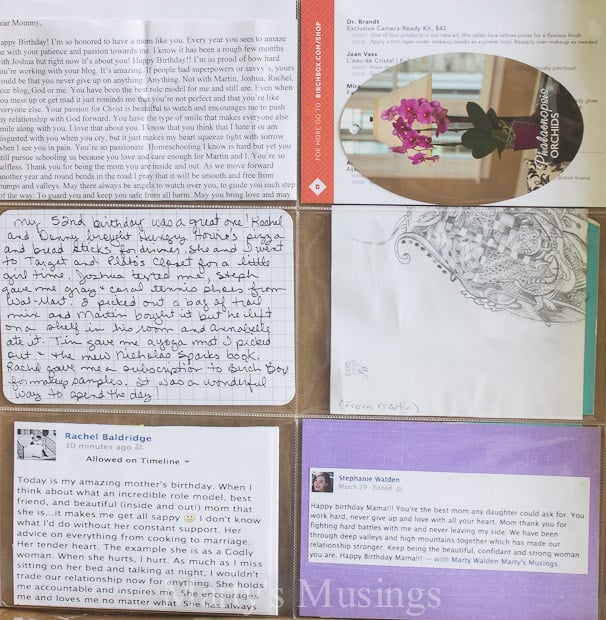 These goofy pictures of me are so ME!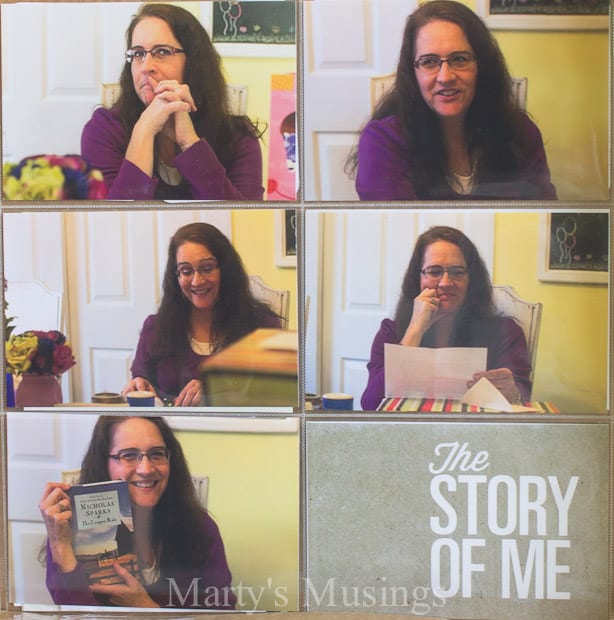 I want my scrapbooks to not only record our family history but have a piece of me in it, too. For my birthday someone else took charge of the camera so I was free to have fun and celebrate.
I hope to continue to share layouts and tips with you on my blog because one of my main goals as  a mom and storyteller is to encourage you to record your family's story. It doesn't have to be elaborate or overwhelmingly time consuming. Your family will thank you one day. My Project Life pages are the ones my children look at over and over.
Have you heard of Project Life before? What question do you have and what's keeping you from jumping in?
This post contains affiliate links.