Chocolate Lasagna with Peanut Butter Cups
This post may contain affiliate links which won't change your price but will share some commission. Read more here.
This decadent Chocolate Lasagna recipe with Peanut Butter Cups will satisfy your every chocolate craving and guarantee that your guests will go home happy!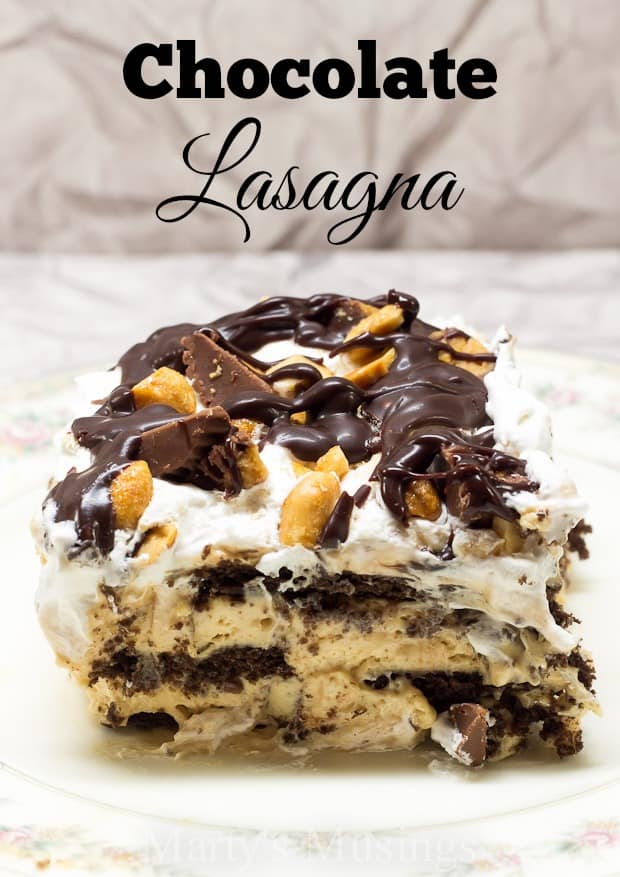 About three times a year I go off for a weekend of scrapbooking, crafting, chatting and eating with some wonderful ladies.
It's the kind of weekend I live for.
No kids. No husband. No responsibilities.
I go to bed when I want and get up when I want.
It's pretty much heaven. ~sigh~
And then there's the food.
Glory.
We have some amazing cooks in this crowd.
It's the kind of weekend that requires loosening the waist band and extra walks in the woods for those extra calories I ingest.
Again. Heaven.
When I saw this incredible Chocolate Lasagna dessert being served I began hankering for the recipe.
That's Southern for "gotta have it and I'll fight you for it!"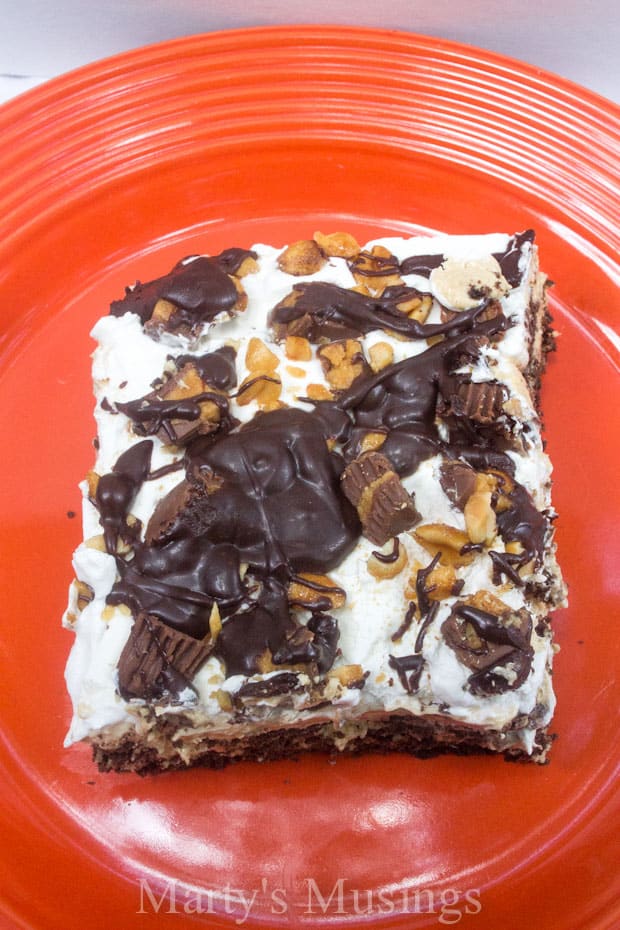 My friend Melinda Smith graciously typed it out and emailed it to me.
My kids were my test subjects. That was a hard job but somebody had to do it.
My oldest son was home from college.
He's now a vegetarian.
I don't know what happened to him when he went to school. My late night snacking buddy disappeared and this healthy young man appeared at our table.
He wouldn't even touch this chocolate lasagna.
It was a sad day.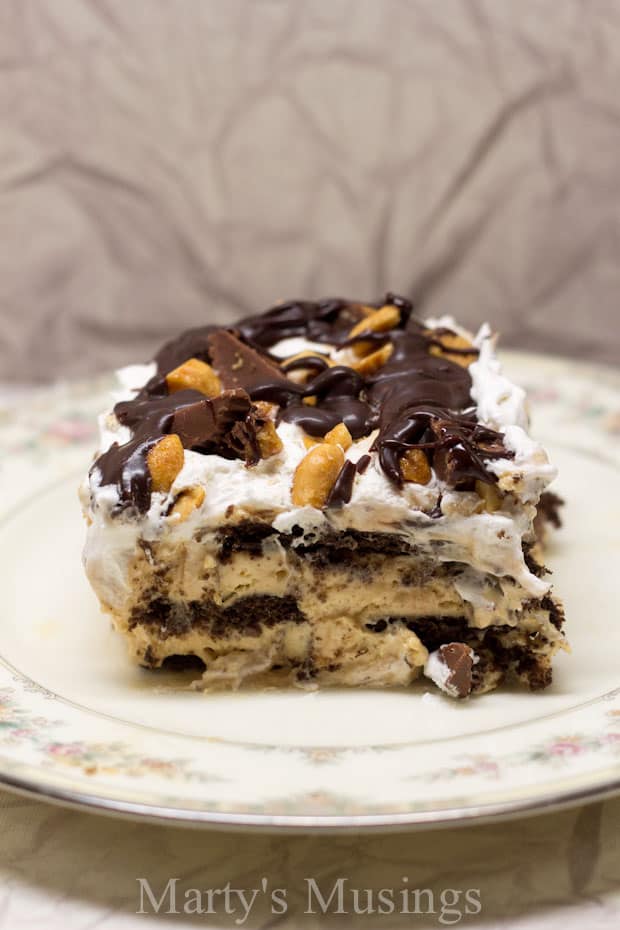 So I ate his share.
You're welcome, son. Anything for the team.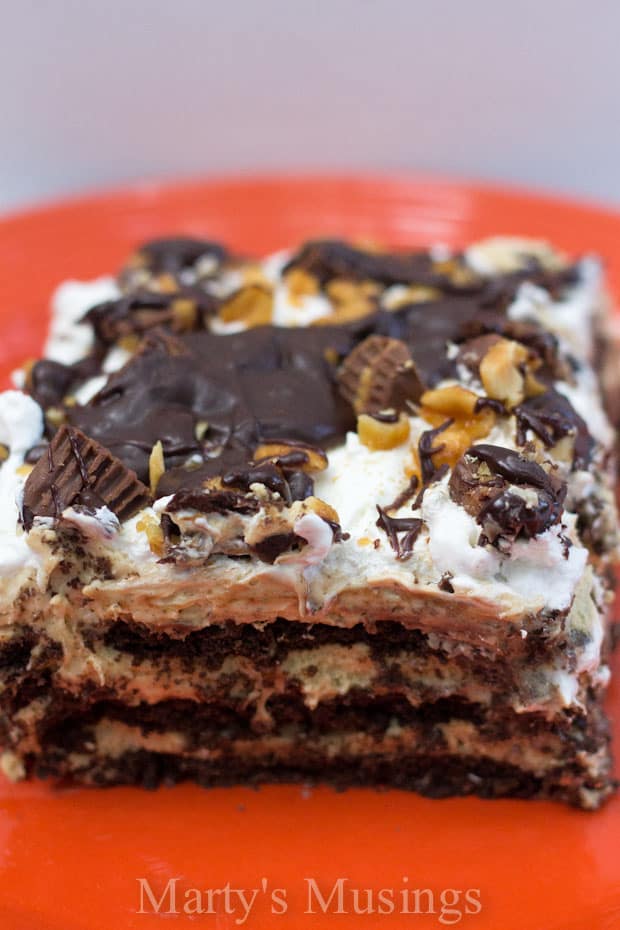 Chocolate Lasagna with Peanut Butter Cups
Chocolate Lasagna with Peanut Butter Cups
Chocolate, cream cheese, peanut butter cups, whipped cream and chocolate graham crackers make this dessert unbelievable!
Ingredients
CREAM CHEESE FILLING
16

oz.

cream cheese

softened

1 1/2

cups

peanut butter

1

cup

powdered sugar

1

cup

heavy cream

1

tsp

vanilla

16

oz.

whipped topping – thawed

1

14 oz. box chocolate graham crackers

1

12 oz. bag mini Reese's cups

3/4

cup

cocktail peanuts
CHOCOLATE DRIZZLE
1

cup

chocolate chips

1/3

cup

heavy cream
Instructions
Cream the cream cheese, peanut butter, powdered sugar, heavy cream and vanilla. Whip 2-3 minutes. It will be thick.

Add 16 oz. whipped topping. Mix until light and fluffy.

Divide into thirds.

Chop peanut butter cups and nuts. Divide into halves.

In a 10×15 dish begin layering. First layer graham crackers. 2nd layer cream cheese filling. 3rd layer candy. 4th layer graham crackers. 5th layer cream cheese filling. 6th layer graham crackers. 7th layer filling.

Frost with 8 oz. of cool whip.

Sprinkle with remaining candy/nut mixture.

Melt chocolate and heavy cream in microwave. Do not overheat.

Drizzle with melted chocolate.

Refrigerate 4-6 hours. Enjoy!
Notes
If you can't find chocolate graham crackers you could always substitue regular ones.
If you wanted an extra (3rd) layer of candy you would have to have more Reese's cups and nuts.
This recipe feeds a small army! It is so rich that you don't need to cut it into huge servings.
If you'd like to check out some more of my favorite desserts simply click on the picture to be taken straight to the post.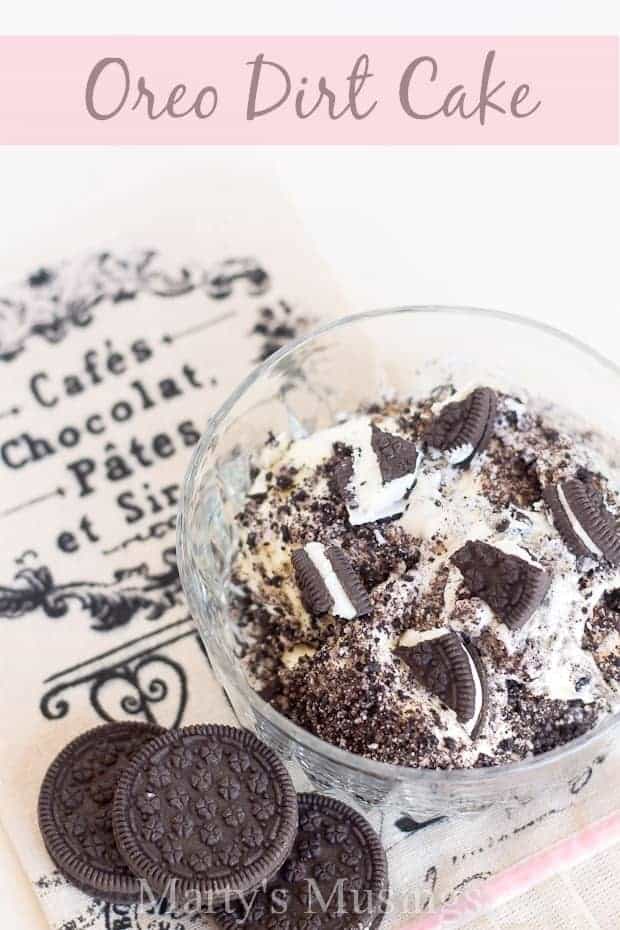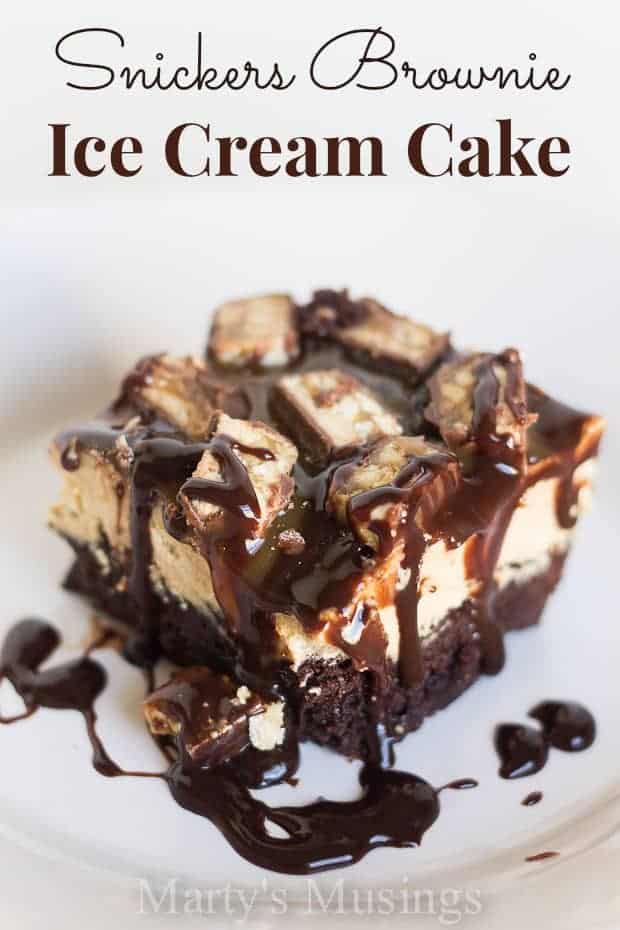 Snickers Brownie Ice Cream Cake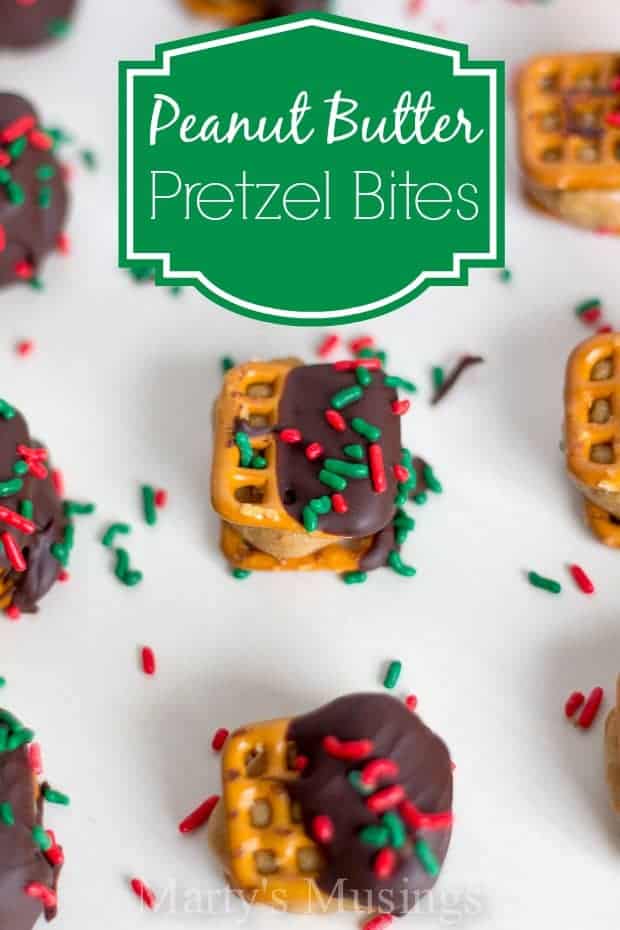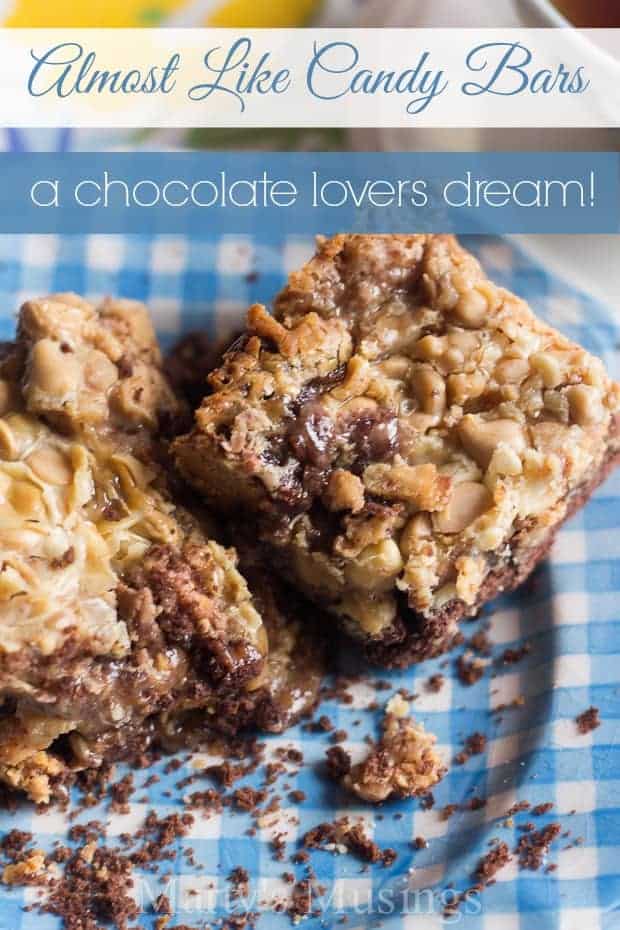 Almost Like Candy BarsSaveSaveSaveSaveSaveSaveSaveSave