Coronavirus Essentials Checklist: Free Printable!
This post may contain affiliate links which won't change your price but will share some commission. Read more here.
Don't let anxiety over the latest world crisis effect your own health. Here's a coronavirus essentials checklist and FREE printable to get you ready!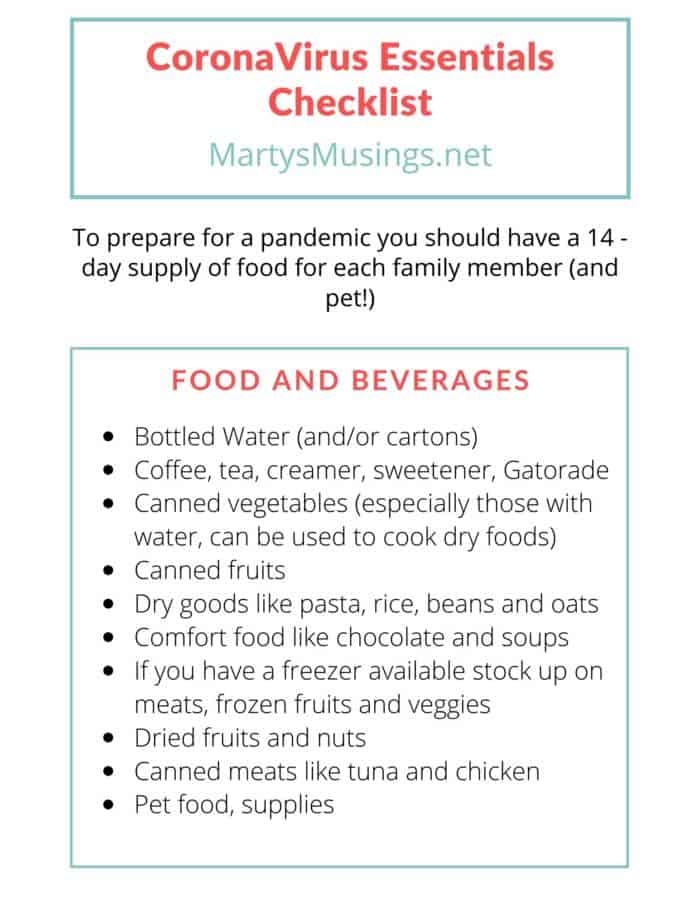 (Two page FREE printable linked below!)
Unless you're living under a rock you've recently been barraged with information on the coronavirus.
Coronavirus, you say? Yep, a few weeks ago you probably had never heard of this beast!
The CDC says, "This new coronavirus, abbreviated as COVID-19, is a new disease, caused by a novel (or new) coronavirus that has not previously been seen in humans."
The virus was first detected in Wuhan City, Hubei Province, China. The first infections were linked to a live animal market, but the virus is now spreading from person-to-person.
Why should you care? Media coverage of this virus is unprecedented, causing much misinformation and more recently, panic and unrest.
What You Need to Know About the Coronavirus:
1. Don't panic!
Because many of us stay connected to the world through social media and/or news updates, you may not know who to believe regarding the coronavirus.
There are definite reasons to be concerned but panicking and buying up all the available toilet paper won't solve the problem.
Stay level headed, research with reputable websites and if you are a believer, know that our God is the same today as He was yesterday and will be tomorrow. Our hope is not in man but in things above.
2. Do your research.
Take the time to read about the virus itself, who is at risk and what you can do about it. Don't just listen to your brother-in-law or Facebook rants.
We all want to protect our families as best we can, but generosity wins for me every time.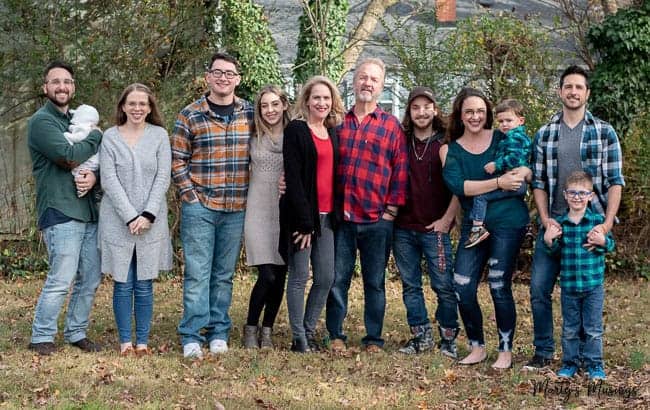 (Our family last Thanksgiving)
For those over 60 and anyone who suffers from a suppressed immune system (that includes me!) there is a greater risk. Each individual needs to make the decision whether to go out in public or avoid crowds if the risk is great.
Supplements I use:
(I've included some affiliate links for your convenience. Click here to read my full disclosure policy.)
I thought it might be helpful if I shared a few of the supplements I use to stay healthy. I have the Epstein Barr Virus which has changed everything for me, from diet to supplements and meds, to educating myself about this condition. (You can learn more about my journey here.)
Silver Hydrosol – this was recommended by my functional medical dr. for infections
Probiotic – I take two capsules every single day for gut health
Xlear Nasal Spray – non-addictive nasal spray
3. Prepare for a two-week quarantine.
Anyone else remember Y2K? For you young folks that was New Year's Day of the year 2000. No one really knew what computers would do at the turn of a new century, whether there would be a gigantic breakdown or life would go on as usual.
Guess what? Nothing happened! But I will confess I did stock up on canned goods that I still store to this day underneath our bed. (See why in my organization tips for small homes.)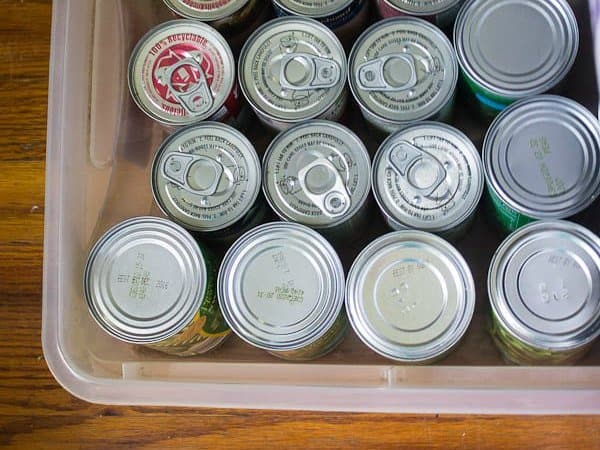 As I was trying to figure out what I needed to keep on hand in case of a quarantine emergency, I went searching for a printable that I could take with me to the store.
Give me a good list and I feel like I can tackle the world! (Anyone else? Just me?)
I found nada. Zilch. Nothing.
So I created my own! Today I have a FREE PRINTABLE which is the Coronavirus Essentials Checklist printable, everything you need to have on hand if this virus requires any amount of quarantine time.
(Again, don't panic if you can't find everything. Hopefully stores will continue to restock as the days pass.)
Coronavirus Essentials Checklist
This checklist can be printed on regular copy paper and I hope it will be helpful for you!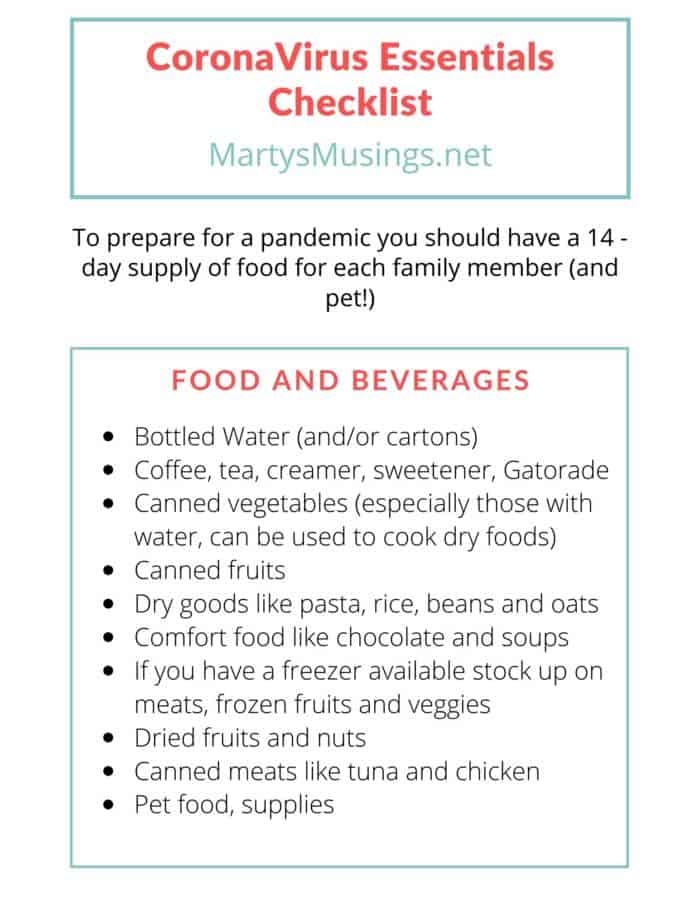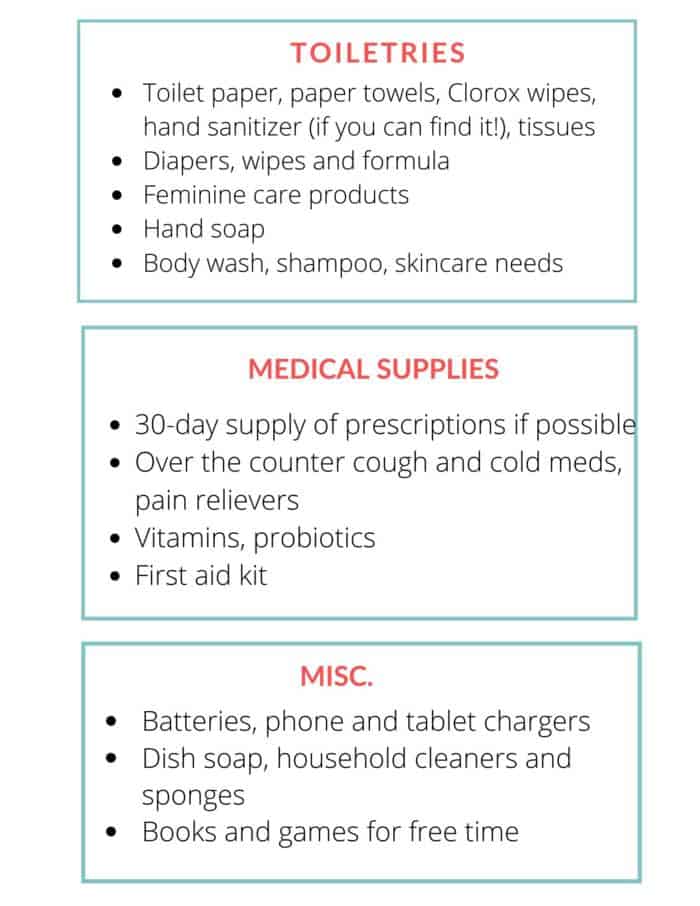 I would also add that you will be blessed if you are able to share with others during these next few weeks. God loves a cheerful giver!
4. Know the symptoms.
Symptoms for the Coronavirus include mild to severe respiratory illness with fever, cough, and difficulty breathing. Read more on the CDC site here.
If you have any concern that you might have this virus, don't hesitate to go to the doctor! You're not only looking out for yourself but for your family, neighbors, employees, etc.
5. Take precautions.
For those who are at high risk, CNN has some great tips.
Stay at home as much as possible if you live in an area where there's an outbreak.
In public, avoid crowds and poorly ventilated buildings. Obviously, this includes air travel.
Keep several feet of distance from people.
Wash your hands with soap after going in public. Yes, PLEASE wash your hands frequently! (I've also started carrying Clorox wipes in my car and using them to wipe down grocery carts.)
If you need to isolate, keep in touch with family and friends. (Don't allow yourself to become depressed or fearful. This is just a season!)
I'll confess that anxiety can rear its ugly head when the stock market bottoms out and a crisis hits our nation and world. But what I know to be true is prayer is a powerful tool in situations like these.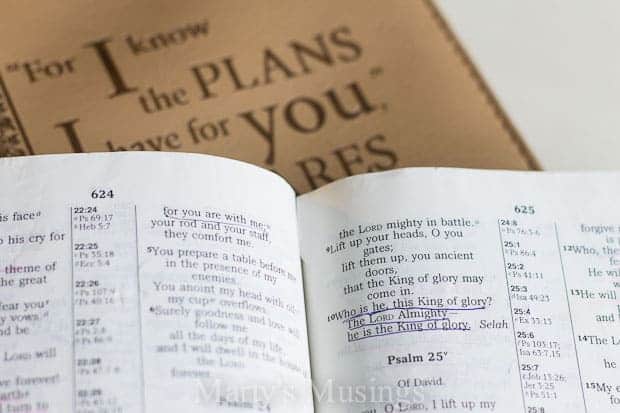 Even when I can't find the words I know "the Spirit himself intercedes for us with groanings too deep for words." (Romans 8:26)
Did I leave out anything important? Let me know how I can help!
These other posts may help you if anxiety and stress are overwhelming you!
How to Overcome Stress and Anxiety When You're Stuck
Living with Grief and Heartbreak
9 Easy Tools to Help You Survive a Crisis