Easy Spring Banner from Scrapbook Paper
This post may contain affiliate links which won't change your price but will share some commission. Read more here.
Want to decorate for the season without spending a lot of time or money? This easy spring banner from scrapbook paper can be done in minutes and costs pennies!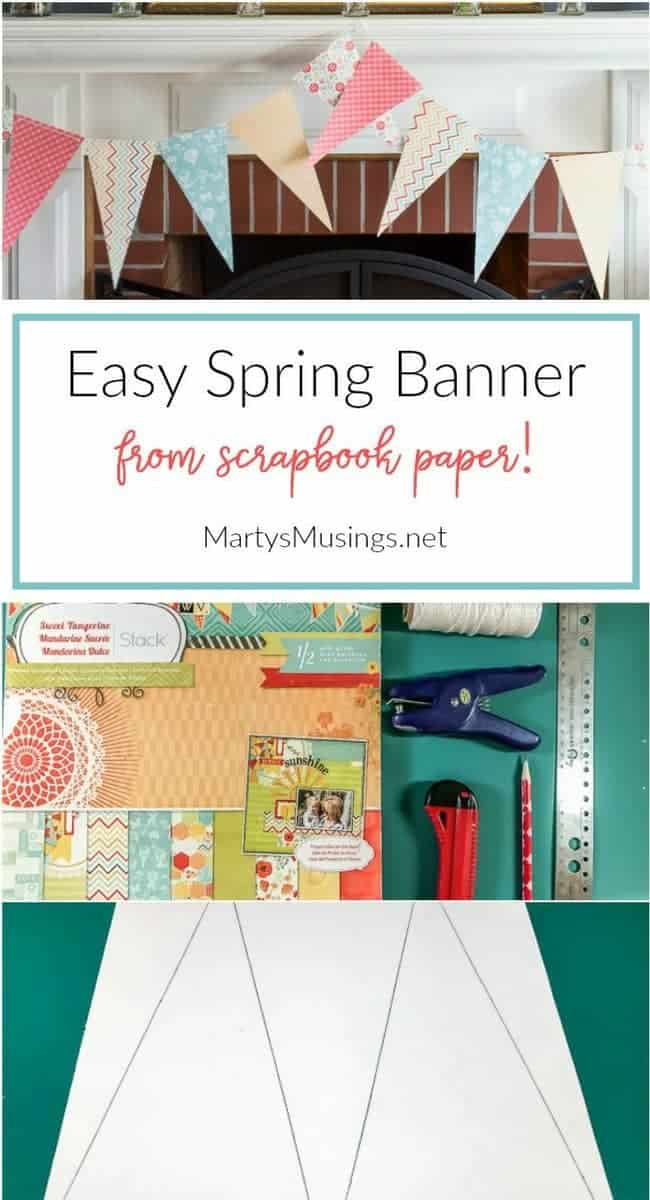 Pinterest is a lie.
There, I said it.
And as one whose business often relies on Pinterest traffic, that statement is like the nail in the coffin.
But if you know me, transparency is what I do best.
It's my calling.
So here's my harsh reality right now.
Sometimes it's hard enough to do real life, much less think about decorating your home.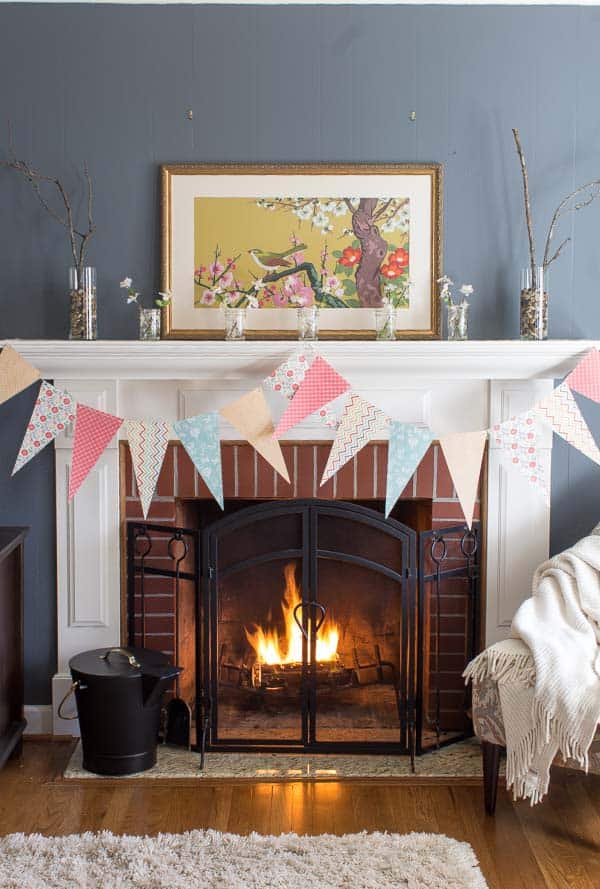 I get it. Oh, how I get it.
I have a lot of blogger friends with beautiful, put together homes.
They're nice people, smart business women and ladies I enjoy being around.
But they're not me and haven't lived my life.
My friends, these past few years have been a struggle, with health issues for both my husband and I causing discouragement.
The details don't even matter, but I think you can probably relate.
Then there are the everyday marriage struggles, financial woes and figuring out this new stage in our lives.
I'm supposed to write about creating a treasured home (even when you don't feel creative!) and some days I don't want to write, create or treasure it!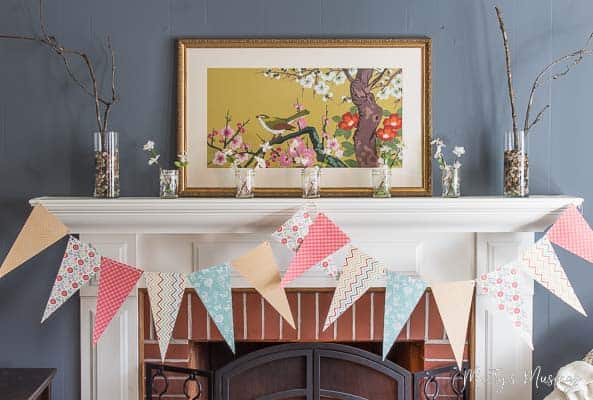 It's not all doom and gloom but some days are a battle.
Greater is He that is in me than He that is in the world. (I John 4:4)
So I get up and do the hard stuff.
I love my husband and family through his surgeries and mine, his wounded heart and my pain.
We design an amazing kitchen (check out our amazing renovation here) and farmhouse bathroom, do DIY projects and life together, one baby step at a time.
Because that's what heals you. Creating beauty and working through the hard one day at a time.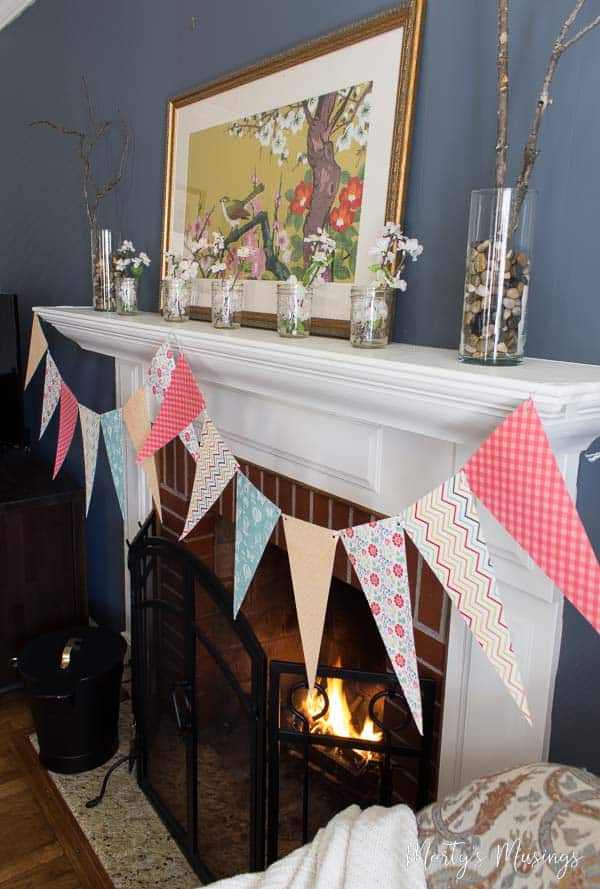 I'd like to tell you putting together this project made all sorts of chills run up and down my spine but that's just silly.
However, I spent less than half an hour making this easy spring banner and IT MADE ME HAPPY.
I love the colors, the texture, the fact that I was doing SOMETHING, anything other than focusing on the negatives in my life.
Friends, we are more than our circumstances. Our feelings want to tell us differently but we are strong enough to tell our feelings to go take a hike.
We CAN create a beautiful home that we're proud of, a place where love lives.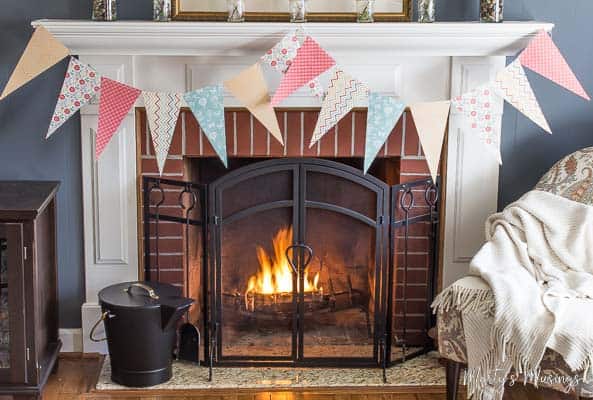 Before I share the instructions let me tell you how easy the mantel was to pull together. Y'all know I love using old windows as a focal point (see my Christmas, winter and Valentine's mantel) but this time I wanted something a little different.
This framed spring picture has a special meaning for me but I've never used it in my home. My sister lived in Japan in her early 20's and spent many hours embroidering. She gave this picture to my mom and dad and when my parents passed away I couldn't bear to part with it even though it doesn't go with my decor.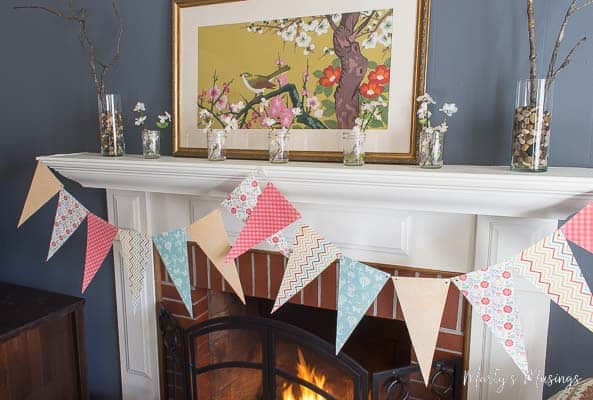 My sister also passed away in 2000 so this is a beautiful reminder of her creativity and skill. On a side note, she would have LOVED my blog! We used to yard sale together and she painted furniture before it was the cool thing to do!
The rest of the mantel consists of pint mason jars (I used them originally for a Seven Layer Mexican Dip) with dollar store flowers,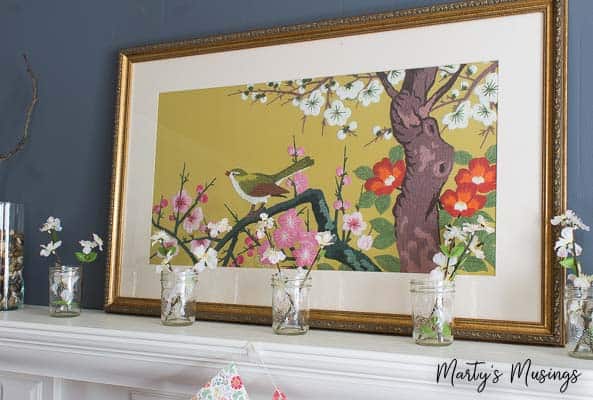 dollar store vases and rocks from last month's mantel and some sticks!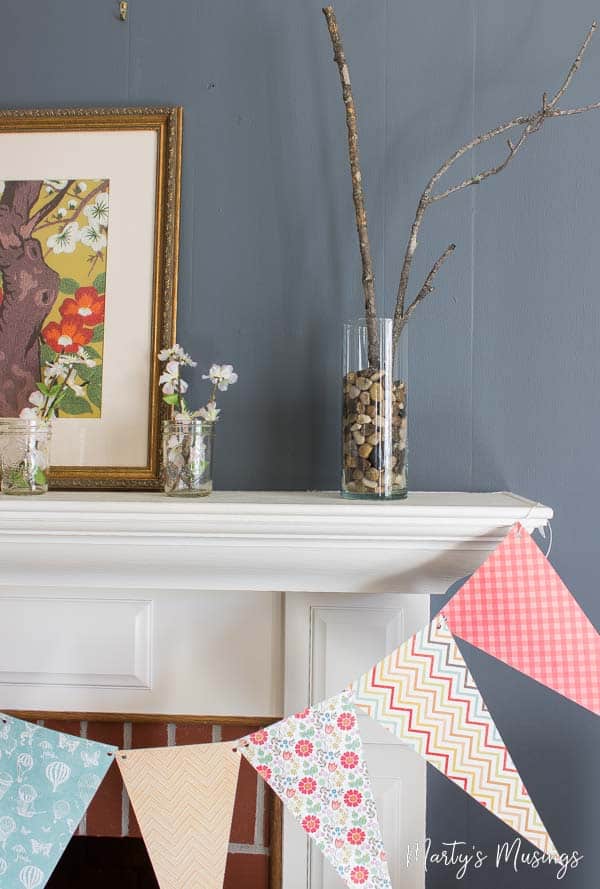 I didn't spend a penny because I already had everything on hand. Repurposing at its finest!
Easy Spring Banner
(I've included some affiliate links for your convenience. Click here to read my full disclosure policy.)
Materials:
5 sheets of 12×12 Scrapbook Paper (any with card stock weight will do)
Self Healing Rotary Mat
Metal Ruler
Utility Knife
Hole Punch
String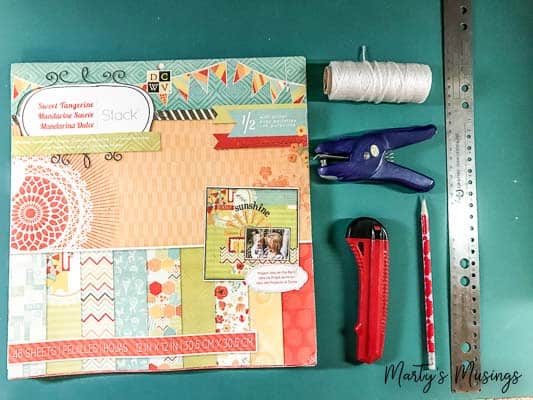 Turn the scrapbook paper to the blank side and make a mark at 6 inches.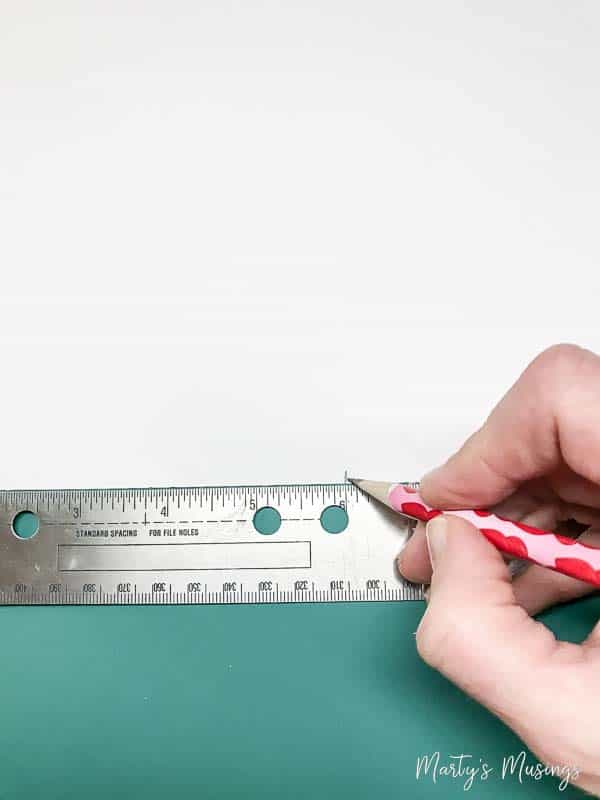 On the direct opposite side make a mark at 3 and 9 inches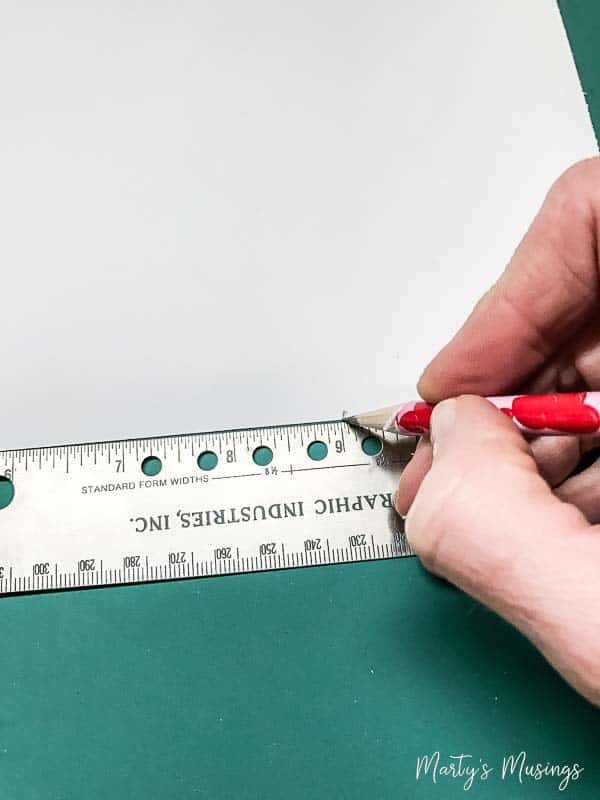 Draw the lines as pictured below, giving you two pennants out of one sheet of 12×12 scrapbook paper.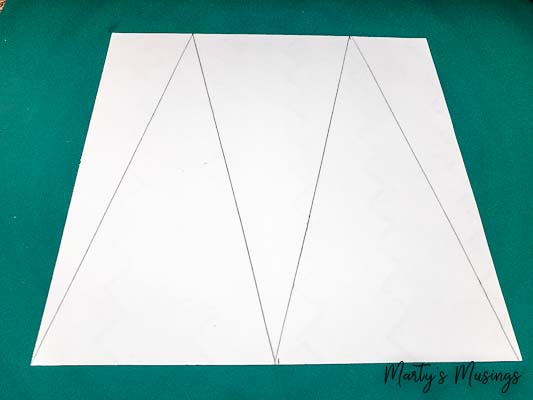 Using the straight edged ruler as a guide, press firmly onto the self healing mat, cutting the paper along the pencil lines with the utility knife. (You can also just use scissors!)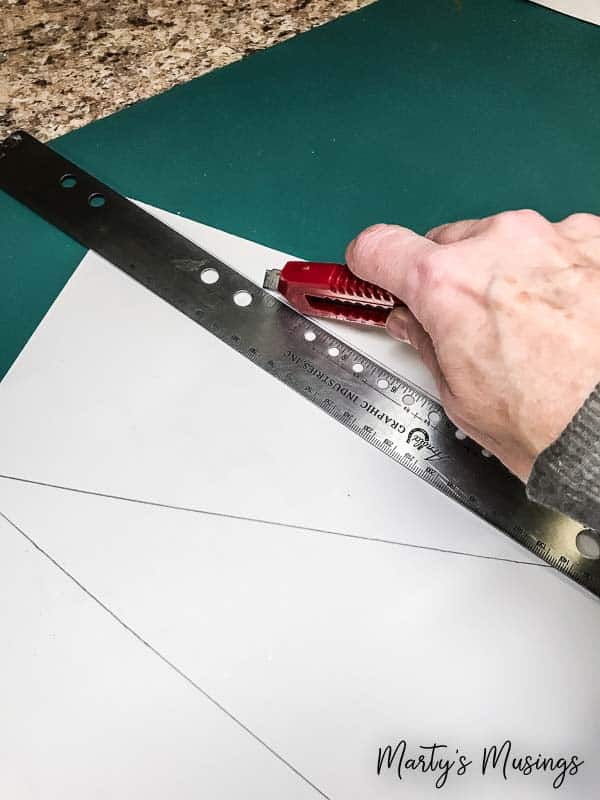 Punch a hole in each end of the long side of the pennant and run string through the back.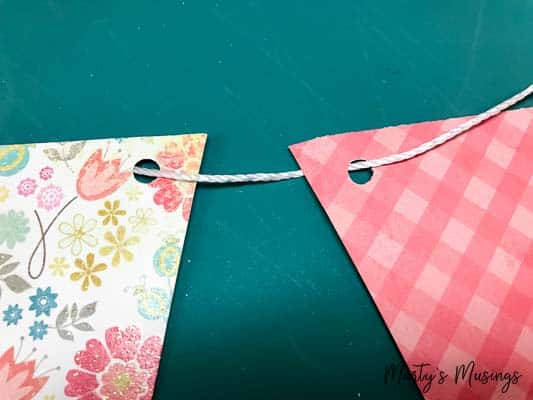 Hang and enjoy!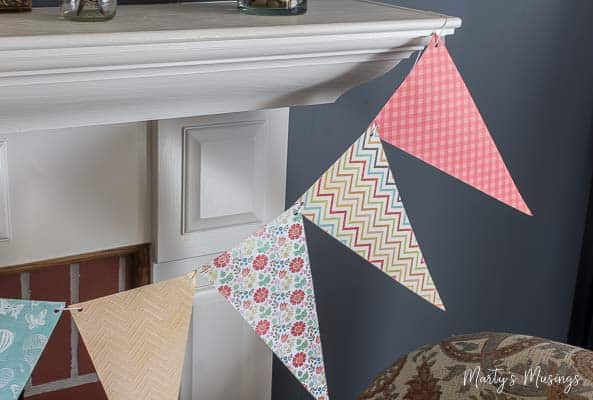 Yes, sometimes unhappy, struggling people live in our homes, too, and sometimes it might even be us!
I just also happen to believe creating something beautiful can help us recapture joy and hope in our home and lives.
I'd love if you'd share this easy spring banner with someone who needs a SIMPLE project for their home and encouragement for their life!