Easy Red White and Blue Tablescape for the 4th of July
This post may contain affiliate links which won't change your price but will share some commission. Read more here.
The post Easy Red White and Blue Tablescape is sponsored by Duraflame® but all opinions are my own.
We often make entertaining too complicated so today I want to show you how to create this easy red white and blue tablescape by using what you already have in your home. I want to save you both money AND time!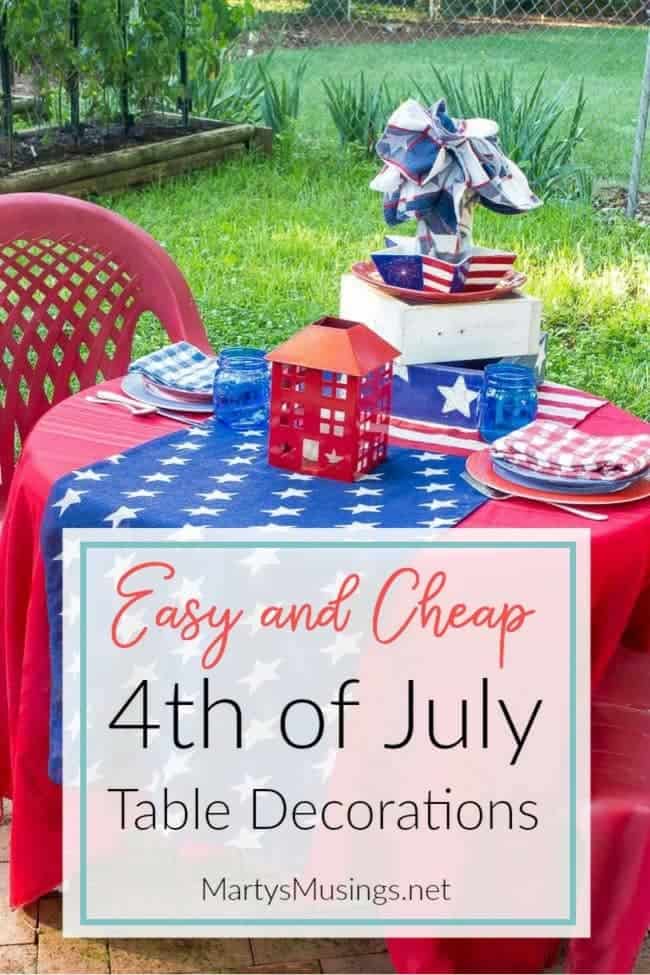 I don't know about you but my idea of heaven can be curling up on the couch at the end of the week with an episode of Gilmore Girls (yes, I'm late to the party but am currently obsessed!) While self care certainly has its place, I believe sharing life with others is also important. Sometimes we need to be the ones inviting others into the mess of our lives and yes, even our homes, instead of waiting for someone else to do the initiating. My friend Jen from Balancing Beauty and Bedlam is writing a book on this exact subject and writes a blog on imperfect hospitality. I have much to learn!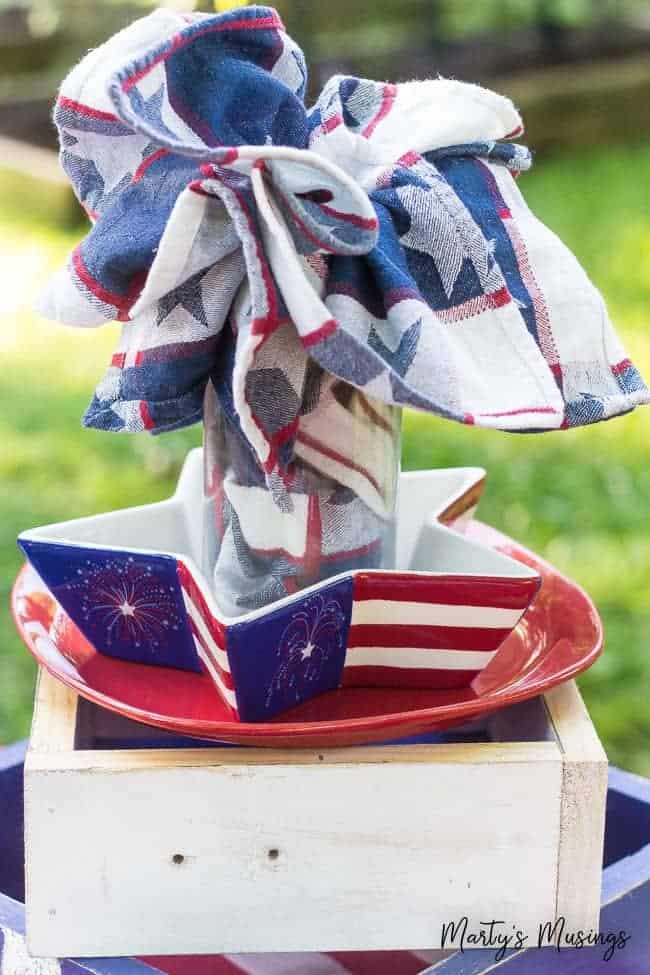 Whether you create this cute little patriotic table setting for you and your honey or you're inspired to invite a few friends over for burgers for the Fourth of July holiday, remember that investing in the lives of others is the source of true joy.
Easy Red White and Blue Tablescape
Materials
(This post contains some affiliate links for your convenience. Click here to read my full disclosure policy.)
I've linked to similar items from my table below when possible.
Red tablecloth
Flag table runner
Cloth napkins (centerpiece)
Red lantern candle holder
Blue mason jar drinking glasses
Tea towels
Patriotic nested serving bowls
Keep it simple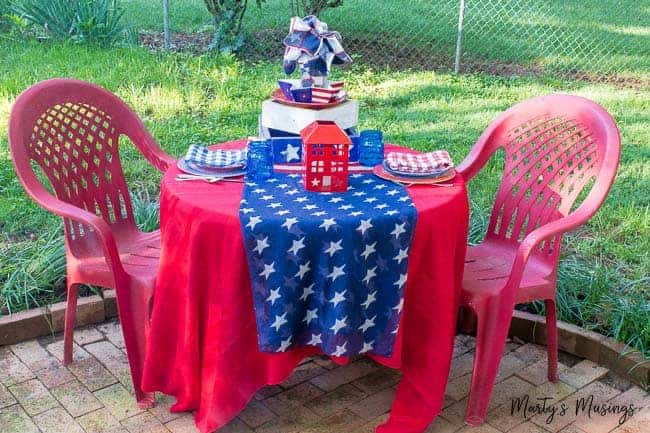 When you're entertaining outside it's best to keep things simple unless you have lots of helpers to haul your stuff for you! Since we're almost empty nesters I'm sticking to the keep it simple philosophy.
The easiest solution for tableware would be disposable dishes and silverware but I do love the real thing. I compromised and used plastic plates that came from the dollar store with salad dishes from yard sales. You don't need to have specific dishes for each holiday. Go with a color scheme that works for more than one! The tablecloth is from Christmas but nobody needs to know that, do they? ~smile~
Repurpose
One of the themes you'll hear repeated on the blog is repurposing. Taking something that might be thrown away or finding a different purpose for it is something I heartily embrace!
This red candle holder was also used at Christmas and was another yard sale treasure.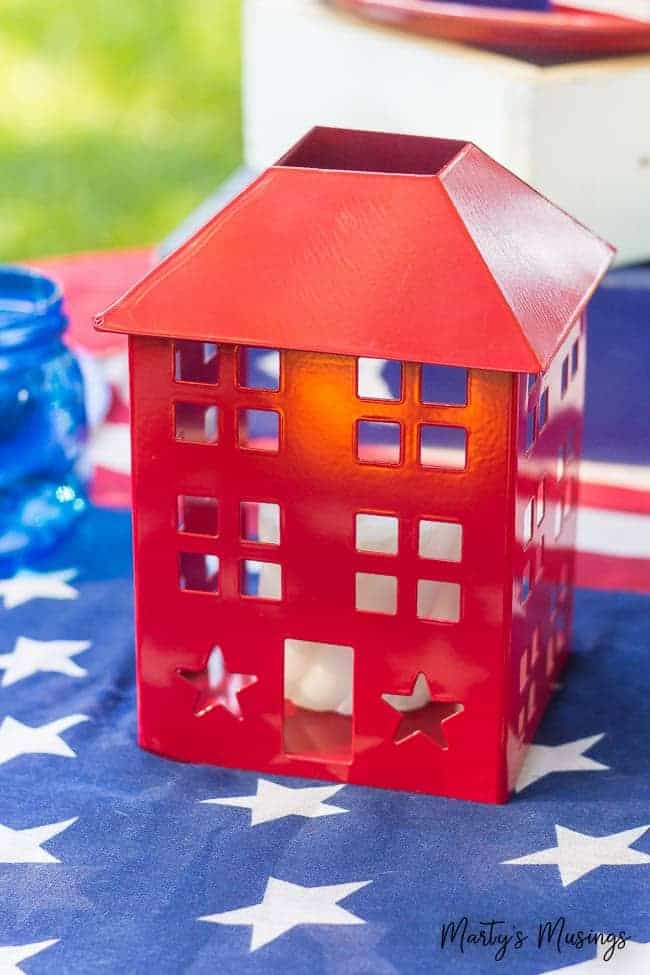 You'd probably never guess the table runner was my daughter's hand me down scarf! The centerpiece box was a DIY project my hubby and I created last year but this time I stacked a red plate and a Fourth of July serving dish on top. (You can see the rest of last year's patriotic tablescape here.)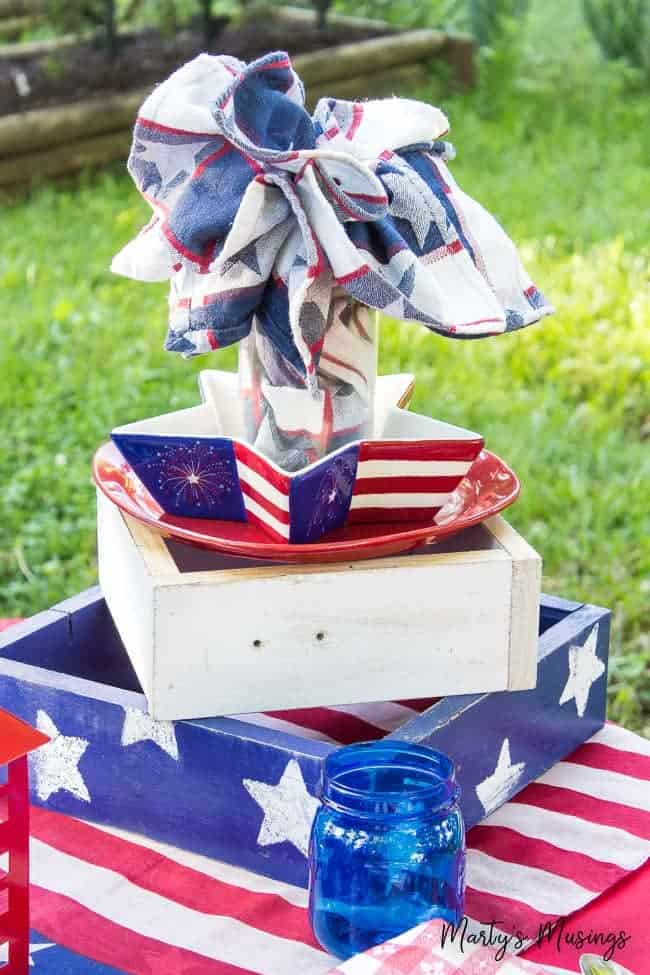 Then I stuffed cloth napkins I bought for pennies at a yard sale into a glass container and arranged them to look like a bouquet. Pretty unique and festive, don't you think?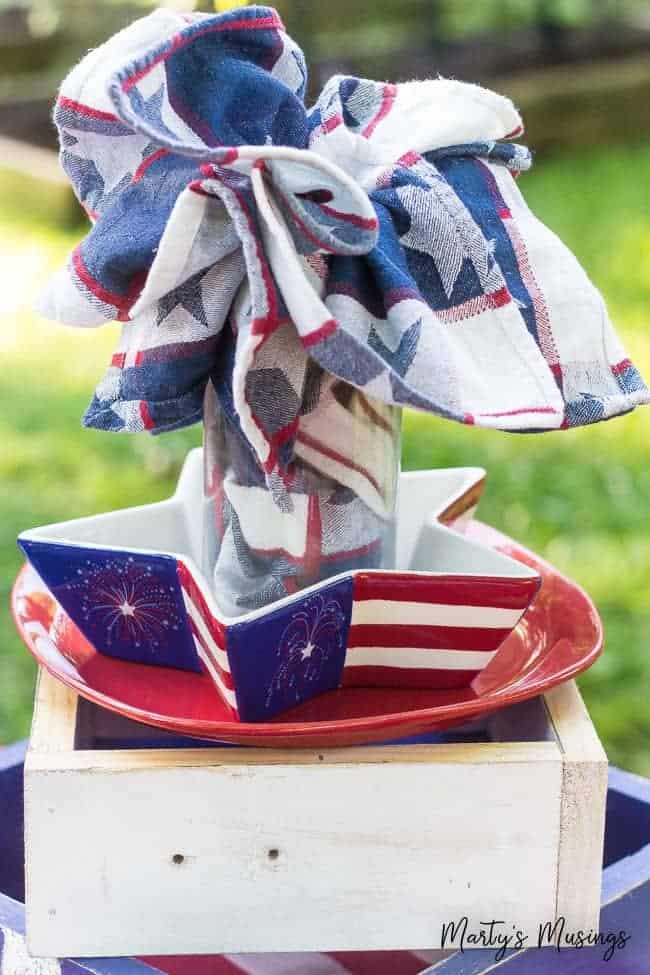 Use inexpensive items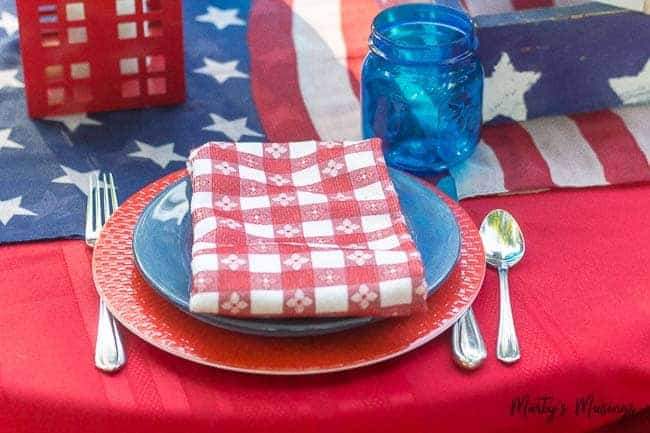 One of my best tricks for entertaining on the cheap is to mix and match pieces purchased throughout the year. The tea towels were also from the dollar store and the plastic mason jars were a gift at a party. Keeping solid colors on hand for entertaining makes this so much easier.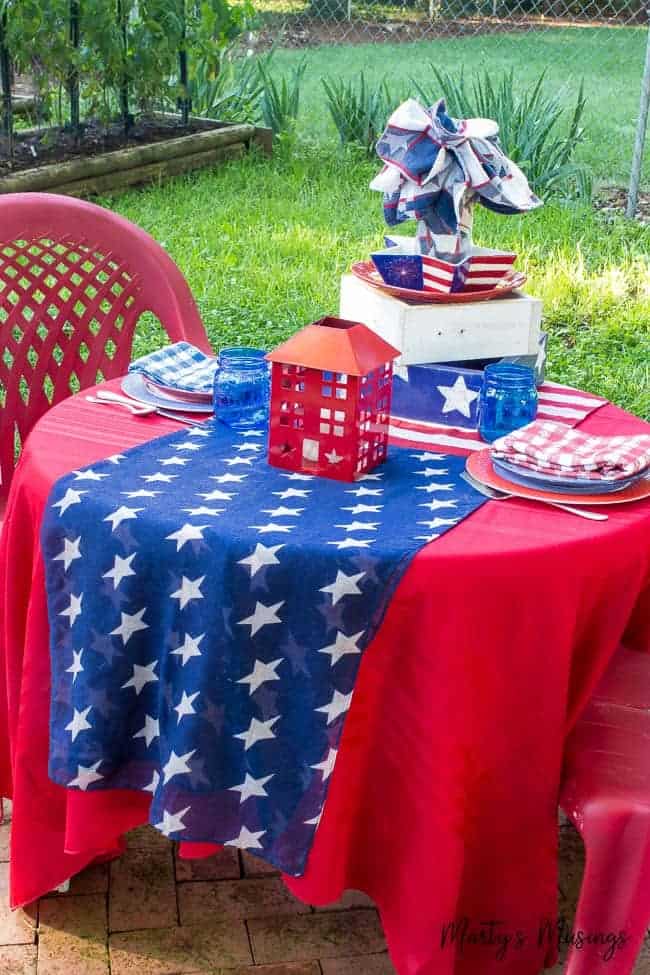 Do you remember these red chairs? Last month I spray painted some free, ugly plastic chairs red and they add just the right touch to my fireside table for two.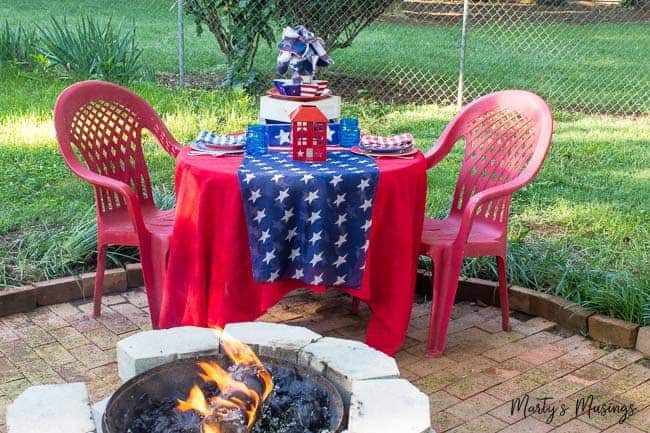 I have enjoyed partnering with Duraflame over the past few months and sharing my love for their fire logs. The truth was before I started using them you wouldn't catch me near a fire and now I'm a regular Girl Scout!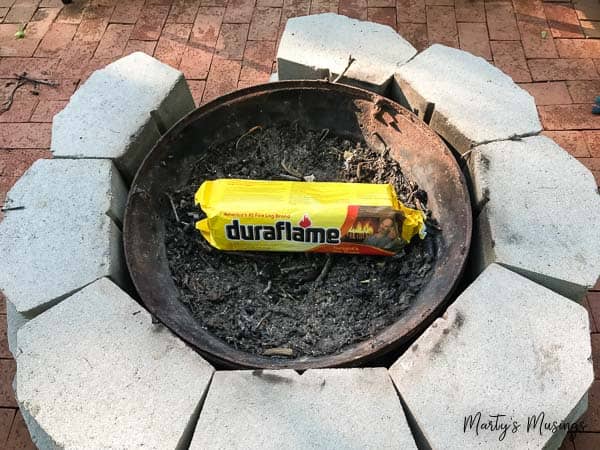 The logs are simple to use, last up to four hours and are perfect for a cozy dinner for two around the fire. (Check out their site for logs for both indoor and outdoor use.)
Do you enjoy entertaining or is something stopping your from inviting friends over? I'd love to know!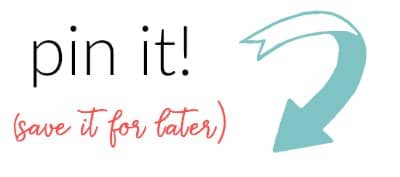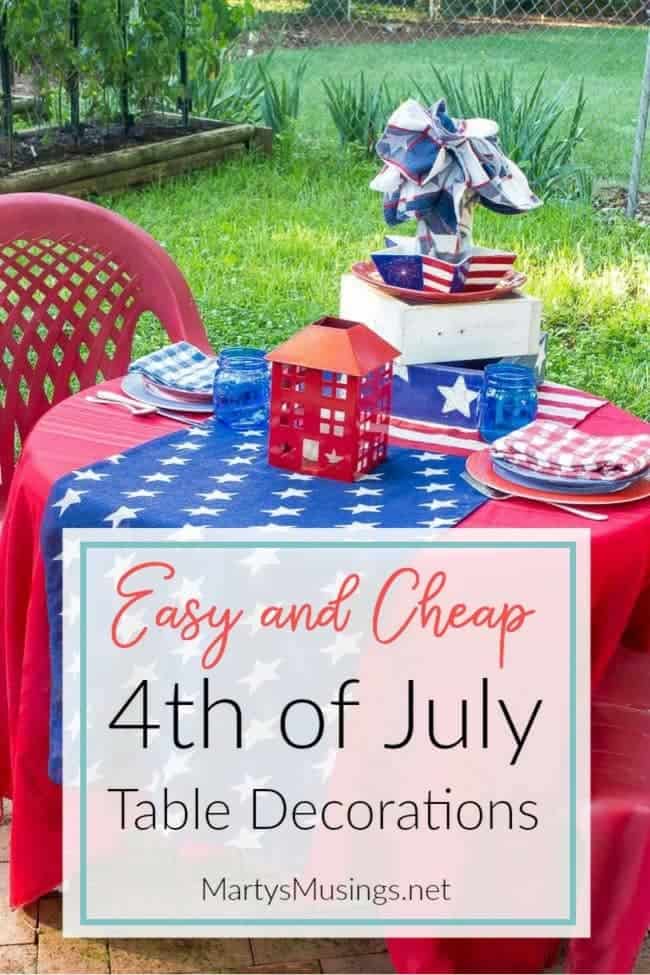 SaveSave
SaveSave
SaveSave
SaveSave
SaveSave
SaveSave