5 Outdoor Entertaining Tips for an Easy Gathering
This post may contain affiliate links which won't change your price but will share some commission.
The post 5 Outdoor Entertaining Tips is sponsored by Duraflame® but all opinions are my own.
Take the worry out of planning a party or gathering with these 5 outdoor entertaining tips. Save money, time AND enjoy your guests!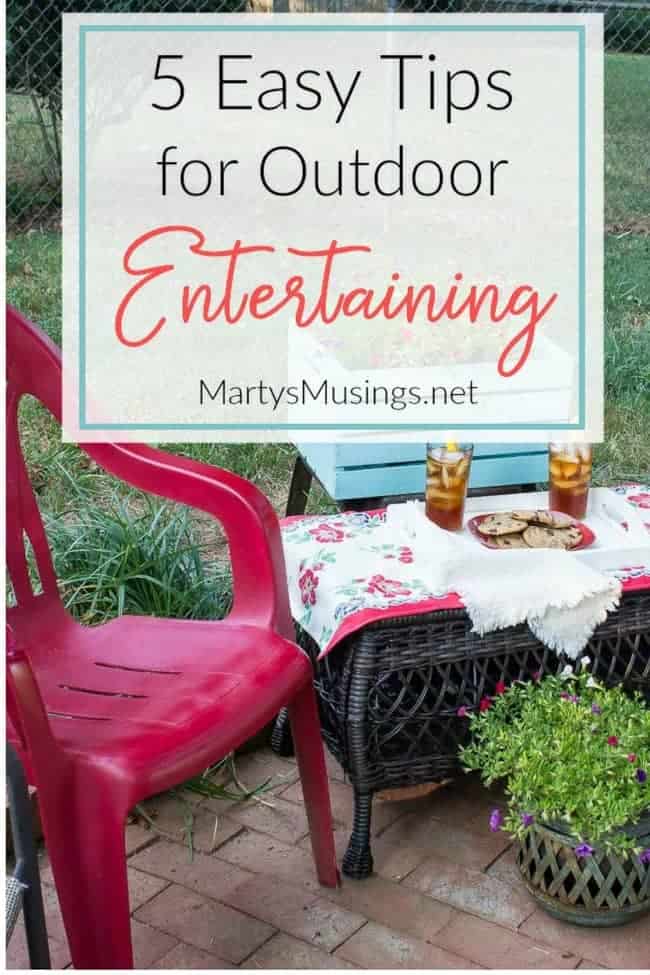 Do you consider yourself a social person? Do you like a good party and invite friends over regularly just to hang out and shoot the breeze?
Yea, me neither.
I'm an introvert by God's creation but I also desire to connect in relationships with other people. I just don't always make the effort. I get caught up in the busyness of my life, my to do list or just get distracted by my phone. (You know you do it, too!) Short attention span, anyone?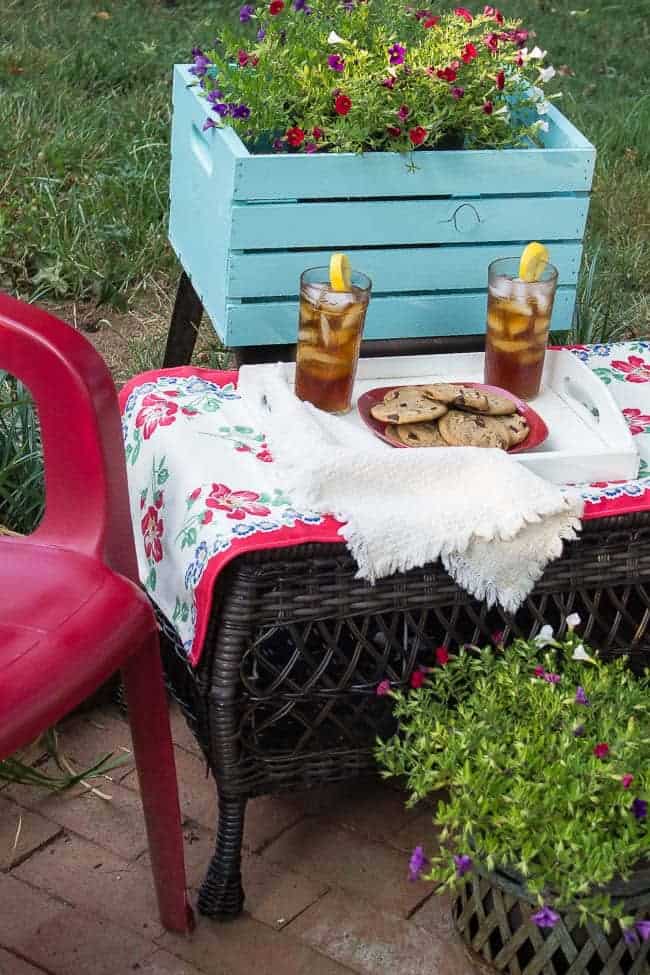 As my kids were growing up we invited our church small group or good friends over until the wee morning hours (those would be the ones without children!) I wanted my own kids to embrace the gift of hospitality and learn how to serve others.
Now I'm almost an empty nester and am realizing it's going to be too easy to become a hermit in this world we live in. I don't want all my friends to be people I've never met in real life so I have a challenge for you and me.
What if we abandoned the pretense of having it all together and admit we don't? My life is messy, y'all, but there's nothing that says welcome home more than inviting people in to do life together.
Here are 5 outdoor entertaining tips that will help us both shake off the excuses and make time for the important people in our lives.
5 Outdoor Entertaining Tips
1. You need a place to gather
There's just something relaxing about the outdoors. Our backyard isn't large but we've hosted many cookouts over the years. During the teen years one of our kids favorite hangouts was by our fire pit. It's nothing fancy but it gives everyone a place to gather (and it was farther away from the parents!)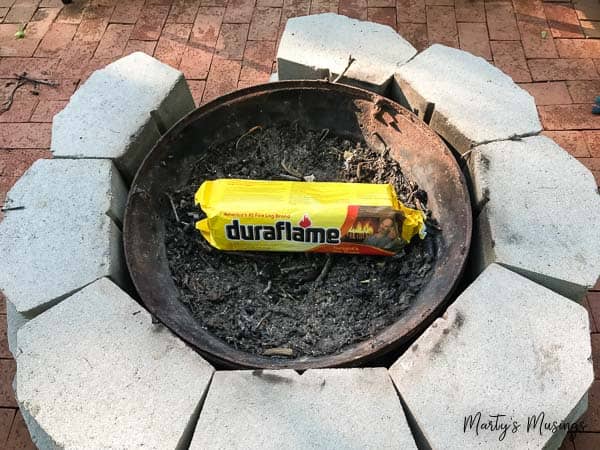 This fledgling Girl Scout has learned the secret to a perfect fire is Duraflame firelogs. The logs are simple to use, last up to four hours and are the perfect backdrop for chatting with friends or roasting marshmallows with the kids. (Check out their site for logs for both indoor and outdoor use.)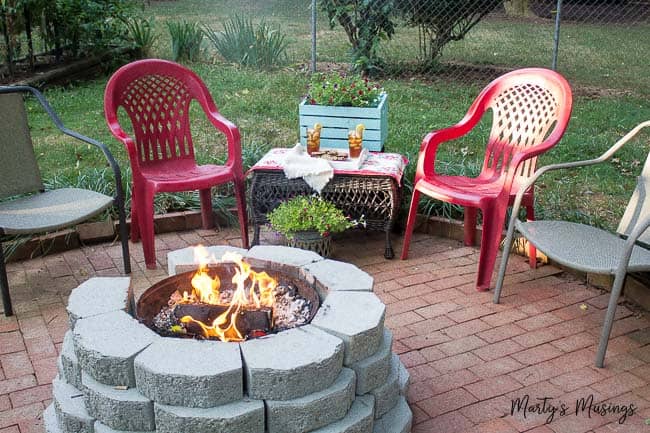 (Our family specialty was S'moreos, which was a double stuffed Oreo with a toasted marshmallow in the middle. Yummy!)
2. Find somewhere to sit
If you're going to enjoy the great outdoors you need a place to sit! Do you remember these red chairs? Last month I spray painted some free, ugly plastic chairs red and now they're the staple for our backyard patio area.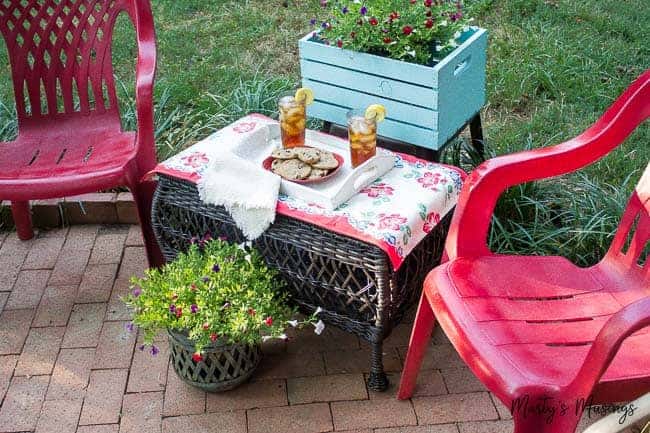 I'm a huge fan of yard sales and thrift stores, but if you don't have time to do a makeover now is the perfect time to shop for extra seating. You'll find great end of summer sales at your favorite retail stores so be on the lookout.
Do you have a card table with some extra chairs? Bring them on out and call it good! Lawn chairs for the beach? Your guests just want to enjoy your company and don't care what they sit on!
3. Create beauty
Creating a lovely table or setting a mood doesn't have to take a lot of time or cost a lot of money. I knew I wanted to add some color to our fire pit patio area so I bought a simple wooden crate ($10) and some spray paint ($4).
(I've included some affiliate links for your convenience. Click here to read my full disclosure policy.)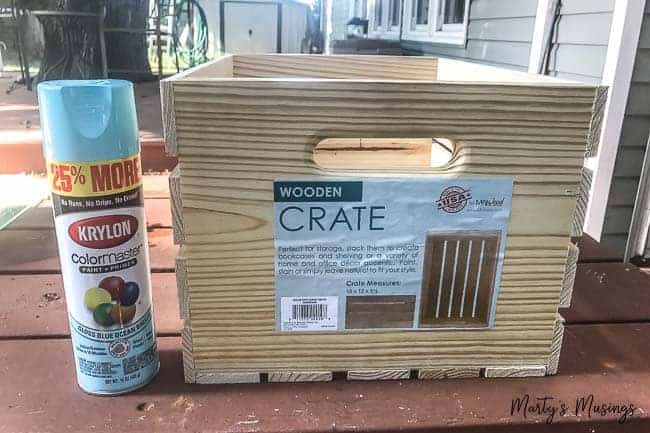 After two coats of spray paint I have a beautiful box for my $5 (half price) flowers from my big box store. I didn't go to a lot of trouble or expense but the touch of beauty makes my heart happy.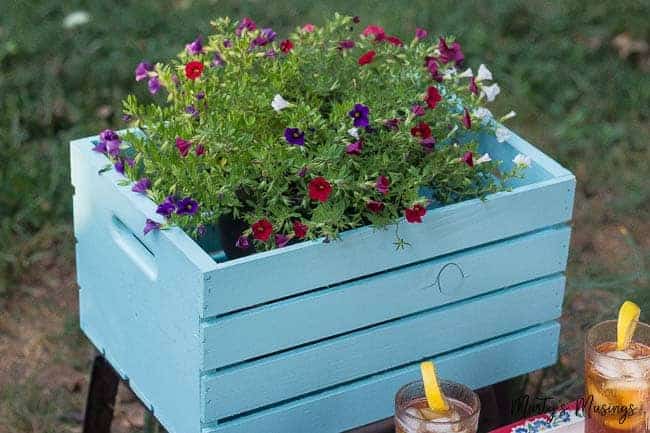 I bought a second basket on sale and set it in this $1 yard sale container I bought. (Read my best yard sale tips here.)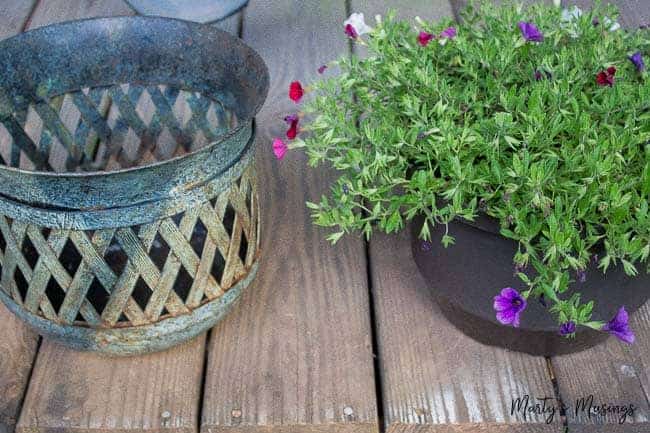 That rust from sitting outside? I call it shabby chic!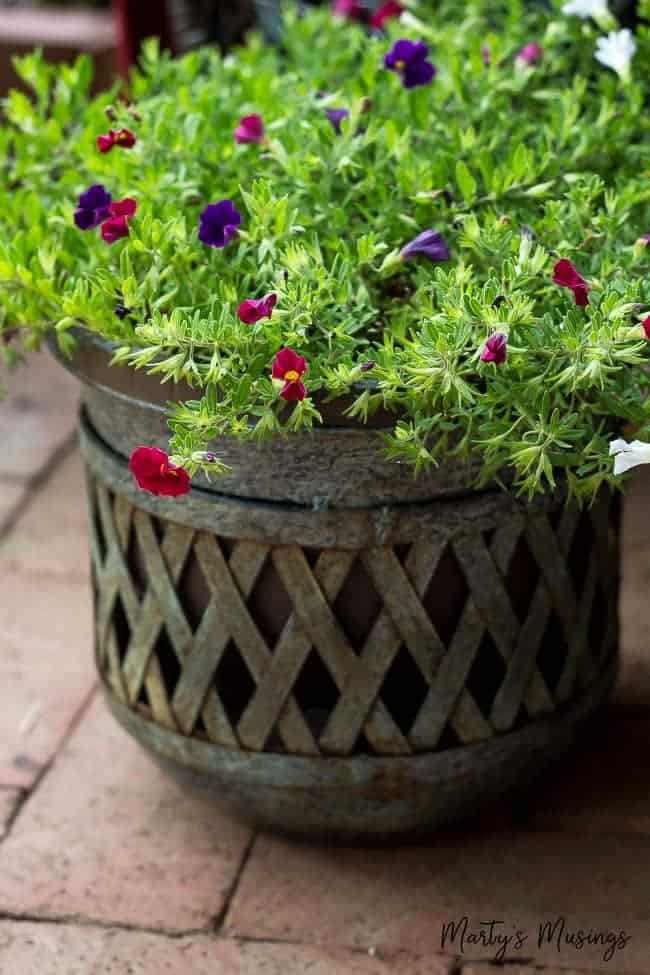 4. Keep it simple
In spite of what Pinterest and social media might impress upon our brains, entertaining should come from the heart, not the pocketbook. I love a good party but when planning and implementing overwhelms the event I know it's time to back down to simpler standards (like chocolate chip cookies and Southern iced tea!)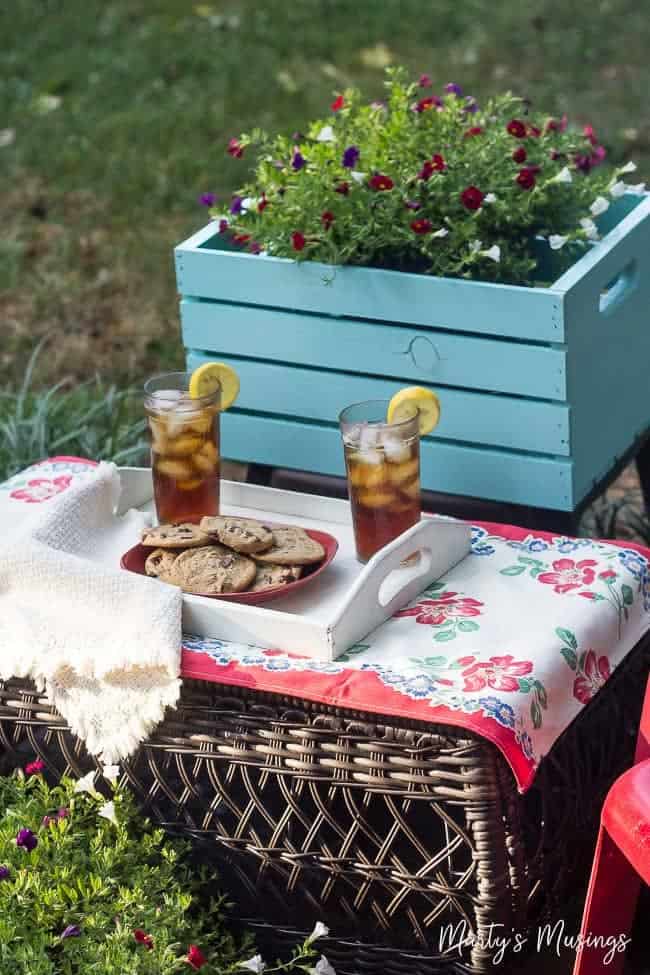 Our youngest two kids recently graduated from high school and we hosted a cookout for the celebration. I wanted it to be perfectly styled like the surprise party I threw when my husband graduated from college.
Nope. Didn't quite happen. There were a few special touches but we didn't lose sight of the reason we were celebrating.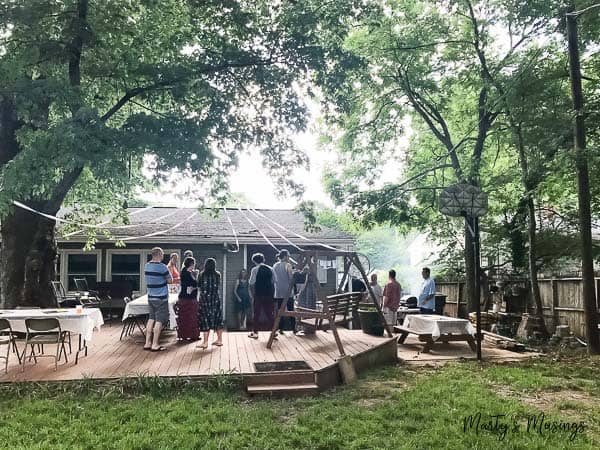 If the idea of cooking from scratch keeps you from having friends over GO SHOPPING AT COSTCO, throw some appetizers on a pretty dish and call it good!
5. Enjoy the moment
Your guests probably aren't going to remember how fabulous the food was if you're too busy barking orders at your helpers or stressing over getting everything just right. And I'm preaching to the choir here!
For years I threw a Christmas party where I did ALL the baking and cooking as a love gift for the church choir I was serving. I spent two months organizing and freezing food, making homemade decorations and cleaning the house from top to bottom.
It was always a beautiful evening but I was an exhausted wreck. Looking back I wish I had spent less time trying to impress and more time breathing in relationships with the people I loved.
My best advice for embracing your inner hostess? Don't seek perfection and enjoy your people!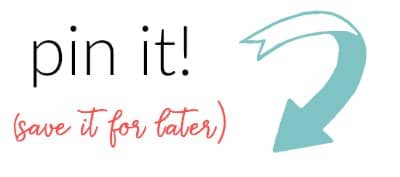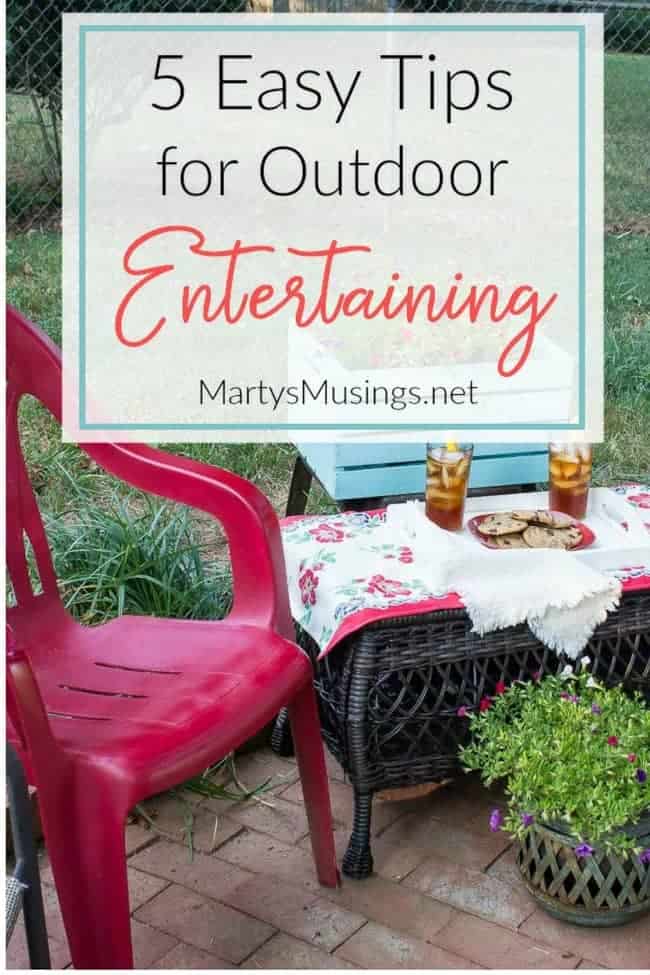 SaveSave
SaveSaveSaveSaveSaveSave
SaveSave
SaveSave
SaveSave