Easy Valentine's Day Vignette
This post may contain affiliate links which won't change your price but will share some commission. Read more here.
Fun tips for celebrating the holiday of love without spending a lot of money or time with an easy Valentines Day vignette filled with bargain treasures.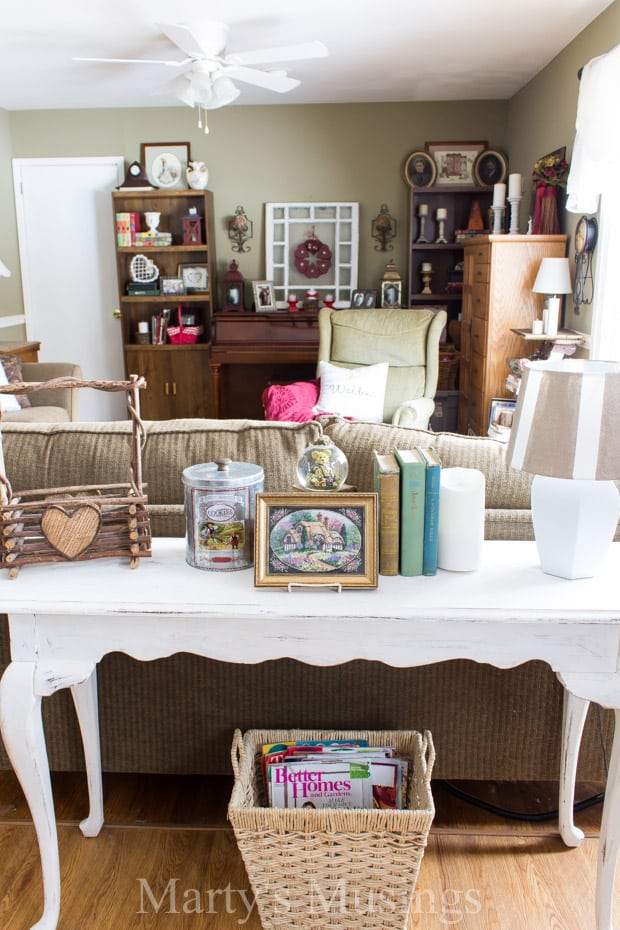 Would it surprise you to know that the overly celebrated day of love is also one of my favorite days of the year? Why would I want to add my approval to the most cheesy, hearts and flowers, take your money and run, commercialized holidays of the year?
Because it's my wedding anniversary, y'all!
As my husband proclaimed before we even got married, he would only have to remember one date instead of two. That man was thinking ahead!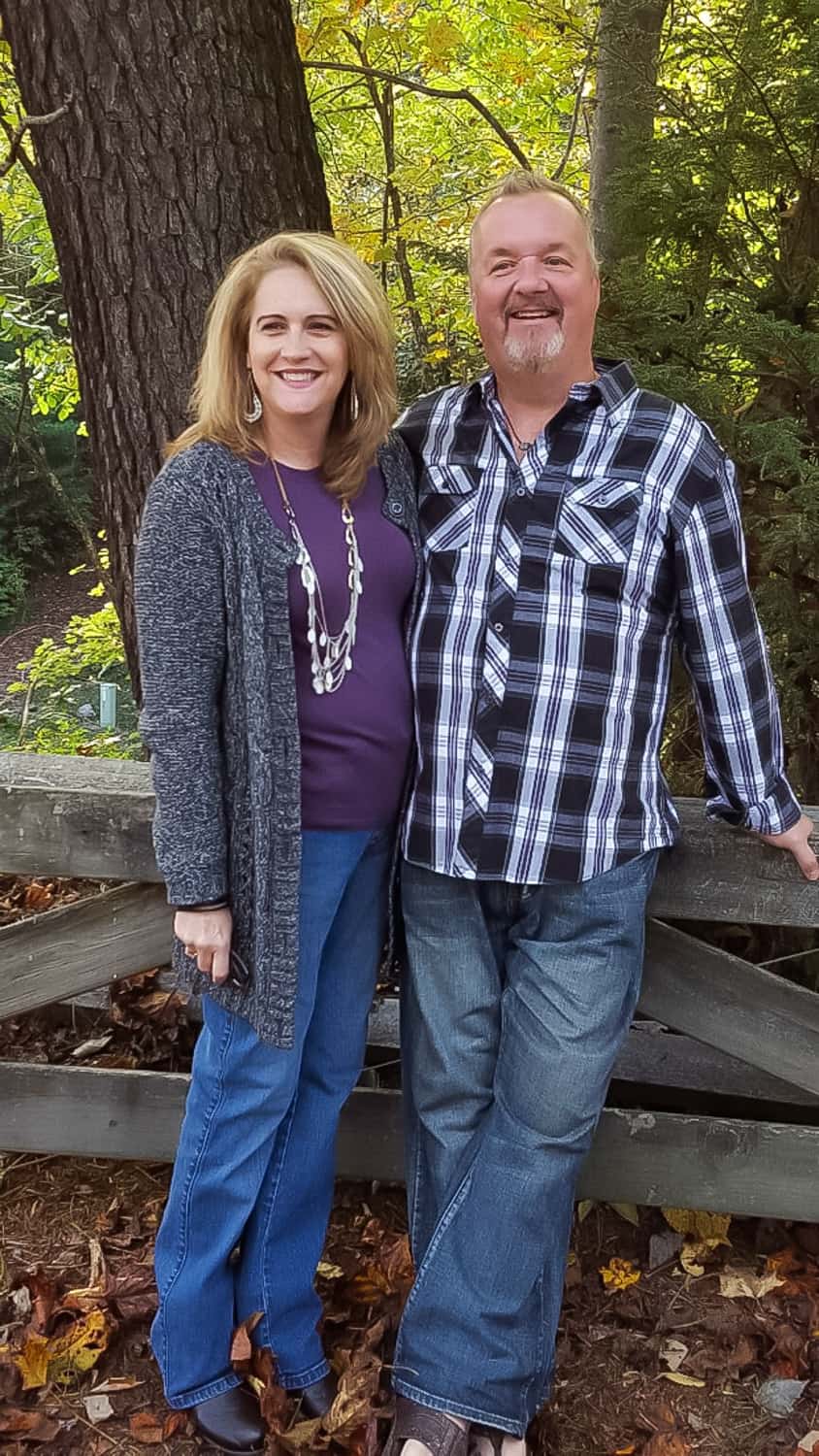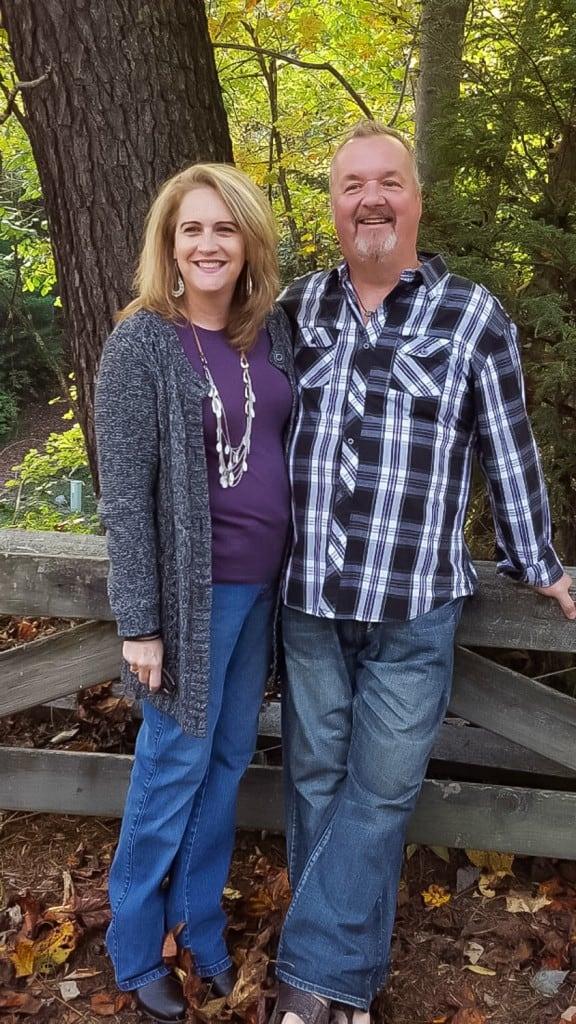 This year is #29 and is low key on the celebratory scale, but that doesn't meant I missed the opportunity to change the decor in my home!
I usually go immediately from Christmas to Valentine's Day so I can enjoy the days leading up to our special day. Yet I don't want to spend a lot of money or time on decorating, especially this year with my carpal tunnel surgery leaving me one handed for a while.
Today I want to share a few of my usual tips for creating a style to love on a yard sale budget with this easy Valentines Day vignette.
Easy Valentines Day Vignette
This is the scene as you walk in my front door. To the left is my husband's "never to be shown" home office because it's more functional than pretty.
When you live in a small home you just have to make the best use of your space. I pretend it's just not there, thus the "never to be shown" caveat!
I use this curbside trash to treasure table to welcome my guests with a seasonal touch.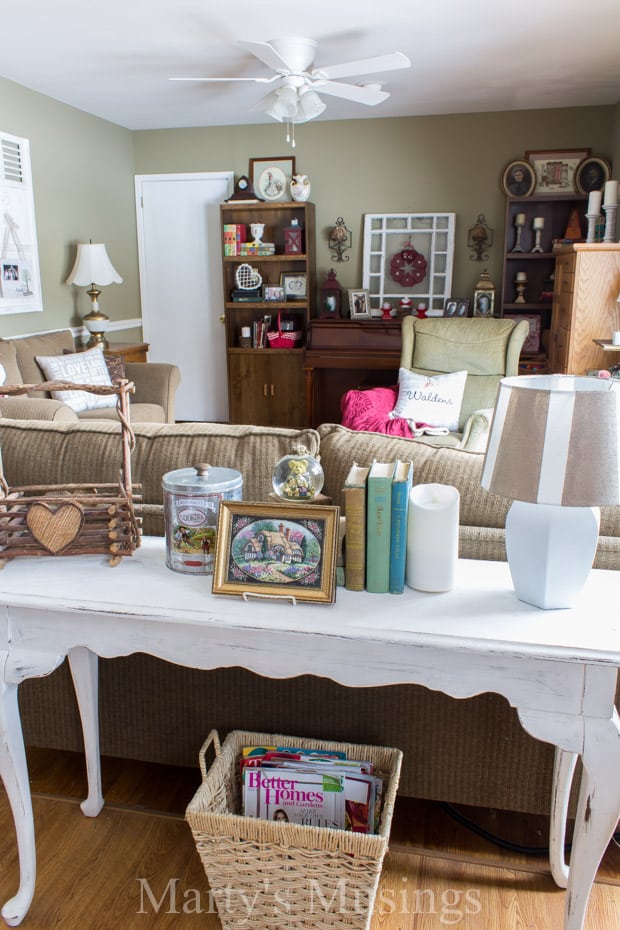 Previously I balanced each end of the table with a vintage lamp and a topiary but this time I swapped out a DIY lamp and added this new favorite rustic basket found at Goodwill.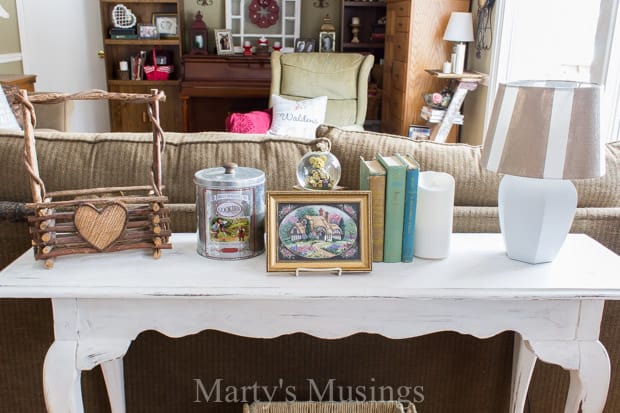 In the background you can see all the red touches I've added and I'll show you the rest of the room in a day or two.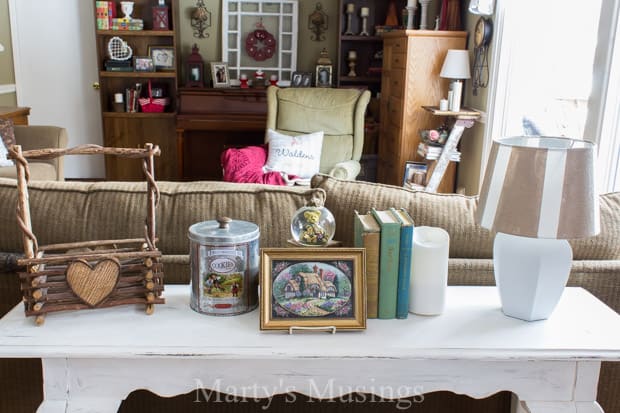 Except for the battery operated candle (which I use somewhere in my home at all times!) everything else is yard sale, hand me down or found on the street.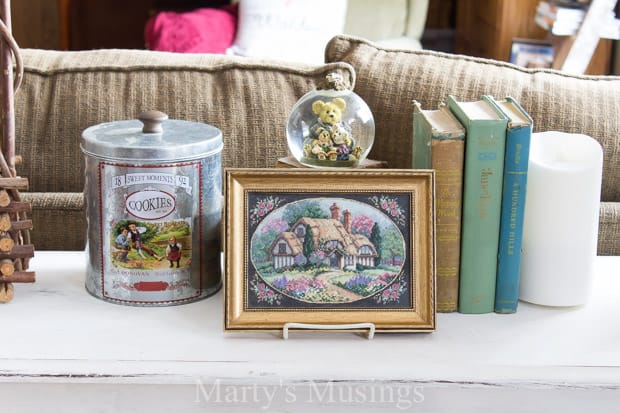 This basket matches my style so perfectly: rustic, one-of-a-kind and inexpensive!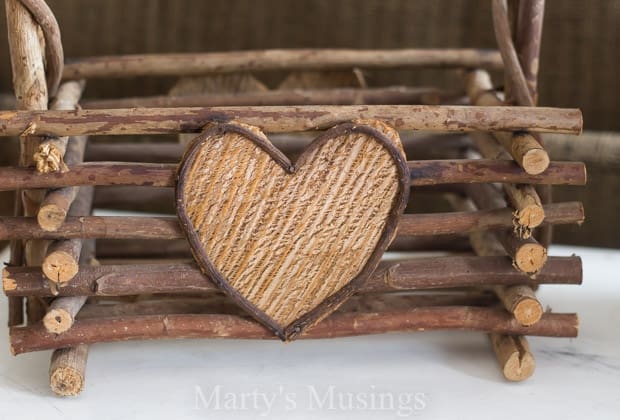 Another yard sale find, and for $1, a perfect price!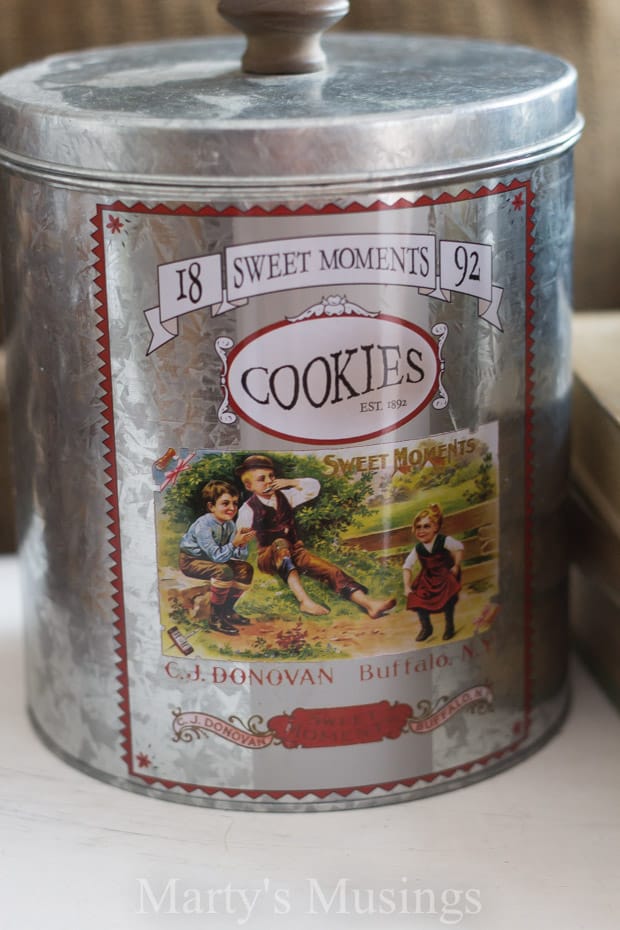 My sister Brenda loved to cross-stitch and when she passed away I added this enchanting cottage to my collection of favorites.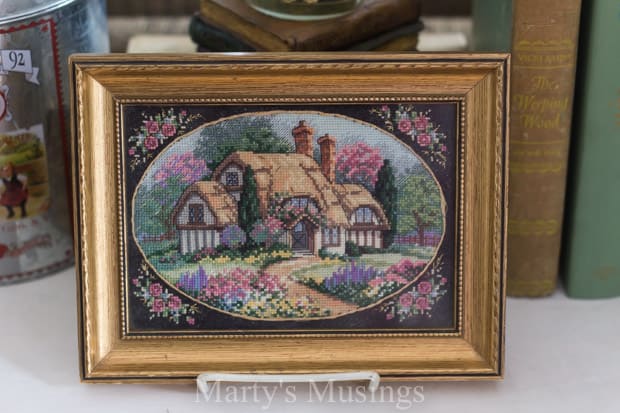 Would you believe my kids and I found a box of old books as we were walking around the block? Of course we brought home as many as we could carry! The more tattered, the more character!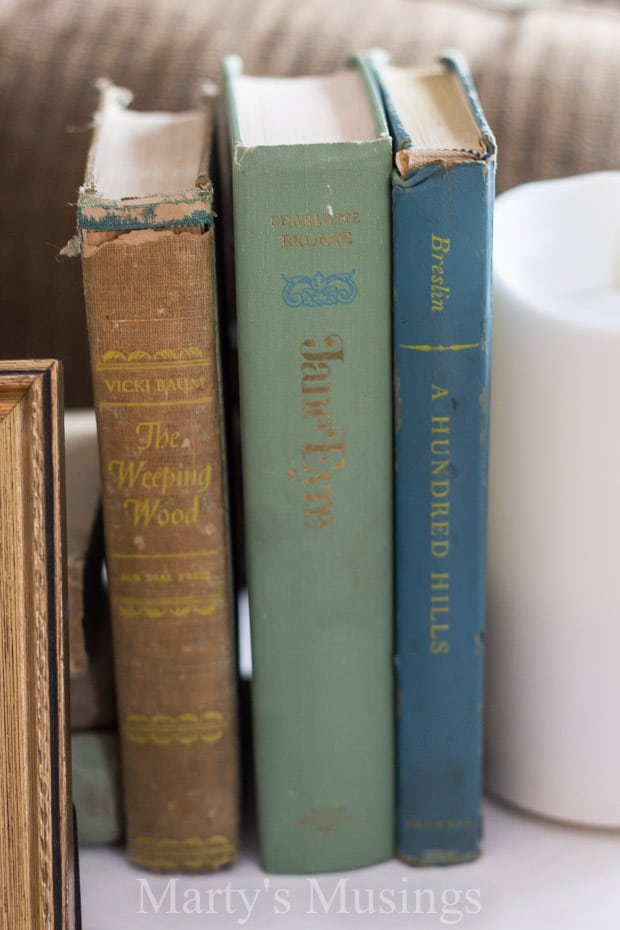 This adorable globe has been part of our Christmas decorations for years but now resides in my living room, giving this vignette a bit of whimsy.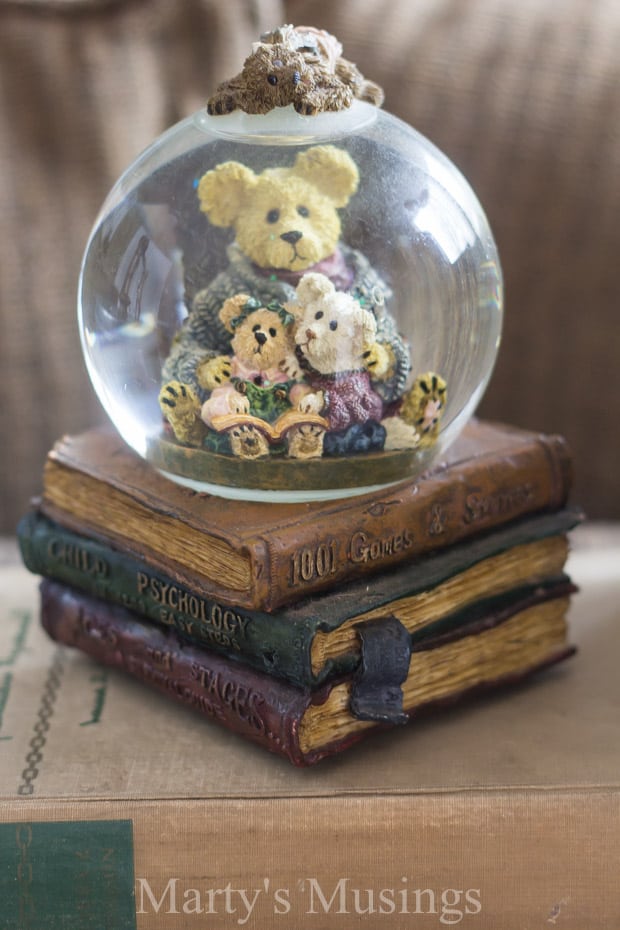 I buy all my baskets at yard sales and thrift stores because you just can't beat the prices. (You really should check out my top 10 list of yard sale bargains here.) This one provides a home for my collection of home decor magazines.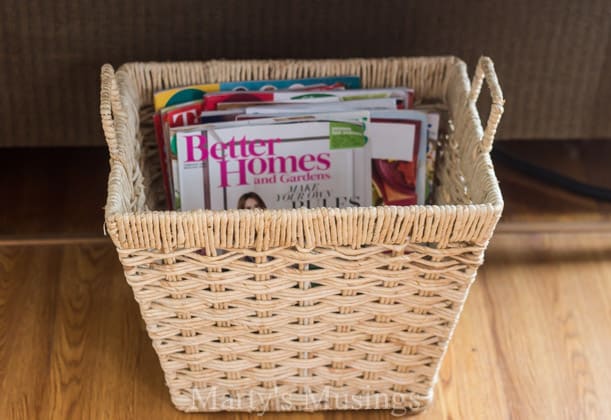 My easy Valentines Day vignette may not scream Valentine's Day but it holds treasures I love and reminds me that Valentine's Day is about celebrating love and family…….and 29 years of matrimony!