Easy and Best Frozen Jello Punch Recipe
This post may contain affiliate links which won't change your price but will share some commission.
Everyone will love this frozen jello punch, a favorite easy recipe to prepare ahead of time for weddings, parties, and showers with friends and family!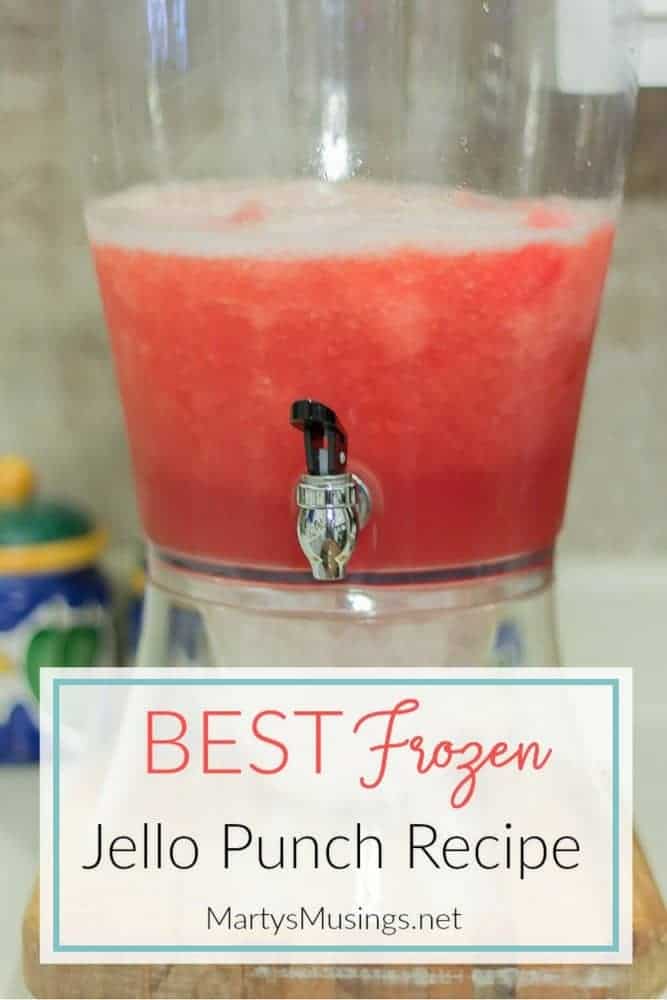 Every mom needs to have a few special recipes that she is famous for.
For me, those recipes include my Almost Like Candy Bars, Instant Russian Tea recipe, and my Slow Cooker Taco Soup.
Another one that is at the top of the list? This frozen jello punch recipe!
I've served it at my daughter's wedding, our 25th wedding anniversary, my yearly Christmas parties, elephant themed baby shower, and birthday parties.
I often use a punch bowl but I have also used a beverage dispenser and love the look. (However, honestly, you can't dip out the fun slushy ice from this dispenser so it tastes better in a punch bowl. Your choice!)
I'm hoping to make a family cookbook fairly soon and the only thing my kids have requested over and over is my punch recipe! Not sure what that says about my cooking.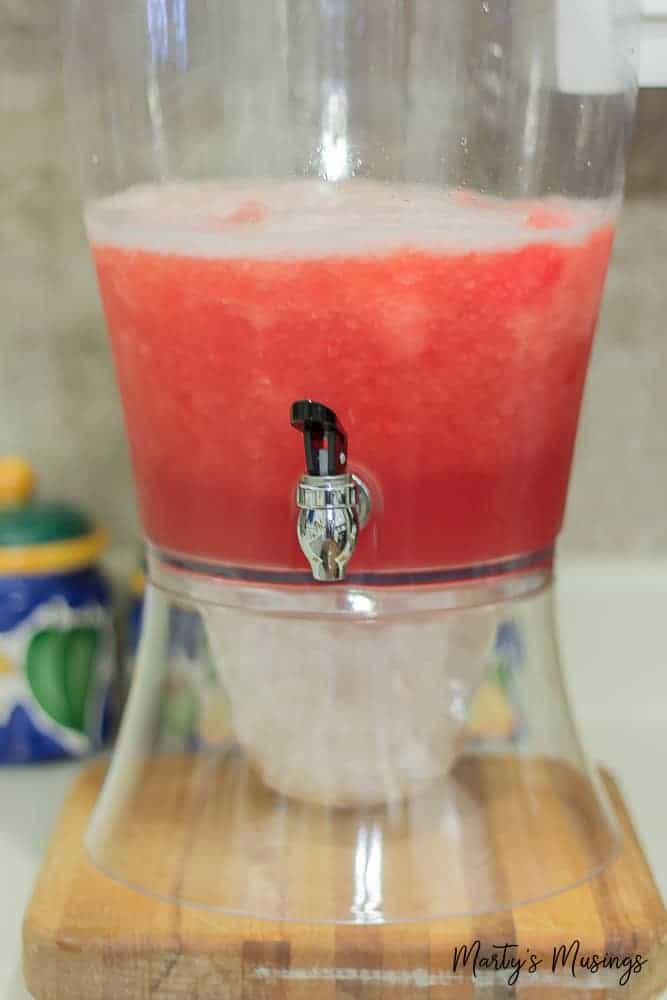 My oldest daughter loves it so much that she talked me into making 18 gallons of it for her wedding. Now that's a mama's love right there!
Quick tips for making this Frozen Jello Punch:
Use any flavor jello but I prefer red or green.
Can be served in a beverage dispenser or punch bowl.
Make ahead and freeze to save preparation time.
Freeze in an inexpensive plastic pitcher instead of leftover milk jugs.
This recipe is not too complicated unless you start doubling or multiplying by 1 1/2.
When I previously made this for my large Christmas party (about 40 people) I would make 1 1/2 times this recipe. You can always add more Ginger Ale to make it go farther.
For Rachel's wedding, I had 32 2-liters ready to go with my 18 gallons of the frozen mixture. We ended with several bottles leftover and refroze the punch.
My suggestion: don't use grape jello because it ends up greyish pukey-looking. Fortunately, we started several weeks ahead of time to learn that lesson! Green or red is good.
Also, it's better to freeze it in inexpensive plastic pitchers instead of gallons milk jugs. My sweet friends who helped at the wedding had to cut open the tops of the jugs to get the punch into the dispensers we used. Lesson learned!
People rave over this recipe! Seriously, it's a guaranteed hit!
(You might also like my easy Blue Frozen Punch!)
(I've included some affiliate links for your convenience.  Click here to read my full disclosure policy.)
Frozen Jello Punch
If you need a large beverage dispenser this one has the removable ice cone in the middle.
Unbreakable 3-1/2-Gallon Beverage Dispenser with Removable Ice-Cone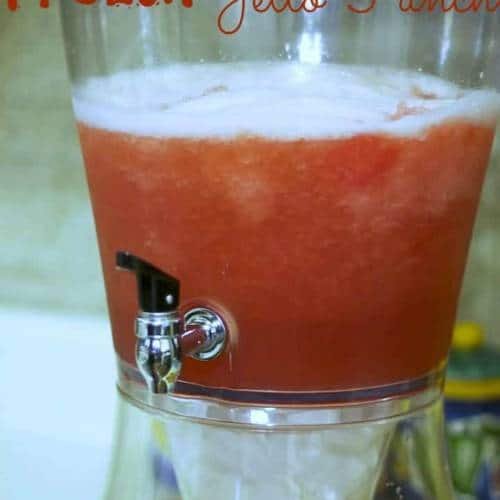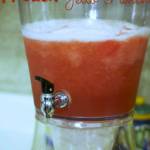 Print
Frozen Jello Punch
Guaranteed crowd pleaser and easy to make ahead of any occasion!
Ingredients
3

small pkg. jello

any flavor

9

cups

boiling water

4

cups

sugar

4

cups

water

16

oz.

bottle lemon juice

2 46-

oz.

cans pineapple juice

2

large bottles Ginger Ale
Instructions
Dissolve jello in boiling water and set aside.

Boil sugar and water and add to jello.

Cool and add lemon juice and pineapple juice.

Mix all together and freeze.

When ready to use, slush up and add 2 large bottles Ginger Ale.
Notes
You can always stretch this recipe by adding extra Ginger Ale.
You might want to serve in small punch cups because people love this drink!
Can serve in beverage dispenser or punch bowl. Punch bowl will retain the icy slush better!