3 Keys for Healthy Snack Ideas
This post may contain affiliate links which won't change your price but will share some commission.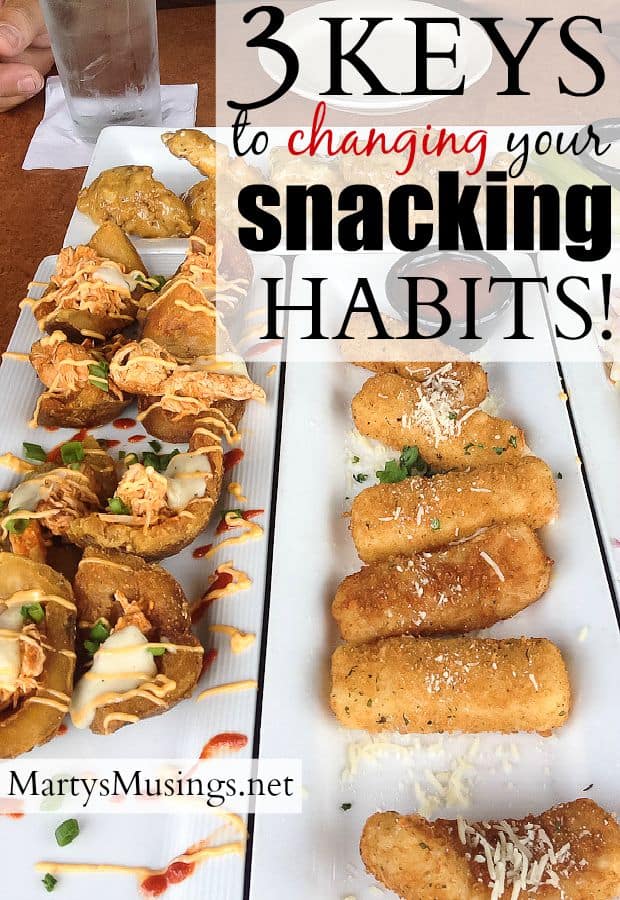 There's a little secret I've been hiding from my readers.
Come a little closer, my dears.
Are y'all envisioning the Wicked Witch in The Wizard of Oz?
You better not! This is good stuff!
Since I hit the dreaded "50" (plus a couple or three more) there have been a few obstacles in my path to staying healthy and vital. Other than a boatload of life crises, one of these is also the fact that my metabolism has slowed down. Boo, hiss! No amount of whining will change that fact but setting my mind and heart to create positive change will help!
In this post I talked about giving up sugar, artificial sweeteners, processed foods, soda and tea for 21 days in August during our church's time of fasting and prayer.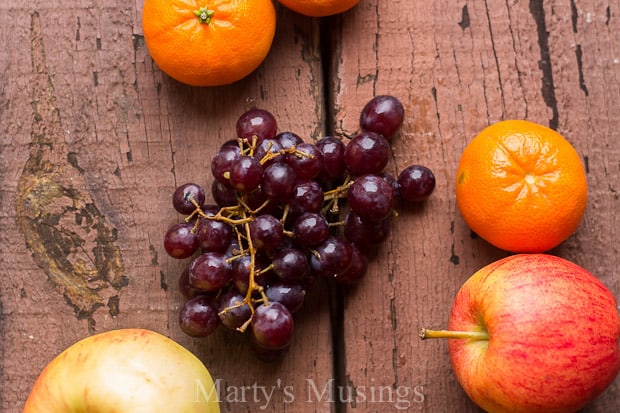 Then about three weeks ago my niece (the one who takes all the beautiful pics of my grandson Aiden) talked me into trying the new Beach Body Cize dance workout and I love it (despite the fact I move VERY slowly in the mornings!) This ol' body hasn't moved/danced/squealed quite so much in a lot of years! (I squeal when I can't get the steps!)
Now I'm not going to give you all the details about everything I'm doing quite yet (and certainly not a before and after!) because this is definitely a work in process.
I will tell you I'm participating in a 21 day Facebook challenge group that is giving me some accountability and fun along the way.
My goal is not just pounds lost but a life change that will make me healthier and more full of life.
Now you know my secret. Somehow putting it out on the internet means you can follow along and see whether I'm successful or a complete flop! Either way, you know I'll be transparent about it! And if you're on the same journey please let me know in the comments!
Making a commitment to healthy living involves not only embracing exercise (a hard one at times for me!) but also eating foods that help my body function at its best. This means educating myself about and making consistently better food choices everyday. Here are some of the healthy snack ideas and tips that are working for me right now.
Choose fresh fruits and vegetables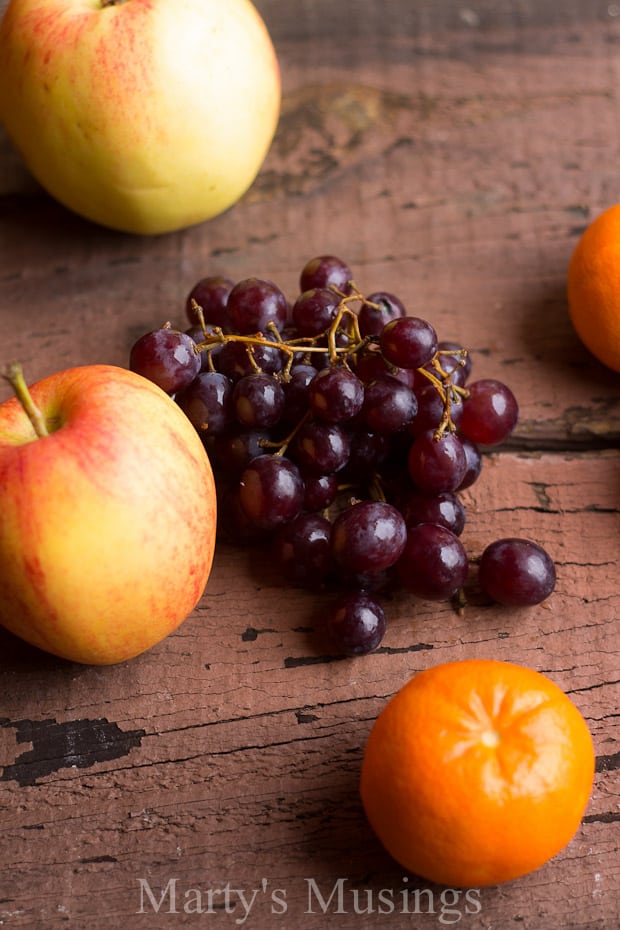 Yeah, yeah, whatevah! Isn't that what everybody says? Why is it so hard then?
I try to eat well balanced meals but I do love to snack, which can be a hurdle if I don't keep some of my favorite snacks on hand!
Fruits such as bananas, grapes and tangerines are obvious choices that can be easily carried when you leave your home. Keep veggies like broccoli, cauliflower and carrots washed, chopped and ready to grab quickly.
To save money buy seasonal produce and freeze foods such as strawberries and blueberries when they are in abundance. Frozen grapes feel like an indulgent snack even if they aren't! Even brown bananas can be frozen for later use in smoothies or banana bread.
Plan ahead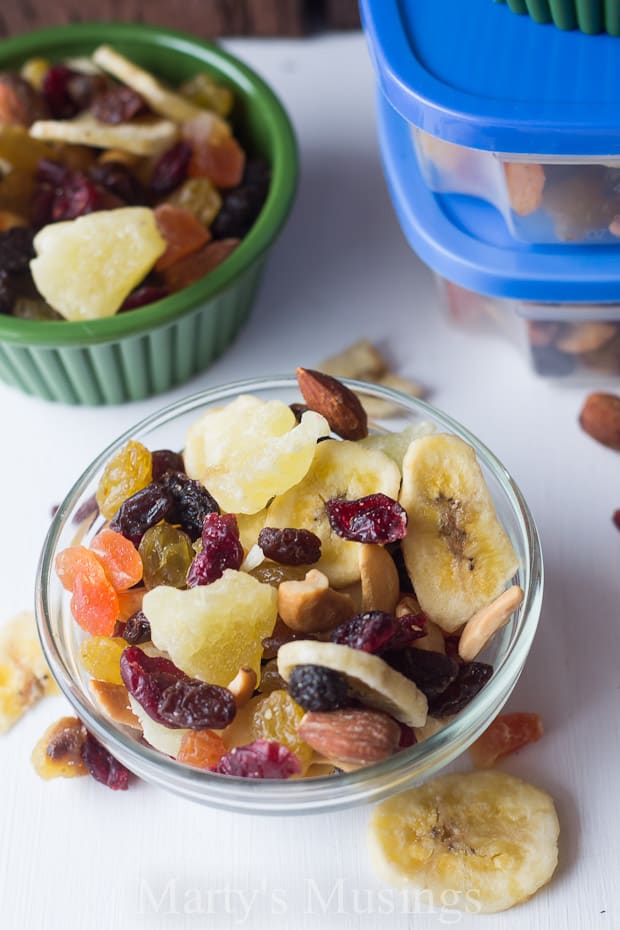 Prep your snacks on the weekend for the work week ahead. Foods like roasted chickpeas, hardboiled eggs and mini muffins can be cooked or baked while preparing other meals to save time. Pick up items such as granola bars (these are my favorite), plain popcorn and cheese cubes at the grocery store during your regular shopping trip.
Dried fruit and nut mixes can be expensive so combine your favorite ones and store in plastic containers with lids so they're ready to grab and go. Containers of all sizes can be purchased at the dollar store to save a little money or use plastic sealable sandwich bags and throw them away when done.
Choose water over sodas
We all know sodas aren't good for us but breaking the cycle can be so hard. Make sure you keep chilled bottles of water on hand or keep a few in your work refrigerator or car. Have you tried the little packets of flavoring? They are better for you and improve the taste of plain water. (We get ours at the dollar store.) Limit your caffeine and choose a healthy tea and drink only a small amount of coffee each day.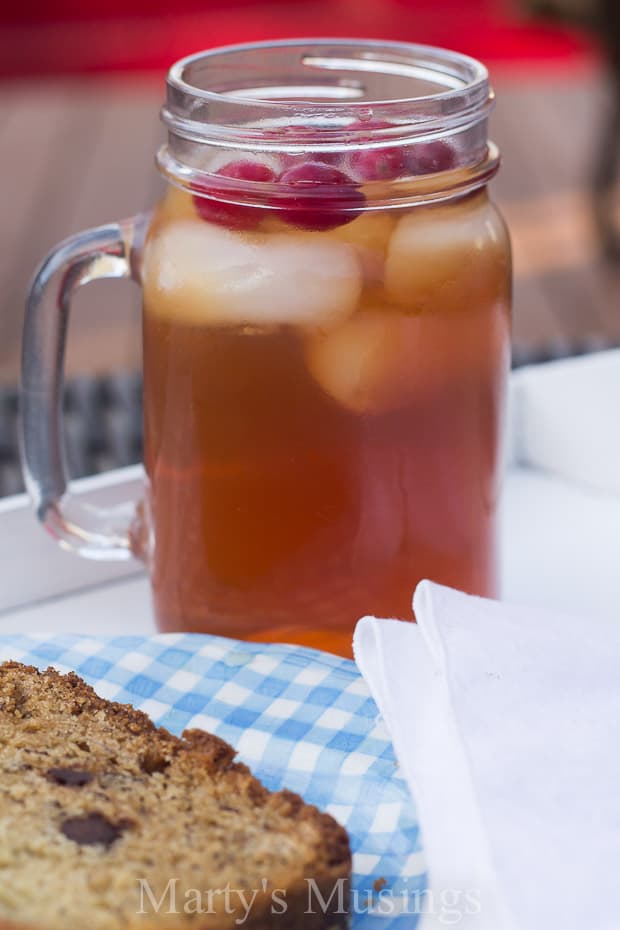 As with everything else in life, take baby steps. If you can't go cold turkey, cut out one cup of coffee or soda a day. Luckily I've never been a coffee drinker and I rarely drink sodas now. My husband drank Coke all the time and his diabetes paid for it. I don't buy them now at all. Better for him and the rest of us. We do have a southern sweet tea that we adore so I have a glass about every other day.
Most of you are probably like me and need to make similar life changes. What's keeping you back? I'd love to know!
This post contains affiliate links which means I receive a slight commission on products purchased at no extra cost to you.