How to Lay a Brick Pathway
This post may contain affiliate links which won't change your price but will share some commission.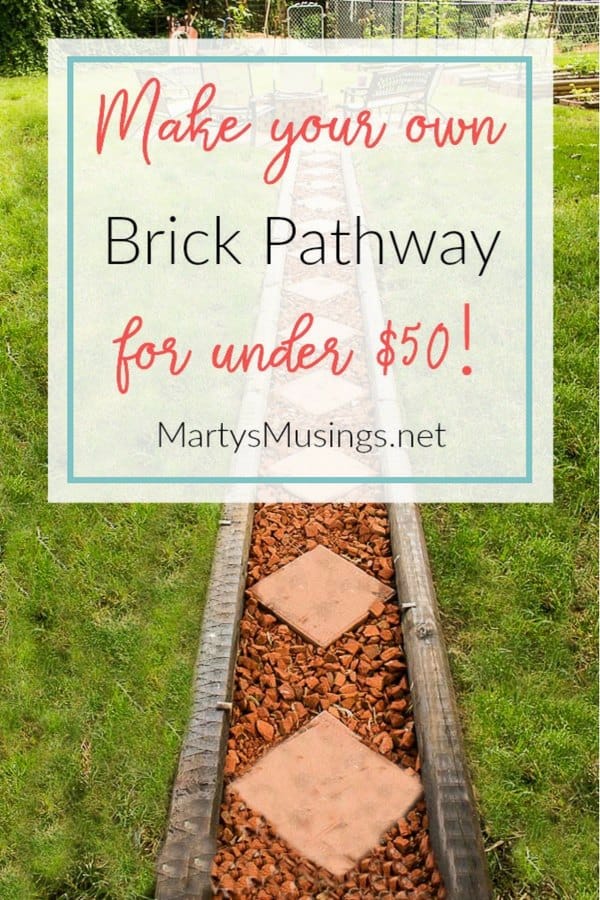 The post How to Lay a Brick Pathway is sponsored by Duraflame® but all opinions are my own.
Do you have one specific area of your home that is a constant battle?
One place you feel like no matter what you do you're on the losing end?
Is it indoors or out?
Obviously since we've just taken down a wall in our house and gutted the kitchen (read how to save thousands of dollars here) I should answer indoors but surprisingly that's not it.
I'm gonna let you in on a little secret.
I'm not much of an outdoorsy person. I have seasonal allergies. Bad.
When I was in elementary and junior high I walked to school. (Yes, even in the snow! Nah, not really. In North Carolina we cancel school at the first snowflake.)
My allergies were so bad I'd stuff a couple kleenexes between my eyes and glasses so I wouldn't scratch them to pieces. (Yes, I was good ol' four eyes to my classmates. Such sweet memories ~eye roll~)
I got out of a lot of yard work in the spring as a kid because it was just a miserable time of year for me.
Luckily I married a man who enjoys taking care of our yard and plants. Typical man, he loves the mower and blower and all things that roar and sound manly!
Me? I usually take care of the flowers and decorate our front outdoor room (otherwise known as a deck!)
So what area of our home do we battle most? Our backyard.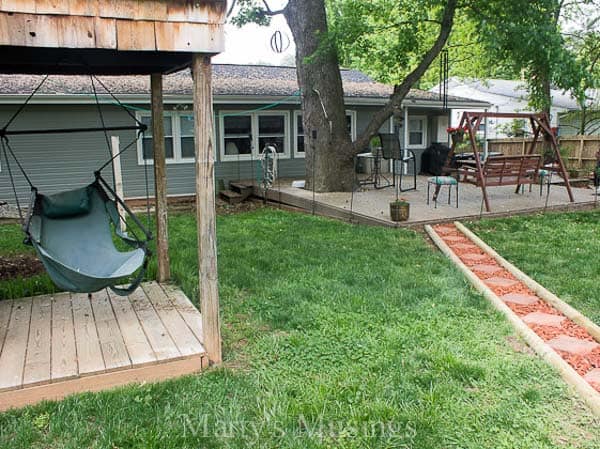 We have two dogs named Carson and Holly whose job is to destroy every semblance of grass in said backyard.
They also have a cousin named Lexi who comes to play when I babysit my grandson Aiden every Thursday. Lexi thinks it's HER job to rile Carson up so bad they need baths by the end of the day.
Our backyard is not a pretty sight, y'all.
This spring my diligent hubby tilled and worked the soil, planted grass seed and laid out straw so we could have a green backyard.
On a side note, MY BABIES ARE GRADUATING HIGH SCHOOL THIS YEAR!
Can you hear the shouts of hallelujah and feel the tears in that sentence?
We're gonna be celebrating in the backyard desert that is our nemesis to all things pretty.
Why do we LOVE this area so much!
My creative DIY hubby built us a fire pit in the middle of the backyard when we took down the above ground pool as our kids got older.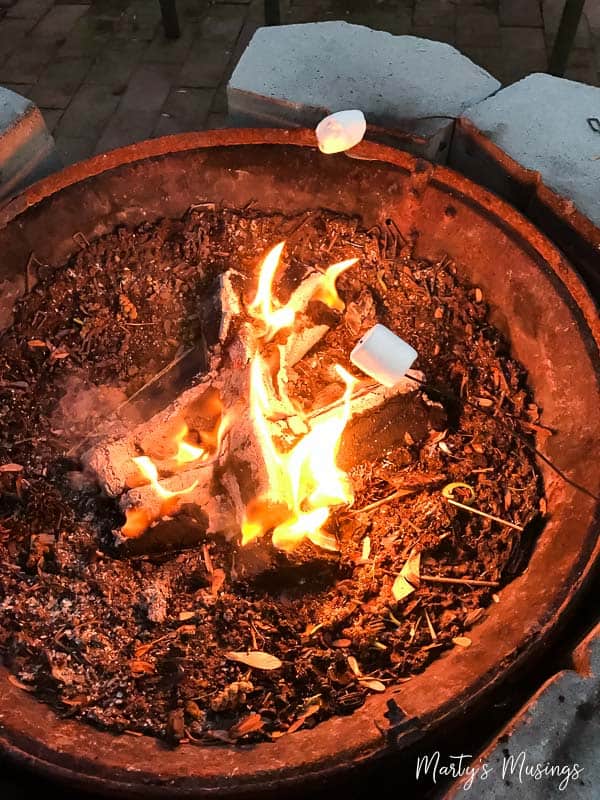 Of course, it couldn't be JUST a fire pit. There had to be a sitting area and a walkway leading from the deck.
And it had to be done on the cheap because that's how we roll around here!
Since we're sprucing things up I thought I'd share this unique DIY project that never made it on the blog.
This was also the first month I've been able to use the Duraflame firelogs in our fire pit and recently we had the perfect opportunity. Our youngest daughter turned 19 and had a couple of friends over to hang out and celebrate.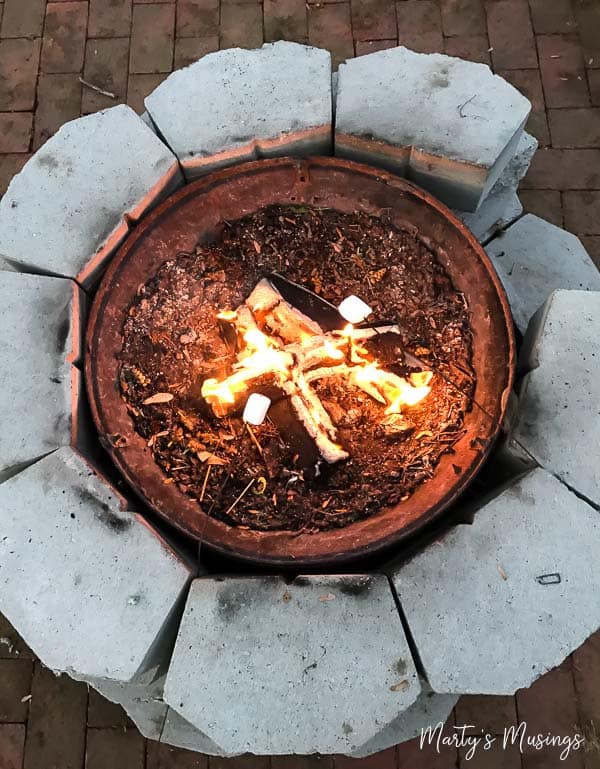 Duraflame Campfire Roasting Logs are perfect for cooking and roasting (always keep marshmallows on hand!) We're not a camping family but these would be perfect for family bonding in the woods! They're available in a 4-piece bundle (5lb) for one campfire or a case of 6 bundles for 4-6 campfires.
Seriously, these logs couldn't be easier to light and not worry about when you're entertaining guests. They do the work so you don't have to!
As you can tell, our dog Carson, otherwise known as "grass killer," enjoyed the fire as well!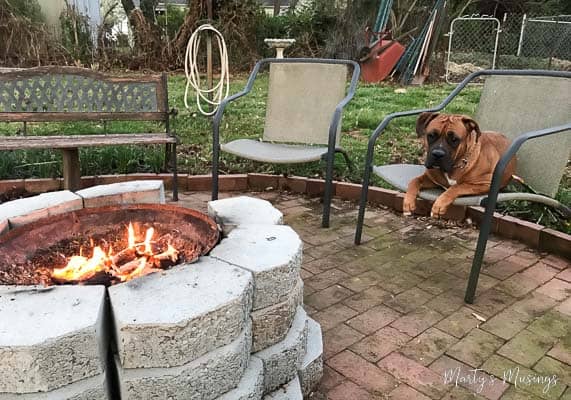 Y'all. That grass. Four years ago. Not now. #jealousofmyowngrass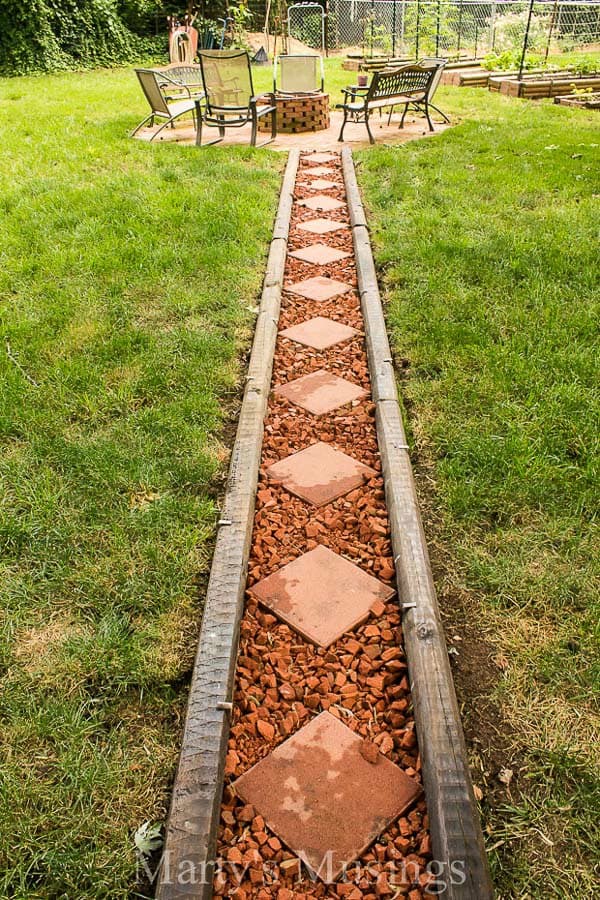 Here's my DIY hubby with all the details on how to lay a brick pathway (or better titled, "How to Avoid The Poo!")
How to Lay a Brick Pathway
Tim: One of the most enjoyable things about a DIY project for me is to go from Point A to Point C without using everyone else's Point B! This particular project is a classic example of not bailing and going to the box store for something you know you can earn with a little sweat.
Our path started out as a cute little idea that was supposed to be based on "Avoid The Poo – Use The Path!" With dogs all over our backyard, little gifts were everywhere…and often not so little. When we changed our featured area from an above ground pool to a fire pit, a path became critical.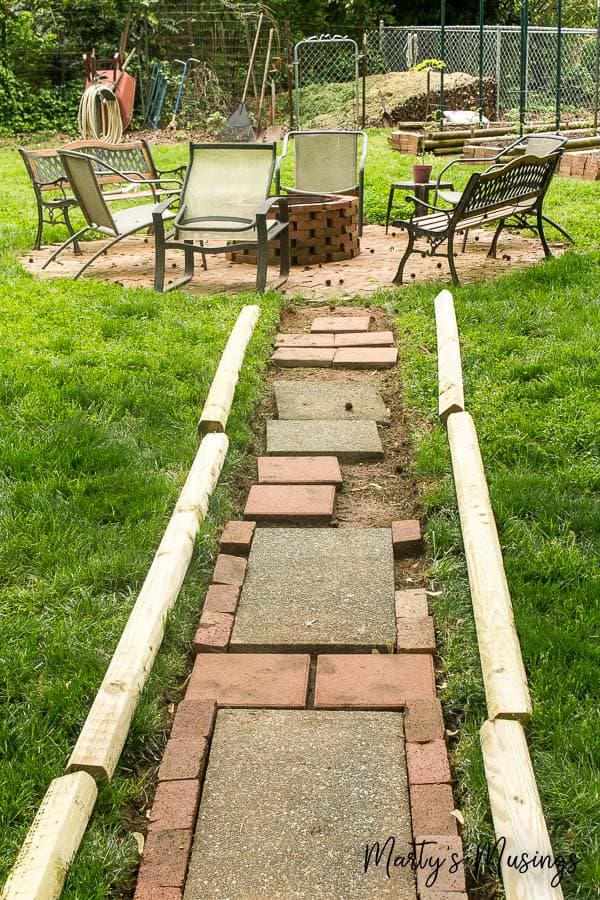 But, alas, we were determined to do this on the cheap using any and everything we had sitting around. The first concept, above, just did not cut it. I was looking for something less bulky and easier to level. The answer came in the form of BASHING BRICKS!
Yes, of course you can go to the box store and buy bags and bags of previously crunched brick (chips I think they're called), but where's the DIY joy in that? We are pioneers! Pace-setters! Rebels with the smallest cause!
So, we made our own chips! I had a pile of unusable ones, so my son and I grabbed sledge hammers and banged away in the driveway…for…hours.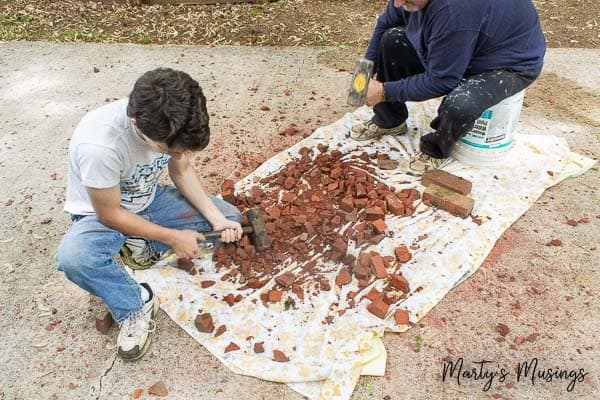 (Marty: You can tell this was a few years ago because the kid in the pic below? He's graduating high school in two months!)
We made big chips and little chips and chip dust that was useless. But, by golly, we filled that path with some of the most, uh, memorable brick chips on the planet.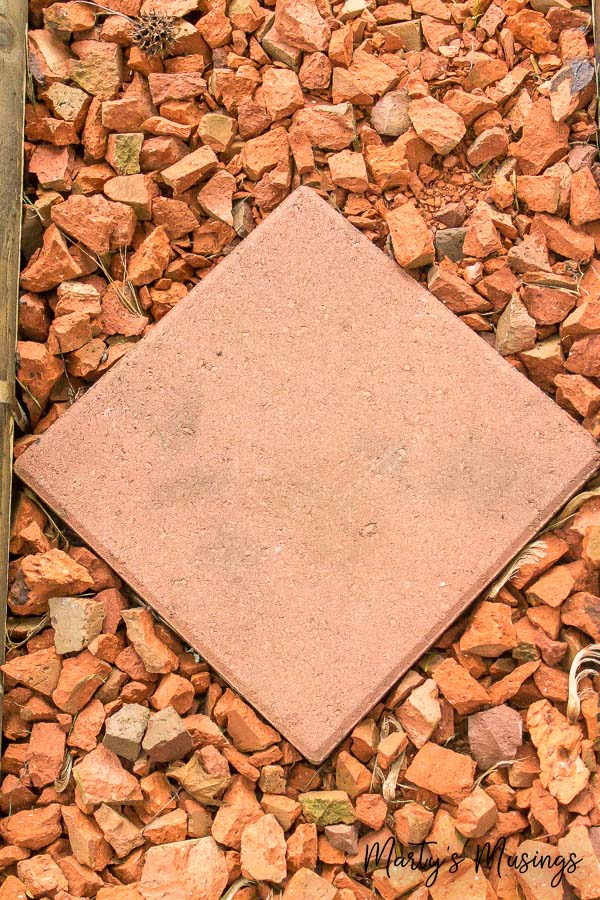 I'm proud to say that, after completing the bashing (and nursing some callouses and crunched knuckles) that our chips looked every bit as good as the bagged ones!
And with a design change and the unavoidable acquisition of a few pavers and landscaping timbers, our poo-less pathway came to life!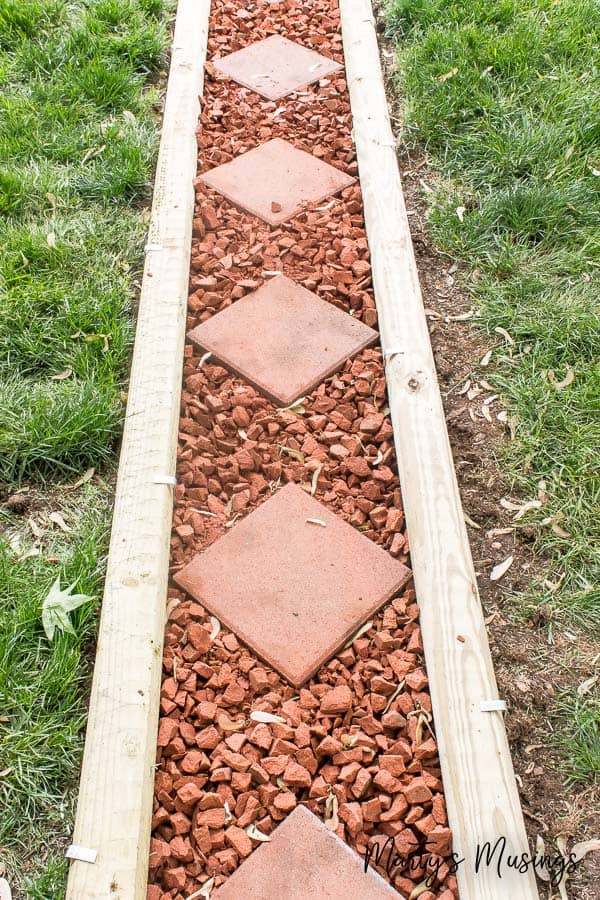 We enjoyed every step along this path, knowing that each chip was created by hand and hammer.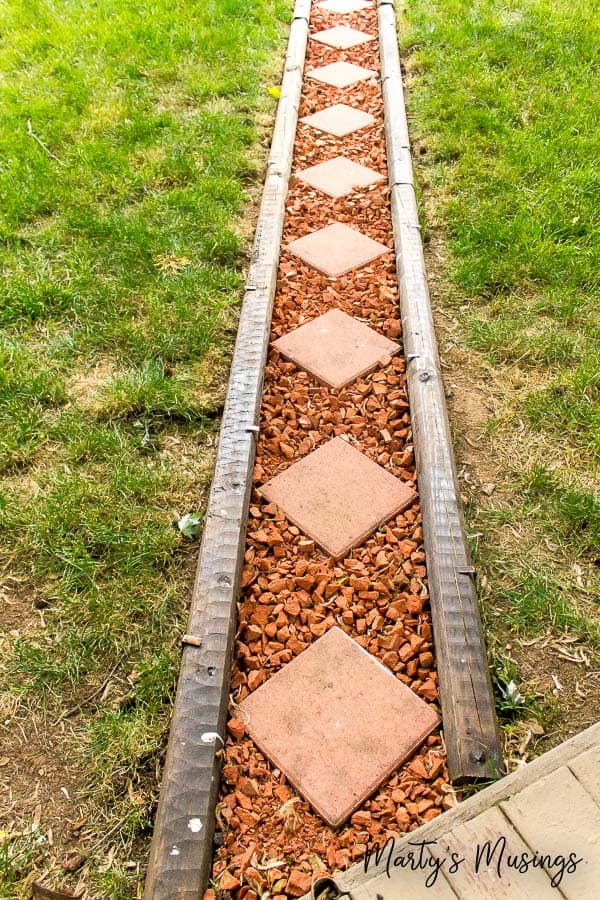 I stained the timbers and as a final step, added some foliage and the rest is history.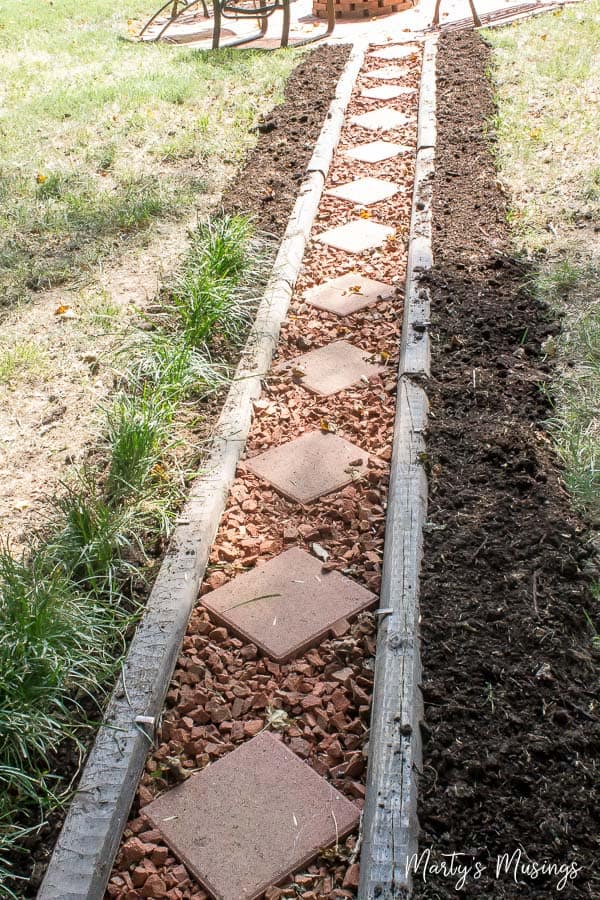 Except to acknowledge that I will NEVER make brick chips again!
Marty: My hubby's a funny guy, isn't he? He's handy to have around and the yin to my yang in our DIY projects. He's not always thrilled with my hare-brained ideas but he's usually game to give them a shot. (Ok, taking down a wall took a bit more persuasion!)
You can see our pitiful grass situation today with our grandson in the pic below. But new grass is coming up and we're hopeful it will be here in time for a graduation party in a few weeks!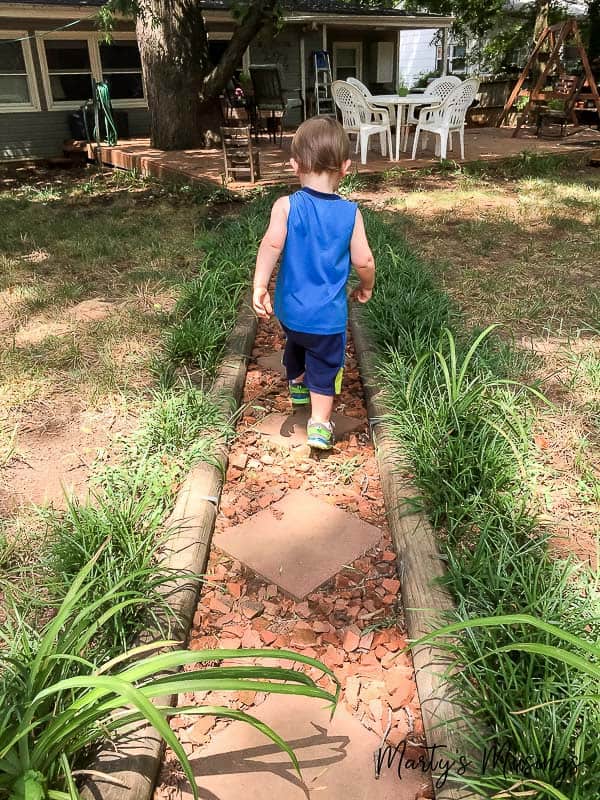 What is YOUR problem area in your home? I'd love to know!