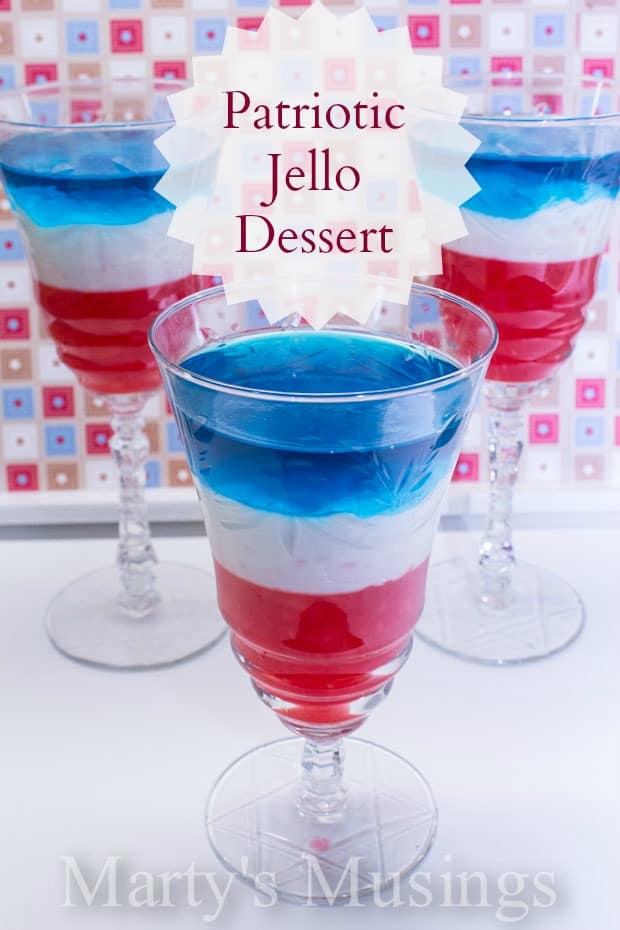 Just in time for Memorial Day and the Fourth of July this fun red white and blue layered jello dessert is ready for a party with family and friends!
I'm not typically a big jello person, but I love anything that brightens up dinner or a special time with friends.
For this patriotic dessert I dressed it up a bit by serving it in my crystal glasses. I loved the variety of individual servings.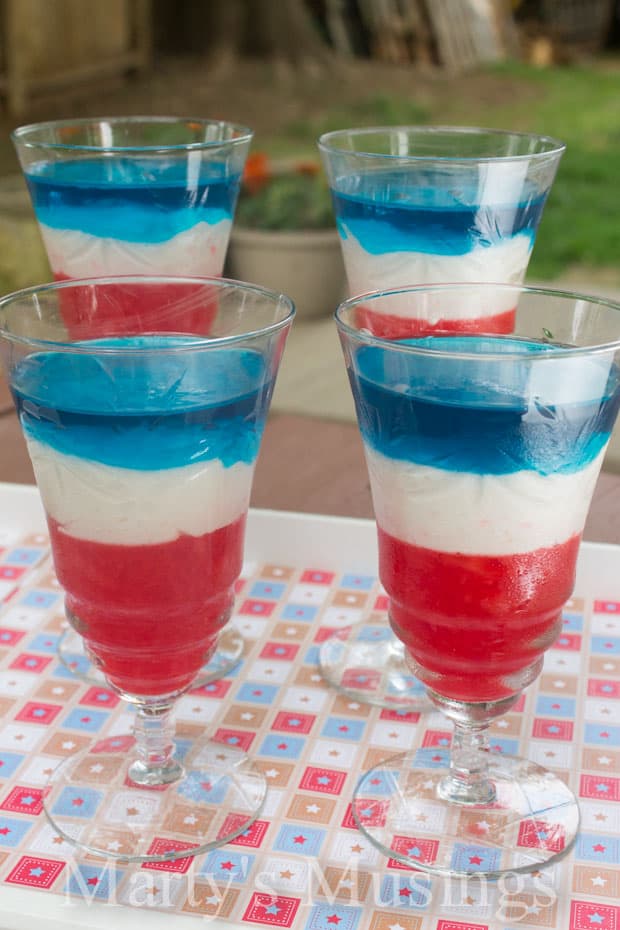 This would also be fun for a kids party served in plastic cups or made in a 9×13 glass dish and served in sections.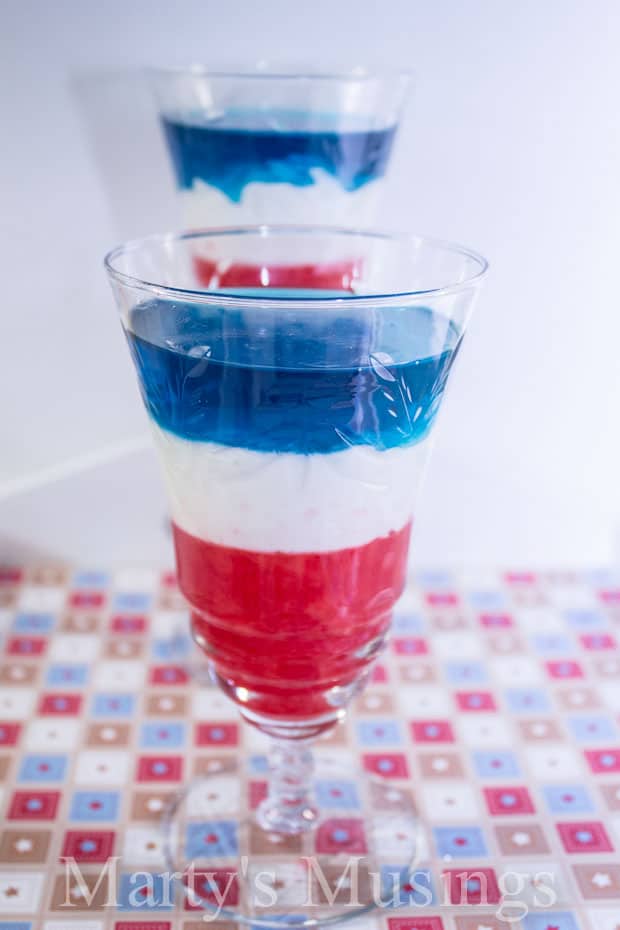 However you serve it, it's an easy and fun way to celebrate with red, white and blue! And anything with whipped topping has to taste good!
Need more ideas for a fun family gathering or evening with friends?
Just click on the picture below to be taken directly to each great recipe!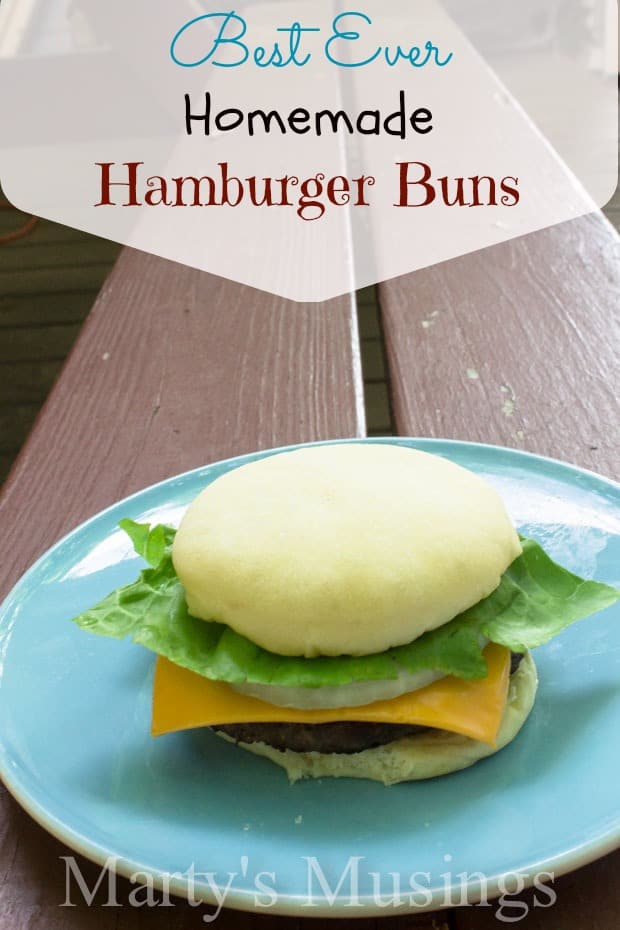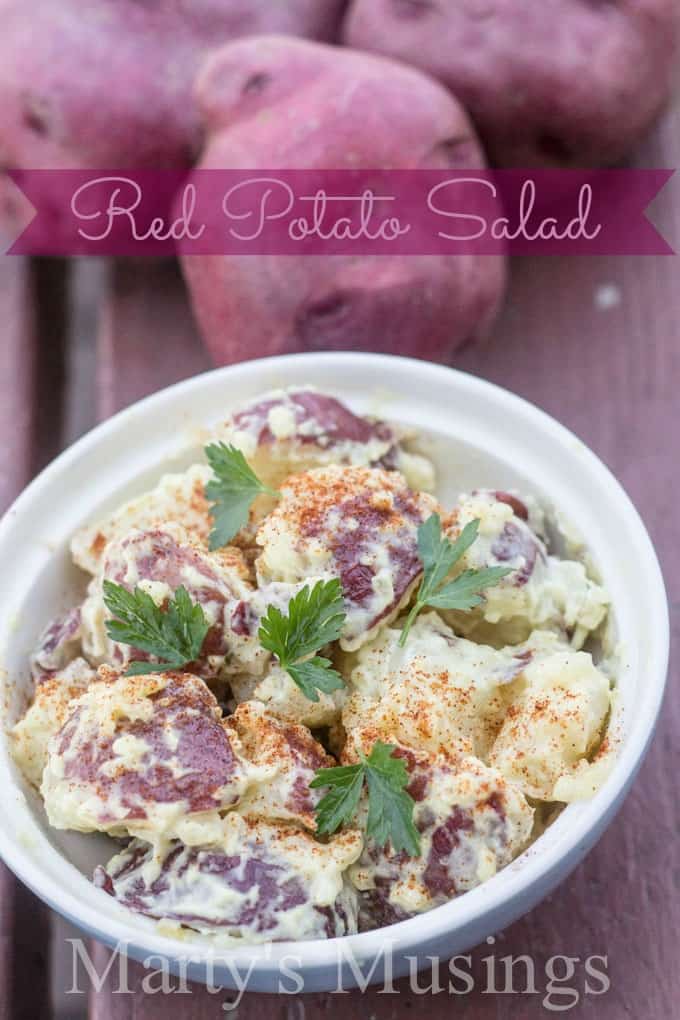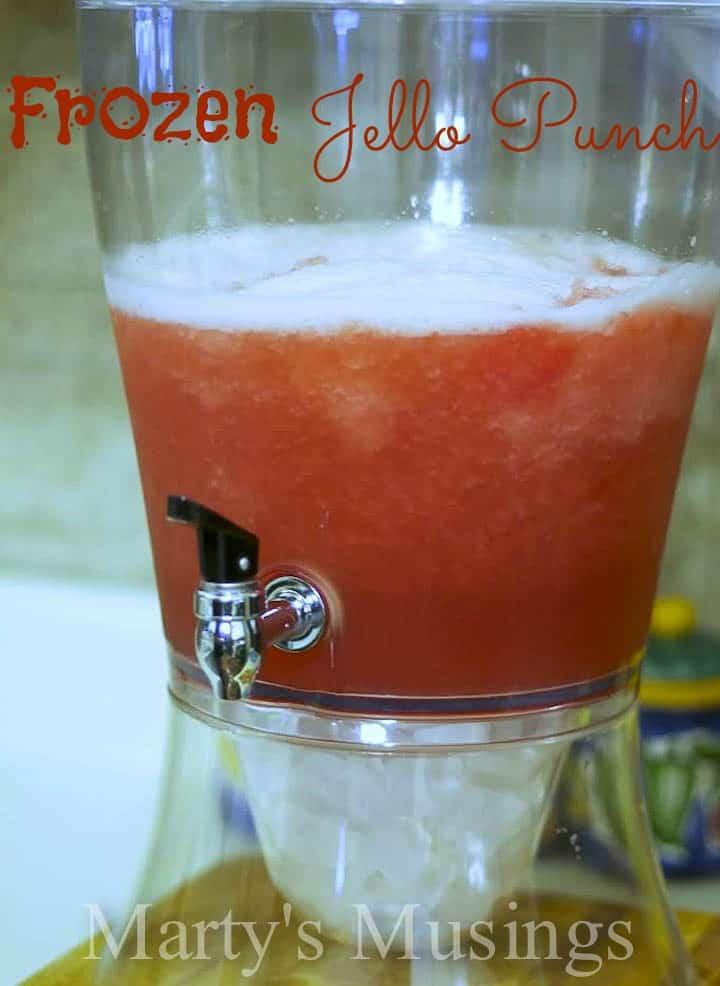 Patriotic Jello Dessert
Easy to make patriotic dessert "starring" red and blue jello with a white cream layer.
Ingredients
2 (3½ oz) packages strawberry (or other red) jello
1 20-oz. can crushed pineapple with juice
8 oz. softened cream cheese
1 envelope unflavored gelatin
8 oz. whipped topping
2 (3½ oz) packages berry blue jello
chopped nuts (optional)
Instructions
Prepare strawberry jello according to directions on box and add pineapple (with juice). Pour into individual serving dishes (or plastic cups) or into a 9x13 glass dish and chill until firm.
Prepare unflavored gelatin according to directions on box. Beat cream cheese slightly and then add the gelatin mixture.
Beat gelatin and cream cheese until smooth. Set aside and allow to cool to room temperature.
Once this mixture has cooled, fold in the whipped topping until mixed together well.
Pour this mixture over the firm bottom layer and return to refrigerator and chill until firm, approximately 1 hour.
Prepare berry blue jello according to directions in box. (If desired you can add chopped nuts to this layer.) Pour over the two layers and chill until firm.
Can be served with a dash of whipped topping if desired.
Notes
I did not use chopped nuts for this recipe but in the future I probably will. I think the pineapple in the first layer and the nuts in the top layer give the jello a little variety.
Nutrition Information
Calories:
2646
Fat:
143g
Saturated fat:
77g
Unsaturated fat:
51g
Carbohydrates:
313g
Sugar:
277g
Sodium:
1694mg
Fiber:
10g
Protein:
50g
Cholesterol:
422mg