4th of July Patriotic Tablescape
This post may contain affiliate links which won't change your price but will share some commission.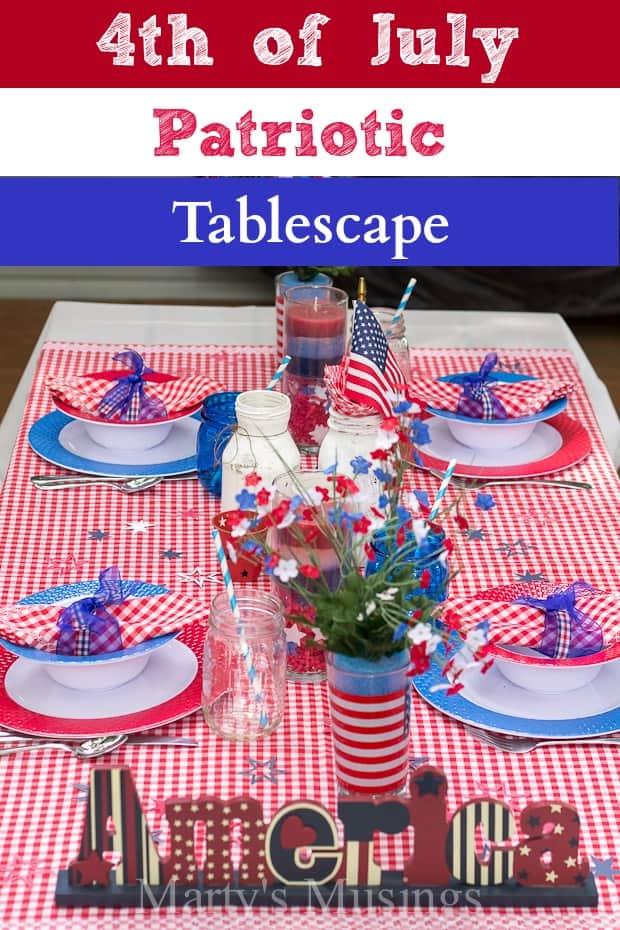 If you're anything like me you probably enjoy gazing at the beautiful pictures on Pinterest……until you get depressed because all the projects look amazing and impossible to recreate.
You tell yourself you could never do that!
"That" being a craft, project or anything requiring lots of expertise or money.
I feel the exact same way so I thought maybe you'd like to see the few tricks that I use in creating a beautiful 4th of July patriotic tablescape without a lot of time or money!
I literally threw this table together in about 30 minutes and, per my usual, shopped my house and attic (as well as the dollar store) for supplies.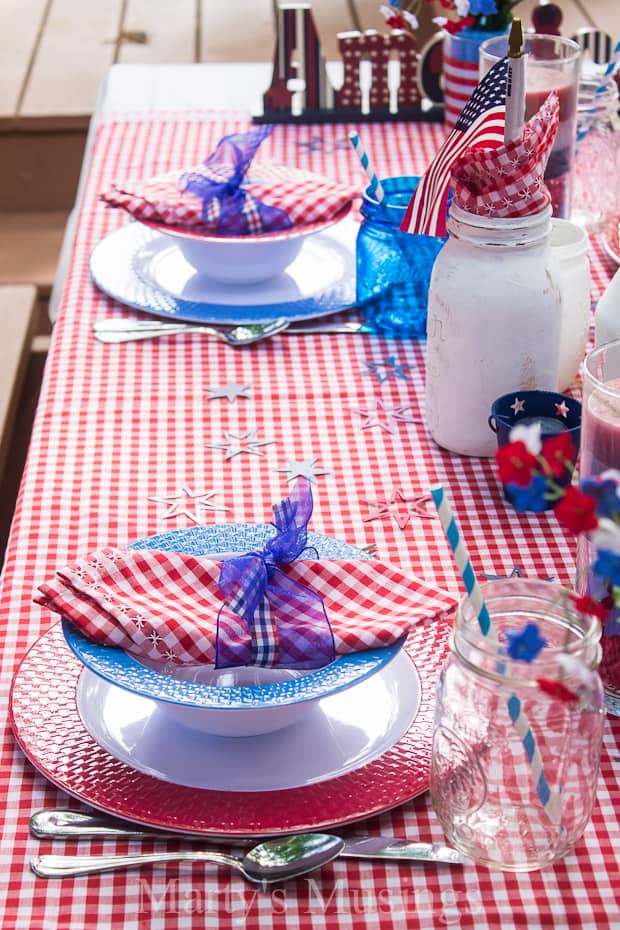 I almost always start with linens first. I knew I wanted to be totally uncreative and use red white and blue! The tablecloth and cloth napkins were from a yard sale and were making their appearance for the first time.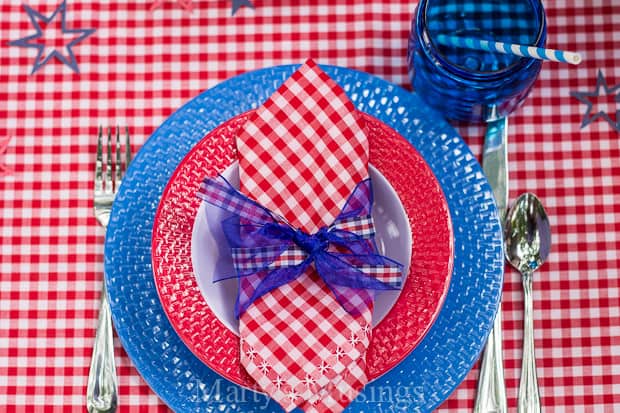 I love the edging along the napkins which are tied together with a bit of tulle and ribbon (one of my favorite napkin ring ideas).
I wanted some bright plastic plates and bowls to use outside this summer so I bought a few at the dollar store to mix and match. I'm going to head back to buy some more because they are durable and such fun to use for outdoor entertaining.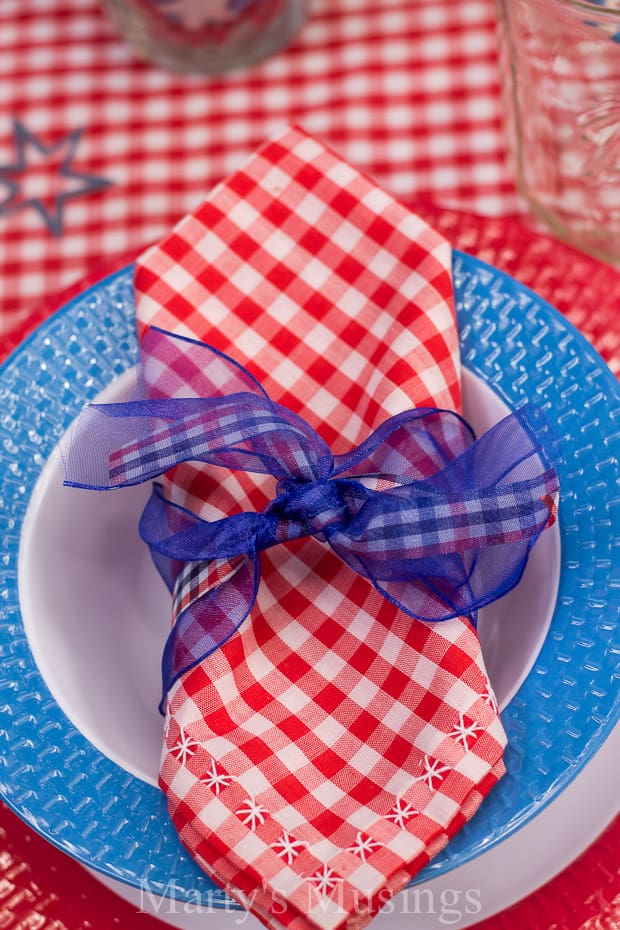 This wooden America sign was purchased on sale after the season a few years ago and will make its way back into the house once it's done decorating the table.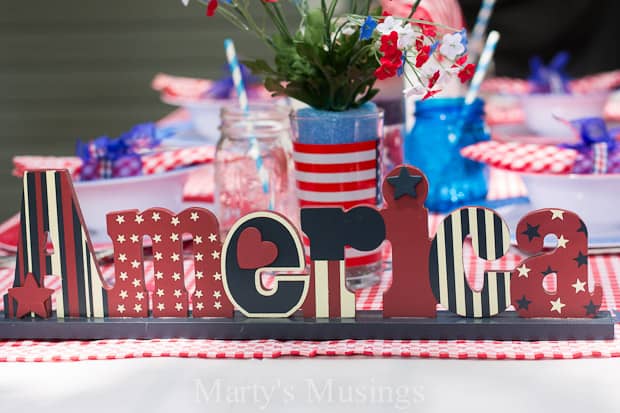 For the centerpiece I just grabbed a few painted mason jars and stuck (the technical term) a napkin and a mini flag inside one.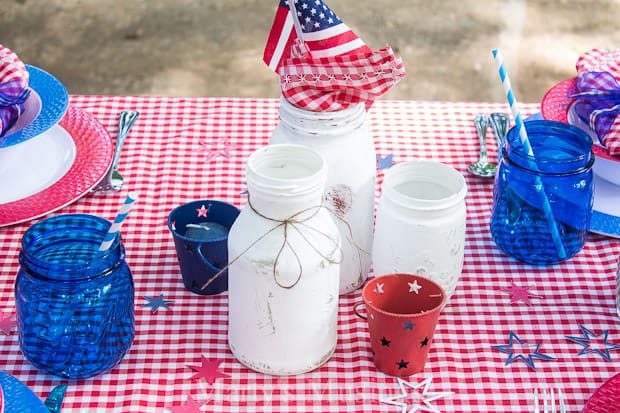 The vases and metal candle holders were a quarter each at a yard sale. I know. I'm a big spender!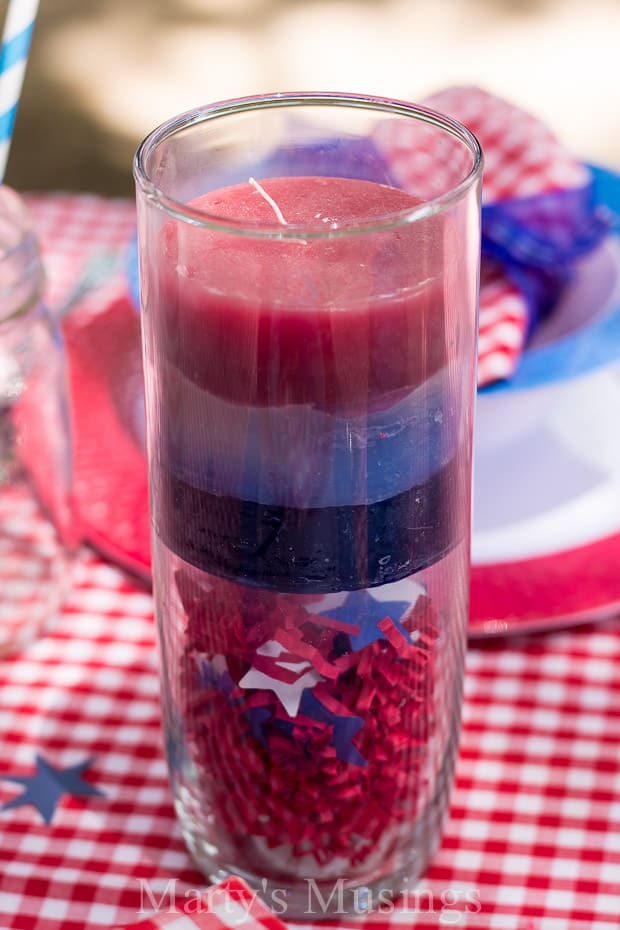 My children all went to a weekly Bible study during their growing up years that was led in the home of a godly couple from one of our churches. Mrs. Robinson always loved holidays and birthdays and showered the kids with gifts all throughout the year. This little glass was from the dollar store and filled with a piece of a pool noodle and silk flowers. I think it's so cute and brings fond memories of this wonderful lady each year when I bring it out.
Two years ago I cut out these stars with my Cricut Expression and saved them in a little baggie to use again for a little sparkle and fun.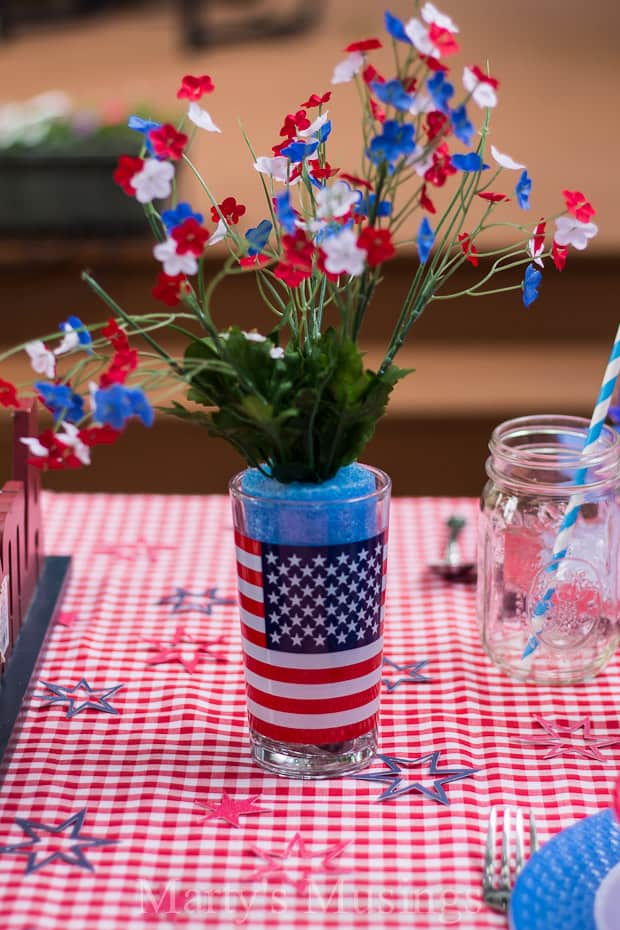 I only had a couple of these adorable insulated plastic mason jars so I grabbed a two more glass ones for beverages and mixed them together.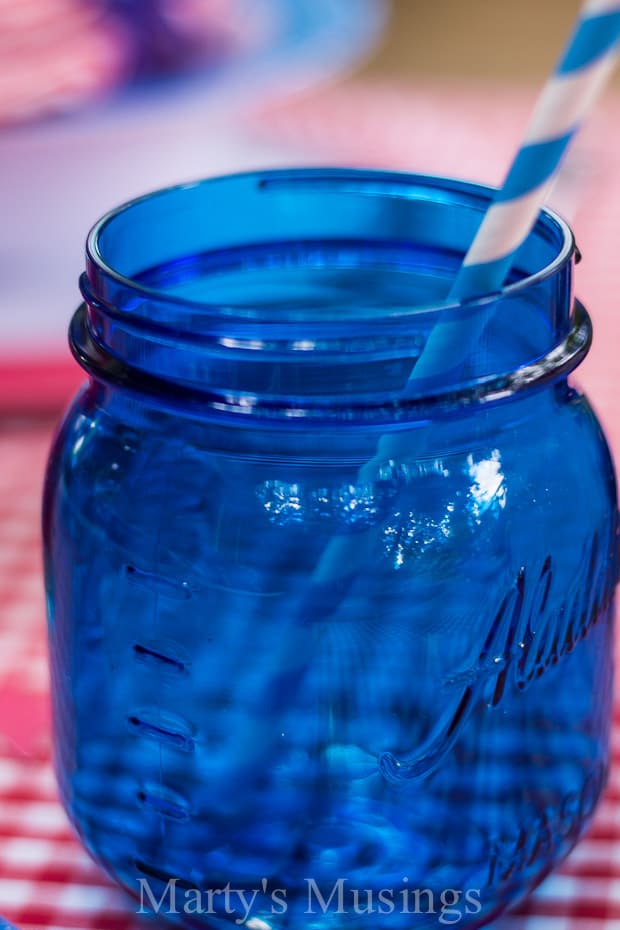 What are my easy tips for creating a beautiful (and easy!)?
Decide on a color scheme, beginning with linens.
Shop your house and storage for items that can be reused and repurposed.
For inexpensive dinnerware check out your local dollar store.
Shop the clearance sections of your favorite stores, especially at the end of a season.
Mix and match supplies.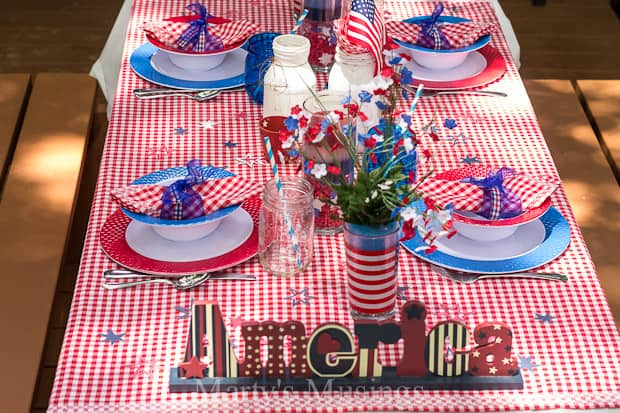 That's it! I'd love to know your favorite tips for entertaining. Do you use disposable supplies (perfectly acceptable!) or do you just throw a few things together and hope that it turns out (like I do!)
I'm all about easy and inexpensive so here are a few more ideas for you!
5 Time and Money Saving Table Setting Tips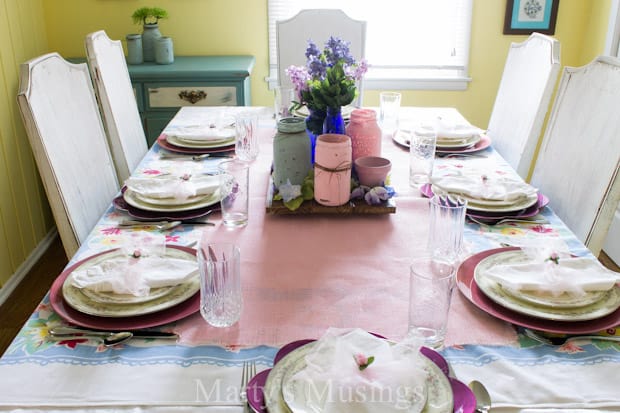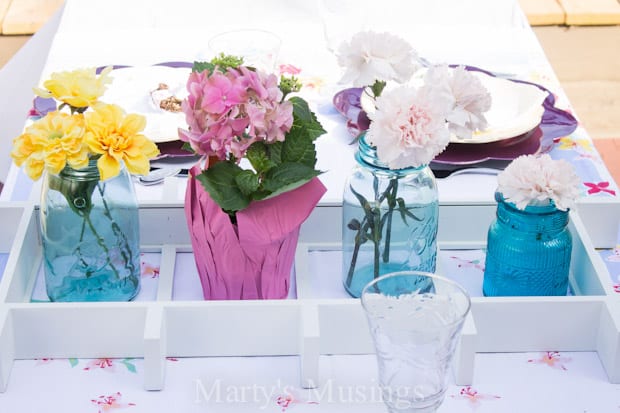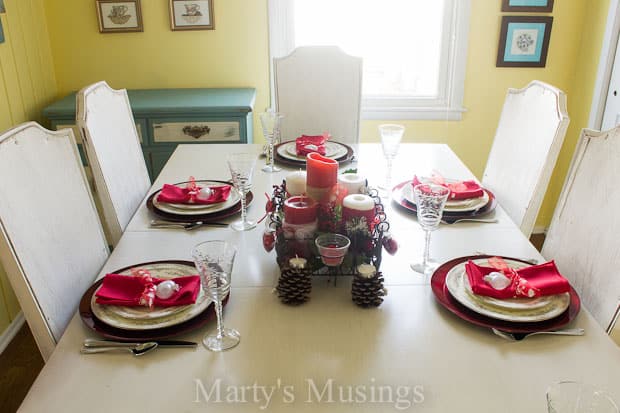 Fall Tablescape Ideas with DIY Rustic Wood Chargers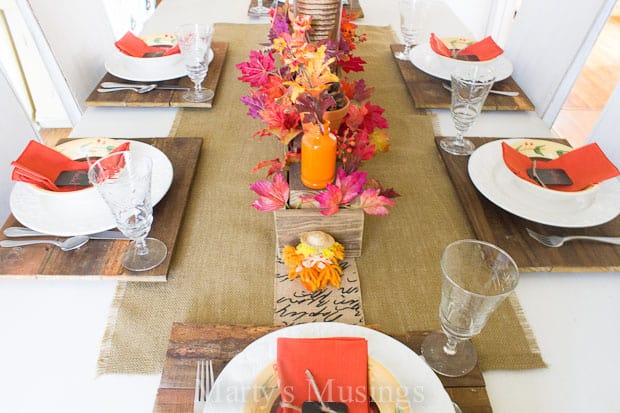 This post contains affiliate links.