Easy Homemade Strawberry Ice Cream
This post may contain affiliate links which won't change your price but will share some commission.
Sensational recipe for easy homemade Strawberry Ice Cream, perfect for a hot summer's day spent with family and friends. This recipe is a keeper!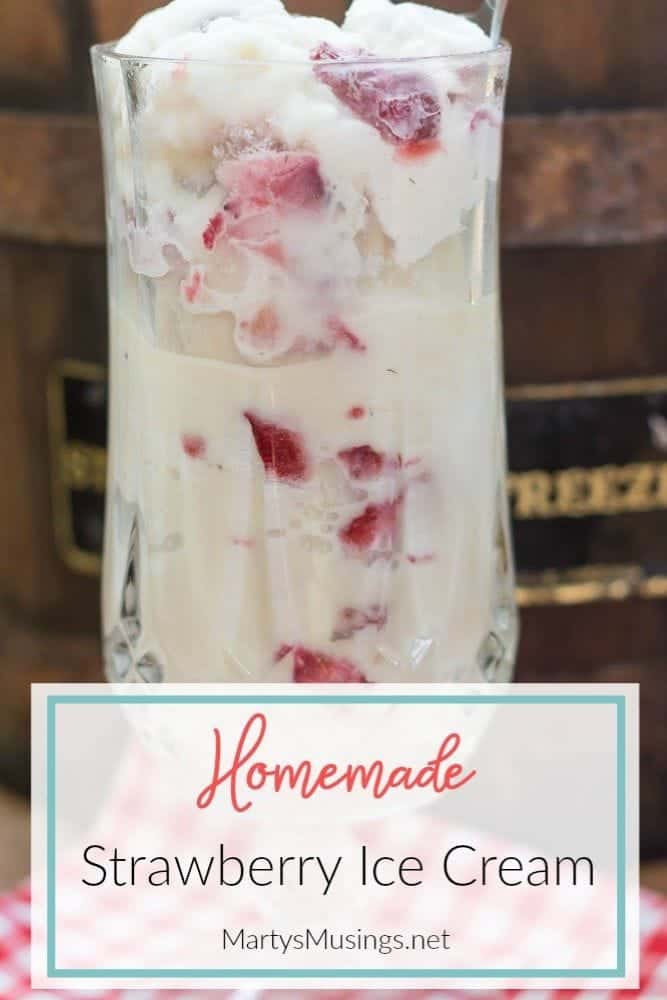 My dad was a salesman. He sold cars, RVs, hardware (and not the computer kind) among other things.
He worked a lot of evenings and Saturdays to provide for our family. In spite of those long hours I still have special memories of time spent with him.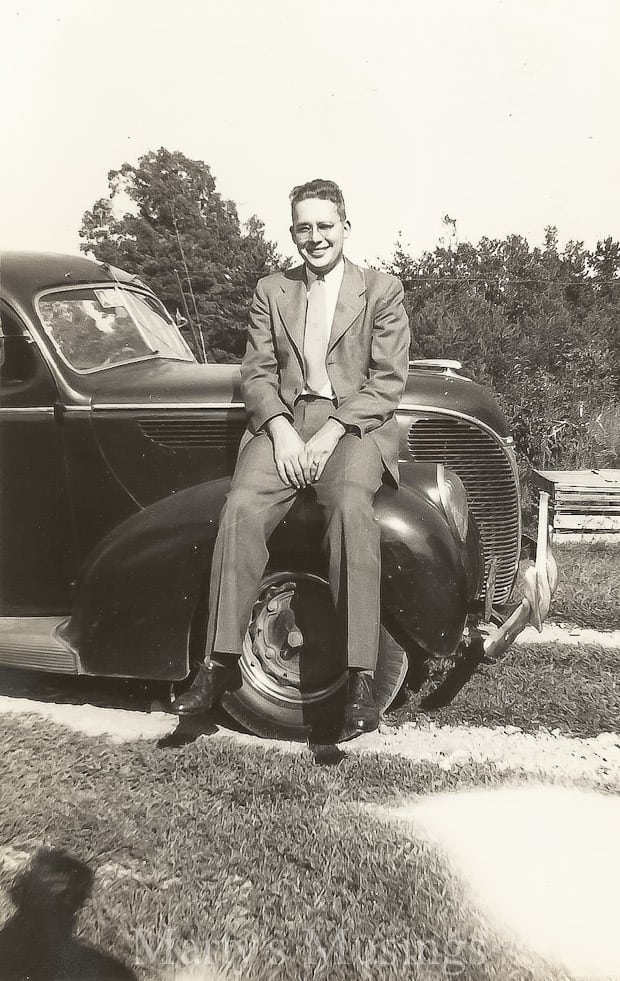 One of my favorite ones from my childhood was of my Dad and I riding in the car to get a bag of ice from the ice warehouse.
Back then you didn't go to the grocery or convenience store for the ice! It was more of a luxury and not a given like it is today.
My dad and I would then sit in the driveway on a Sunday evening in the summer, churning a batch of my mom's homemade ice cream in their White Mountain Hand-Crank Ice Cream Freezer.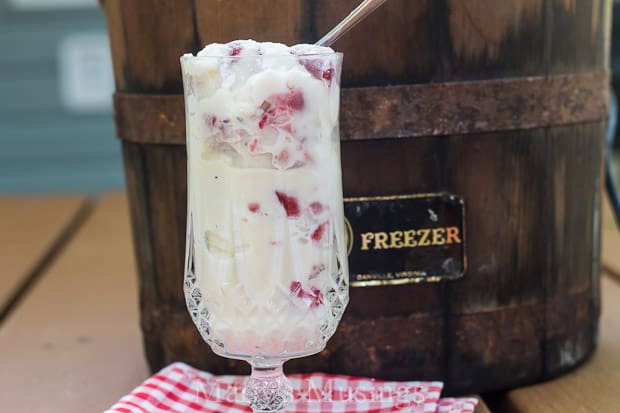 My mom might make strawberry ice cream or maybe banana. Peach if the fruit was ripe.
Never just plain vanilla.
Sometimes my dad would let me have a turn sitting on his stool, but I was just a little girl and it was much harder turning that handle than it looked! They don't call it hand crank for nothing! The more it froze the harder it got.
I thought my daddy was strongest man ever!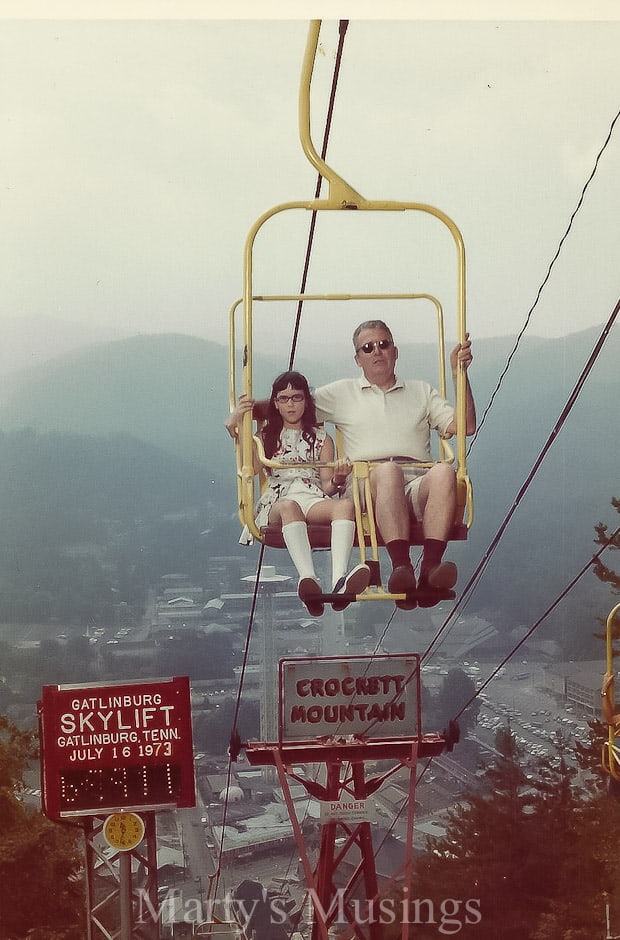 (On a side note, isn't it time for knee socks to come back into style?)
When it was done Dad would hand mom the dasher and I would watch that goodness drip onto the countertop.
We always used the same metal spoon to scoop it into the bowls. I wanted to wait till last because then it would be harder and better. Or at least I thought so.
Is there any wonder I prefer ice cream over most every other dessert and I eat it every evening as my snack?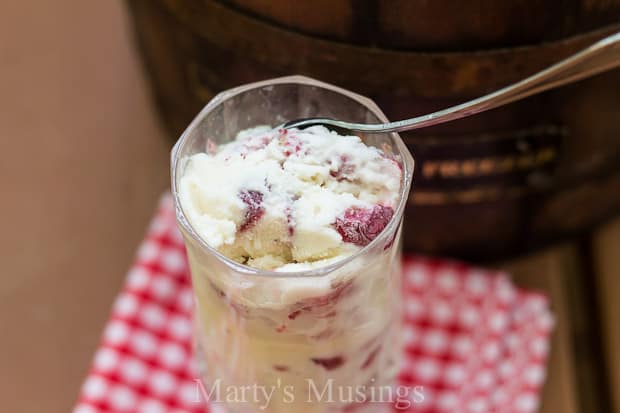 It's not really all about the ice cream (even though this recipe rocks!)
Our bodies and minds may grow older and our memories dim, but our hearts can never forget those precious, hot summer days of years past. Nothing beats a hot day with homemade strawberry ice cream!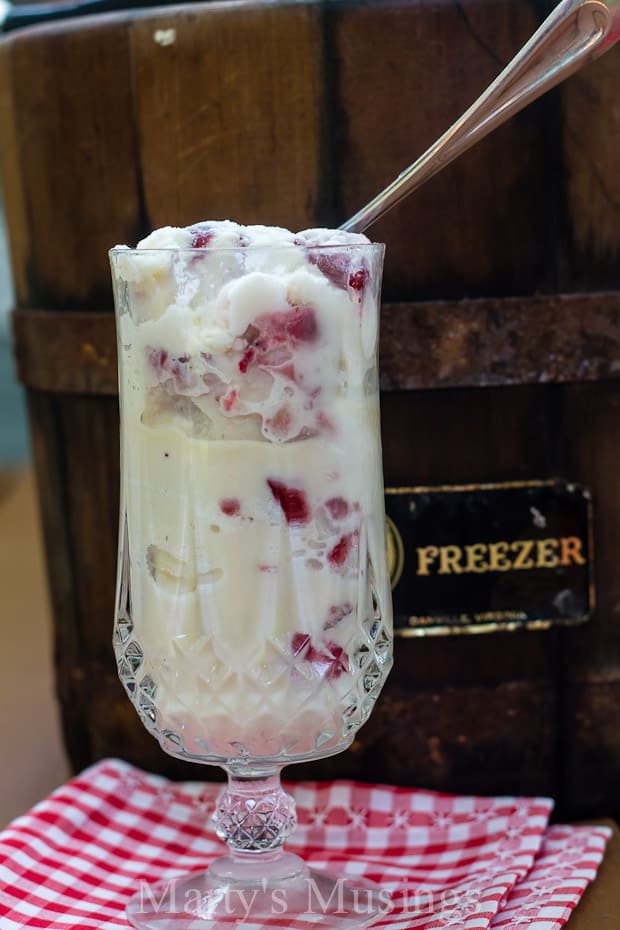 Now I have to be honest and say I'm mostly a chocolate kinda gal. (Have you even seen how many of my dessert recipes are chocolate?)
Up until recently my favorite was homemade Oreo ice cream. I made it every.single.summer.
For Memorial Day my hubby asked for vanilla. Plain ol' vanilla. I couldn't find a recipe I liked so I took my Oreo ice cream recipe, left out the cookies and added strawberries.
Unbeknownst to me my helper (AKA hubby in charge of plugging the freezer in) decided to add a bunch of sugar to my recipe.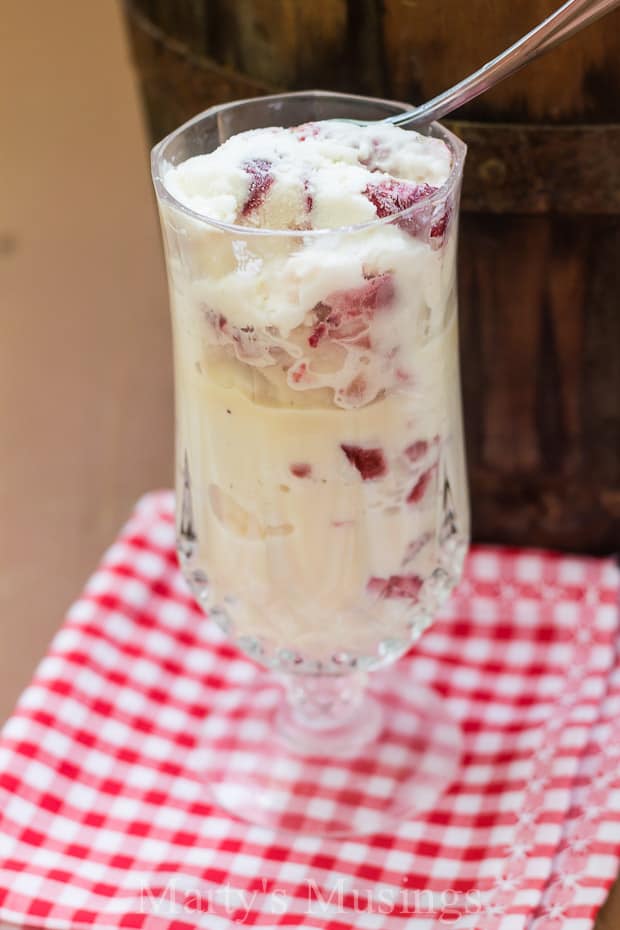 It was amazing (and I'm sure the extra sugar didn't hurt it) and I sent some home with my daughter and ate the rest of the leftovers all by myself.
No, not that same day! Good grief, y'all must think I like sweets or something!
Easy Homemade Strawberry Ice Cream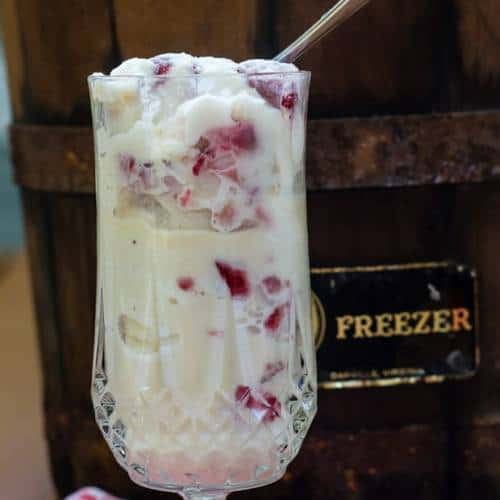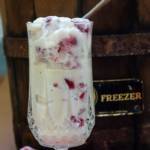 Print
Easy Homemade Strawberry Ice Cream
This delicious recipe for homemade ice cream is terrific on a hot summer day served to friends and family!
Ingredients
4

eggs

1/4

cup

flour

1

cup

sugar

1

pint

half & half

1

pint

whipping cream

1

can sweetened condensed milk

1

tsp

vanilla

whole milk

2-3

cups

sliced strawberries

sprinkled with sugar
Instructions
Beat flour and eggs slowly with a whisk to avoid lumps.

Add one cup sugar until dissolved.

Add half & half, whipping cream, sweetened condensed milk and vanilla.

Pour into 5-quart ice cream freezer and add whole milk to the fill line.

Freeze as directed on machine.

Stop freezer and add strawberries 10 minutes before end of cycle.

We like to put the canister into the freezer and let the ice cream harden even further.
Notes
Waiting to add the strawberries right before the end of the cycle allows for the strawberries to remain in larger pieces.
Sometimes I will use double the half & half or whipping cream if I only have one kind.
Can substitute a small package of oreo cookies for strawberries.
This recipe can be made ahead and kept in the freezer.
Want to see more of my favorite desserts?