5 Time and Money Saving Table Setting Tips
This post may contain affiliate links which won't change your price but will share some commission. Read more here.
I love to set a beautiful table for special occasions in our home. I wish I could say I did this every day, but that's more dream than reality.
Since it's ultimately the guests and expression of hospitality that are so important I wanted to encourage you with 5 time and money saving table setting tips to help inspire you to celebrate both holidays and every day!

START WITH A COLOR SCHEME
This tablescape was the one I used for our family Easter dinner, but I purposefully chose not to use seasonal elements. No bunnies or Easter grass here!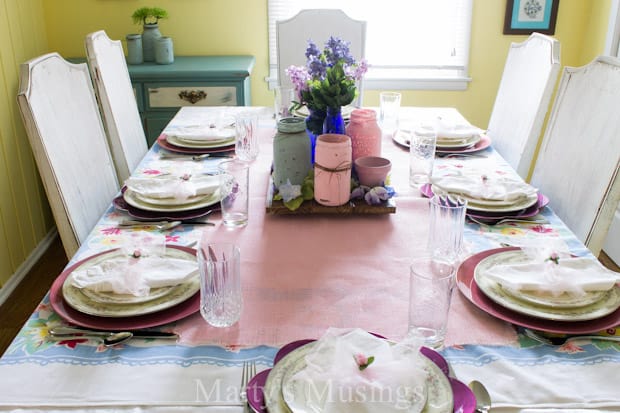 I knew I wanted to use this beautiful vintage tablecloth I bought at a yard sale. I am crazy about the colors and am finding ways to use it over and over while still looking unique (see the easy and cozy table I set outside on our back deck.)
I used a white tablecloth for the base topped with the vintage one and a no sew pink burlap runner.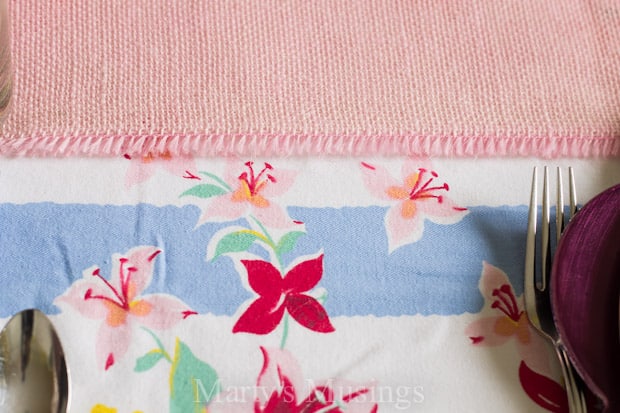 The chargers were all in the same color family even though they didn't match perfectly.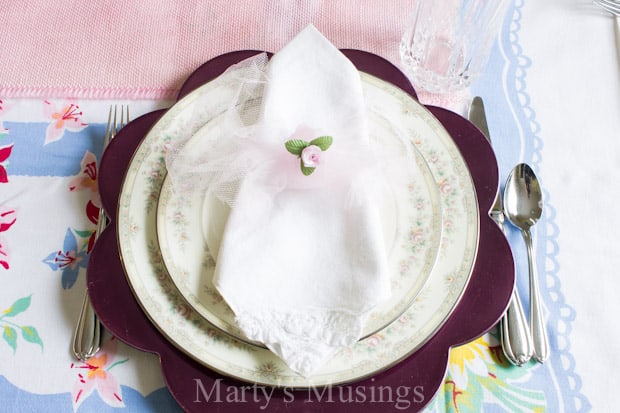 IT'S ALL ABOUT THE DETAILS
One of my favorite ways to "fancy up" the table is with these white lace napkins. I buy them for pennies at yard sales and mix and match the styles.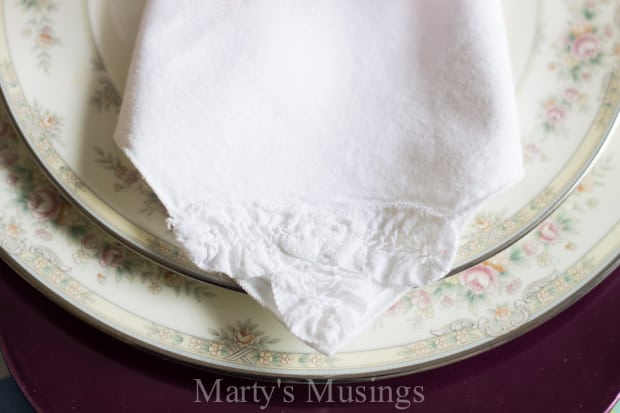 Believe it or not, these tulle napkin ring bows were made for my parents' 60th anniversary party several years ago. I stored them in a plastic bag where they didn't take up very much room.
Tulle is so inexpensive that you could buy a few rolls at the craft store and have several different colors on hand.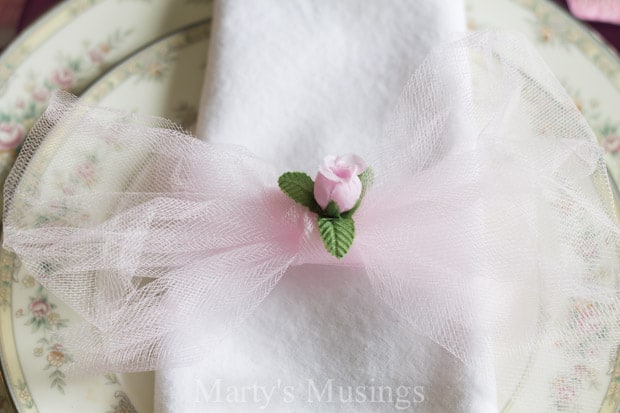 USE WHAT YOU HAVE AVAILABLE
Recently my daughter celebrated her 16th birthday and I let her decide the decorations. We both love mason jars so she painted and distressed both glass pasta jars and actual mason jars.
The mini clay pots were from my oldest daughter's 16th birthday party nine years ago. (I really am not a hoarder, I promise!)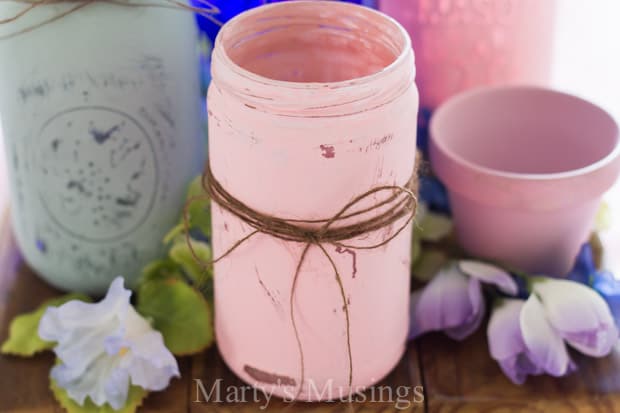 These blue vases and
silk flowers were repurposed from my daughter's table decorations at her wedding.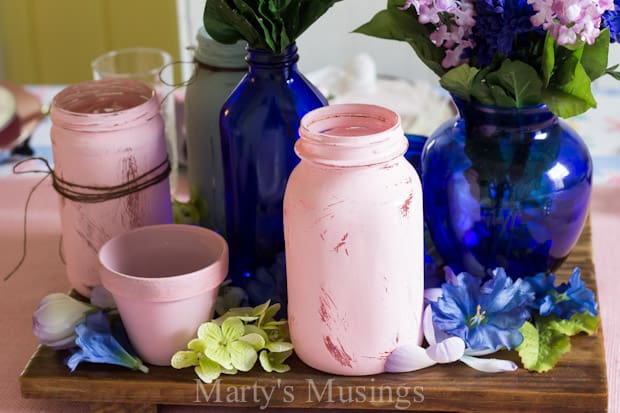 I used one of the DIY rustic wood chargers for a centerpiece grouping.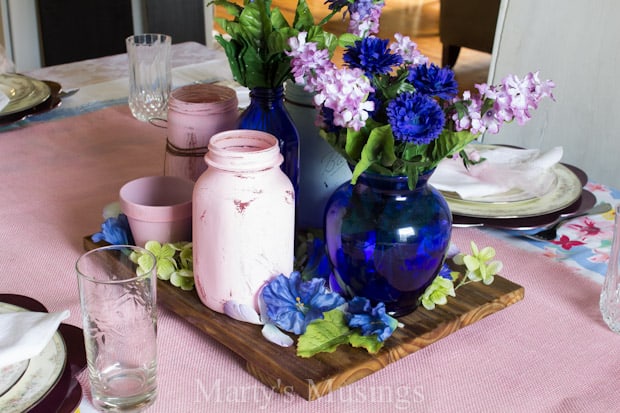 MIX AND MATCH STYLES
The vintage floral tablecloth mingles with the pink burlap runner without seeming to be too feminine.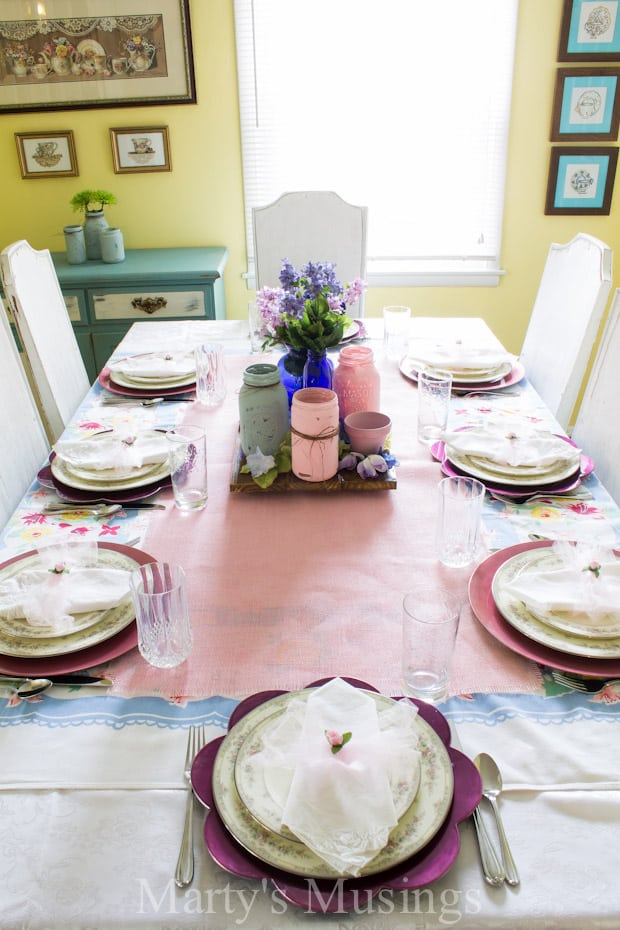 I love my wedding china and use it often when we have company. The glasses are a combination of wedding glassware and vintage glasses from my mom.
I just don't worry if everything isn't up to magazine standards. Years ago I might have (and did), but in my old age (ha!) I've learned that the less stressed I am the more my guests enjoy the time in our home.
ACCEPT IMPERFECTION AND EMBRACE HOSPITALITY
For this family Easter dinner I was only responsible for the main dish (baked ham) and dessert because I had just come back from my whirlwind trip to Dallas and was getting ready to leave again in a couple of days for a blogging conference in Utah. It really didn't matter what I served because creating memories is the true blessing that comes from a meal shared together.
For more repurposing ideas see how my son used these mason jars in his wedding proposal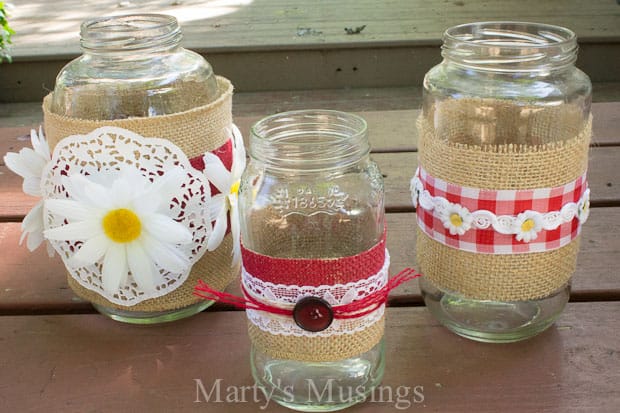 and how I used them to celebrate my husband's graduation from college.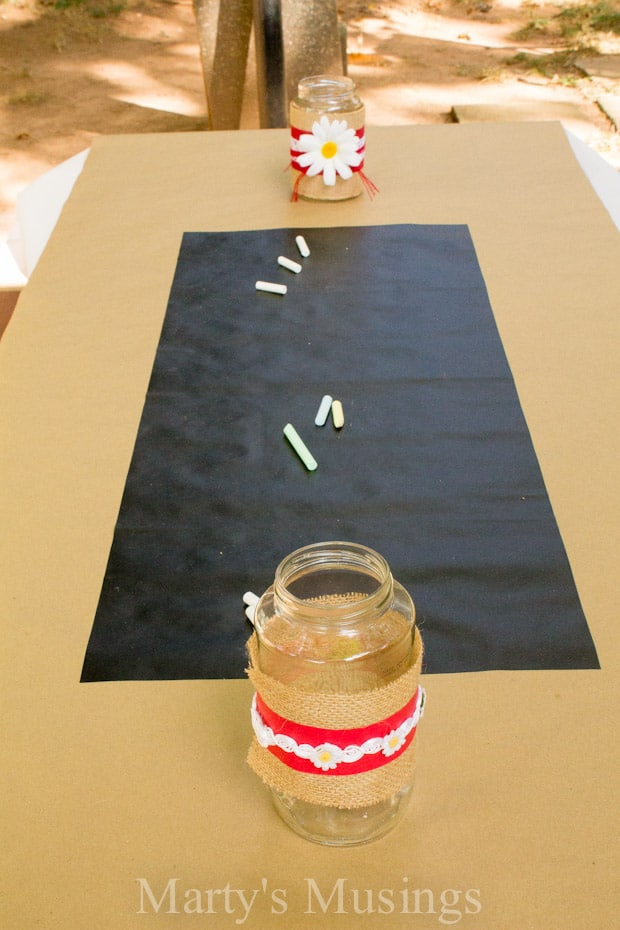 I also used a little bit of paint and goodies from my new craft room for this fun mason jar craft.