Rice Krispies Treats® for Easter
This post may contain affiliate links which won't change your price but will share some commission. Read more here.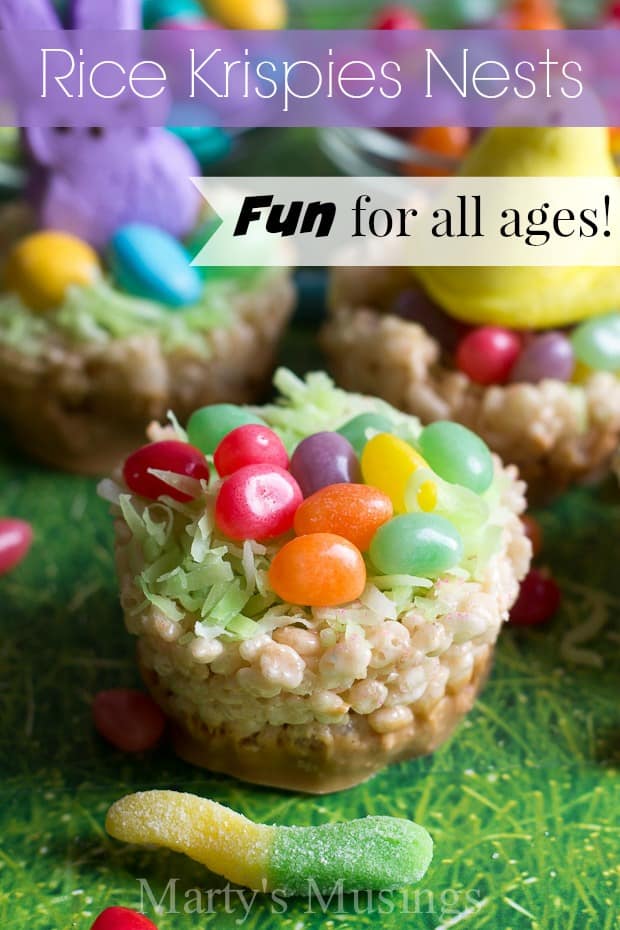 I am a seasoned mom and have lived to tell the tale.
Yes, after raising and homeschooling five children, I'm nearing the end of that season.
Endless days and sometimes even longer nights are now being replaced with eating bon bons by the pool.
Nah, not really, but it was such a sweet thought!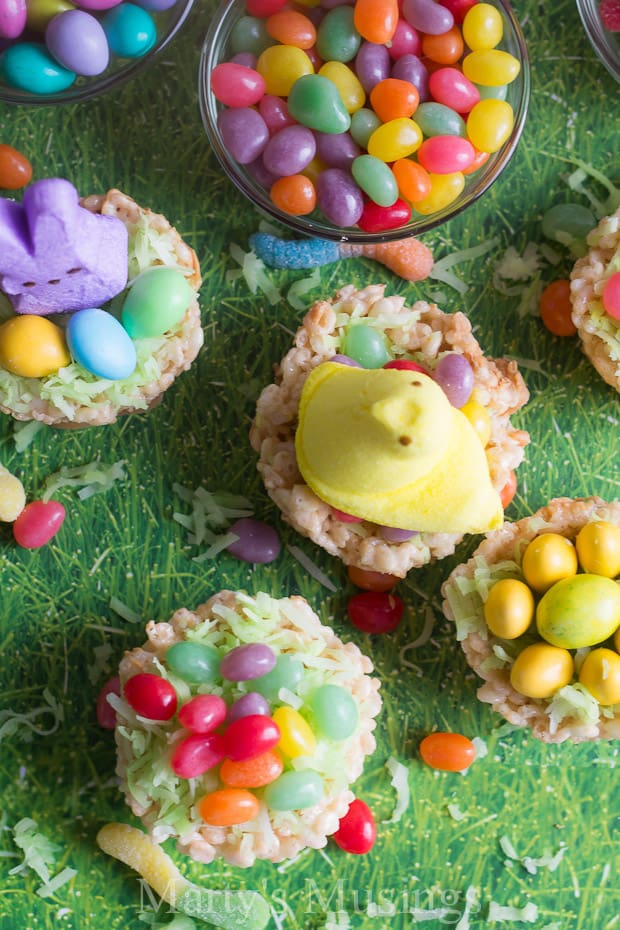 Anyway, one of the most challenging subjects was teaching my kids to bake and prepare meals.
Fractions were learned through measuring and pouring, mixing and baking.
As much as it tried my patience at times those teachable moments were filled with conversation and laughter.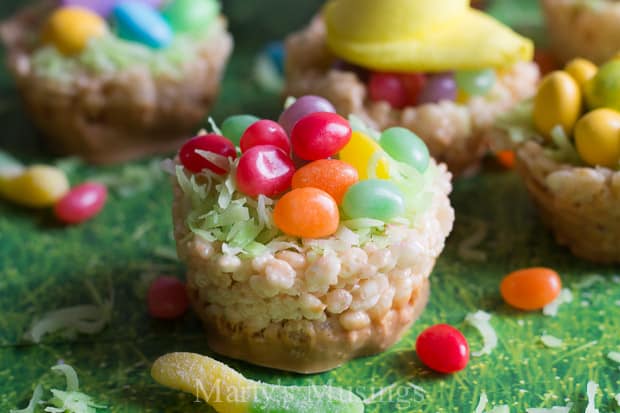 One of my favorite memories of our long homeschool days was making treats for the holidays.
Halloween. Thanksgiving. Christmas. Easter.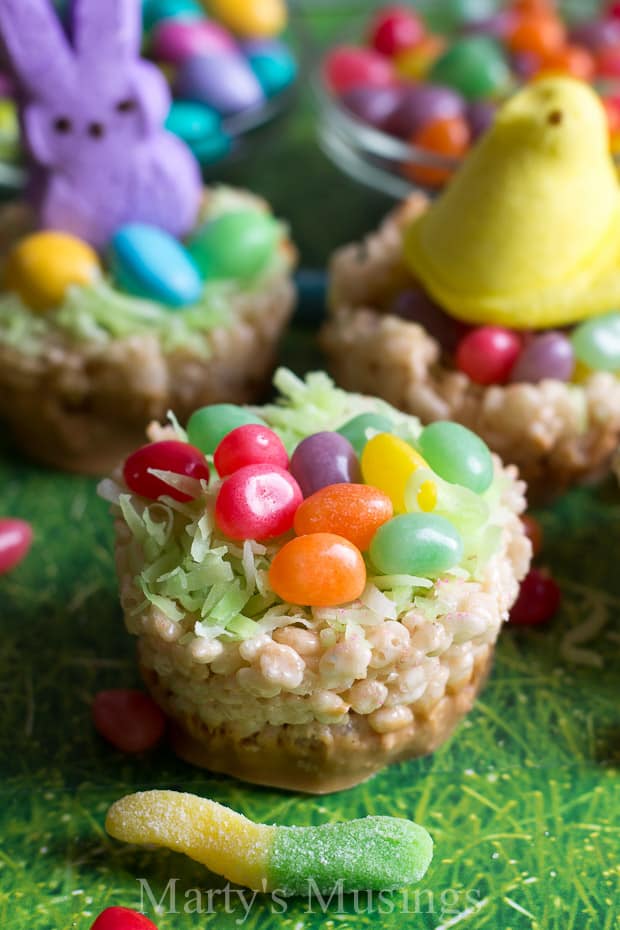 Truth be told, I miss those days (not all of them, mind you, but many!)
Since I still have two teenagers at home I don't want them to miss the memory making adventures in the kitchen rolling dough amidst raucous laughter and screams (mine, not theirs!)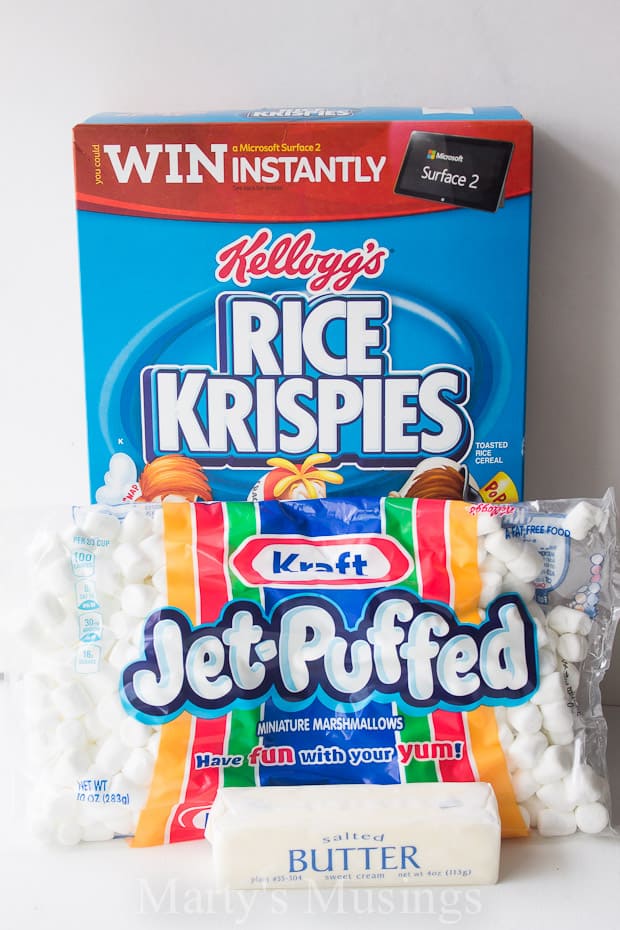 The joy of making Rice Krispies Treats® for Easter is setting your child's imagination free, and I had no doubt my teenagers would love eating their creations!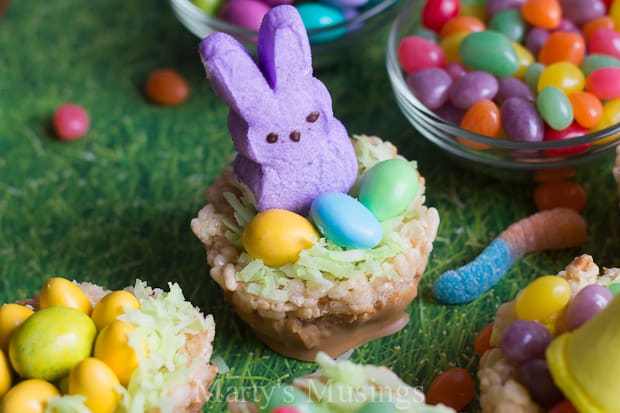 Just provide a selection of toppings like I did (and there has to be some chocolate!) and let the fun begin.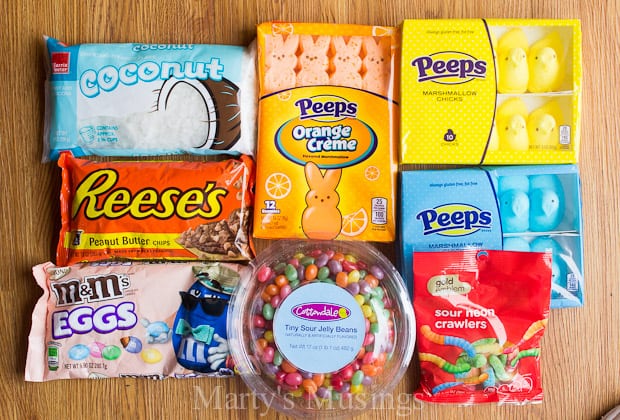 This simple, 3-ingredient recipe is one every family should have on hand. I simply dolled it up a little bit by dipping the nests in melted peanut butter chips and letting my kids have fun with a few extras.
VERY IMPORTANT: Use butter and don't substitute. My daughter made these treats a few times in the past, and we never knew why they didn't quite stick together. BUTTER. Remember that!
I used a muffin pan to shape the treats and dyed the coconut with green food coloring.
I also dipped the bottom half of the nests in melted peanut butter chips.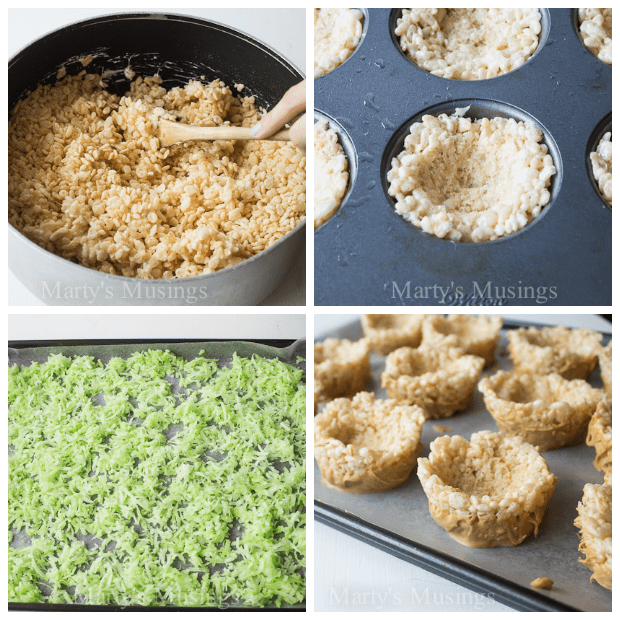 If you're making these with younger kids I would suggest making the treats ahead of time (by yourself!) because once you get the ingredients mixed together you need to move quickly before the mixture hardens.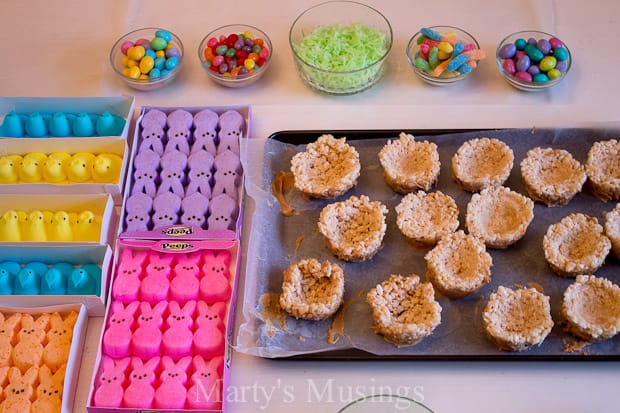 I knew my youngest son, our budding artist, would come up with something interesting. Teenage boys and all that silliness! (See if you can find the goofy face.)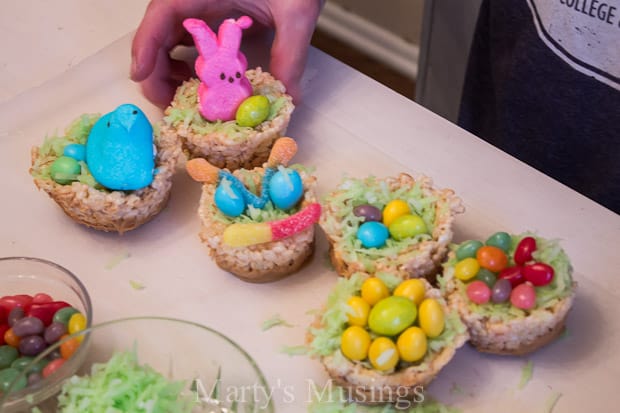 His sweet and patient sister definitely took her time and enjoyed the experience.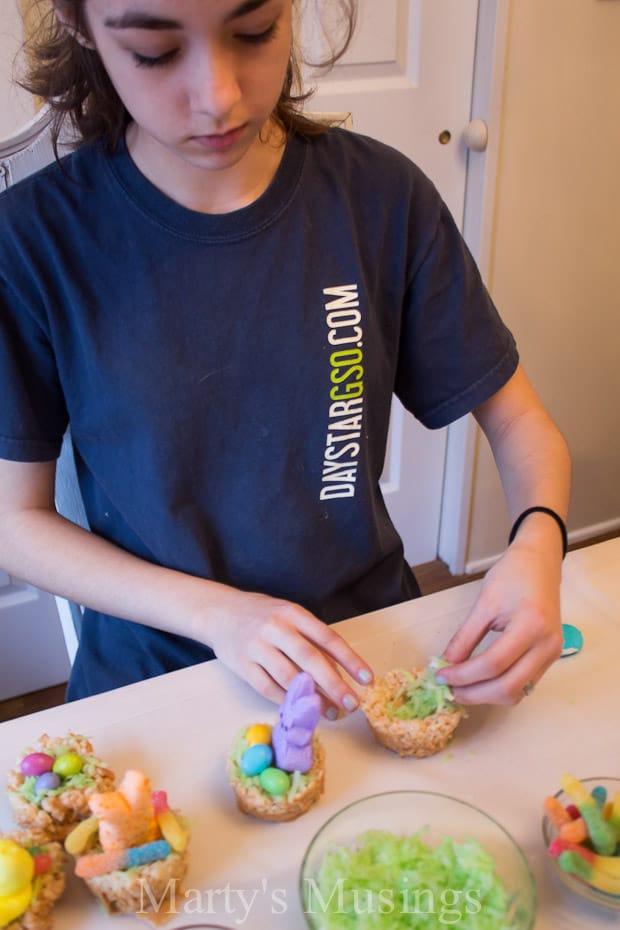 Sadly enough my husband, the biggest kid of us all, wasn't able to help. Rice Krispies Treats® are his very favorite.
Once a kid, always a kid!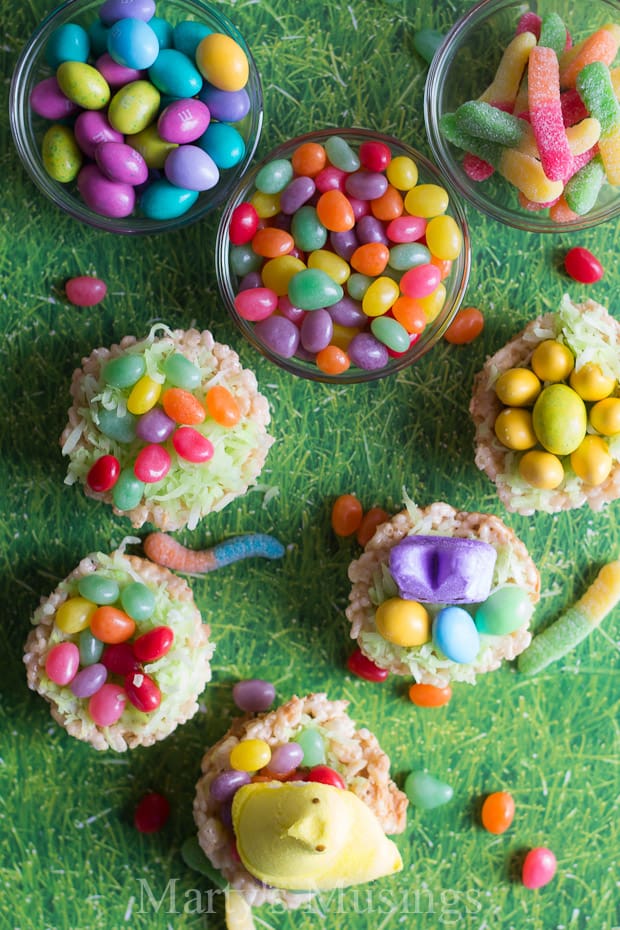 As a first time grandmother I'm excited for the years to come making memories in the kitchen with Nana!
For more Rice Krispies Treats® fun check out B-Inspired Mama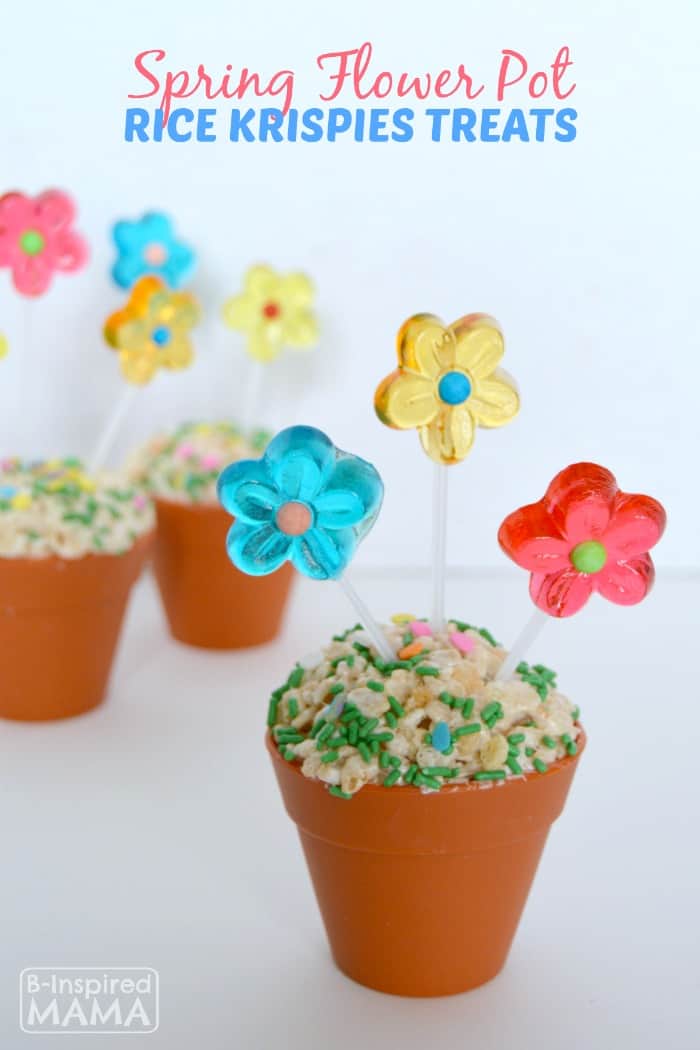 and Rice Krispies Treats® on Pinterest.
Rice Krispies® Nests for Easter
Enjoy celebrating the holidays and everyday with your kids in the kitchen with these 3 ingredient Rice Krispies Treats® and perfect
Ingredients
3

tbs

butter

no substitution

1 10-

oz.

pkg. Jet-Puffed Marshmallows OR

4

cups

Jet-Puffed Miniature Marshmallows

6

cups

KELLOGG'S RICE KRISPIES® CEREAL

bag of peanut butter chips

green food coloring

bag of coconut

jelly beans

M&M's

gummy worms

other various candies
Instructions
Spray muffin tins with oil.

In large saucepan melt butter over low heat.

Add marshmallows and stir until completely melted.

Remove from heat.

Add KELLOGG'S RICE KRISPIES® CEREAL and stir until well coated.

Press mixture evenly into muffin tins. If available, use greased mini tart shaper to mold into nest shape.

Allow to set for a few minutes.

Melt peanut butter chips in glass bowl in microwave for 30 second increments on low heat (1 cup at a time.) If necessary add a bit of oil for smoothness.

Dip bottoms of nests in peanut butter chips and allow to dry on wax paper until set.

Color coconut with 6 drops of green food coloring and 1/4 cup water. Let dry for several minutes.

Your kids are now ready for decorating fun!
Notes
I sprayed the tops of the nests as I was shaping to help prevent sticking.
Only use butter, not a substitute.
If nest sticks to muffin cups use knife to pry under and lift out.
For best results use fresh marshmallows.
Kellogg Company sponsored this blog post. The opinions and text are all mine.
'); // ]]>