Rustic Cabin with Western Theme Decor
This post may contain affiliate links which won't change your price but will share some commission. Read more here.

Most years our family goes on vacation to the beach but just a few weeks ago we headed to an amazing rustic cabin owned by friends of ours. Located in the mountains of North Carolina, this jewel of a cabin barely had room for all of us.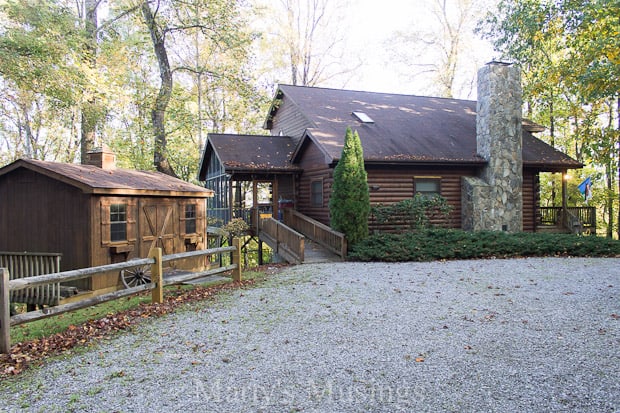 Okay, I'm totally kidding because this getaway has three levels and is straight out of Southern Living gorgeous!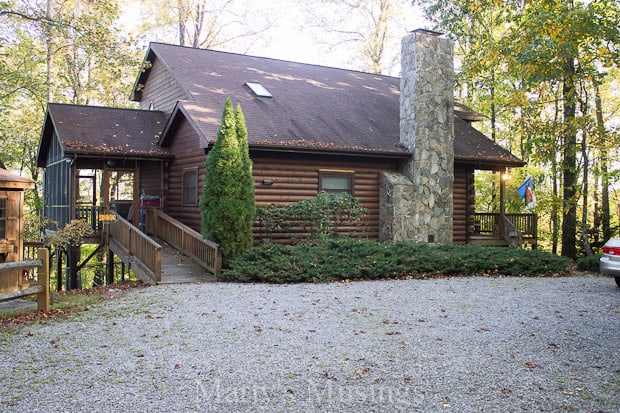 I asked my friend Deborah if I could photograph her family's mountain retreat to share with my readers and she graciously said yes.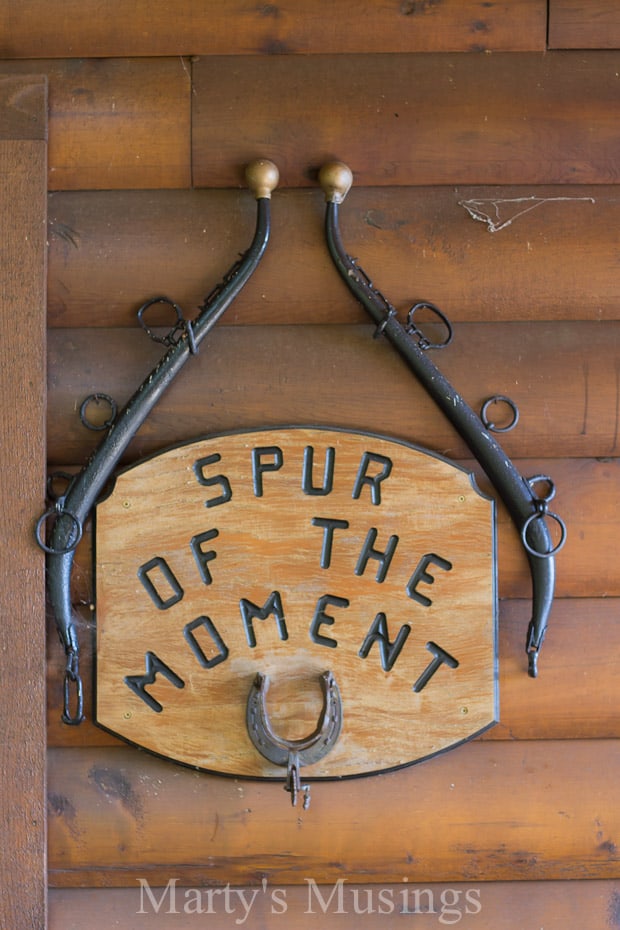 I didn't take pictures of every single space because once the Walden clan moves in we tend to destroy the aesthetics of a home, especially since this was our first vacation with a grandbaby in tow! We had to do a bit of fencing baby both in and out.
The logs on the outside are cedar and the home was originally named Cedar Breeze.
.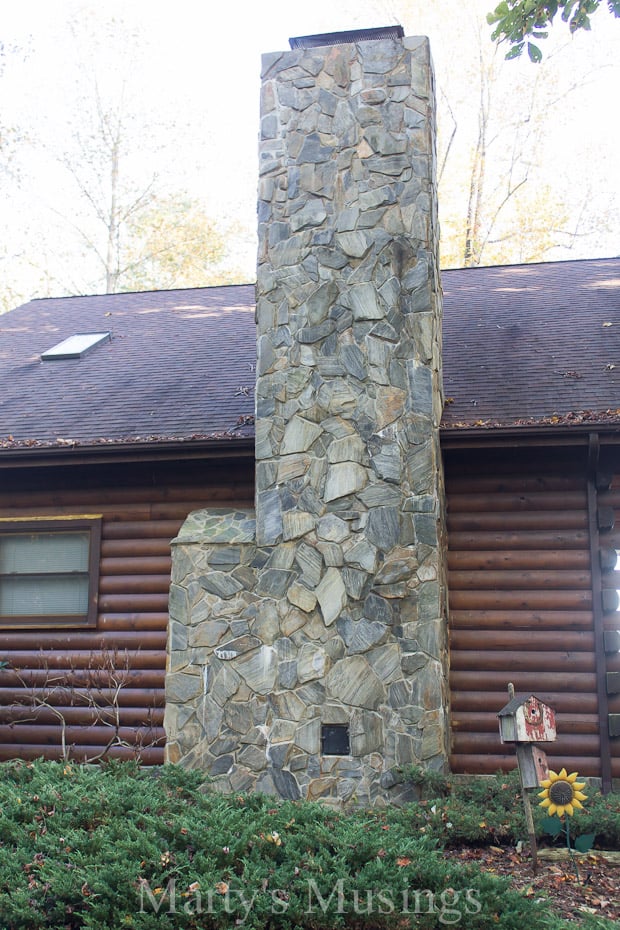 (Now I'm warning you in advance there will be picture overload but it's totally worth it!)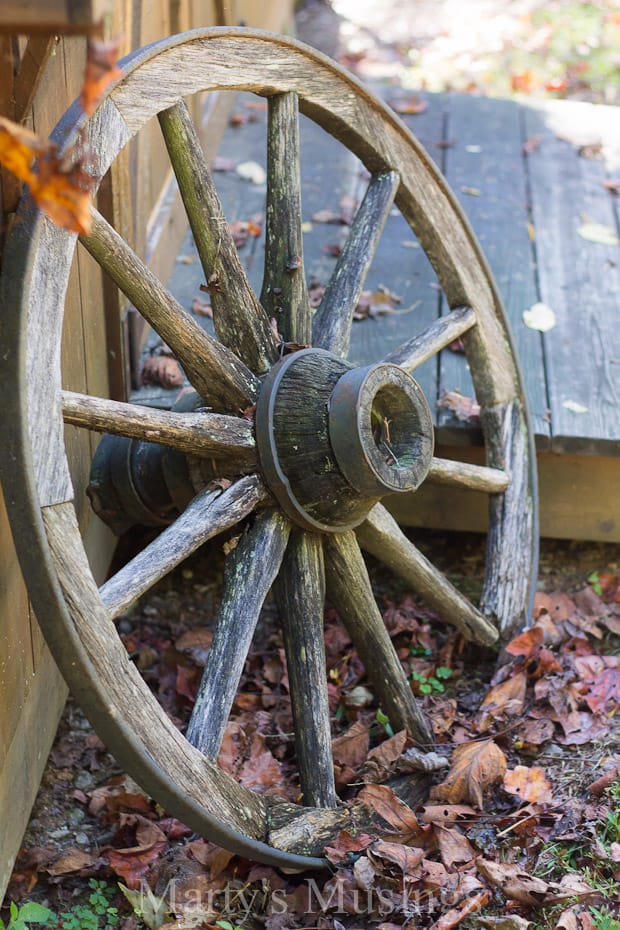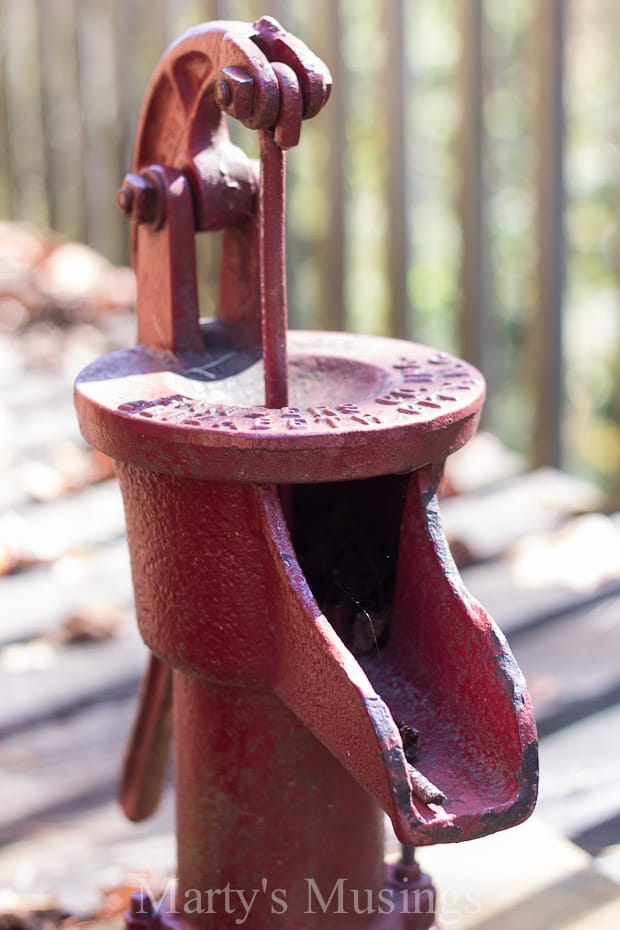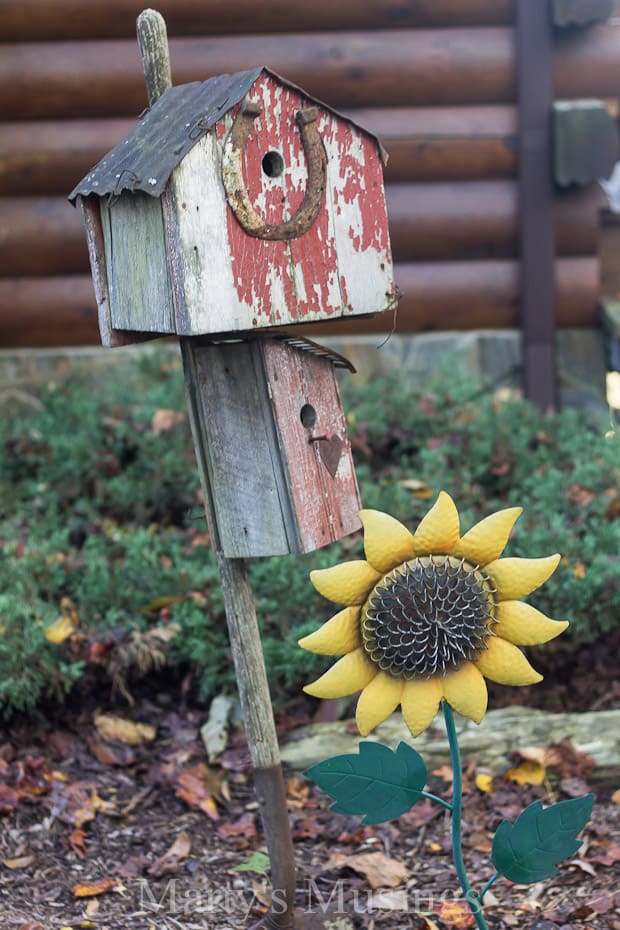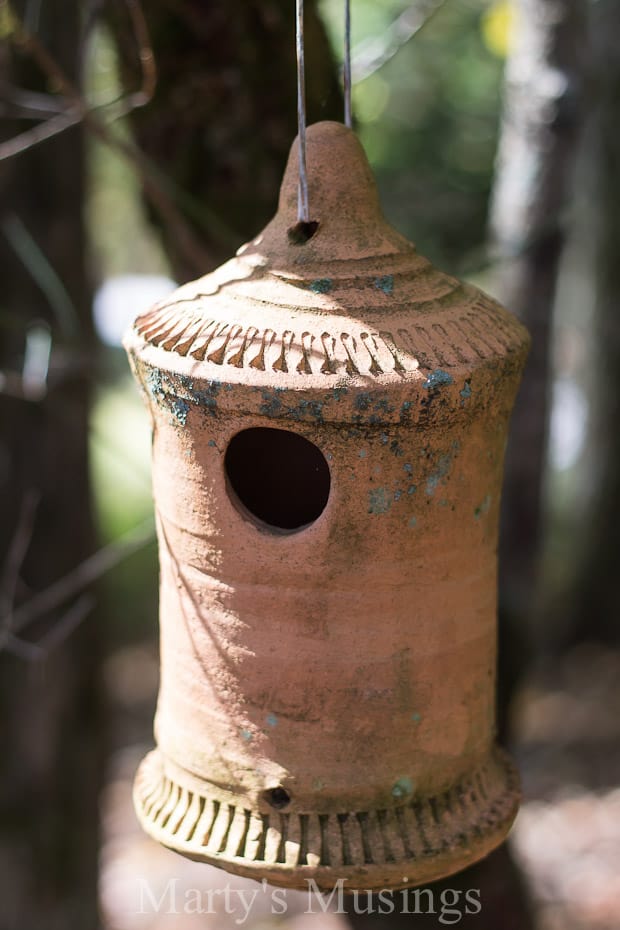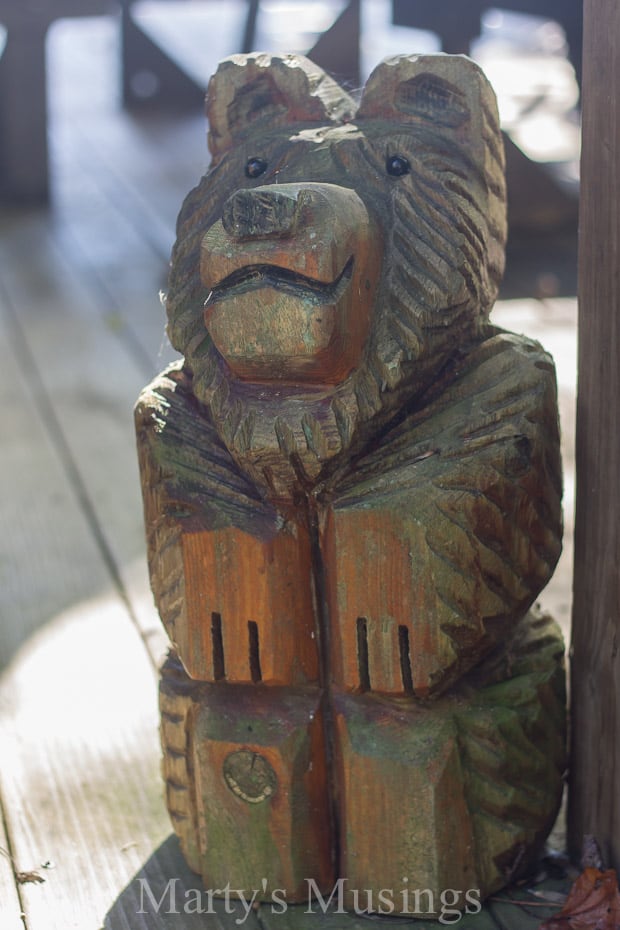 The walls inside are made from pine wood and practically glow in the light with such warmth and beauty.
This picture is the front door and the first look of the gorgeous walls. Don't you love all those hats?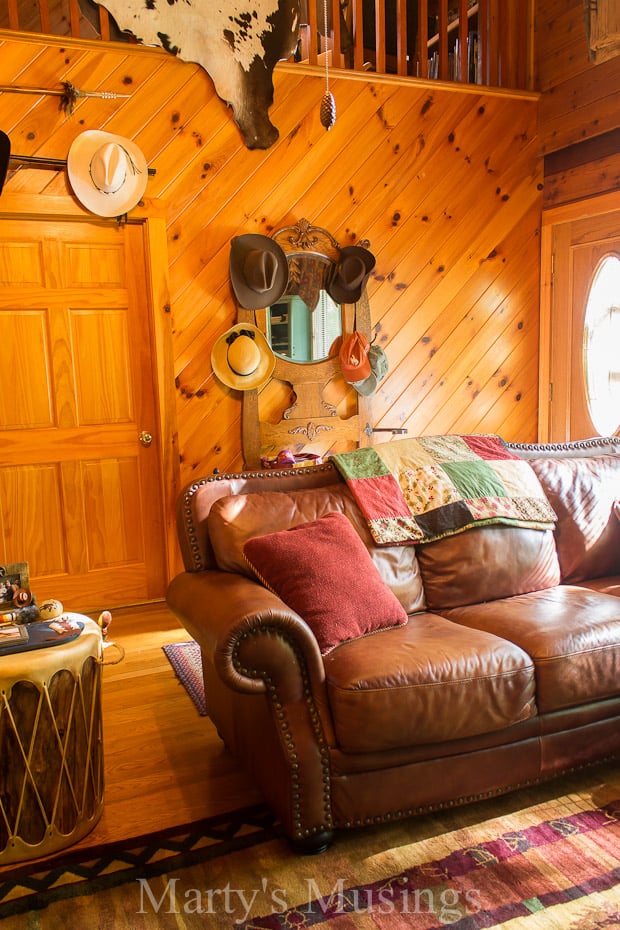 When you walk inside the house the massive stone fireplace is one of the first details to catch your eye.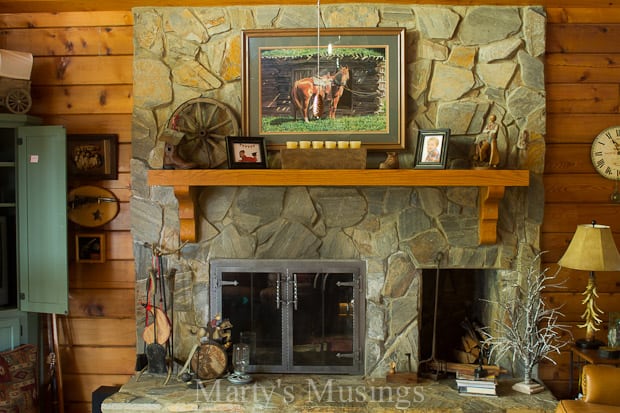 Deborah and her family love horses and that passion is the guiding force in their home in the mountains. They were traveling out west shortly after purchasing this home which influenced their journey to furnish their retreat with western themed decor.
Each chair and accessory is one of a kind, hand picked by Deborah with a perfect blending of style and function. With adult children and grandchildren this family needs practicality as well and this open floor plan works well for them (and for us, too!)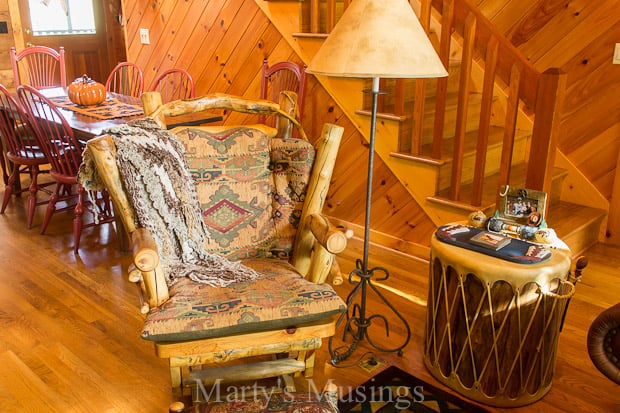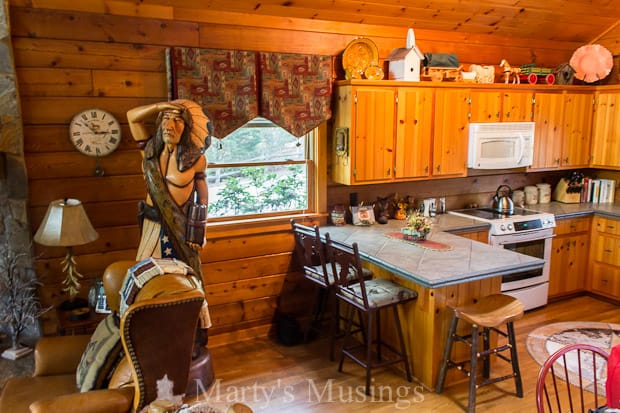 Deborah said they had the Indian long before they had the house because her husband just liked it!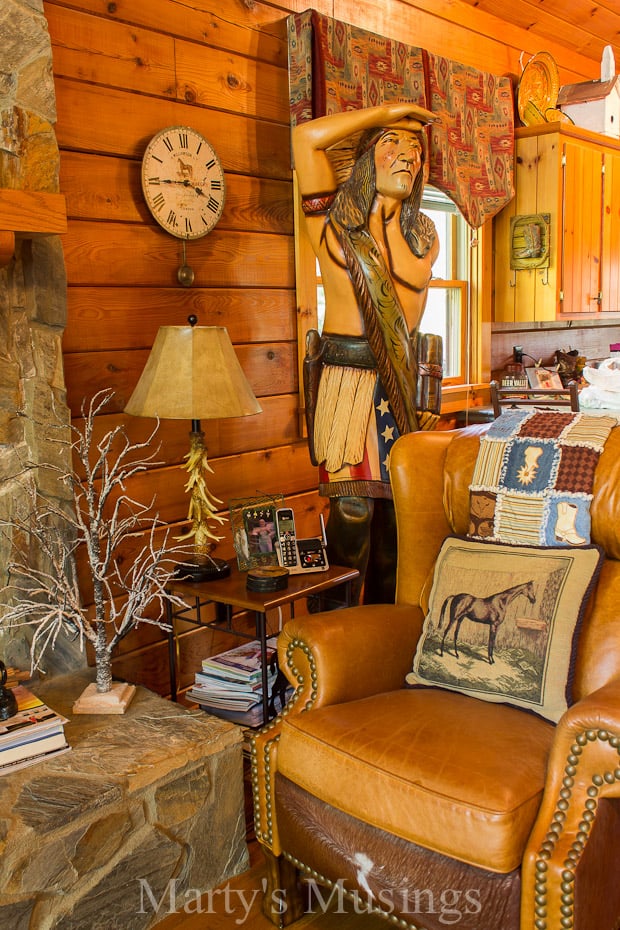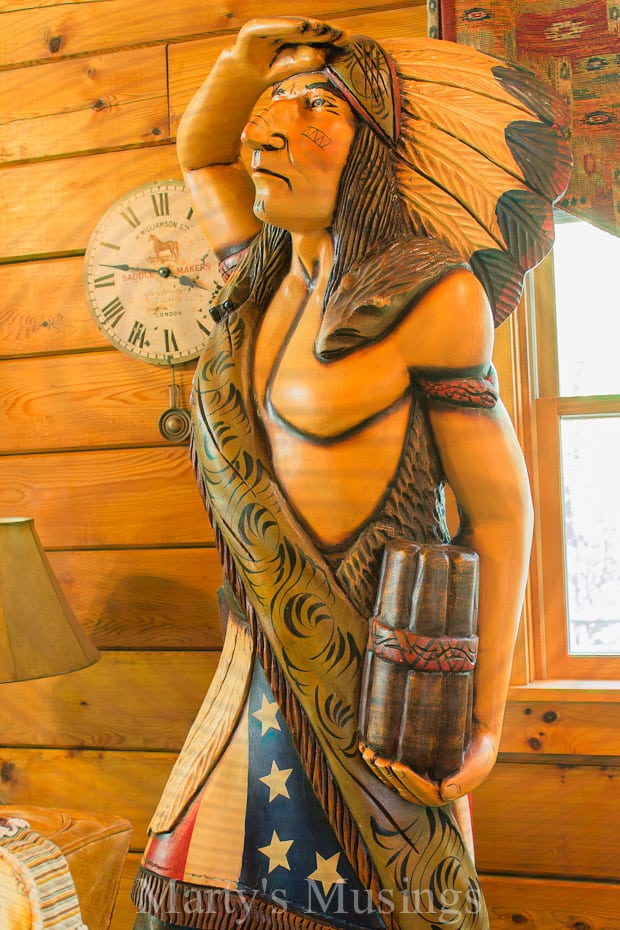 Deborah is an amazing cook and the kitchen has seen many gatherings of large families and groups over the years. I was excited on this trip that my adult kids and teenage daughter were in charge of some of the meals and vacation truly felt like vacation!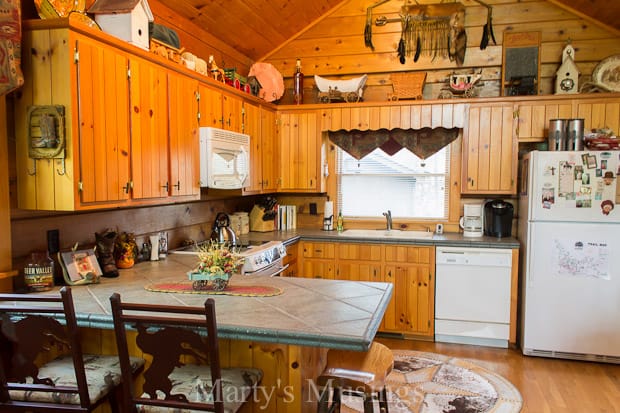 I probably shouldn't tell you that all I could think was how glad I was I didn't have to dust all those shelves!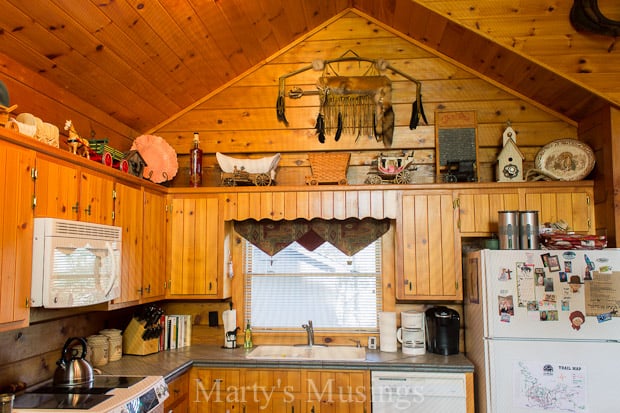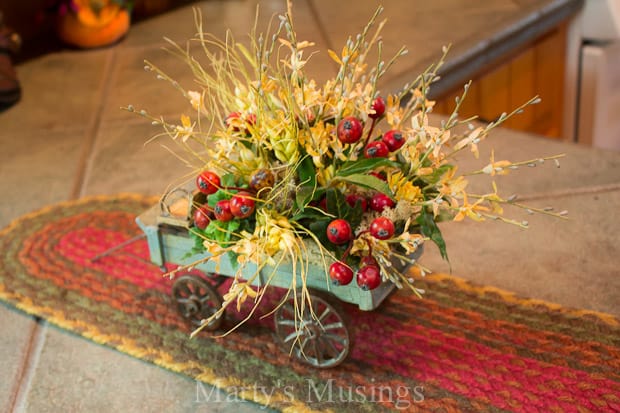 The farm table (and the Indian, too) was purchased at the annual Hillsville, Virginia flea market.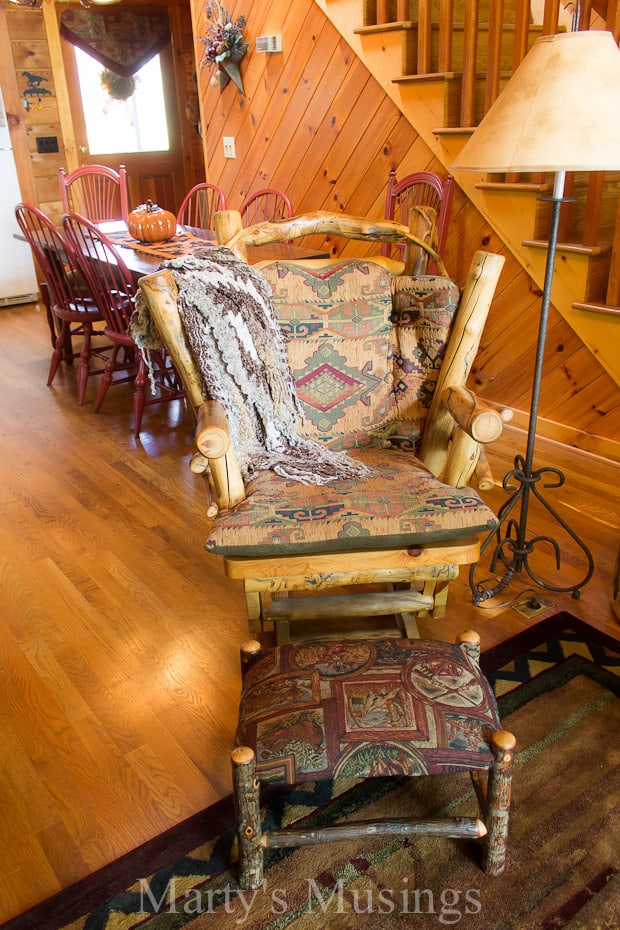 The antler chandelier came from Jackson Hole, Wyoming. Isn't it just stunning?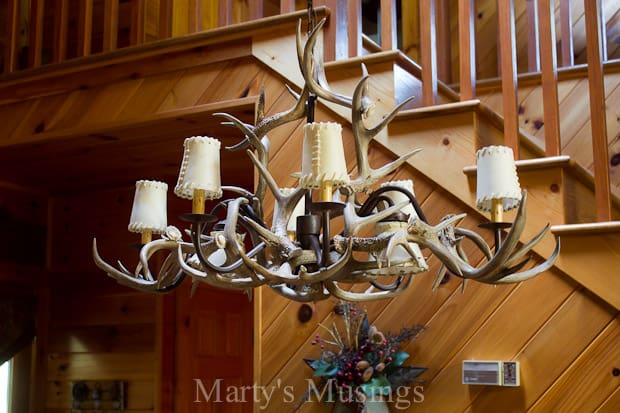 This upstairs bedroom was originally an enclosed sun porch but as the family expanded when the kids got married this room became an extra bedroom. Don't you love the stained glass?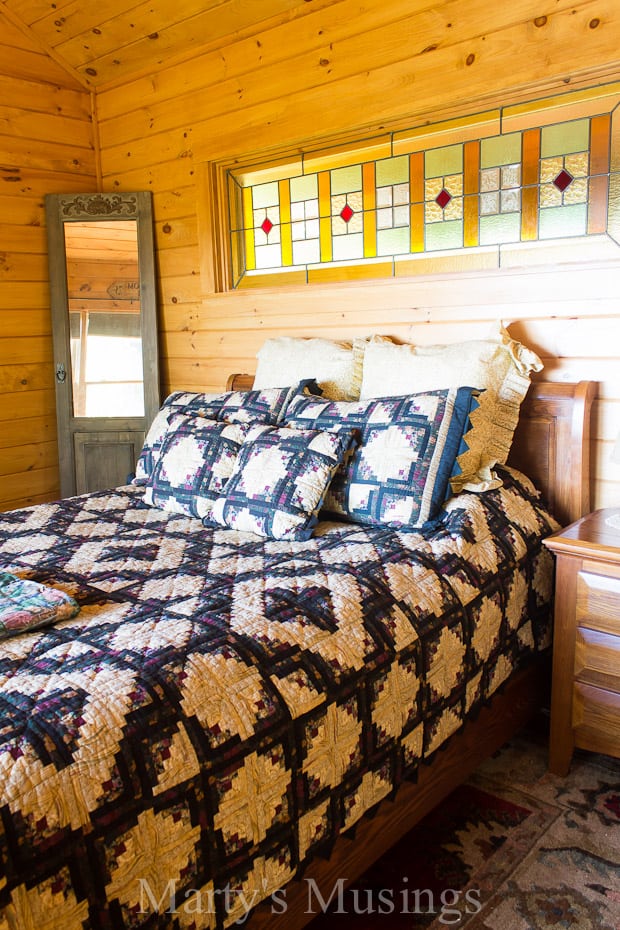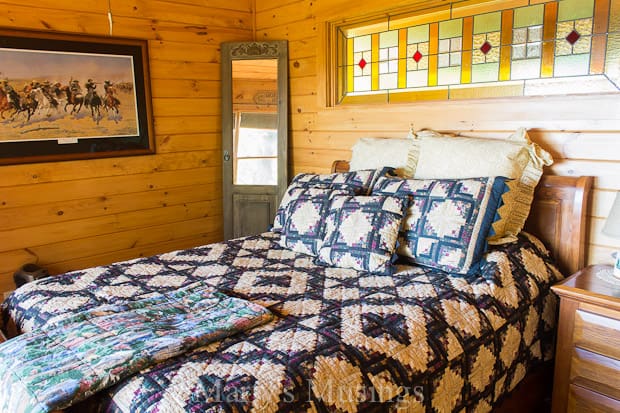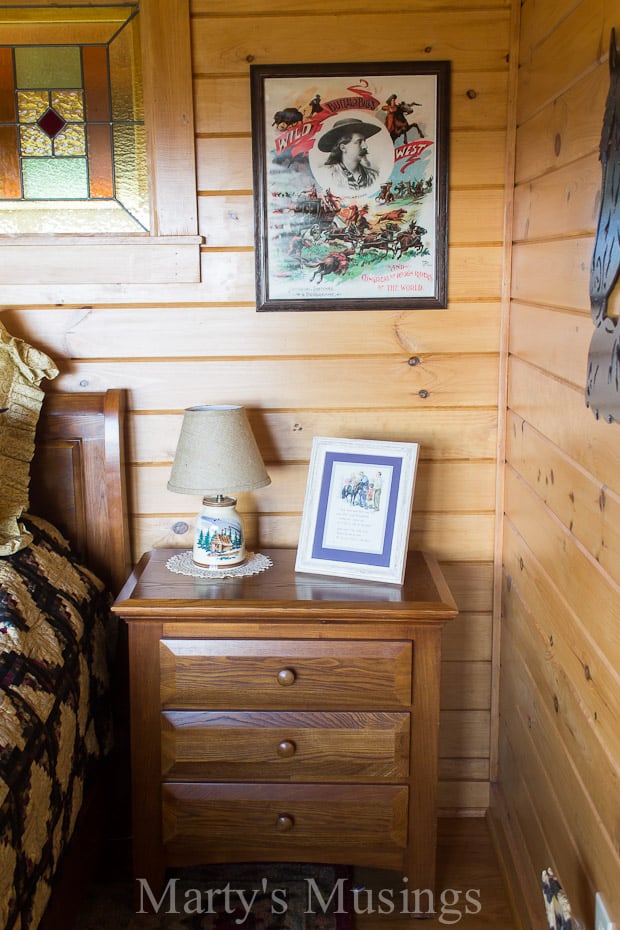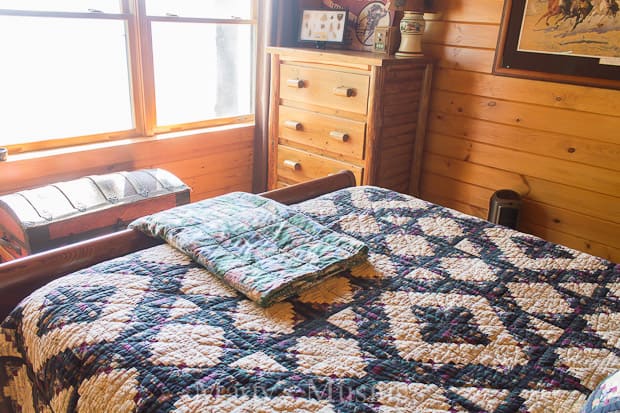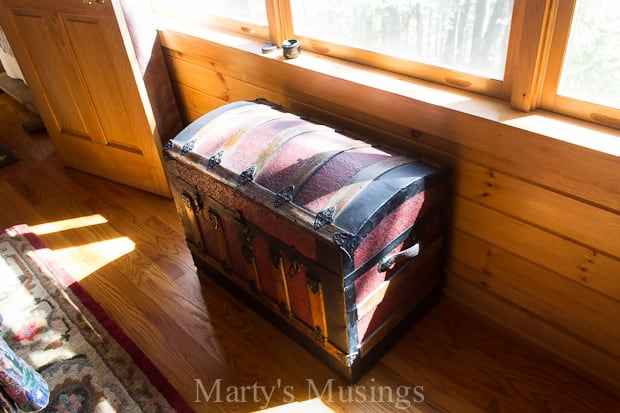 Quilts grace furniture in abundance all over the house.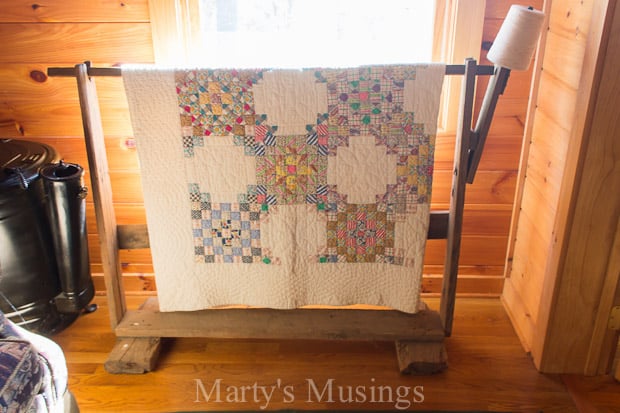 Outside this bedroom is a cozy sitting area, perfect for reading a book or catching a few winks.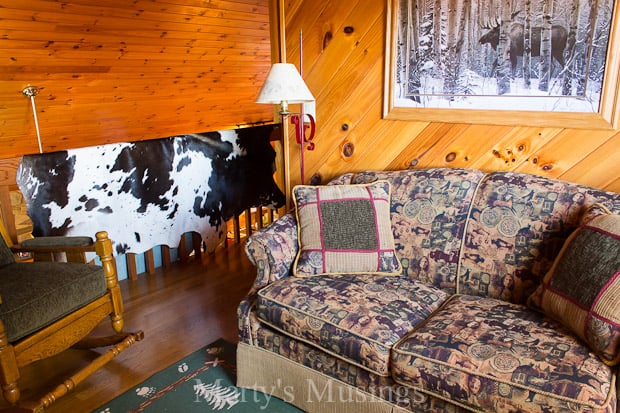 The second bedroom upstairs is light and airy with a skylight and a bit of a more feminine touch.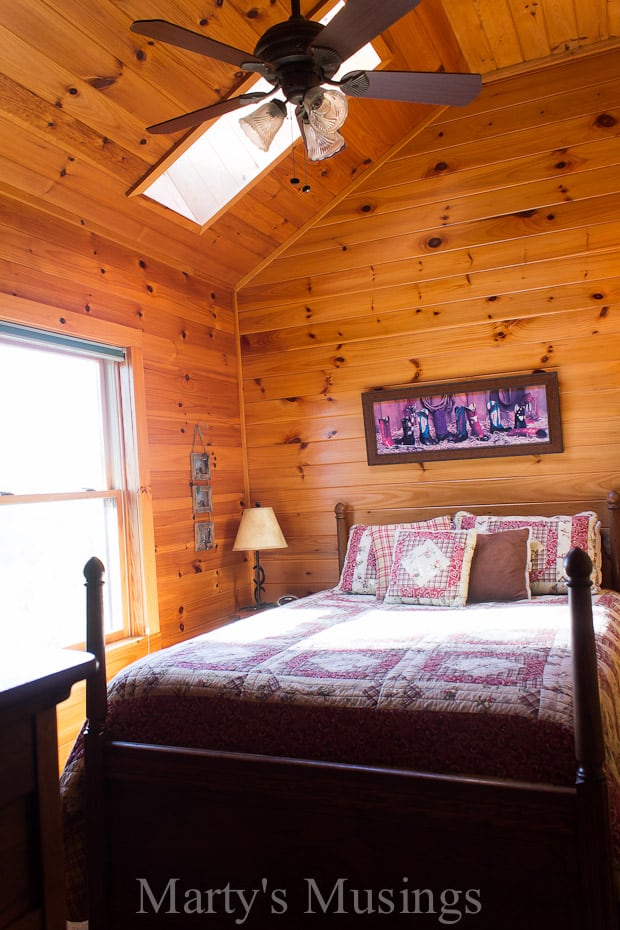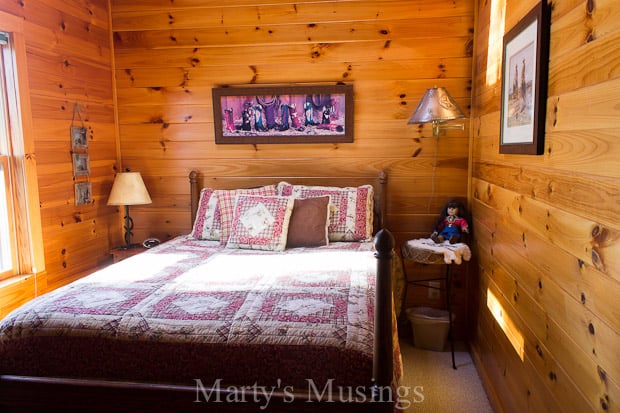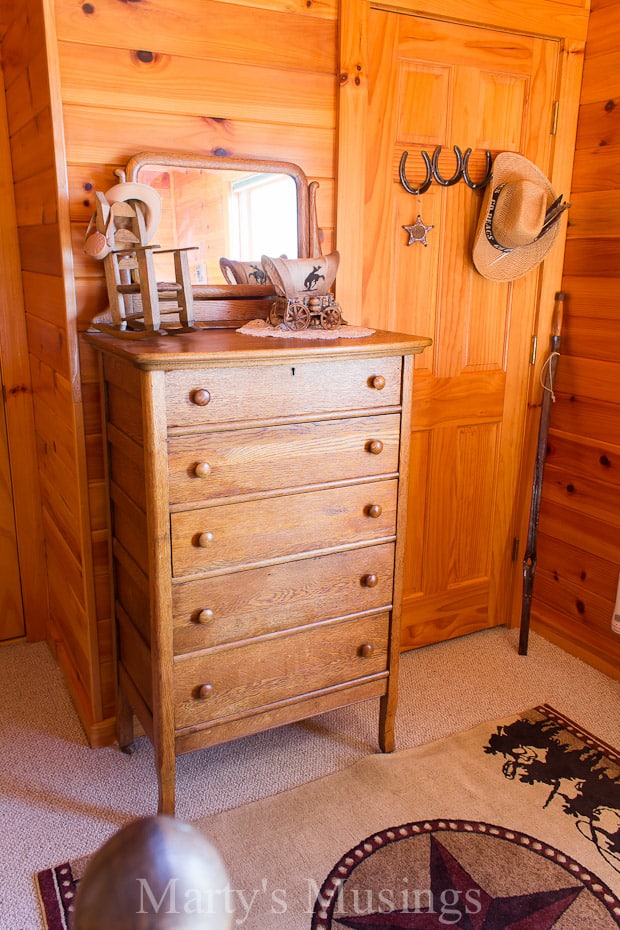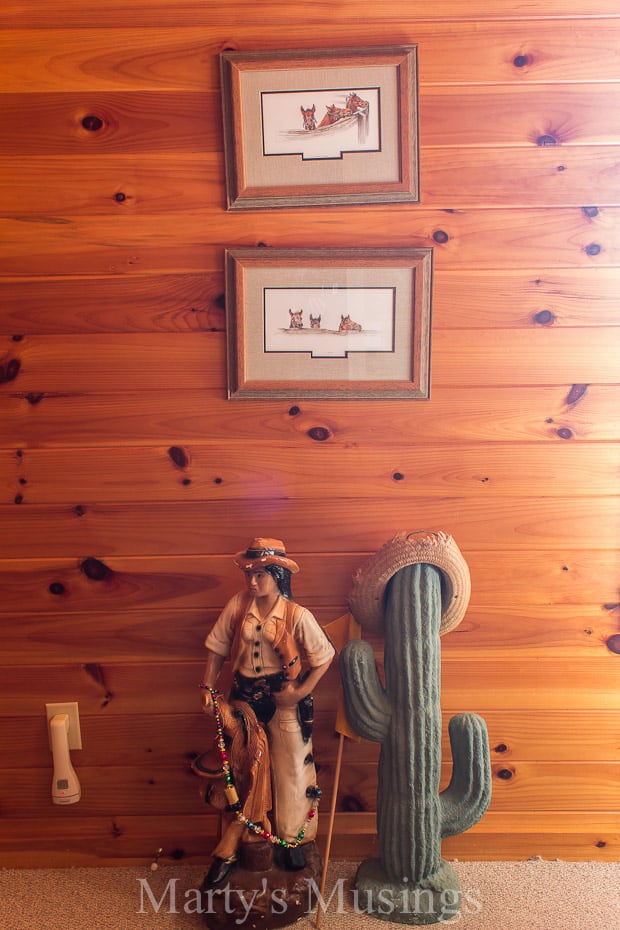 This is not the best picture because we were packing up to leave but this gives you an idea looking over the great room from above. If you look real close you can see our grandson Aiden!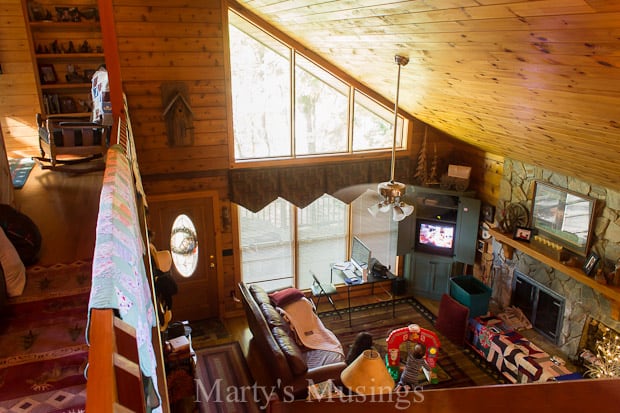 Going all the way down to the basement you come to the fun room with a ping pong table and foosball table perfect for family competition (not pictured)!
This small den is a throwback in time to another era, with Coca Cola memorabilia in abundance.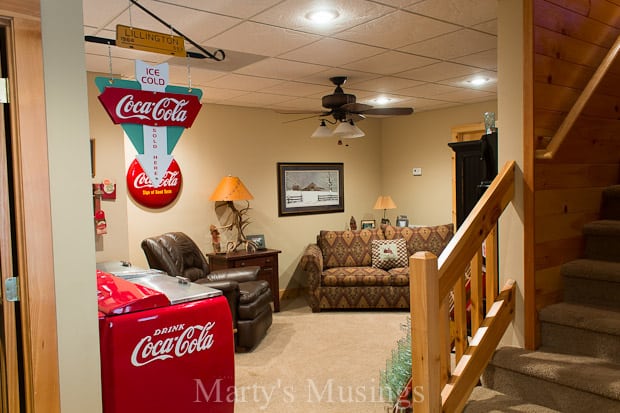 The coke machine came from Deborah's father-in-law's store in the 40's and the sign above it also hung in the store. Inside the Coke machine are glass bottled drinks that taste amazing! We try to resist the pull of those caffeinated sugary drinks but resistance is futile! It is vacation after all!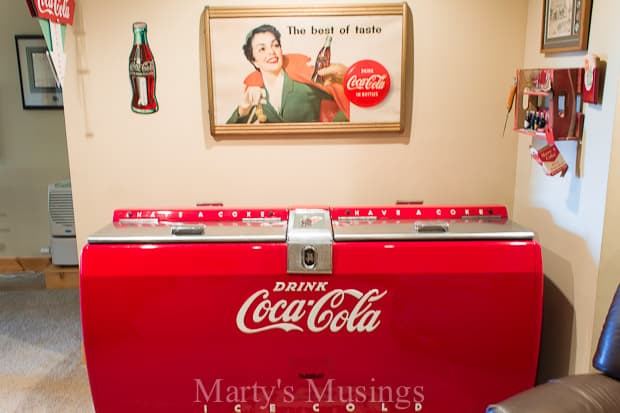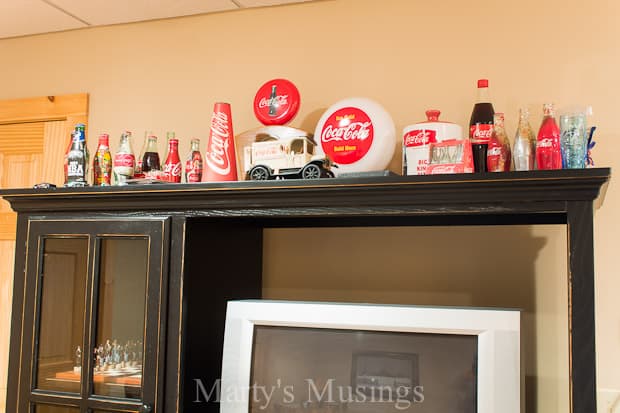 The Lance jars were also from the same store.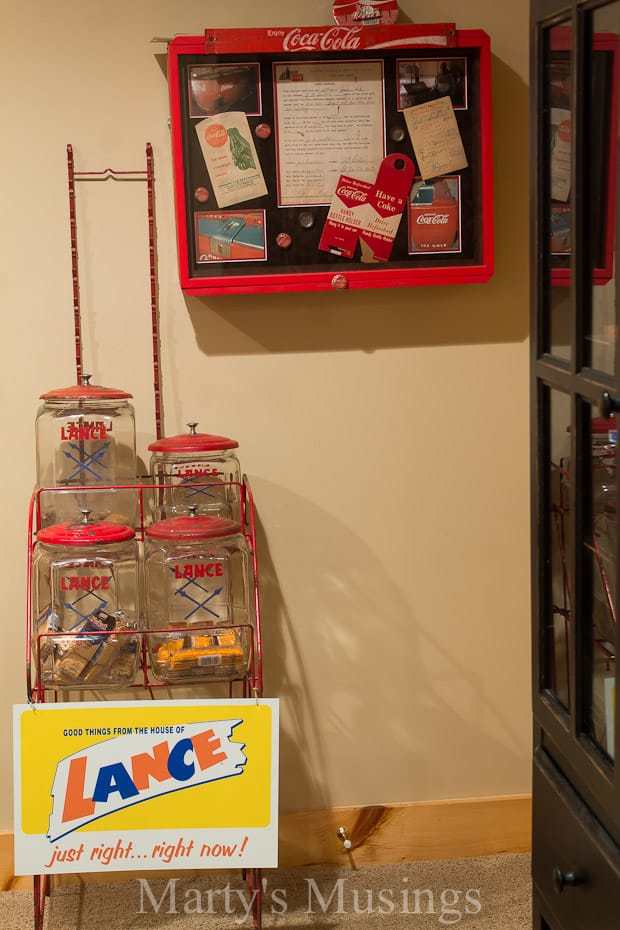 Can anyone remember pay phones? What a walk down memory lane!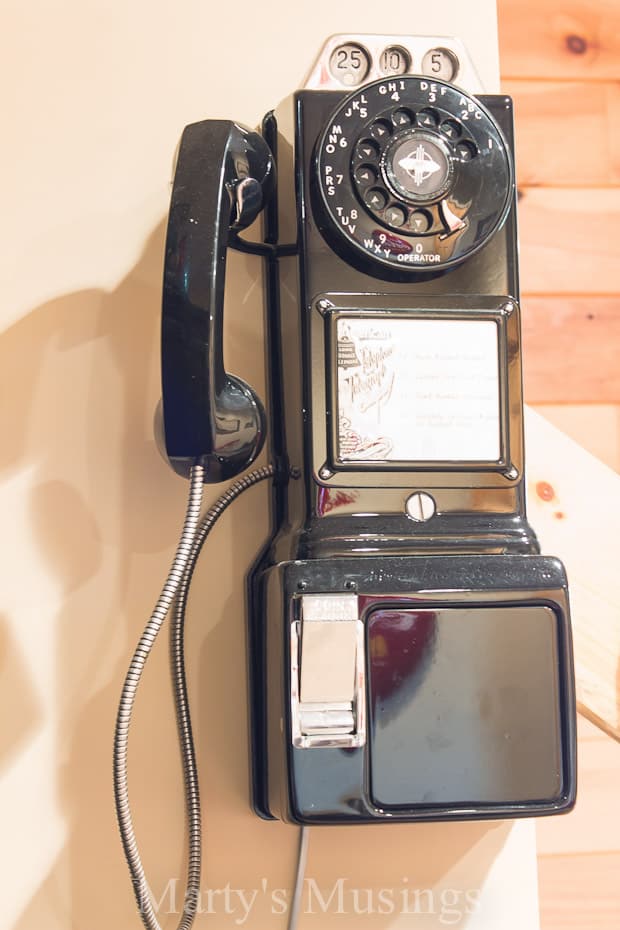 The bedroom downstairs is actually two twin beds pushed together to accommodate their growing family. Rachel, Donny and Aiden were able to have the basement to themselves which helped with nap time.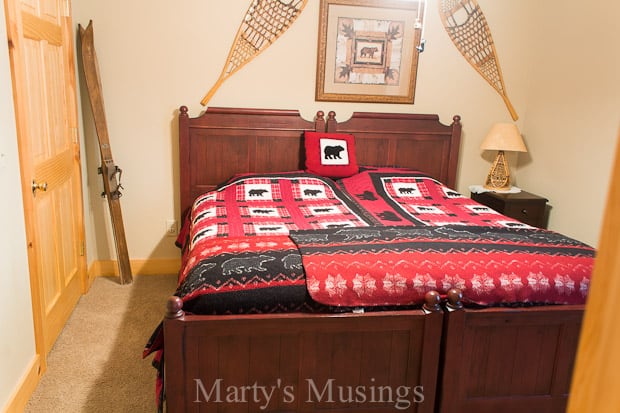 Deborah said she found this bear trap off the internet (who knew?) and the snow shoes on the wall at an antique store in Blowing Rock, NC.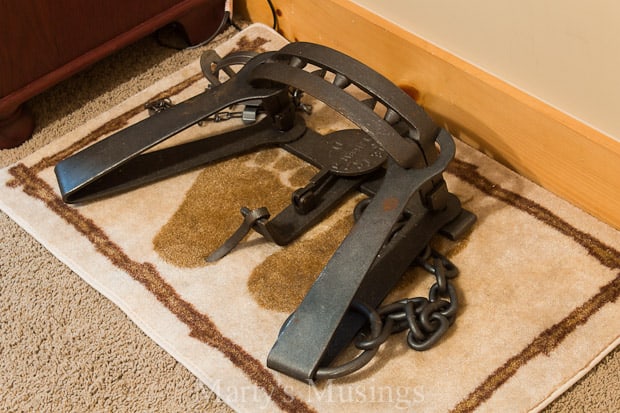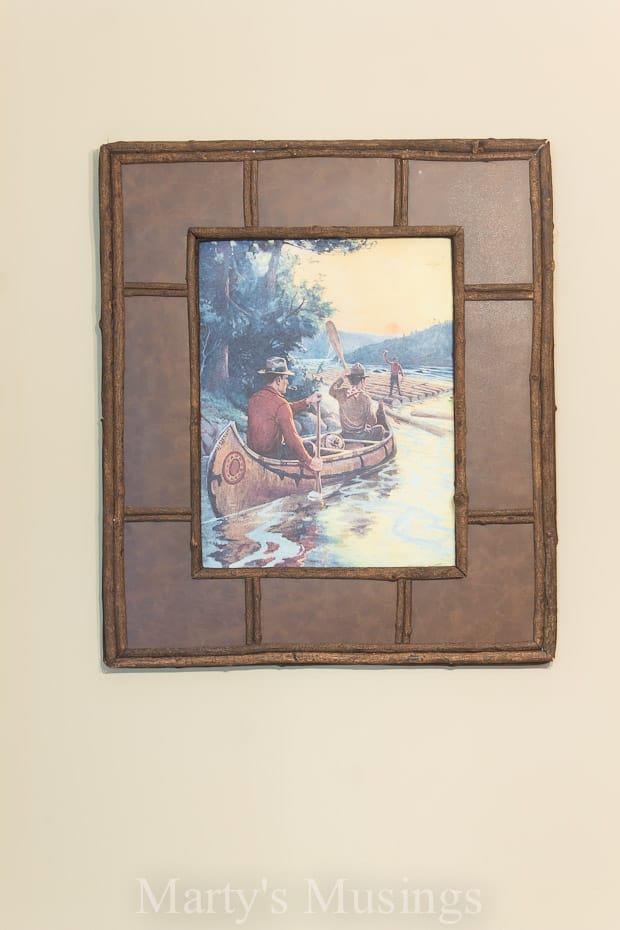 And this was the view off the deck every morning. It was truly an amazing week.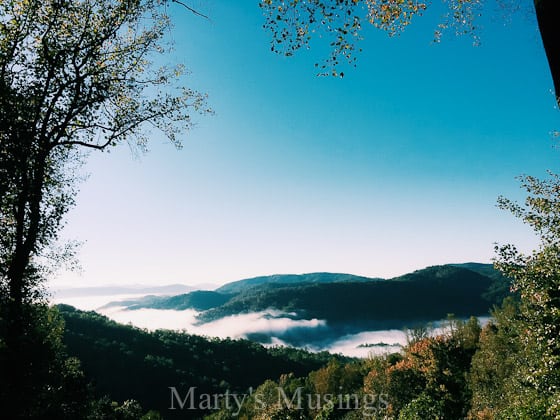 I hope to get my kids to send me their iPhone photos and then I'll share more of our wonderful vacation.
What do you like best about this amazing mountain getaway?