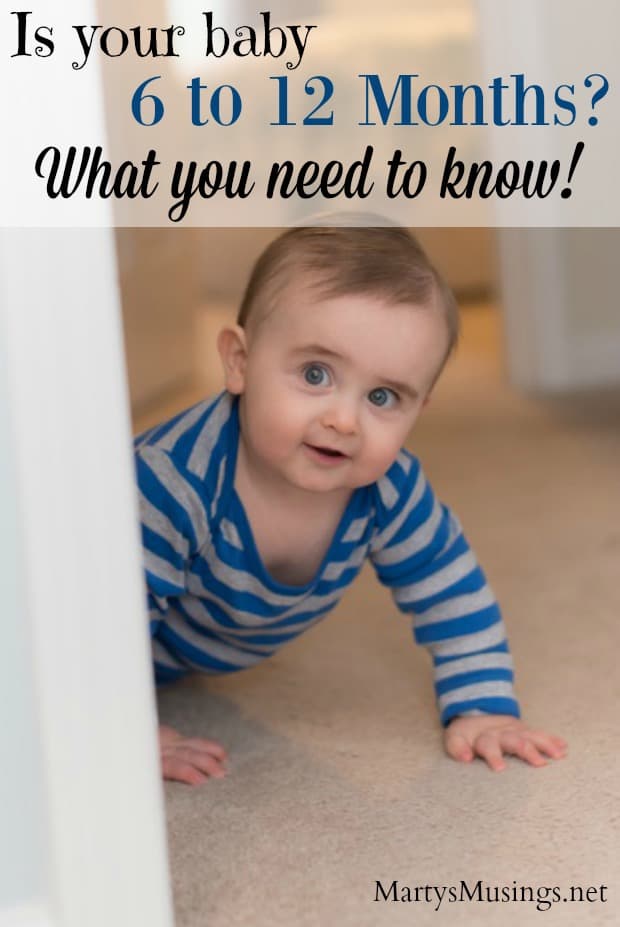 Ah, how things change in such a short time when you're a new parent! It's been so much fun being involved in the life of our first grandchild as these first few months have flown by. My daughter Rachel and her husband Donny are here to share some parenting tips on the second six months of Aiden's first year.
It's been several months since Donny and I wrote our first installment of cliff notes for first time Dads, and its about time to reflect on the things we've learned since!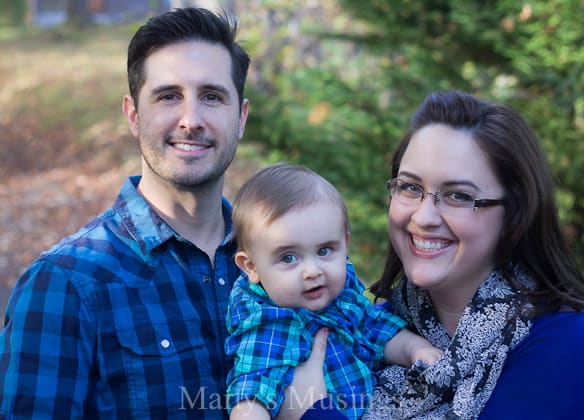 Aiden is now 10 months of pure joy and energy. He is crawling everywhere and is truly so much fun! We are learning a lot of things as we navigate the path of parenthood!
Item we can't live without: Shopping cart/high chair cover
This crazy looking contraption has been a life saver. It stays in our car (except when it gets washed every few weeks) and we use it everywhere we go. We have been very intentional in our mentality that Aiden is an extension of us – instead of the whole world revolving around him.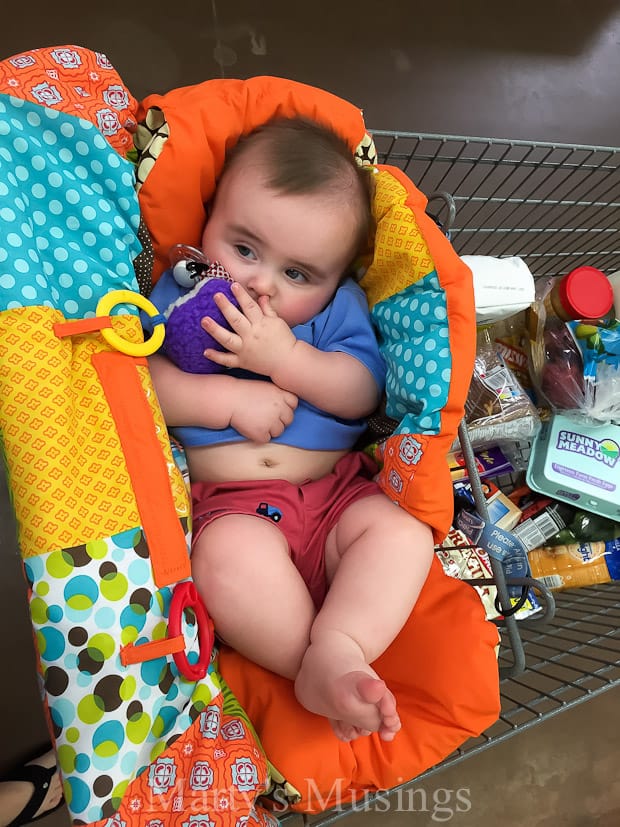 During our pregnancy we talked a lot about how we wanted to be able to take him out in public with ease. We didn't want a grocery trip or a dinner at a restaurant to turn into unnecessary stress, so very early on we chose to do things as a family and went out frequently.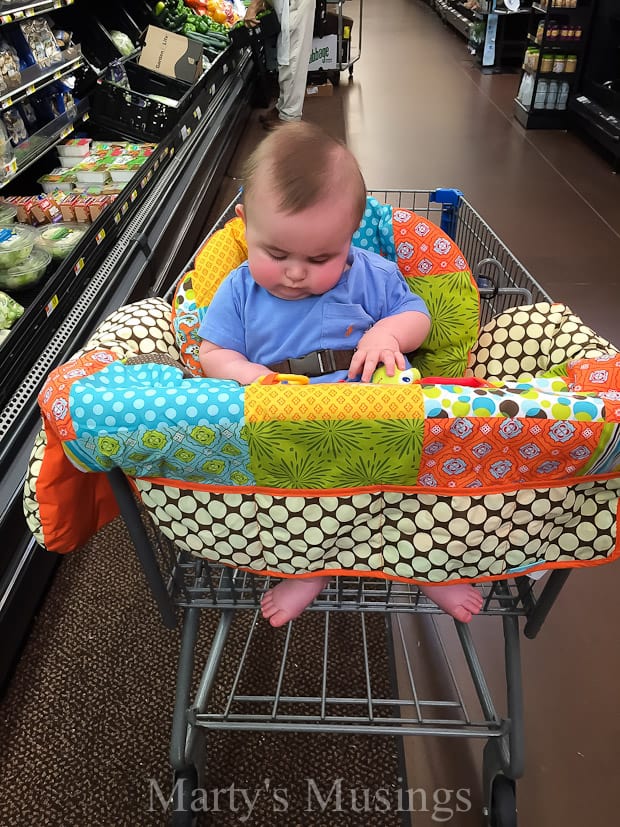 In the early months that meant wrapping him up on my chest while we went shopping but here recently he's way too heavy for that!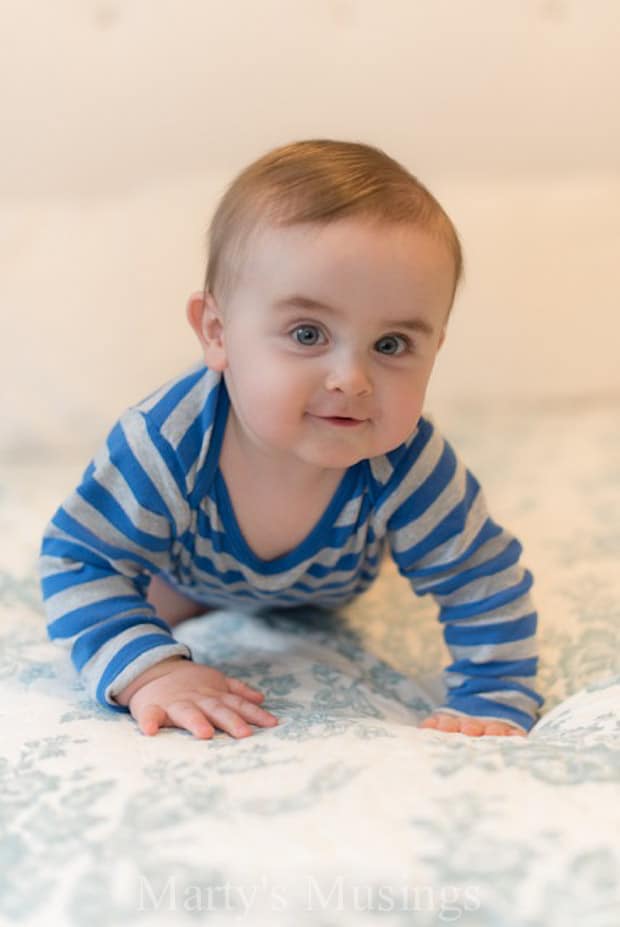 We had some one gift us a cart cover and as soon as he could hold himself up we put him in it! We don't typically tend to think about germs (I'm not one of those moms that washes every toy before he touches it or sanitizes the table at the restaurant) but for some reason shopping carts and high chairs gross us out. The cover keeps the germs away and has clips for his toys to keep him occupied – and from falling on the floor which is his favorite place to throw things! One of the toys he loves that stays connected to the cover is a little stuffed frog, so every time we eat out with him we always joke he's having frog legs for dinner!
Establish a routine in every area
From my nanny days I learned that children, and particularly babies, thrive on routine. By four weeks old Aiden was sleeping in his own crib and by nine weeks he was sleeping through the night. Donny and I credit that to his bedtime routine! Every night is the same: same time of evening and same bedtime rituals (bath, lotion, bottle).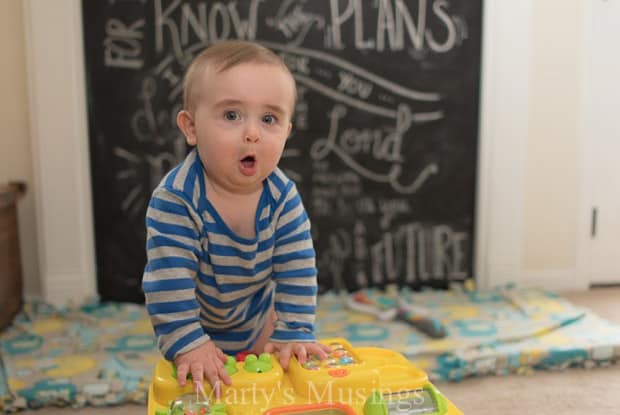 Each child is different but even our friends with babies who have implemented a routine seemed to have success! In recent weeks we have realized this routine bleeds into other areas, too. Aiden is so hands on at this age it's hard to spend quality time together until he is asleep. We have come to cherish the time after he is in bed and use it to invest in our marriage. This would not happen if Donny didn't do such a great job of cleaning up the living areas and kitchen while I'm taking care of getting Aiden to bed. Being able to relax in a clean space and start the day fresh is crucial for us and our sanity!
Don't rush the process or compare to other babies
This is a hard one for this Mommy! We have been abundantly blessed with rich friendships in other young families. Three of my friends had babies all within six weeks of Aiden! It has been beautiful being able to enjoy new parenthood with other couples, but with that comes emotions I didn't think I would have!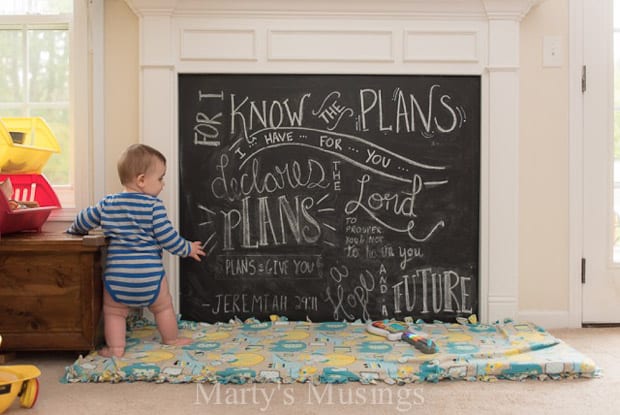 As each of these babies has hit a milestone it has been hard not to think "that baby rolled over and they are three weeks younger. Why isn't Aiden rolling over?" or "That baby is already crawling so should Aiden be crawling?" The answer is WHO CARES! We are learning that what works for one baby may not work for ours and vice versa. We have zero desire to rush these phases and are learning to cherish the process!
Start working out!
I know, this one probably took you by surprise! Donny has ALWAYS been an excellent example of the fruits of hard work and exercise. He's the healthiest person I know and never gets sick. I, however, have been the exact opposite in our marriage (which is where the extra "fluff" came from – those post wedding pounds will bite you in the…well, will quickly accumulate in the tush!)
When Aiden was around 5 months old and our family was in crisis, my anxiety skyrocketed right along with my stress. I was overwhelmed with trying to balance motherhood, a household, working part time, and worrying about my family when our world was turned upside down.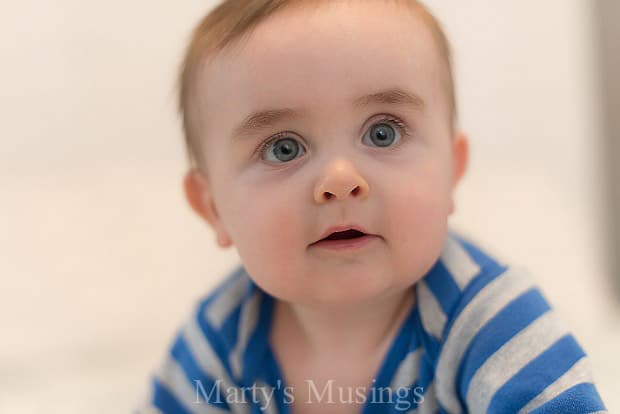 Seeing as I was raised to never shy away from asking for help when you need it especially when it comes to emotional struggles, I scheduled an appointment with my doctor. I had NO ENERGY, stomach pain, nausea, and my emotions just seemed to be all over the place. After blood work came back clear the doctor said I could either go on a low dose medication or could try working out. I began altering our diet first, and six weeks ago began a 5 day a week workout routine. It has NOT been easy juggling a little one, especially now that he is crawling, and trying to get to spend time as a family too. But oh, how it has been worth it!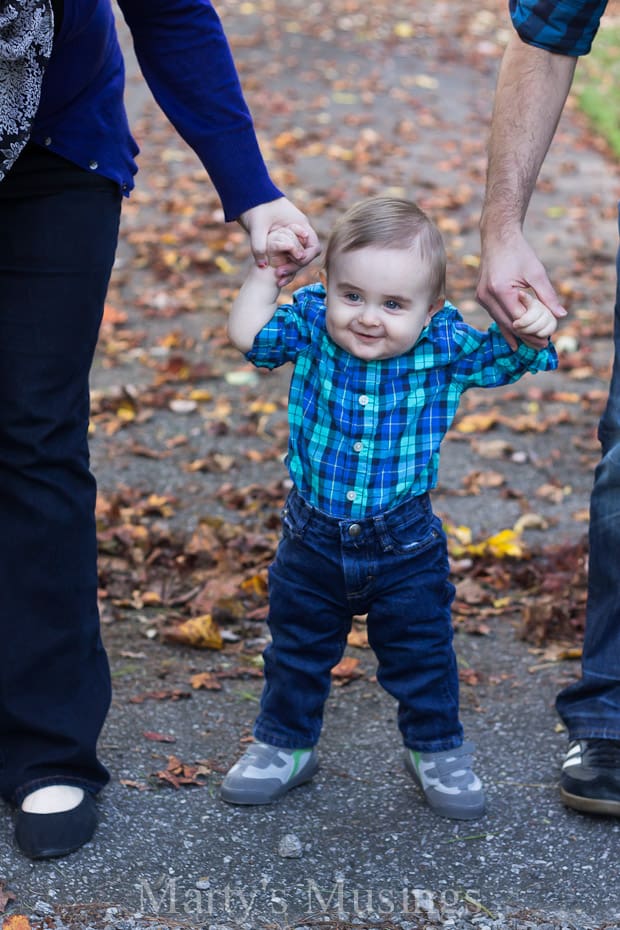 For us, we had to find something we enjoyed. Donny likes lifting weights. (I do not!) I found a workout routine called Cize through Beach Body and it has been a BLAST dancing away stress and pounds! I saw an immediate change in my energy and attitude. DADS: make it a priority to help your wife find time to fit some form of exercise into her day. MOMS: Dads need this time too! The worries and stress of being a mom can weigh heavily, and having an outlet like working out is a game changer! In the last nine months I have lost 45+ pounds but more importantly have the energy to enjoy every moment of my time with Aiden and Donny.
Check back in with us in the coming months…who knows what the next phase of parenthood will bring?
You can read more from Rachel as a Sleep Deprived Mom and The Day She Fell in Love with her Pregnancy Stretch Marks and from both parents in Advice for New Dads.
Lifestyle pics by my niece Jen at jlydesigns.
This post contains affiliate links.