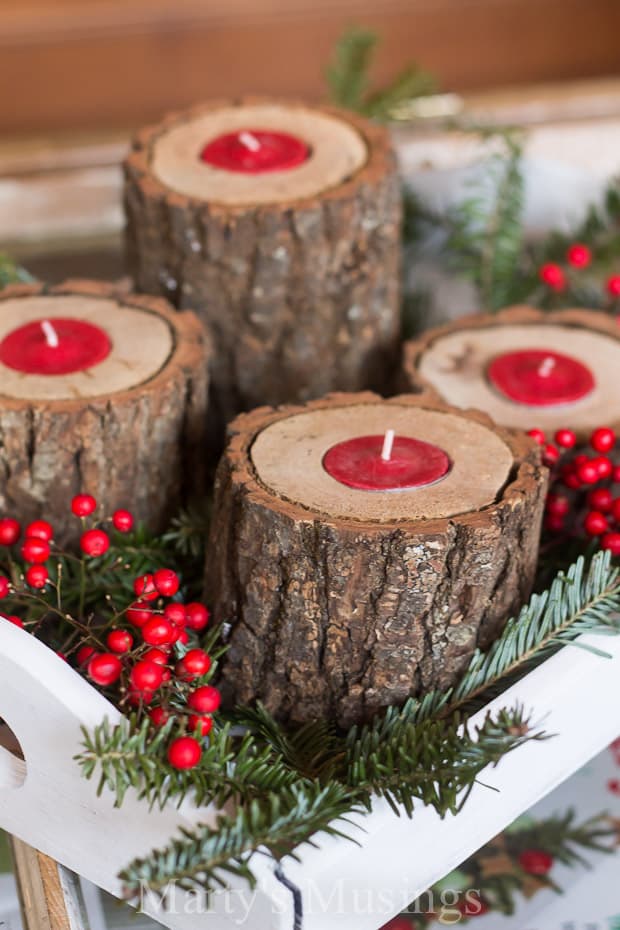 Today I want to share a simple project my husband whipped together for me recently. Since he's having rotator cuff surgery on Tuesday he's going to be out of commission as my DIY partner in crime for a while.
On a few recent Saturdays he worked tirelessly taking my every little whim and creating something wonderful.
Yes, it was a dream! Short lived though it may have been, I was a crazy woman sending him every picture and idea I had!
These simple rustic wood candle holders he made for me exemplify beauty with just a few natural elements.
Since we have our Christmas tree up in the living room we moved the window table Tim made for me into our den. Since the room is already decorated in reds I just wanted a simple grouping for the table.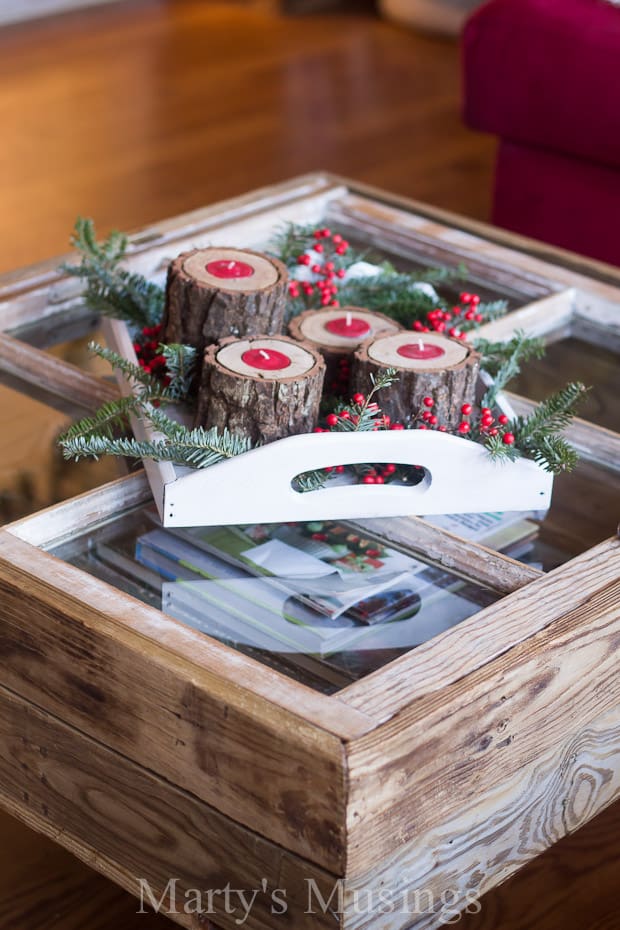 I don't have a single tutorial pic to show you so my husband's instructions will have to be enough!
From Tim: Perhaps the most difficult part of this very simple project is selecting and locating the preferred wood to be used. A more dramatic affect is achieved with a heavier-barked wood, like walnut. It provides a well-developed ring around each piece and gives good definition. To contrast, pine has a very thin bark, so the edge is less defined. I used walnut for this project.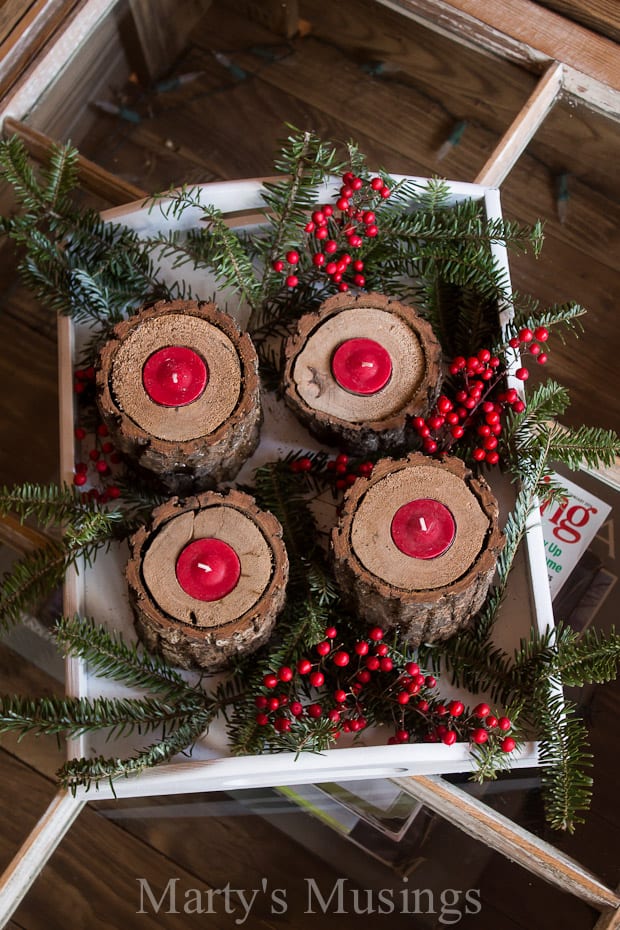 Once the wood is acquired, the next step is to determine the length and number of pieces to be made. This is totally random and determined only by your preferences; some will like multiple pieces of similar height while others may prefer to stagger each piece for a single clustered arrangement. Here, I chose four different lengths.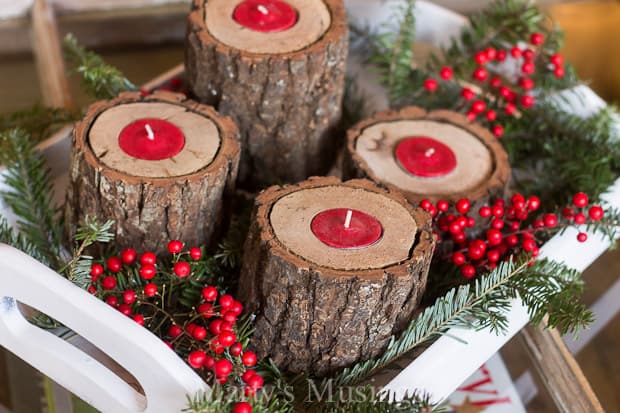 This next step may be crucial, so give it attention. If necessary…treat your lumber for bugs BEFORE you bring it inside! Sound like a word of advice from experience? Indeed, it is! My lumber came from a wood pile and exploded with ants once cutting began.
It is important to use a water-based product since there is potential for open flame near this product (if you choose to light the candles). I used a Home Defense all-in-one product from and saturated each piece, letting it dry overnight outside.
The last step is to use a 1-3/8″ hole drill bit to remove enough wood at the center of each piece for the candle. This size bit is exactly the right size for a tealight candle. Just approximate center and drill out enough wood to match the depth of the candles you use. Ideally, you want the top of the candle right at or slightly above the level of the wood.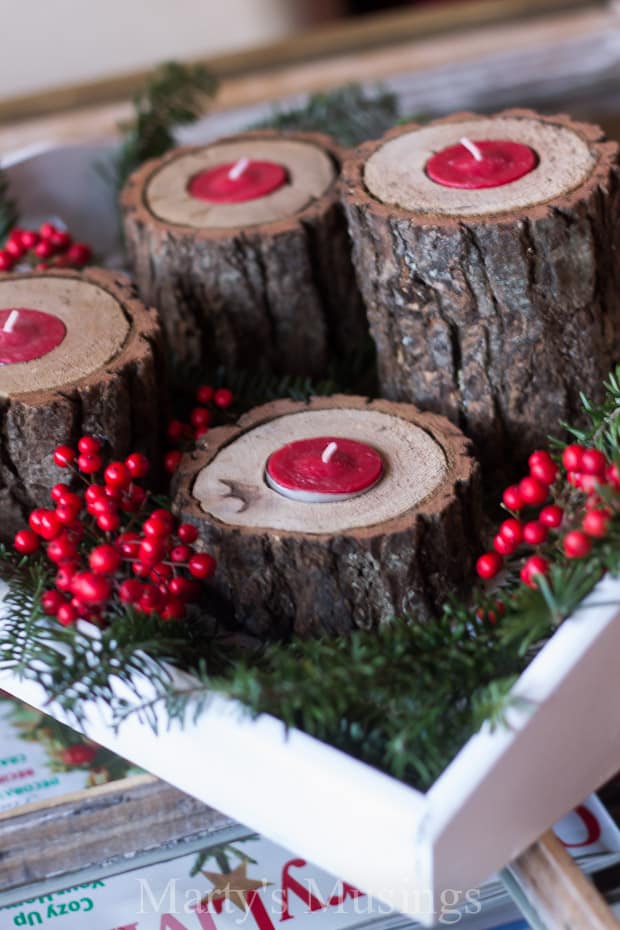 That's it! No need to seal of weatherproof. Let me say that, if you have a problem with wood and flame…don't make this project or just don't light the candles!
From Marty: Gotta love that husband of mine! You definitely want to choose your wood carefully, especially if you intend to actually use the candles. I only burn candles in safe containers and the rest of the ones scattered around are just for looks. I'm a wee bit freaked out by flames so if you're like me, just use these for decoration.
I corralled the candle holders with a white wooden tray (you could use this one or paint a less expensive one like this one), added some evergreen from our Christmas tree and red berries from a bush and I was done!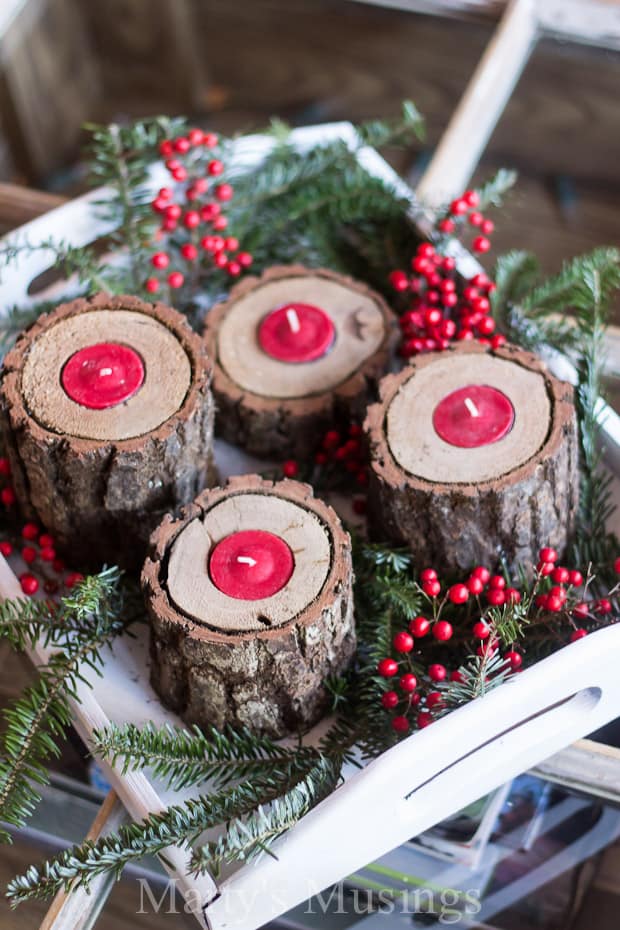 Tim also added a strand of battery operated lights for the inside of the table that makes it even more festive at night.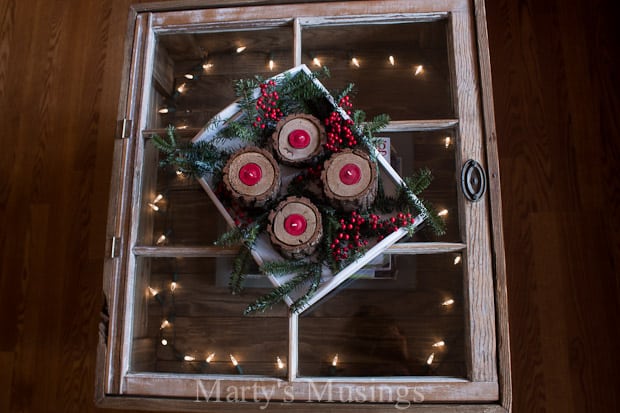 I have so many more DIY Christmas projects that are done and waiting for a few spare hours to finish up the posts. Hopefully soon, but if you want more inspiration check out my 5 minute Simple Christmas Craft, no mess Handmade Glitter Ornaments or my 2013 Christmas Home Tour.
This post contains affiliate links.