Slow cooker taco soup is a quick, inexpensive recipe for days with you don't want to have to think! Cook the meat, throw all the ingredients in the slow cooker and you're ready to go! Makes enough for a crowd and is perfect for sports parties and potluck meals!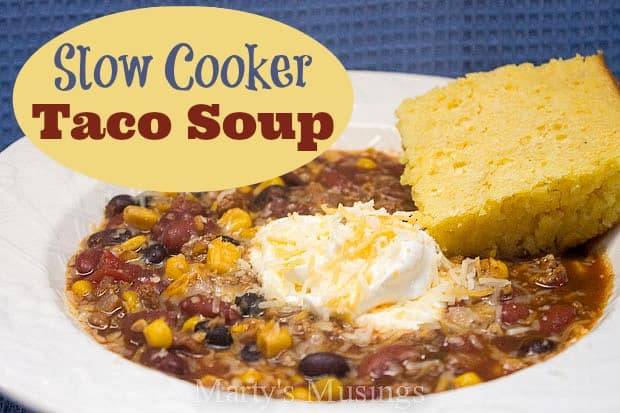 My pickiest child (now grown with two babies of her own) loves mama's Slow Cooker Taco Soup and asked me to put it on my blog so she'd have it. There's a recommendation for you!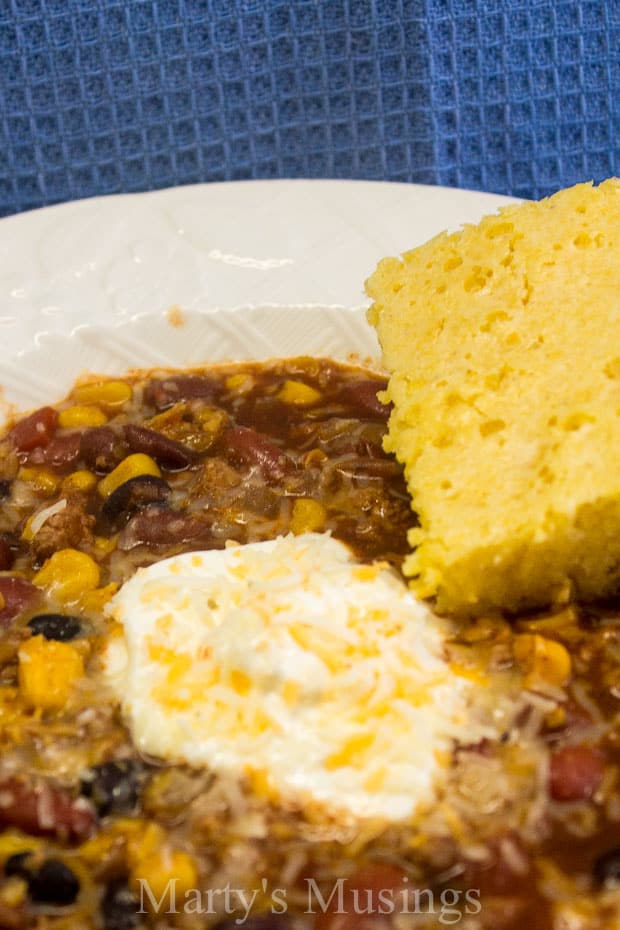 This is one of the easiest soups around and is great for a crowd. With Super Bowl Sunday coming up you need to keep this recipe handy. 
Serve it with my favorite cornbread and you have a delicious meal!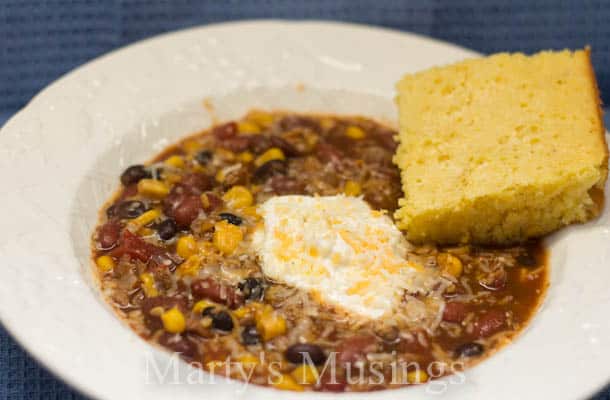 Need some more ideas for Super Bowl Sunday? Serve my Cheesy Bacon Potatoes, Easy Enchiladas or Focaccia Bread sandwiches followed by a dessert of Oreo Cheesecake Cookies or Almost Like Candy Bars.
Who do you want to win this year, San Francisco or Baltimore? Think it's going to be a close game?
Slow Cooker Taco Soup
Slow Cooker Taco Soup
Ingredients
1 can chili beans
1 can kidney beans
1 can black beans
1 8 oz. can tomato sauce
1 15 oz. can diced tomatoes and chiles
1 can whole corn
1 can creamed corn
pkg. taco seasoning
1 tbs chili powder
1 lb. ground turkey
1 onion, chopped
Instructions
Brown ground turkey and chopped onion.
Do not drain any of the canned foods.
Add all ingredients to crock pot.
Simmer for at least a couple of hours.
Serve warm and garnish with optional toppings: shredded cheese, sour cream, tortilla chips.
Notes
Can substitute a can of diced stewed tomatoes and a small can of green chiles for one can of diced tomatoes and chiles. Can use ground beef instead of ground turkey.