A must have recipe, these easy pumpkin muffins are made from a cake mix, canned pumpkin and spices. Perfect for school, parties and celebrating fall!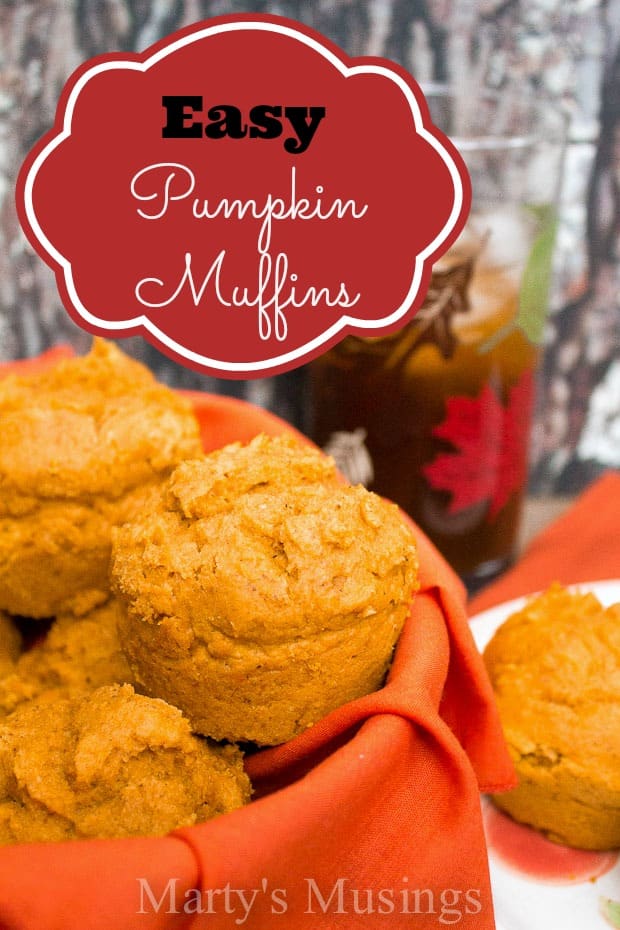 Yesterday I shared my All Things Home Fall Tour and invited you to come in and share a muffin and a glass of southern sweet iced tea with me.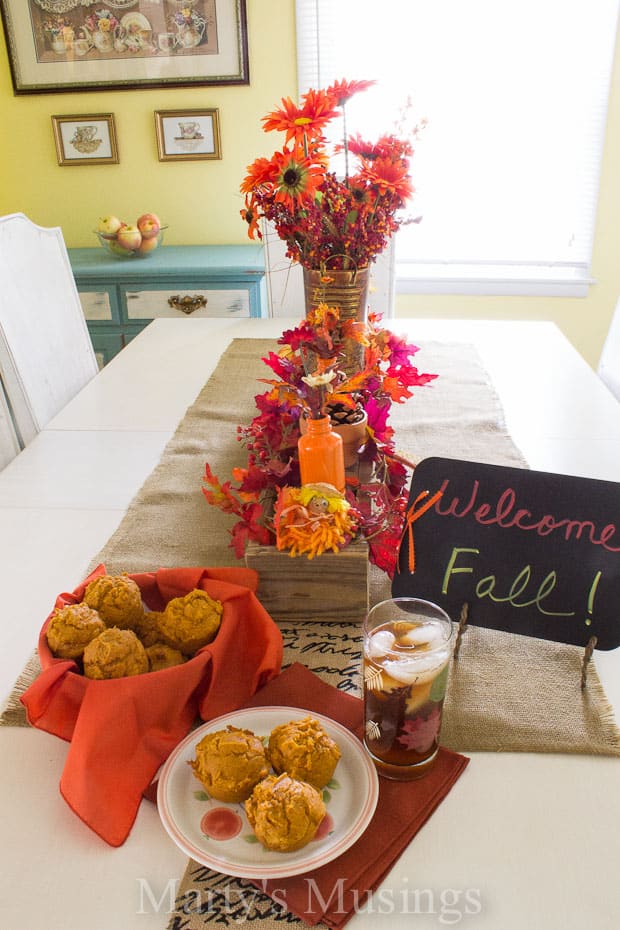 Today I'm back to share my recipe for easy pumpkin muffins made with a box cake mix. 
I love to cook from scratch but life sure can get busy and we all need to have a few shortcuts up our sleeves.
As summer ends and fall activities shift into first gear our family still wants to make sure we create memories together amidst this busy season.
My youngest daughter made these muffins and they were a hit! This year in our homeschool my last two students are learning all about meal planning, preparation and cooking entire dinners from start to finish.
We might have had a few indescribable meals here and there but that's what learning is all about, isn't it?
I usually start my kids out in the kitchen at a young age with an easy baking recipe. My oldest son started out with my favorite Chocolate Chip Banana Bread recipe at age seven and by the time he was a teenager he was glad to pass that one on to his younger siblings!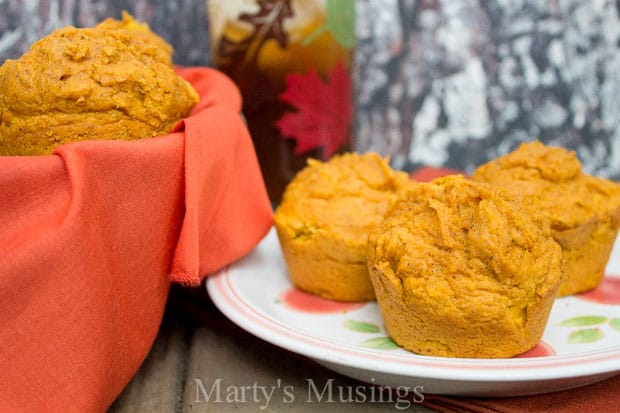 With 5 ingredients it sure doesn't get much easier than this.
There's just something about a slight chill in the air that encourages baking and filling the house with the smells of autumn.
Pumpkin and spices.
Apple cider or Instant Russian Tea.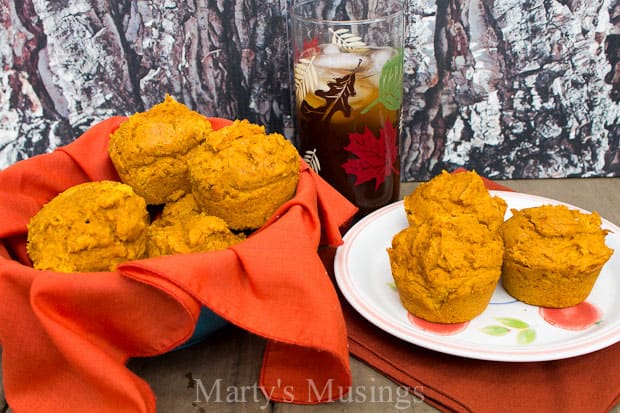 Simmering homemade potpourri on the stove.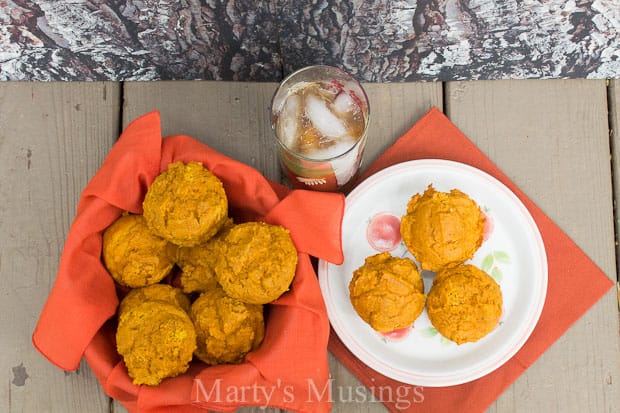 Don't you just want to curl up with a warm blanket and savor these moments before winter is upon us?
Me, too. So come over and set a spell, 'ya hear?

Easy Pumpkin Muffins
Simple recipe for a moist, delicious muffin.
Ingredients
1 (18.25 oz) pkg yellow cake mix
1 (15 oz) can pumpkin
1 tsp ground cinnamon
½ tsp ground nutmeg
¼ tsp ground cloves
Instructions
Preheat oven to 350 degrees. Grease a 12 cup muffin pan or line with paper liners.
In a large bowl mix together the cake mix, canned pumpkin, cinnamon, nutmeg and cloves until smooth.
Spoon equal amounts of batter into the prepared muffin cups.
Bake for 20 to 25 minutes or until a toothpick inserted in the center of one comes out clean.
Notes
You can substitute ¼ to ½ teaspoon pumpkin spice for the nutmeg and cloves.
Nutrition Information
Calories:
2394
Fat:
62g
Saturated fat:
10g
Unsaturated fat:
48g
Carbohydrates:
441g
Sugar:
14g
Sodium:
3422mg
Fiber:
20g
Protein:
28g
Cholesterol:
10mg
 If you want to invest just a little bit more time I also have a yummy recipe for
Pumpkin Muffins with Streusel Topping
!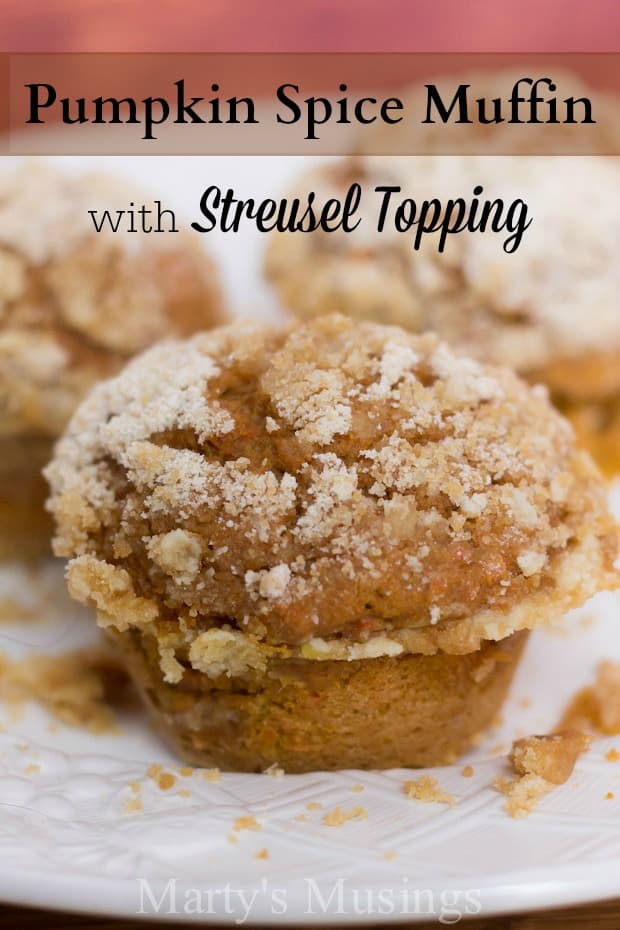 SaveSave