This easy Jiffy Corn Bread with creamed corn begins with a Jiffy box mix and is moist and delicious! It's the PERFECT bread everyone will rave about!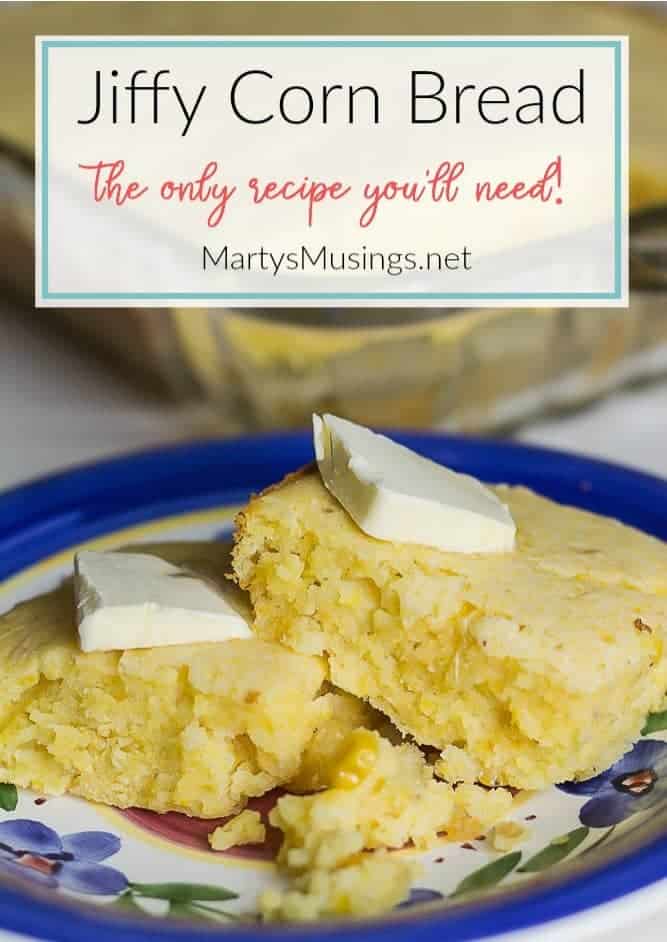 Benefits of using a corn bread box mix:
There are only six ingredients and one bowl needed (plus one to beat the eggs).
The corn bread is moist instead of dry and crumbly.
This recipe is a bit sweeter than most but the sour cream helps tone down the sweetness.
There are many substitutions listed in the comments at the bottom of this post, but one of my favorites is plain nonfat Greek yogurt in place of the sour cream.
You can make it as muffins or in a cast iron skillet.
When I was growing up my mom's mother (MawMaw to me) lived with us until she passed away when I was 15. She was almost like a mom to me during my preschool and school years when my own mom went back to work to help provide for us.
MawMaw was the one who made sure I had a snack in the afternoons and got my energy out before dinner! She saw to it that I studied and also made me practice the piano.
I'm sorry, MawMaw, for all that talking back and complaining. I have five kids now. You can stop talking to God about paybacks now.
Anybody feel me on that one?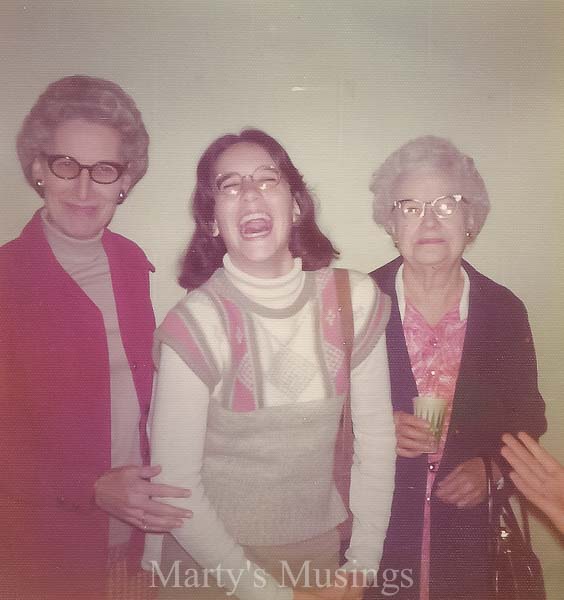 But the one thing she didn't do was teach me how to cook!
I left home for college knowing how to brown a hamburger patty and make a grilled cheese sandwich.
That was it.
Real food for real life.
~eye roll~
Even all those many, MANY, years ago I knew that once I had kids of my own I was gonna make sure they knew more than I did.
Whether they liked it or not ~grin~
Enter my favorite Jiffy Corn Bread with Creamed Corn recipe.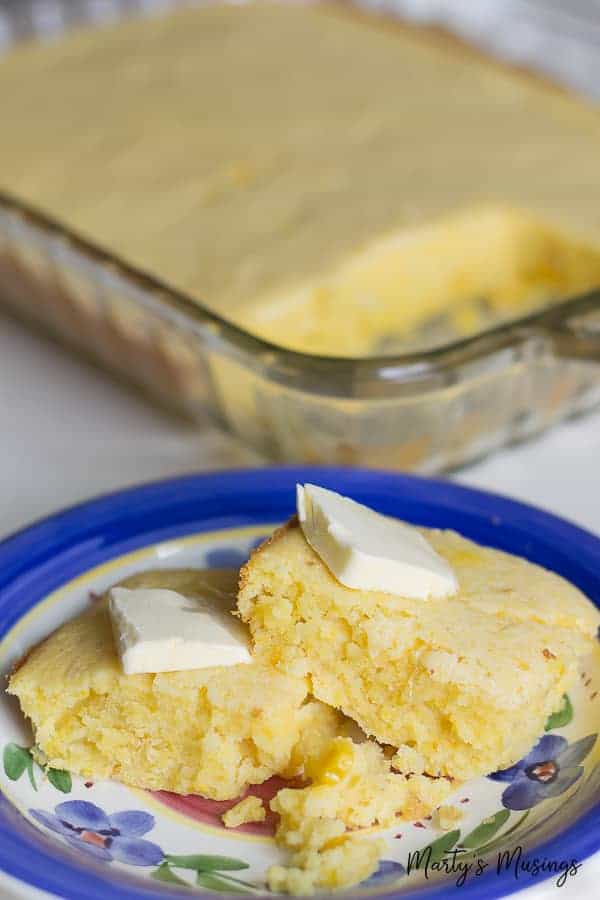 Jiffy Corn Bread with Creamed Corn Recipe
Easy. Delicious. Perfect to teach the kids.
Even though I'm a southern gal I've never been much of a corn bread gal. I find that it's usually too dry for me.
But since I AM Southern and us Southerners love our corn bread I hunted to find the truly "best" and most moist recipe!
Everybody I know has their "best and easiest" cornbread recipe. Just go to any church potluck to see what I mean!
But they're wrong.
Mine is the best. The end. (Don't believe me? Just take a look at all the comments raving about this recipe!)
I wish I could take credit for this Jiffy Corn Bread being an original recipe but I'm sure I got it out of an old cookbook somewhere.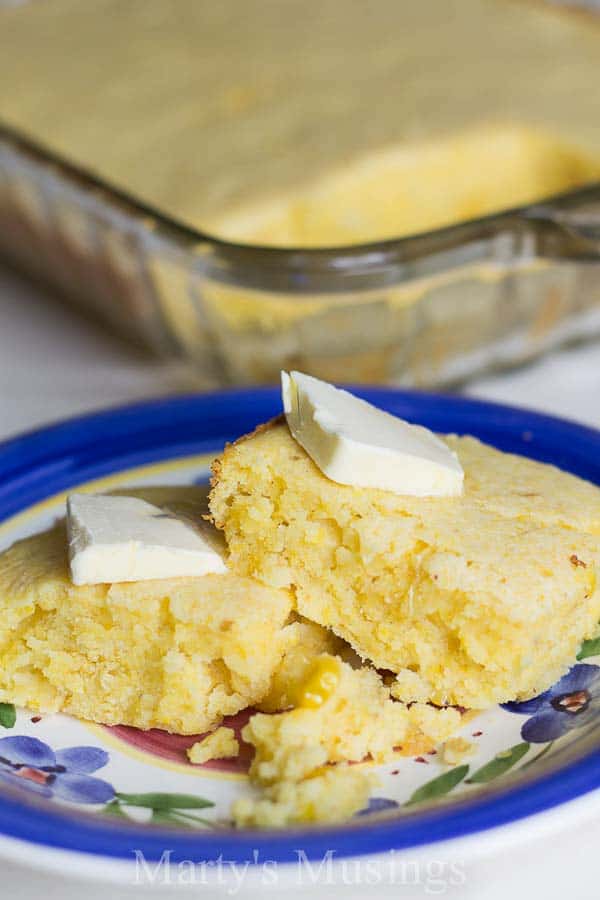 The selling point for this recipe? There are only six ingredients and one bowl needed (plus one to beat the eggs).
I loved teaching my kids how to bake this recipe at an early age so they can be helpful in the kitchen and aren't afraid to cook when they're on their own like I was.
This recipe is perfection. A win for all of us!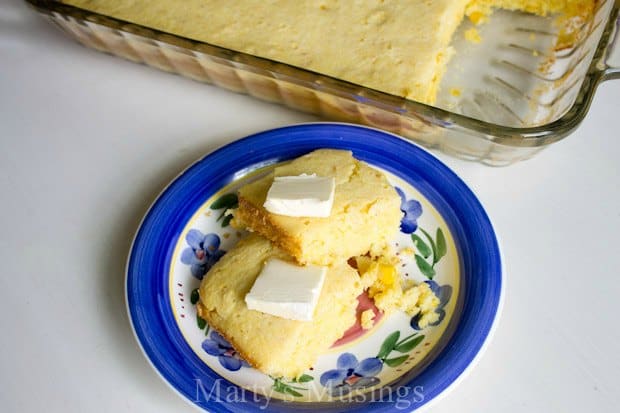 (This post contains some affiliate links for your convenience. Click here to read my full disclosure policy.)
I love that the corn bread is moist instead of dry and crumbly. And if you bake it in a cast iron skillet or cornstick pan (or even make some yummy muffins)?
Oh.my.goodness. It is divine!
(Don't know what a cornstick pan is? I didn't either!)
Sometimes I'll serve it with my Slow Cooker Tomato Basil Soup, my slow cooker favorite Taco Soup or even my White Chicken Chili.
This Jiffy Corn Bread also makes a terrific side dish to take to a potluck or picnic. Perfect match for any season of the year!
Your family will thank you ~smile~
Helpful links:
Jiffy Corn Bread Mix
Cast Iron Skillet
Cast Iron Cornstick Pan (so cute to serve guests!)
Cast Iron Muffin Pan
9×13 Glass Baking Dish
9×13 Stoneware Baking Dish
***If you read through the comments below you'll find tons of good ideas for ways to adapt this beloved recipe!
Also, if Jiffy Corn Bread is your favorite I created a Jiffy Corn Casserole with Cheese recipe and it's to die for!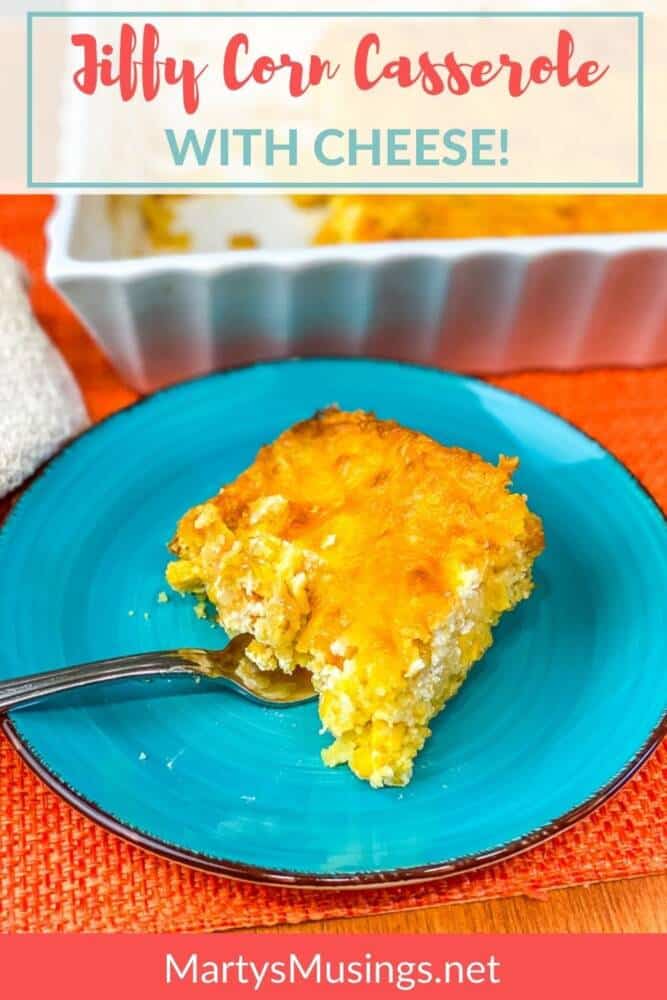 Jiffy Corn Bread with Creamed Corn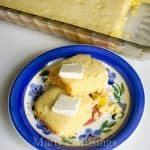 Print Recipe
Jiffy Corn Bread with Creamed Corn
Easy to make, extremely moist corn bread recipe with Jiffy Mix.
Ingredients
2

boxes Jiffy corn muffin mix

1

cup

sour cream

3

eggs

beaten

1/2

cup

melted butter or margarine

1

tsp.

salt

16

oz.

can creamed corn

undrained
Instructions
Mix all ingredients together and pour into greased 9x13 baking dish.

Bake at 375 degrees for 35 minutes or until lightly brown.
Notes
Can substitute plain nonfat Greek yogurt for sour cream.
If using a cast iron skillet, grease skillet and cook in preheated oven at 375 degrees for 25-30 minutes or until top is light brown.
I've rounded up some more of the best corn bread recipes from across the web. Check 'em out!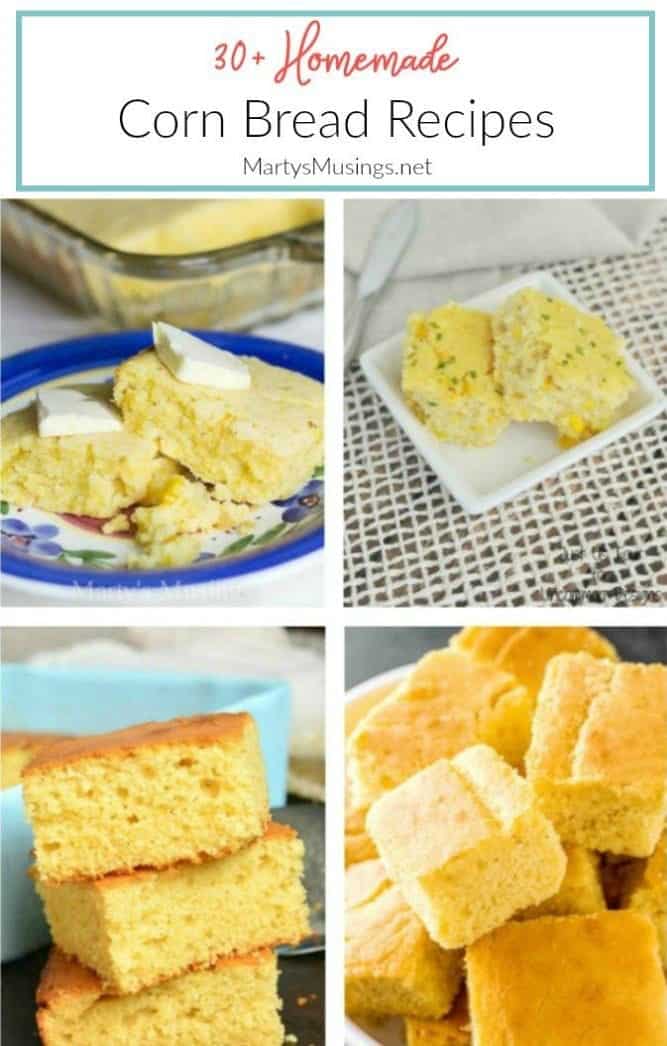 Need some more ideas for easy dinner sides? Here are some of my reader favorites!