5 Tips for a Low Stress Thanksgiving Dinner
This post may contain affiliate links which won't change your price but will share some commission. Read more here.
Want to know how to survive the Thanksgiving overwhelm and still enjoy family and friends? These 5 tips for a low stress Thanksgiving dinner are a must!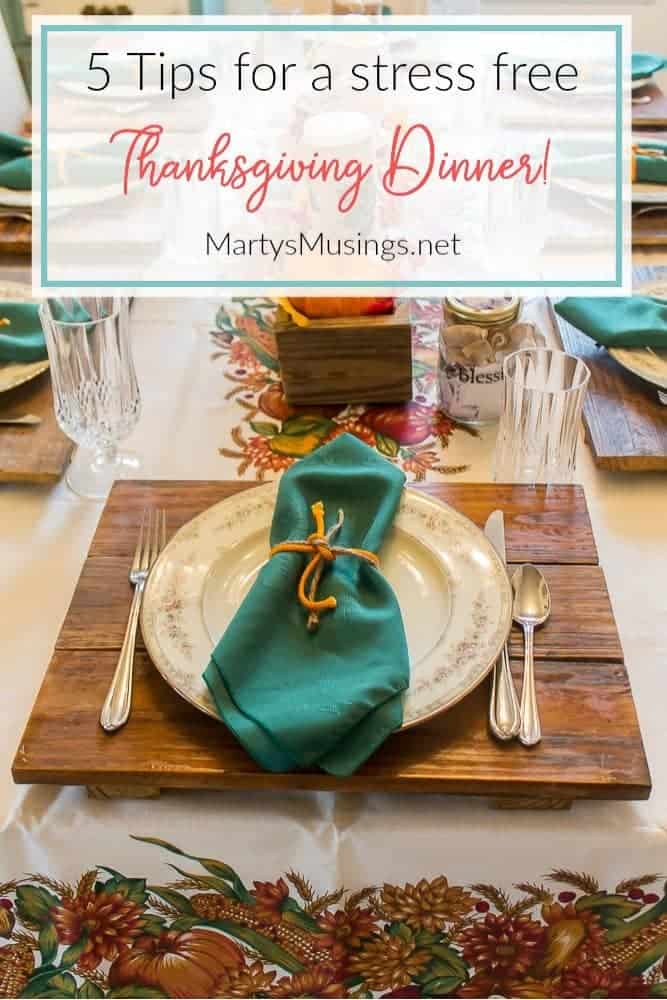 Even before I became a DIY lifestyle blogger I always loved to set a pretty table when company came over for dinner. We were always the first ones to invite the new preacher or staff member from church over for Sunday lunch.
For years I also hosted my homeschool moms group for an evening Christmas party.
I have been entertaining our family for the holidays longer than I can remember (since sometime around this country blue and cream kitchen and me with dark hair and a hair band. Yikes!)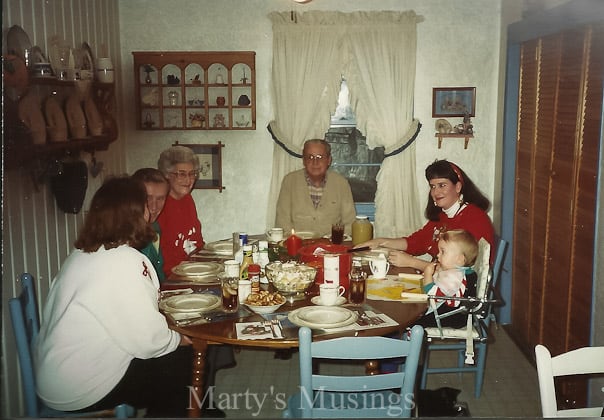 That little boy in the booster seat? He's now married, working full time and finishing his college degree, the long way.
Talk about a reality shock!
Now that two of my children are adults with families of their own, I especially want to enjoy both the food and atmosphere when all of us are together.
I also want my children to embrace the art of hospitality, which doesn't mean spending hours on the perfect table but rather making do and concentrating on our guests.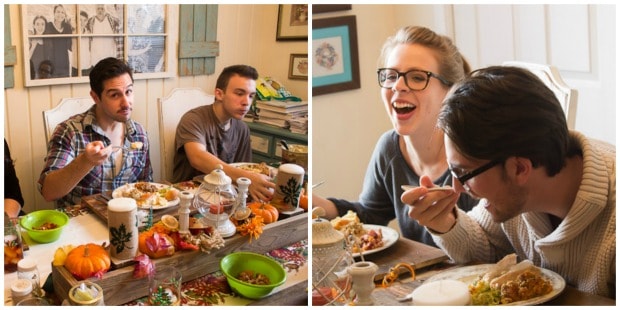 My goal is a stress free Thanksgiving dinner so I can enjoy the precious family gathered around my table.
Last year I created a "pretend" fall table just for the blog and a "real" one for my family for Thanksgiving using many of the same items.
Here's the more casual one that I created for the blog (and wrote about here).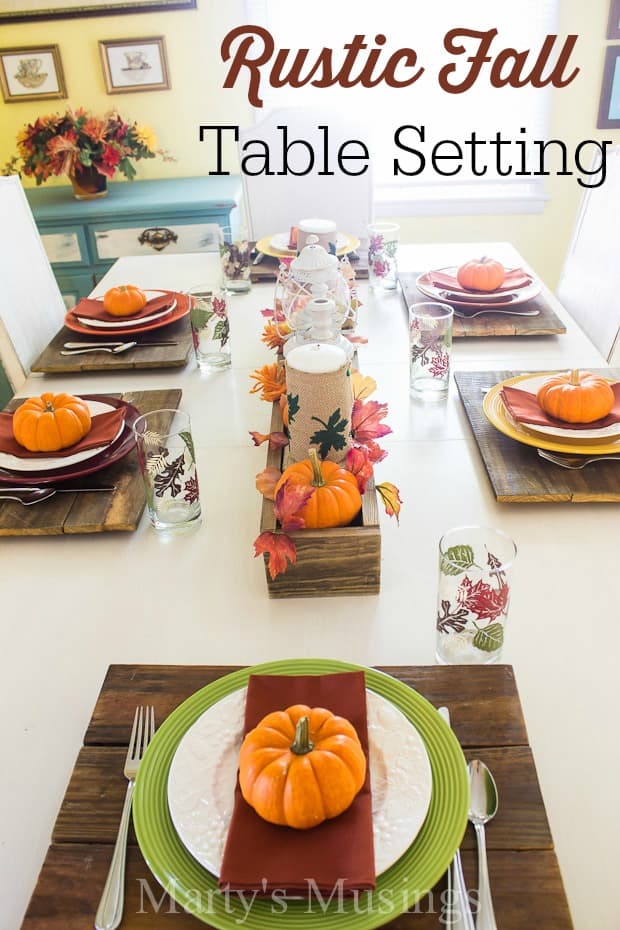 Here's the actual one I set for our traditional family Thanksgiving dinner.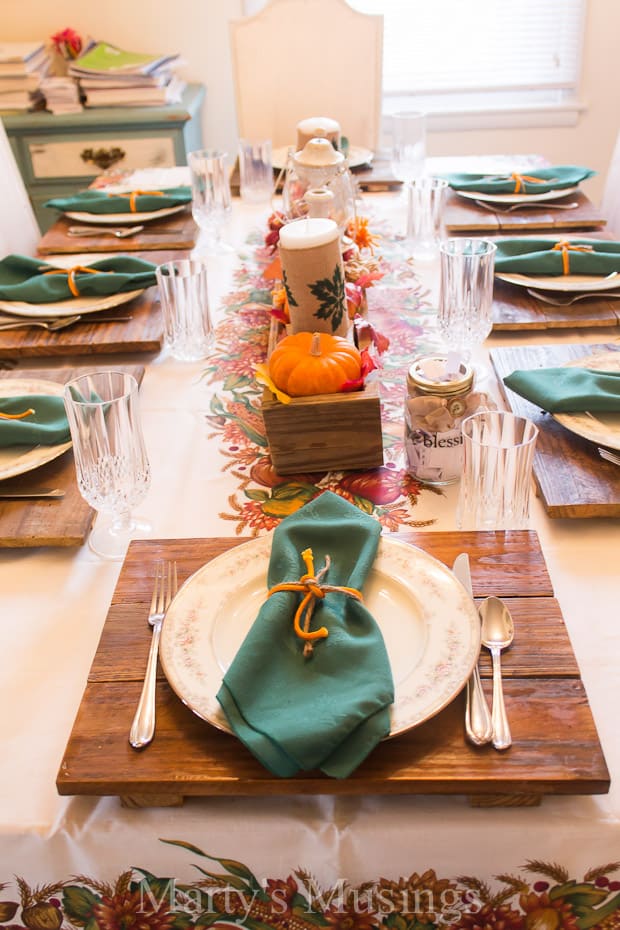 How do I know it's for my family? There's a stack of school books still on the hutch in the background!
Let me show you how I created two completely different tables with the same basic elements in a short amount of time.
5 Tips for a Low Stress Thanksgiving Dinner
1. Use what you have available
I used the same centerpiece for both tables, a rustic fence board box my DIY hubby built for me.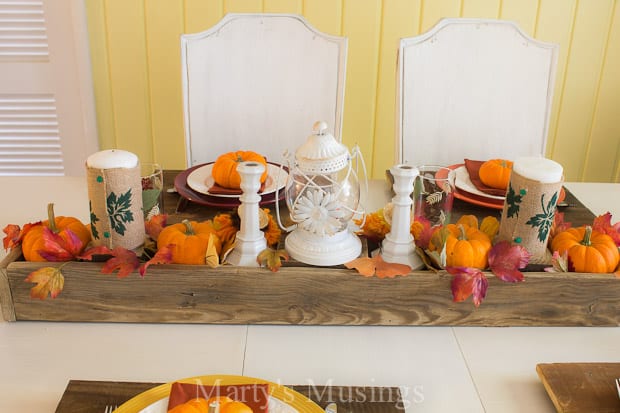 I filled it with silk leaves, mini pumpkins and these candles wrapped in burlap (one of my favorite seasonal tips!)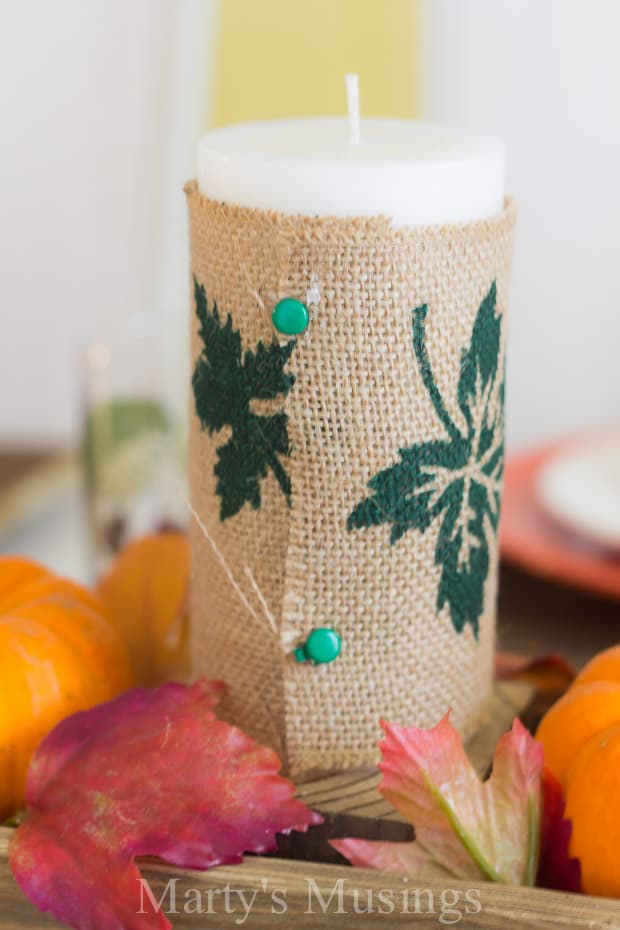 Do you have lots of dinner plates? Or maybe several lace napkins passed down from a family member? Do you love chargers and want one in every color? Maybe you even have your mom's crystal?
Best Tip: Use those items hiding in your cabinets and get some real use out of them! One of my favorite ways to "fancy up" the table is with white lace napkins. I buy them for pennies at yard sales and mix and match the styles. (See my best yard tips here.)
My rustic table setting is a good match with my painted white table.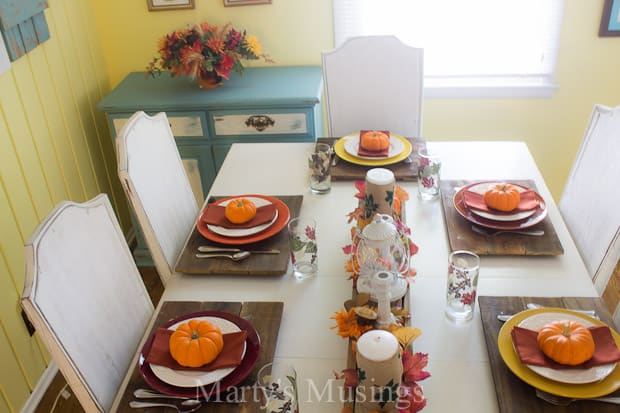 For the family gathering I added a $1 yard sale tablecloth which blends in perfectly with both the rustic and formal elements.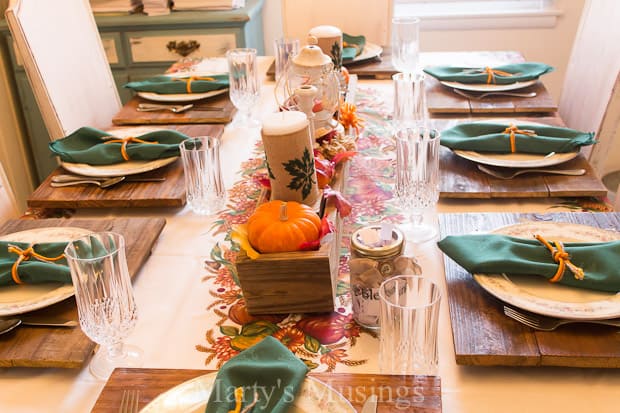 Best Tip: Do you have access to natural elements such as flowers, trees or branches? Take a walk in the park and find some elements of nature such as pine cones, berries or branches for a free centerpiece.
2. Mix and match styles and accessories
Today many people view entertaining as a source of unneeded stress. I look at it as a time to reconnect with family and friends, yet try not to put unrealistic expectations on myself, my home or the food.
For this casual table I mixed different colored plates from the dollar store with smaller white plates of my own. I also used fall glasses I purchased one year at the dollar store.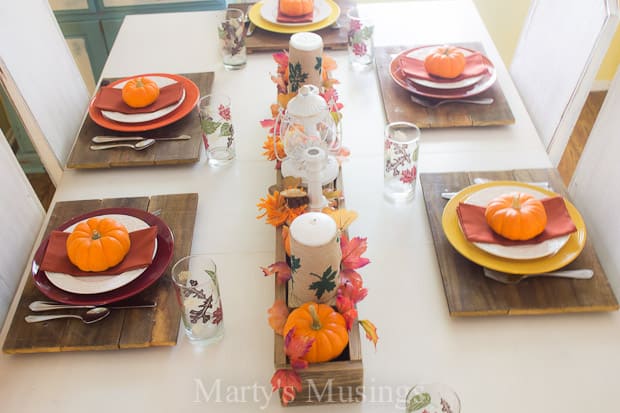 For the more formal table and our family celebration I used my wedding china and crystal. I just love an excuse to bring out the fancy goodies!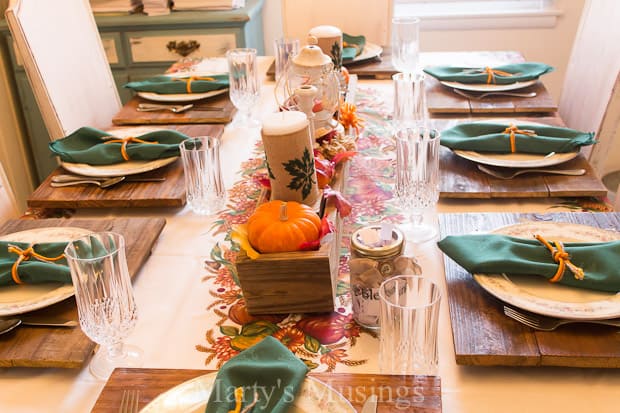 I chose my favorite DIY wooden chargers my hubby made out of fence board for both tables.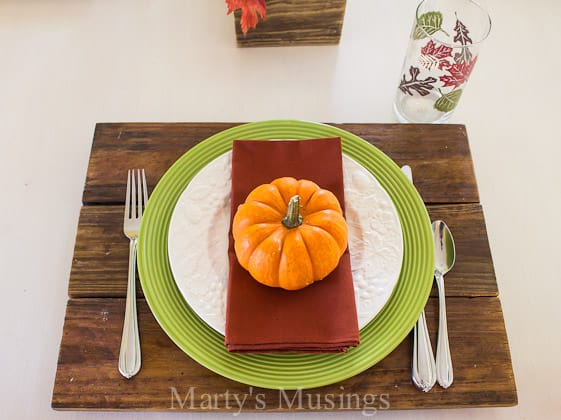 Dressed up or down, I love their rustic imperfection!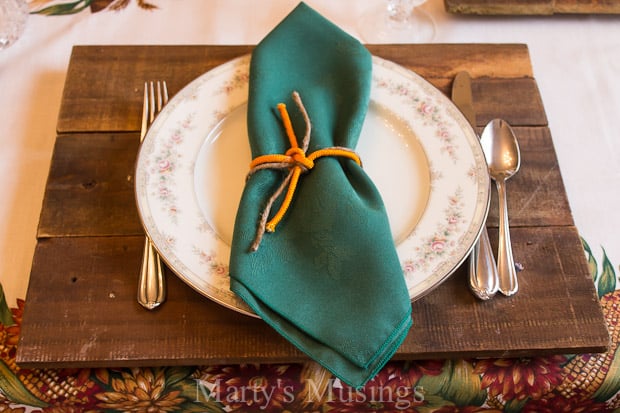 Best Tip: Shop your home by mix and matching plates, serving pieces and silverware.
Mix your grandmother's crystal with wood chargers and burlap. Or use different color plates from the dollar store to match the season. Thankfully, today anything goes as far as styles.
3. Plan ahead
Opening your home doesn't have to mean breaking the bank but maybe just a little creativity with the decorations and menu.
If you're hosting the event, clean your home a few days in advance if possible and just tidy up the night before and do last minute cleaning the morning of your dinner.
Think through your menu and plan out the necessary steps for everything to come together at the given time. Make a list and check it twice (or more!)
Best Tip: If you have children and/or a spouse, get them involved in the process.
My family always helped and the preparation was just as much a part of the big day as the meal. Families CAN work AND play together!
4. What about the meal?
There's nothing like fighting over a turkey or ham in the freezer section or waiting in never ending lines at the grocery store checkout to steal the holiday spirit. Go ahead and plan the menu, make a list of grocery necessities and shop the weekend before the big meal.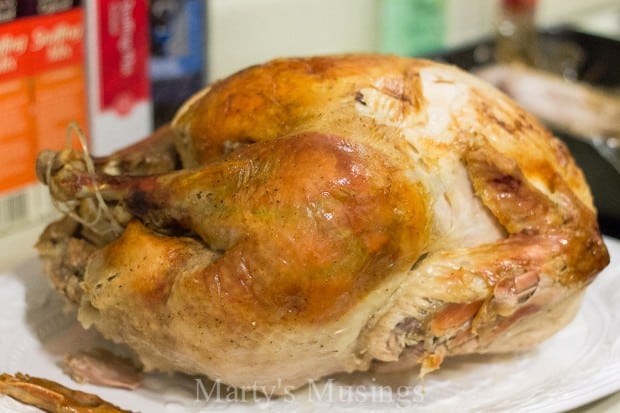 Best Tip: If you have guests coming let them bring something to the gathering. Accept help where it's offered.
Don't go all Martha Stewart on them by doing it all yourself. Let them invest some time in preparation and most likely they will be even more grateful for the delicious food put before them.
5. Concentrate on your guests without worrying about perfection
Best Tip: Don't worry if everything isn't up to magazine standards.
Years ago I might have (and did) fret a lot, but in my old age (ha!) I've learned that the less stressed I am the more my guests enjoy their time in my home.
A great idea to take the stress out of hosting is to set the table and prepare as many foods ahead of time as you can (like my cranberry apple casserole or watergate salad.)
Enjoy your low stress Thanksgiving dinner!
What are your favorite tips for this holiday meal and season?