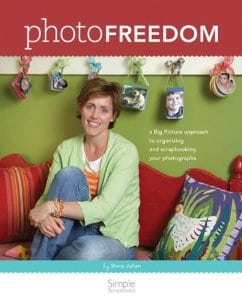 One of the keys to my scrapbook "organizational system" was gleaned from the book: Photo Freedom by Stacy Julian. If you follow the link it will take you to Amazon, with the new book price showing right at $100. No, I didn't pay that price. It was more like $20. I'm guessing if you search you can find it cheaper (please, let's hope so.) The basic idea is a filing system for photos that either puts your photos into categories or in chronological order. For those pictures I'm fairly certain I will scrapbook by event, I put them into two 12×12 3-ring binders in pocket pages. I have 10 years of pictures (not scrapbooked) in these two binders.
After I scrap my pics onto a layout there are always leftover pics. These go into one of four storage boxes, sorted by category. My categories are All About Us, People We Love, Places We Go, and Things We Do (each represented in a different color binder). Within these categories are subcategories such as one for each individual child, our extended family, church, vacation, holidays, etc.
I don't worry about scrapping chronologically. I never really have. This system of Stacy Julian's set me free! If I want to scrap an event I go to my binders located in my scraproom and look for the pics chronologically. But if I want to scrap a connection through the years (such as the layout displayed above of my daughter and her dad) I go straight to my storage boxes and the pics are right there! No searching through backup CD's and boxes for pics of the two of them together.
If you can't tell I adorethis system. It works for me! The other part of my preserving our memories comes with relocating my favorite scrapbooks to a bookcase directly by the front door. If there were to be a fire they would be easily grabbed on the way out! Other than family and pets there is nothing more important to me than these albums. They contain our family history and memories.
Albums located by the front door
These are not all of my albums but they are the ones I cherish most. They also include my Project Life albums from the last three years. Want to know more about Project Life? I wrote about Project Life and Social Media, What is Project Life? and how I am Catching Up on Project Life. You can also view my scrapbook pages here.