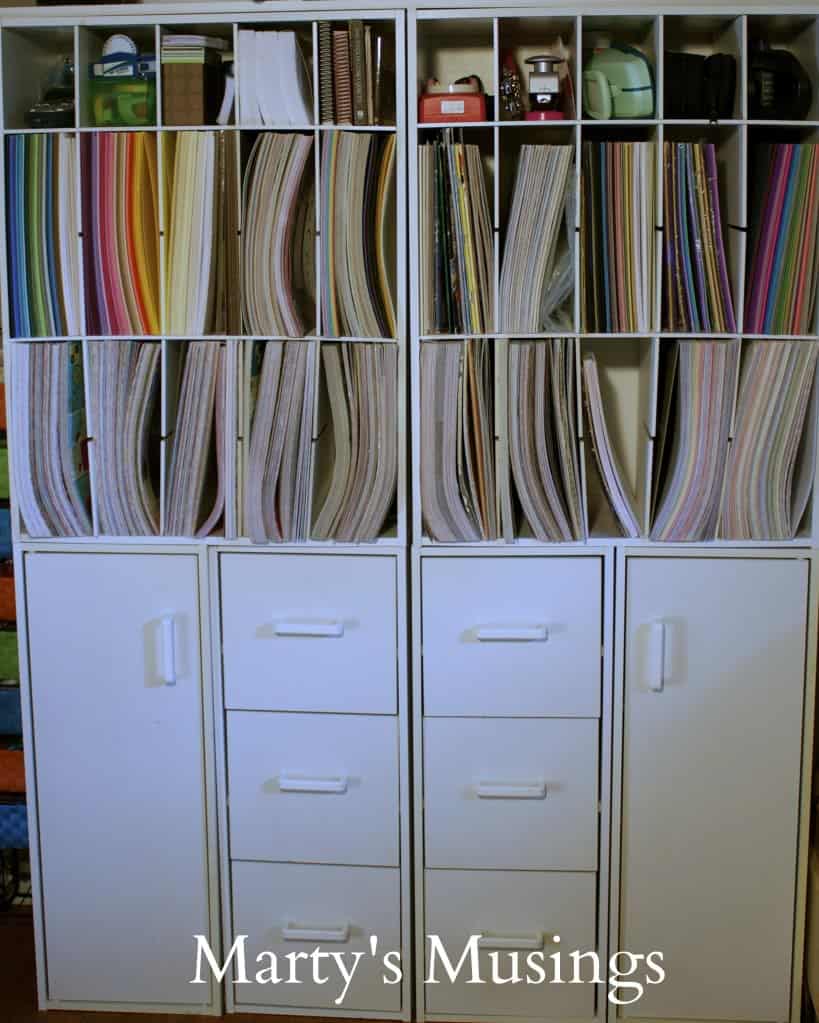 My scrapbook room is my pride and joy! It was a gift to me from my husband when my son graduated from our homeschool. We spent months planning and working out the details. I thrifted and yard saled and recycled. Here's a shot of the finished product or you can go here to enjoy all the details (and I mean ALL) of the room.
I am a paper-holic. I love paper. Patterned paper, cardstock, glitter paper, 8 1/2×11 or 12×12. Bright colors or pastels. Thus, I needed a storage unit that would meet my need to see the paper I had purchased (or been given or found at yard sales or marked down). I found these top two units at Goodwill for $10 each. They were divided into 6×6 cubbies with a removable shelf, allowing me to make 12×12 slots and a top shelf for misc. I love my paper storage!
The bottom storage is four units put together to serve as the base for the paper storage. I've had this unit for years and it gives me three shelves behind the doors and three drawers. I believe I got these at Target many years for $10 each.
The paper looks like it's bending and it does somewhat, but I rotate it from side to side to keep it from getting misshapen. It really hasn't been a problem. Plus, the more I get the more squished in the cubby and less room to bend. Sounds like I need a trip to my favorite craft store!
I did have someone comment that it would be great to rotate my cubes so that my paper lays flat instead of up and down. That's a wonderful idea except that these units aren't cubes and can't be rotated (and the unit isn't square).  The slats that I removed from the unit in order to make the slots 12×12 can't be moved around either. I don't like that my paper bends, but it hasn't affected my layouts.
How do YOU store your scrapbook paper? Does vertical or horizontal work best for you?
Linking with Beneath My Heart, The Thrifty Home, Shabby Creek Cottage Sew Can Do
Between Naps on the Porch, Making the World Cuter, Today's Creative Blog