Easy and Thrifty Christmas Decorating Ideas
This post may contain affiliate links which won't change your price but will share some commission.
These Christmas decorating ideas are inexpensive and so easy to imitate with yard sale treasures and thrifty finds that anyone copy!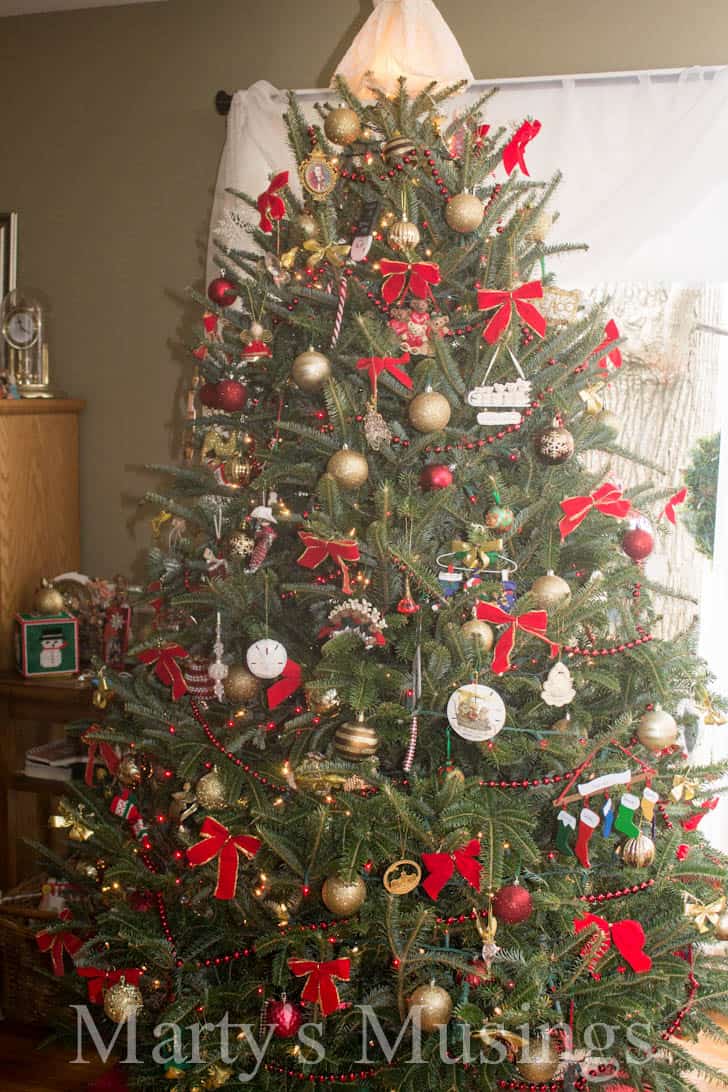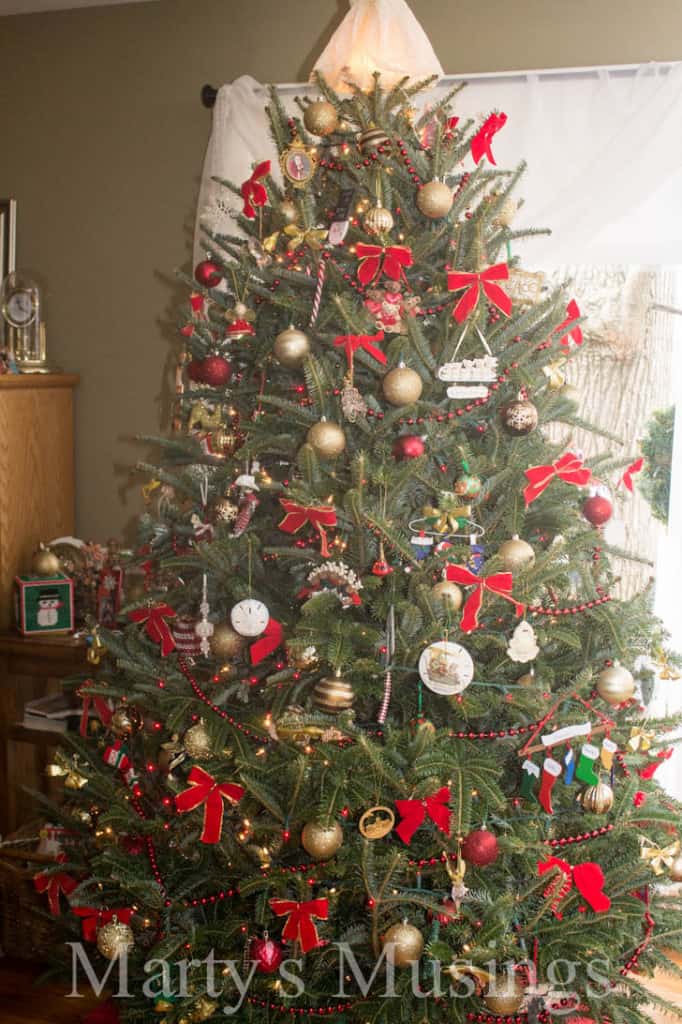 Christmas has come and gone and several posts I wanted to share with you this season are still in my drafts box, waiting for me to finish editing pictures or write the copy.
Since today is New Year's Day you could imagine that I might talk about goals and resolutions. Nope. I'm just going to share that in my life, as in yours, to do lists don't always get done, families have opportunities to work on relationship mending, school gets put on hold, and there are dirty dishes in the sink.
Life was lived in the Walden household this holiday season, usually boisterously, engagingly and full of life. Memories were made that will be forgotten by some and remembered in detail by others. I imagine our home was no different than yours!
I wanted to bring in the new year with some easy and thrifty Christmas decorating ideas that I didn't have time to edit, share or write about while I was busy living life. I hope that's all right with you readers! I'm learning to live with some things undone and to do lists that are unrealistic.
Christmas Decorating Ideas
The first pictures are of the same three-tiered stand that I used in my fall decorating. For Christmas I merely swapped out the pinecones and fall picks with ornaments of various sizes and colors and added the "Jesus is the Reason" ornament to the top.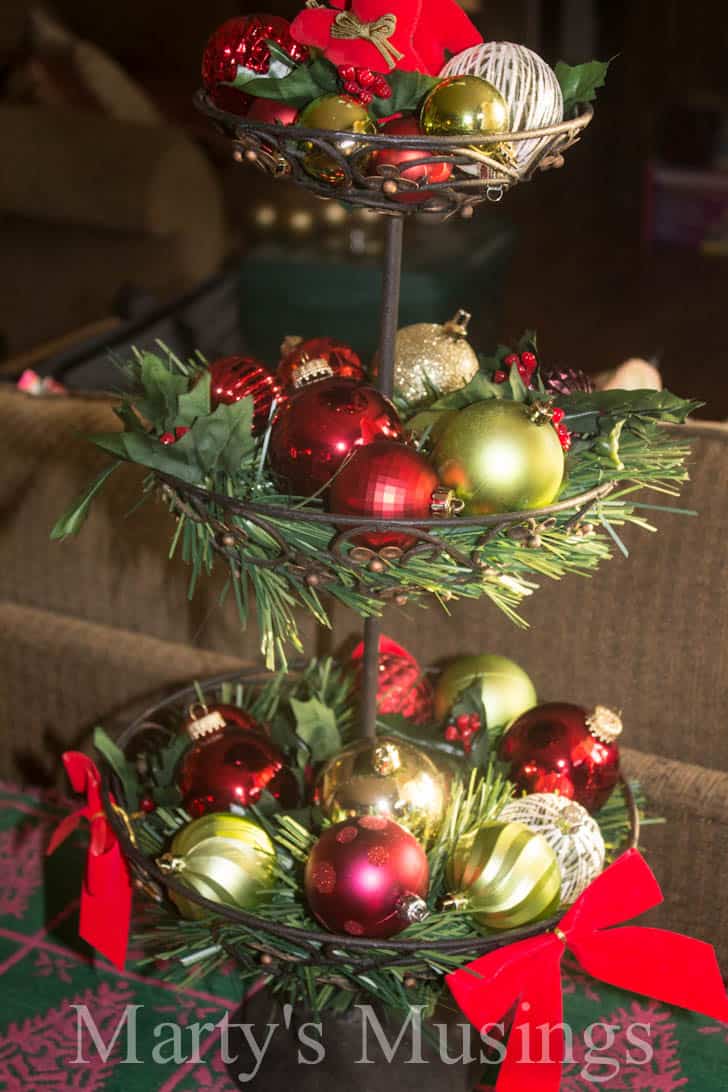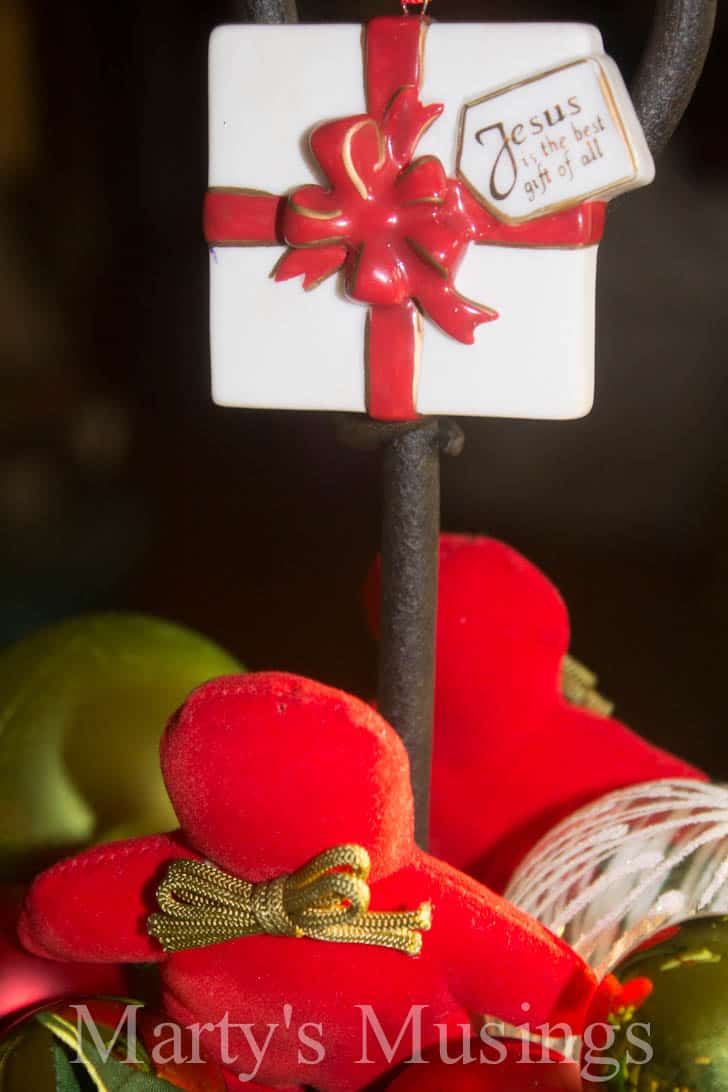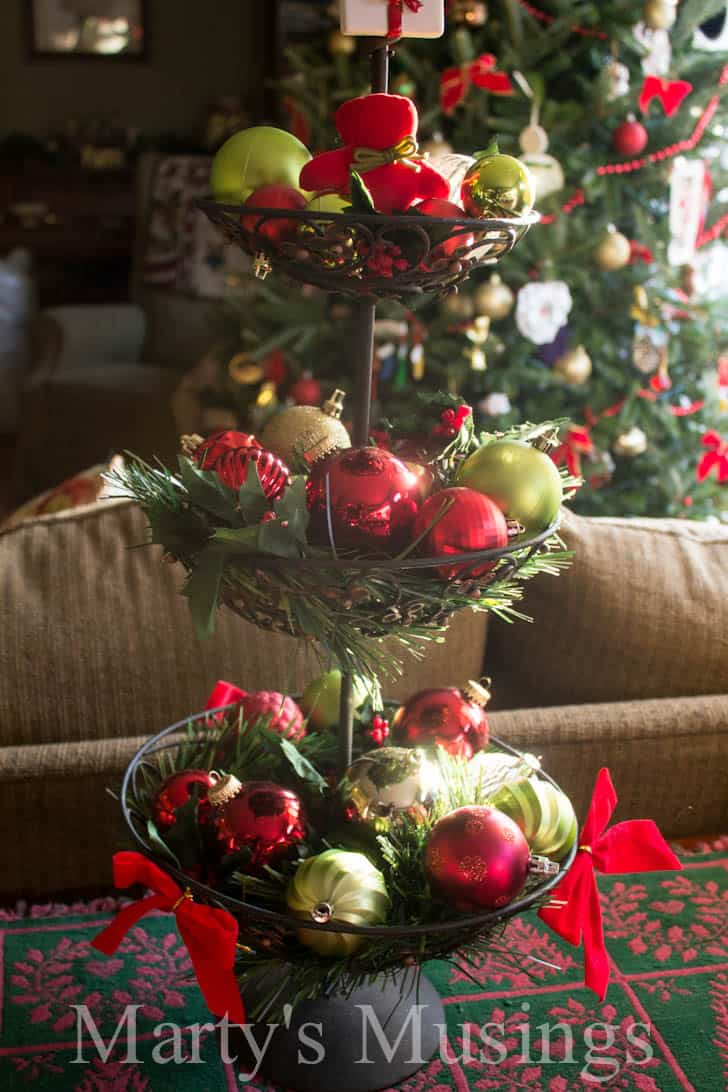 Next up is the Precious Moments nativity that belonged to my husband as a child and has been a favorite decoration to unpack each year. Same straw, same barn, same Jesus. (Isn't there truth in that statement?) I collected nativities for a few years but whittled them down this year to my favorite ones.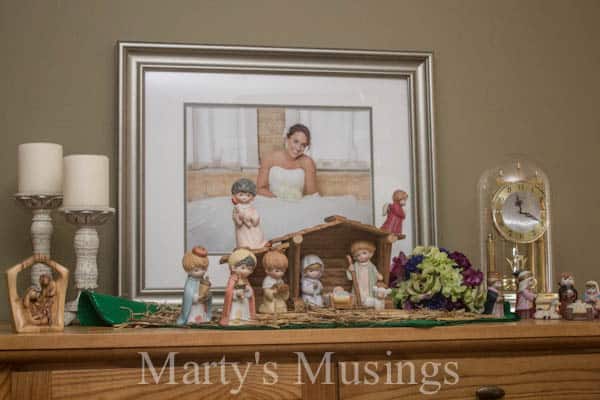 Love my pallet shelf where I merely added a few touches to make it more festive, with red bears and a garland.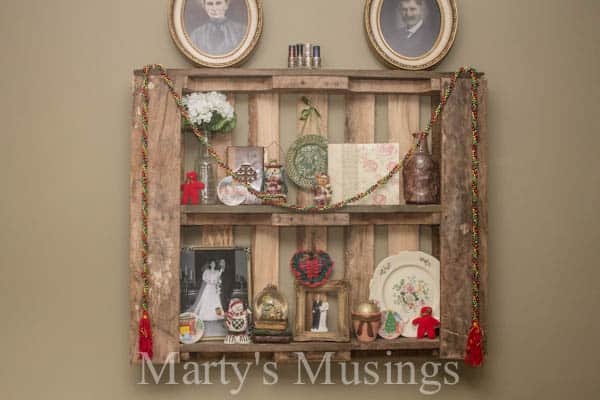 Such simplicity: a glass container from my daughter's wedding filled with ornaments and beads.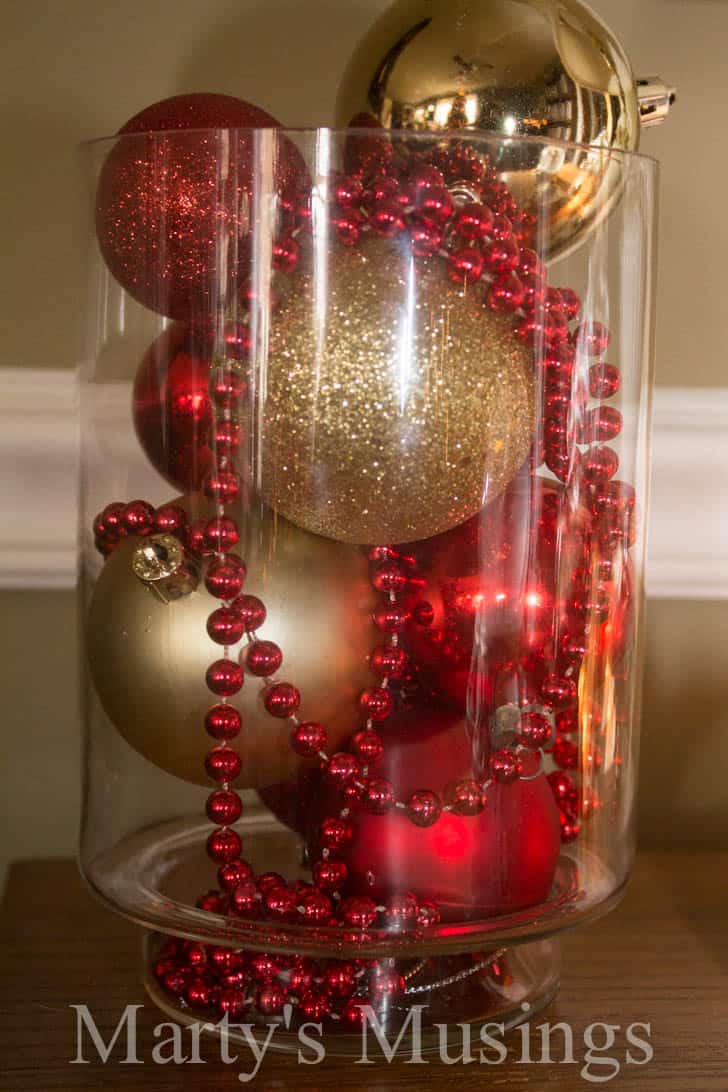 This pretty little tree was my mom's and started out the season as my centerpiece, but it was a bit too large for us when we sat down to eat (although I could hide behind it from a certain child who might have been irritating me at times:) Instead I combined it with my $1 yard sale ornament wreath, and I love it!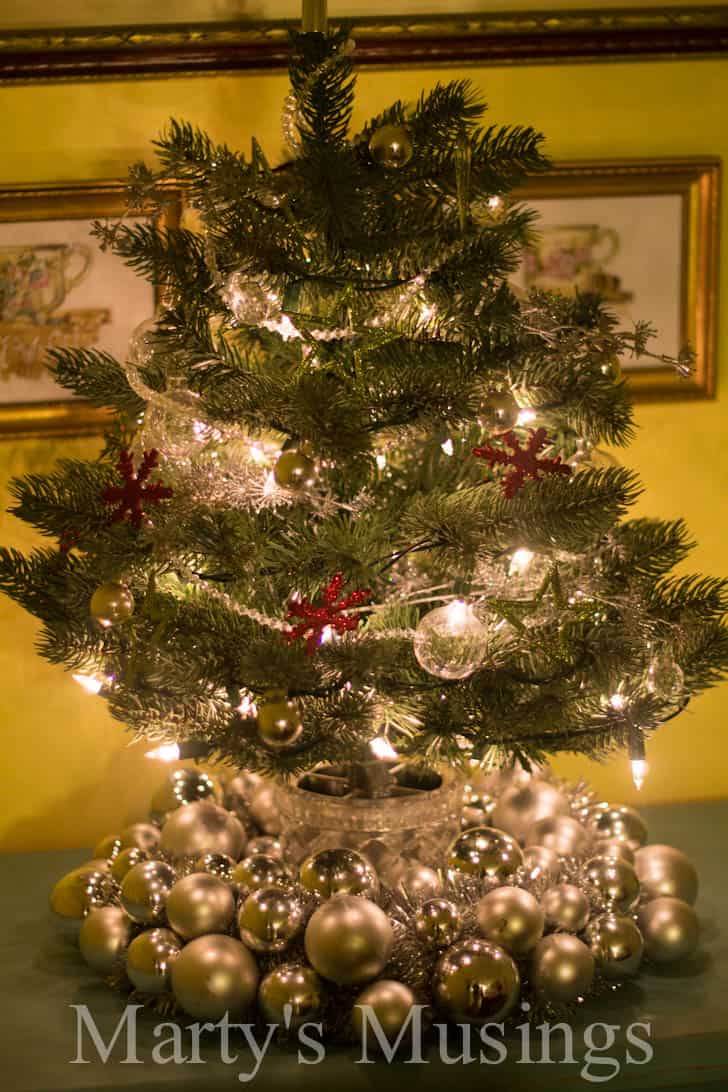 You can see a tiny bit of our kitchen makeover (I'm working on that post!) which started with the hutch below. For Christmas I simply added a couple of garland strands,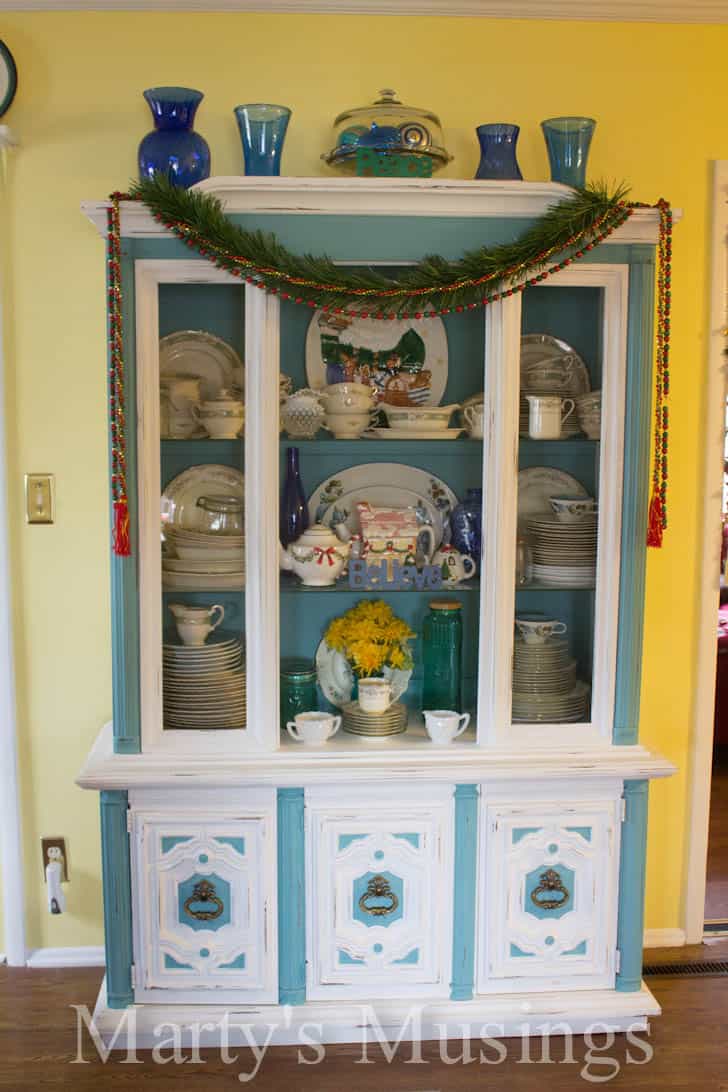 my favorite Santa serving platter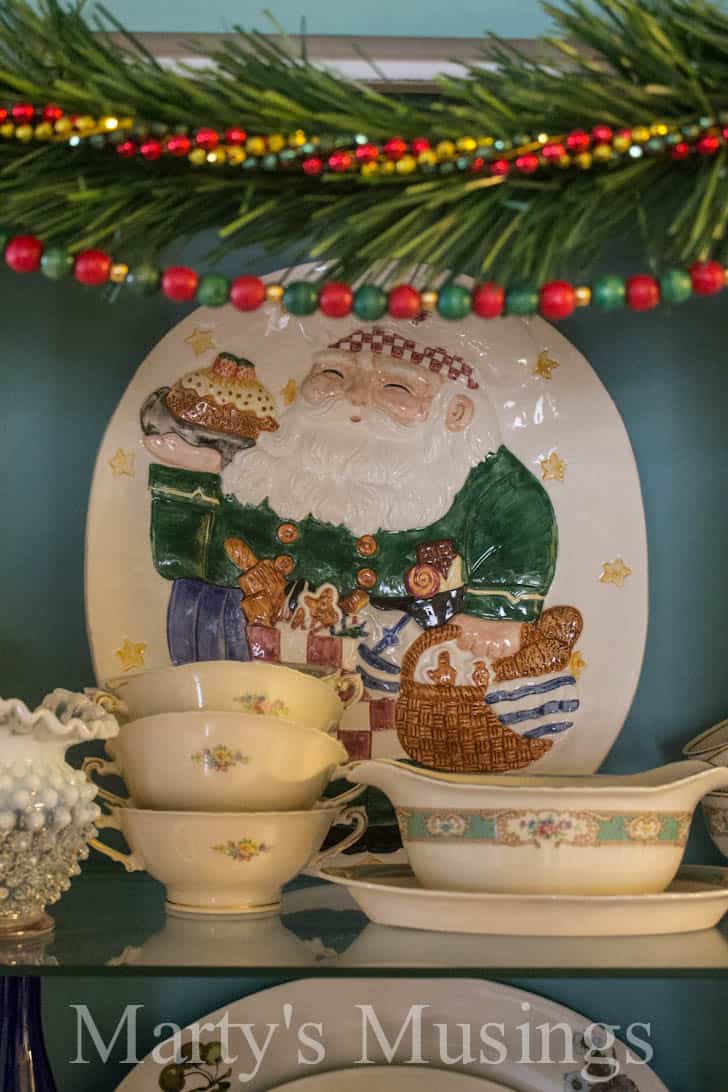 and my Christmas teapots.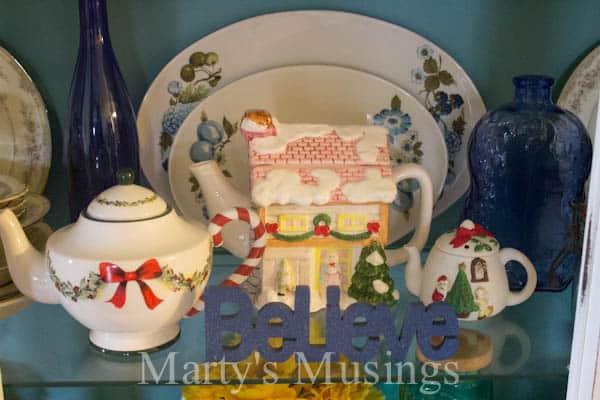 On one of the shelves that used to hold teapots I grouped a couple of pictures with my collection of carolers.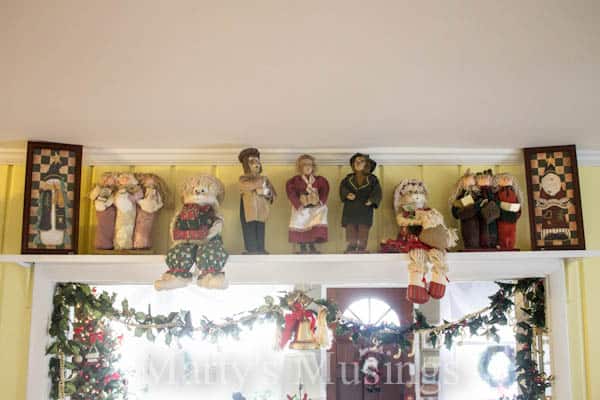 I have a window above my sink which was part of the original house. When the previous owners added on they lost a window with lots of sun. As I worked in the kitchen, I satisfied my need for beauty with a simple strand of lights, a garland and an arrangement on the bookshelf on the other side of the opening.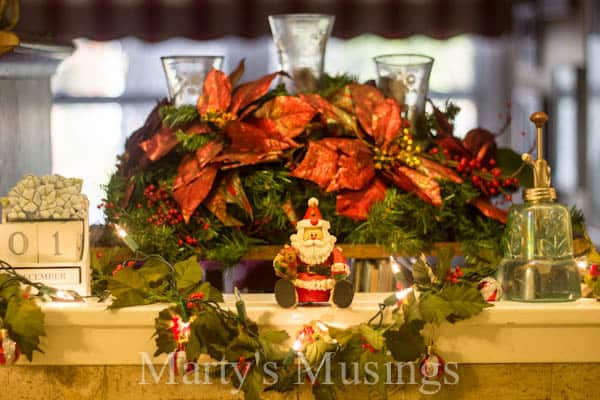 My favorite tip for changing up your decor is this wooden serving tray that I painted white and lined with seasonal scrapbook paper and added a flower arrangement.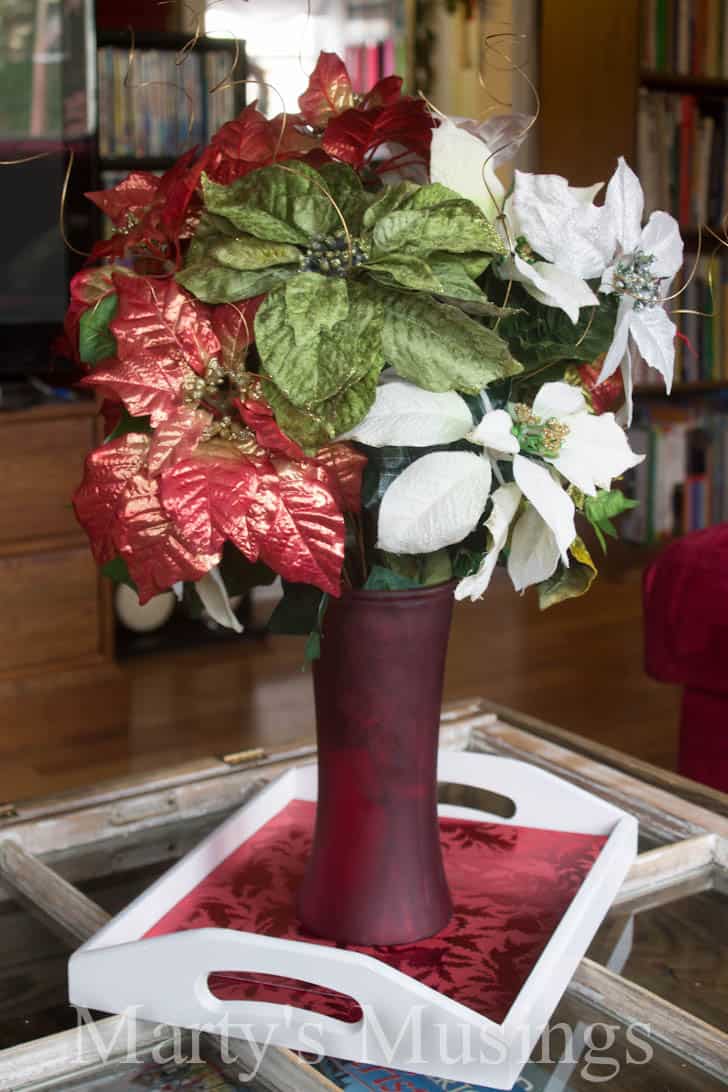 My creative oldest son (now in college) wanted Christmas bed linens one year, but the expense was too much. Instead he took an old comforter and sewed a flat sheet to it (amazingly, by hand) and made this cover for his bed. Since he's now in college I used it in the scrapbook room, and it went perfectly with my color scheme!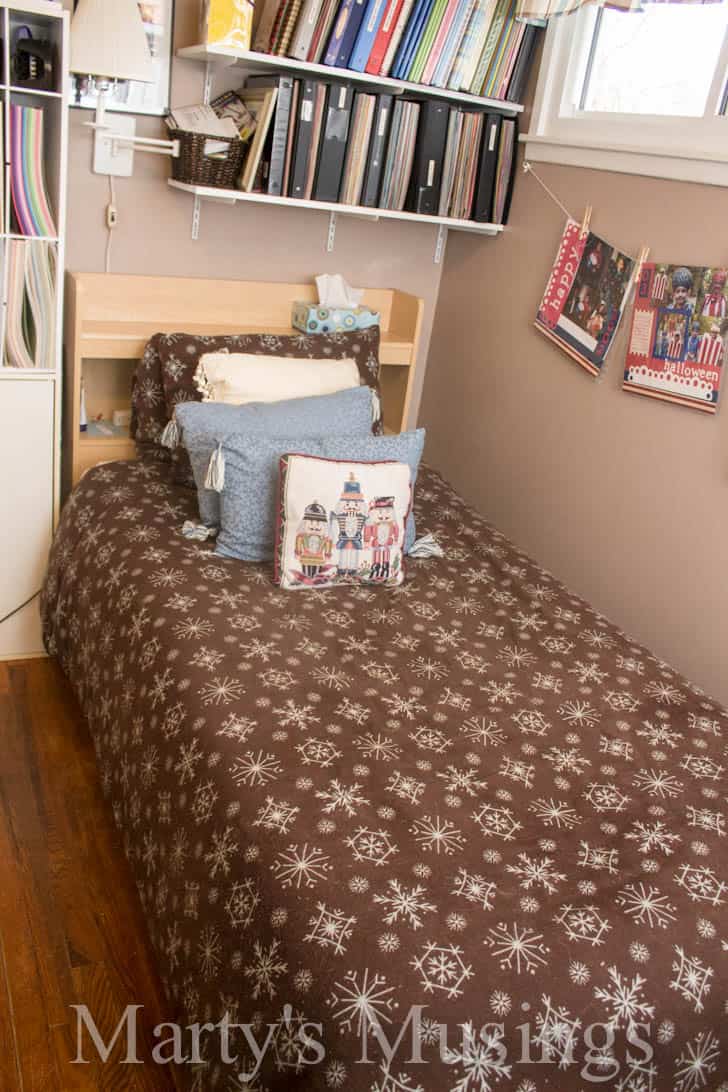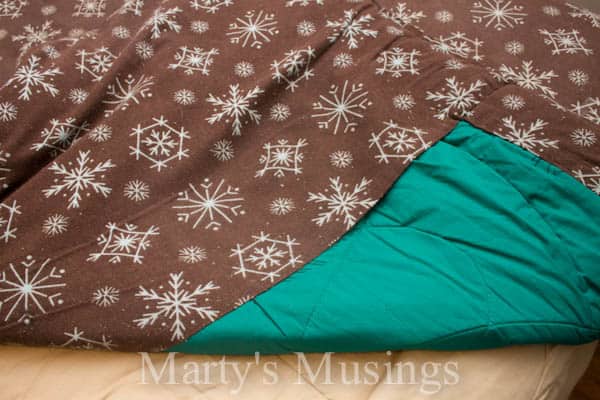 Lastly, I purchased probably 30 of these painted words at a craft store after Christmas for $.10 each. This year we sprayed them with Glitter Blast spray paint from Krylon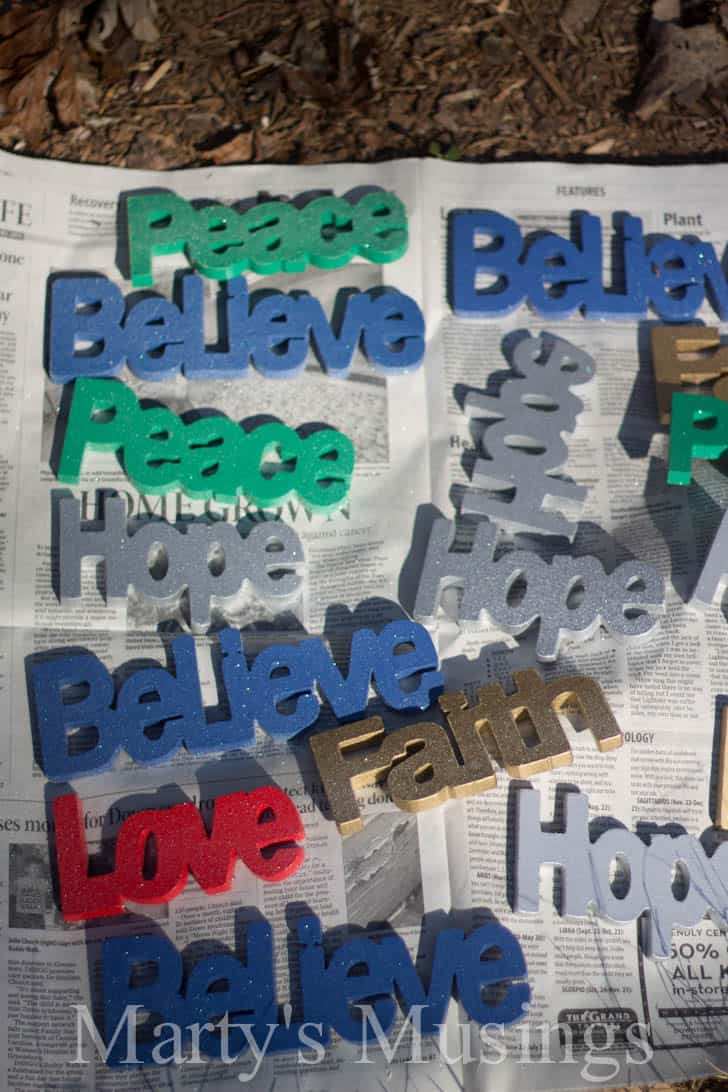 and I added decorative ribbon from my stash and turned them into ornaments for presents. Totally doable and inexpensive!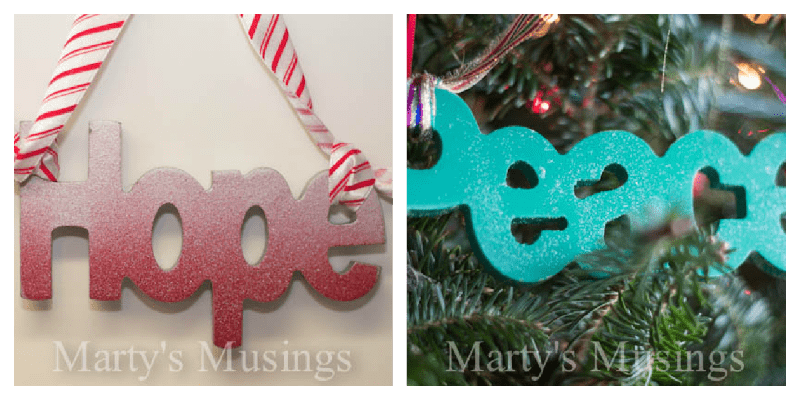 None of this decor was purchased new this year. It was put together from past decorations (never, ever bought at full price), end of the season bargains and thrifty treasures.
Some posts I'm working on for the New Year include: stress free entertaining, homeschooling through the holidays, organizing your holiday decorations (not very timely but good stuff), parenting conflicts with adult children, and the big reveal of our kitchen makeover (you've seen the hutch already, but there's more!) As always, thanks so much for visiting my little corner of the world here at Marty's Musings. I appreciate you so much! Happy New Year!
Would you like to see more of my favorite Christmas projects? Here's my fence board Christmas tree,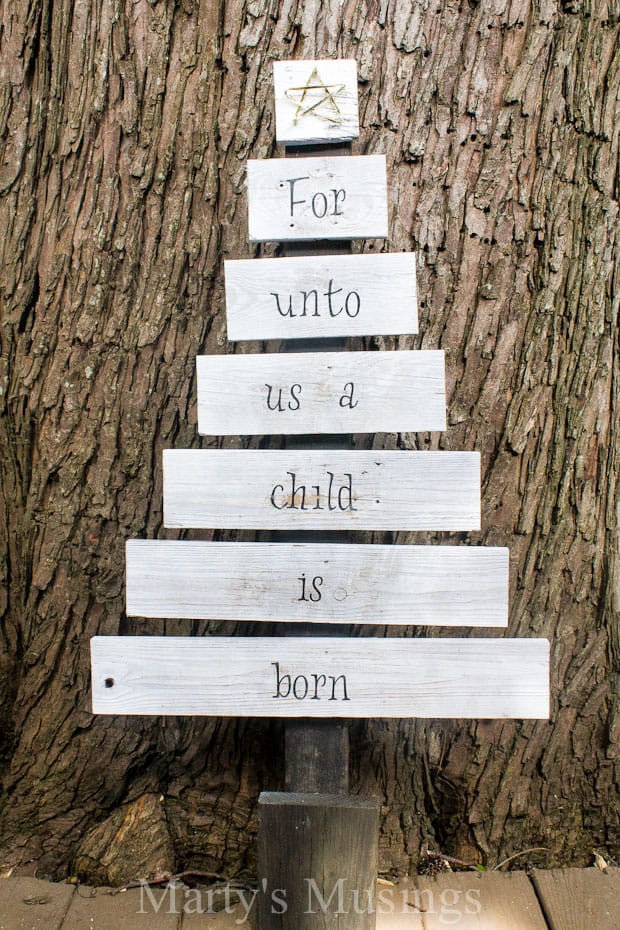 my inexpensive Christmas decor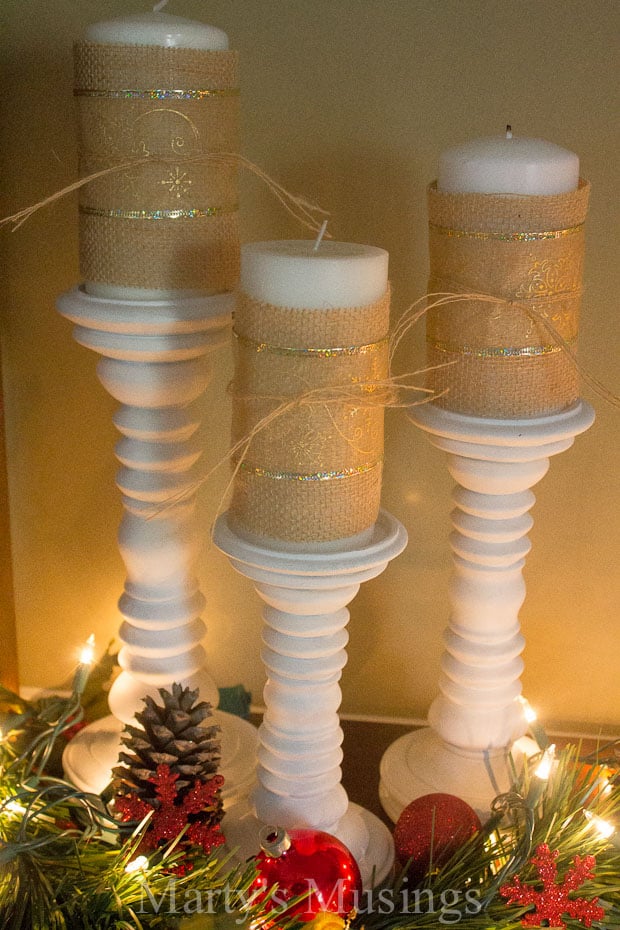 and my rustic Christmas centerpiece.