Fall Decorating Ideas: Easy Decor on a Budget!
This post may contain affiliate links which won't change your price but will share some commission.
These inexpensive and easy fall decorating ideas will inspire you to shop your house, yard sales and thrift stores to DIY your home on a budget!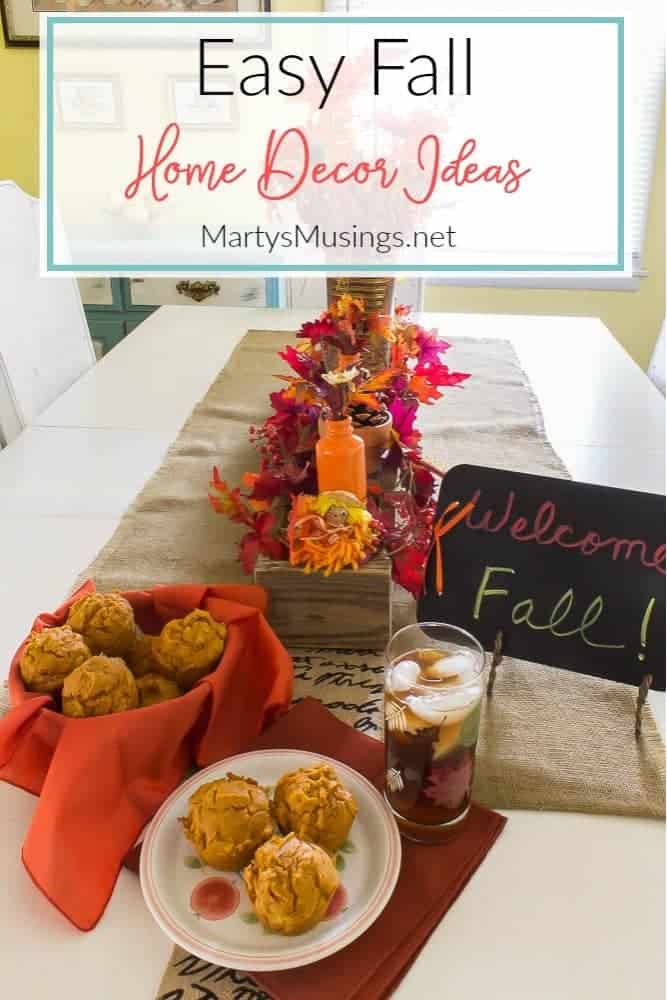 It's finally here. Our All Things Home Fall Tour has arrived at my house!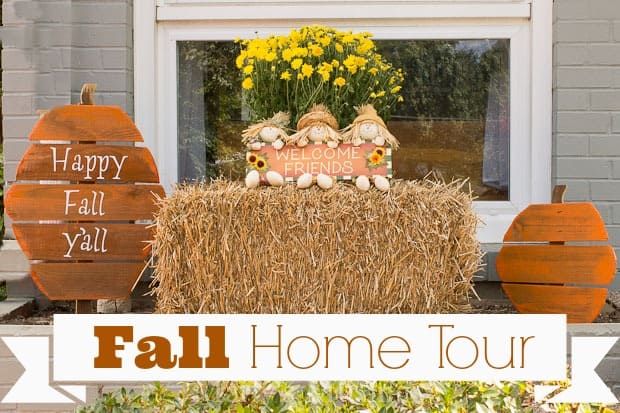 I've been decorating and crafting and even just thinking about fall decorating ideas for weeks!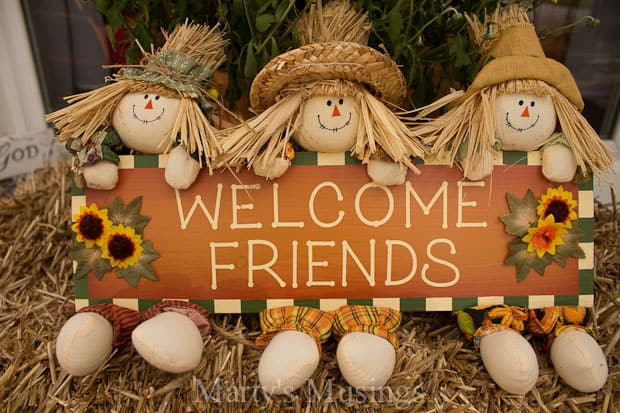 I hope you'll feel welcome and comfortable because this ain't a fancy party.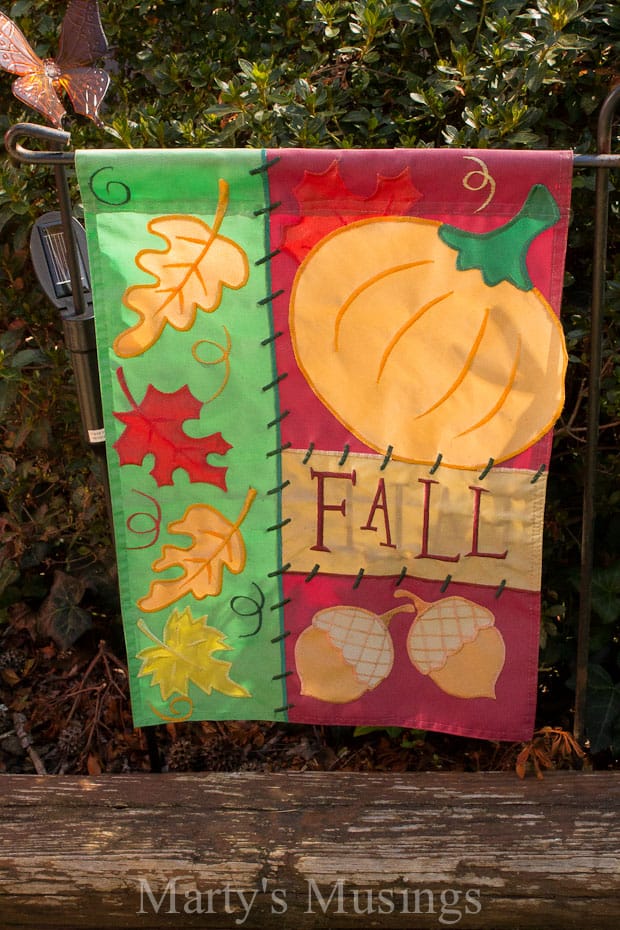 More like a shindig (that's Southern for a little gathering).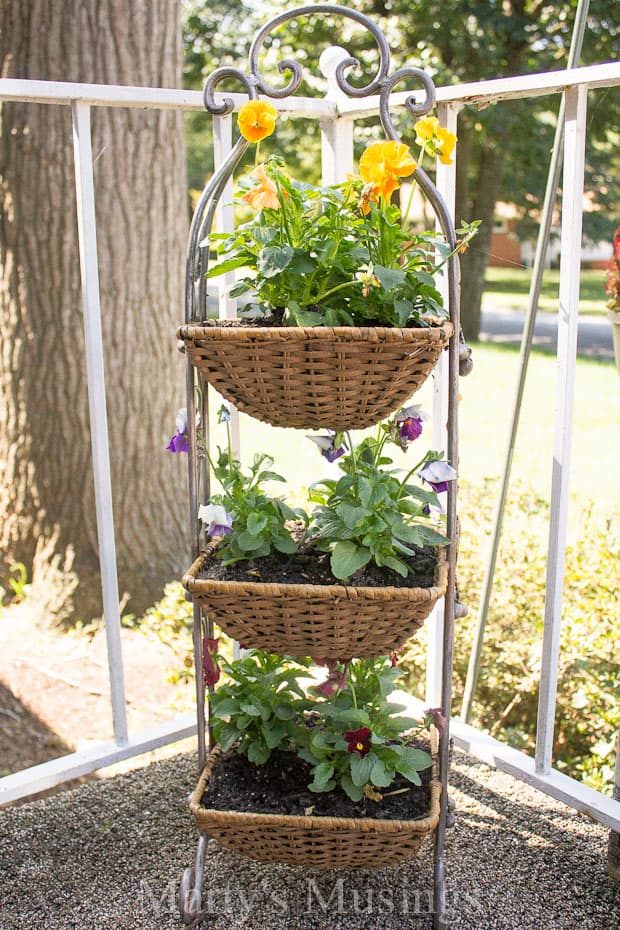 Y'all come on in here now and set a spell (that's Southern for make yourself at home) 'cause it's Happy Fall Y'all!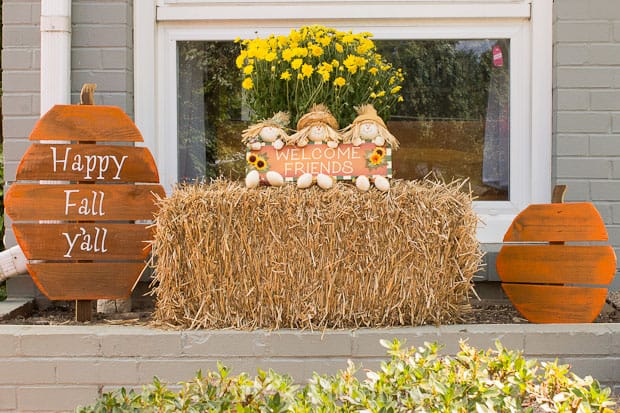 And just for the occasion I have a spunky, freshly painted front door.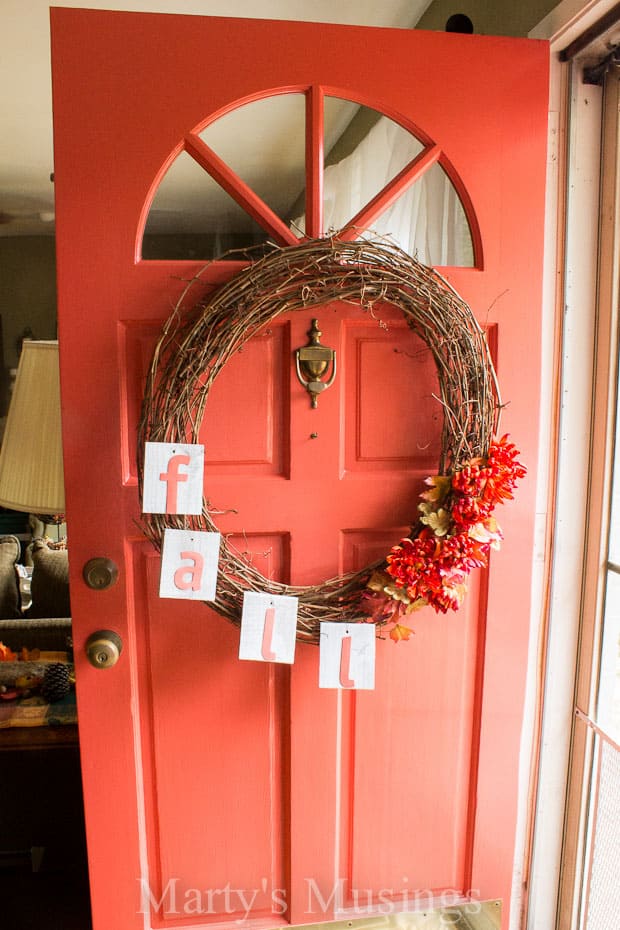 Fall Decorating Ideas and Home Tour
Welcome to my humble home. I don't put on airs (that's Southern for pretend to be something I'm not.)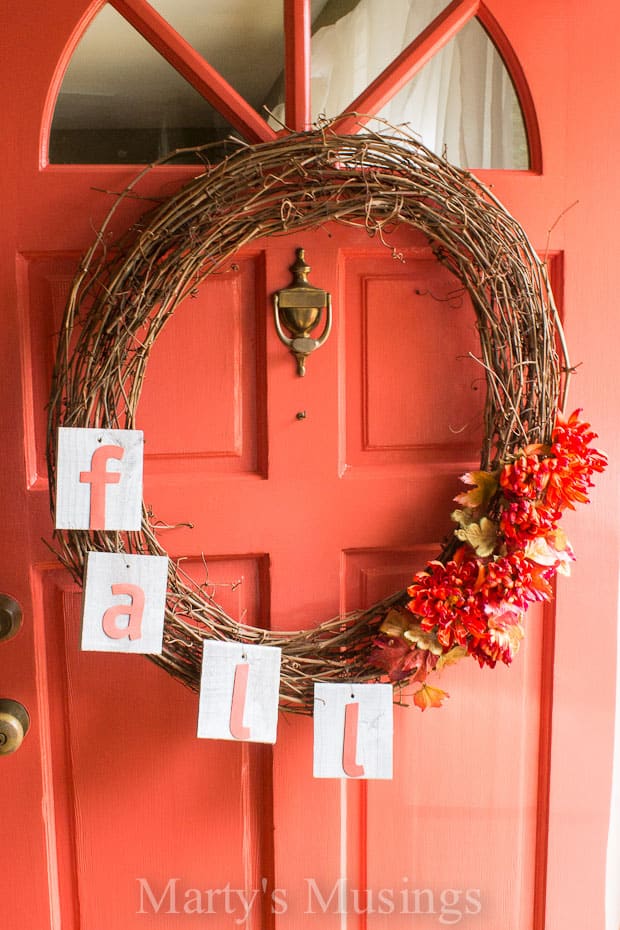 I hope to inspire you with all things simple and frugal (including this easy DIY fall wreath).
Let's start as you come into my home and go straight into the living room.
I don't have a fireplace or a mantel but I pretend like I do!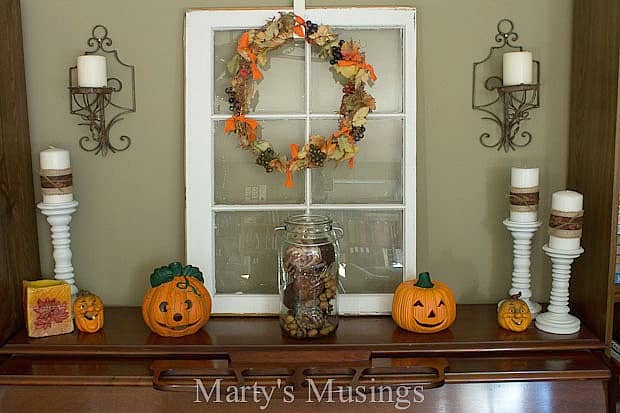 I treat the top of my piano like a mantel, and it's my favorite place to try new things.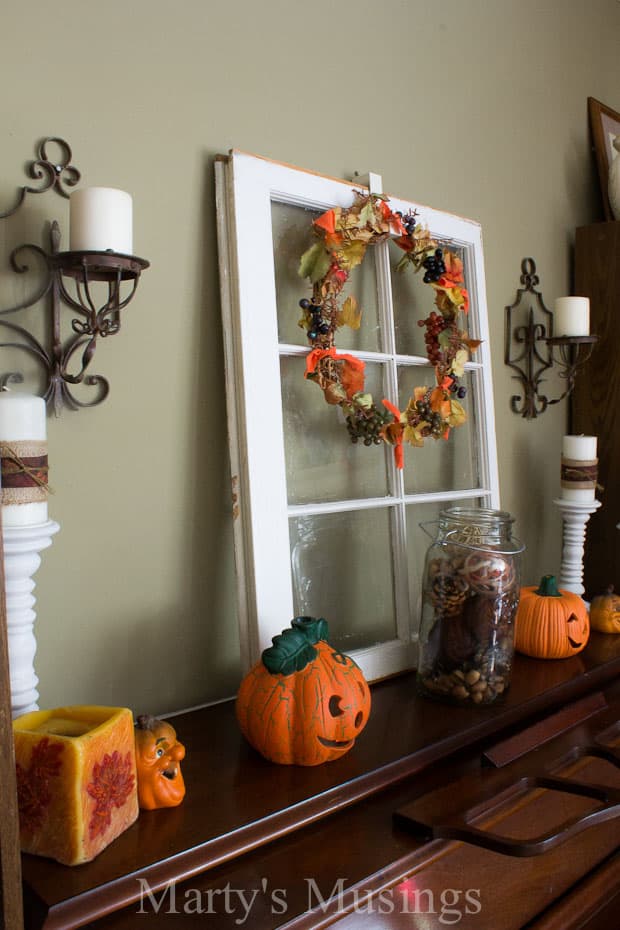 Every single home decor item in our living room either came from a yard sale or was free. The window was a freebie from a job site my husband discovered near where he was working.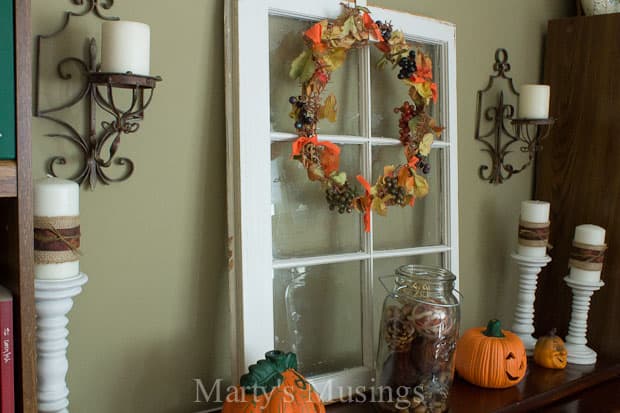 This wreath is my favorite. It was a $1 yard sale find and I took strips of fabric from an old shirt and tied as accents.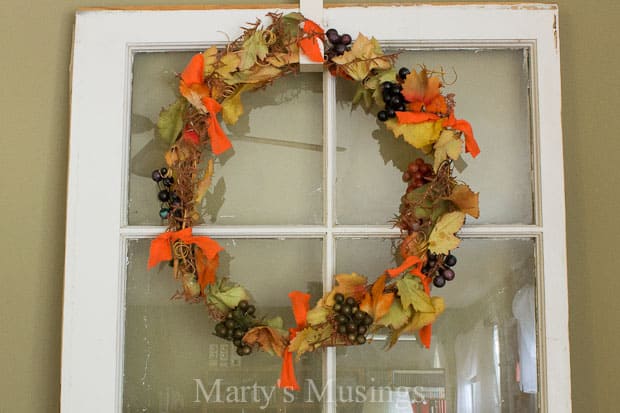 This large mason jar is also a $1 yard sale find and is filled with balls of yarn, pine cones and acorns.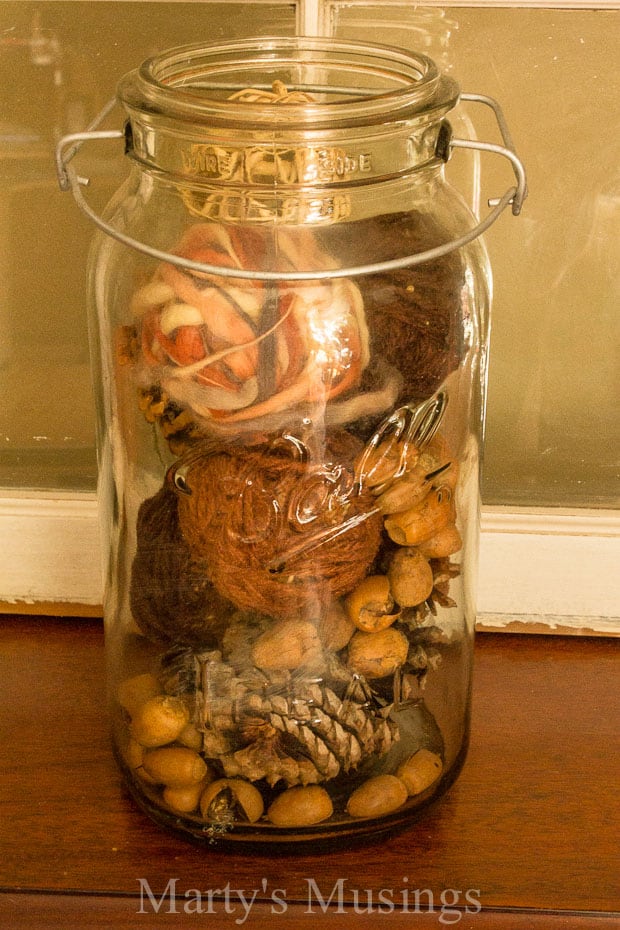 The candle holders were spray painted white and used at my daughter's wedding. I change up the ribbon and embellishments and use them all year long.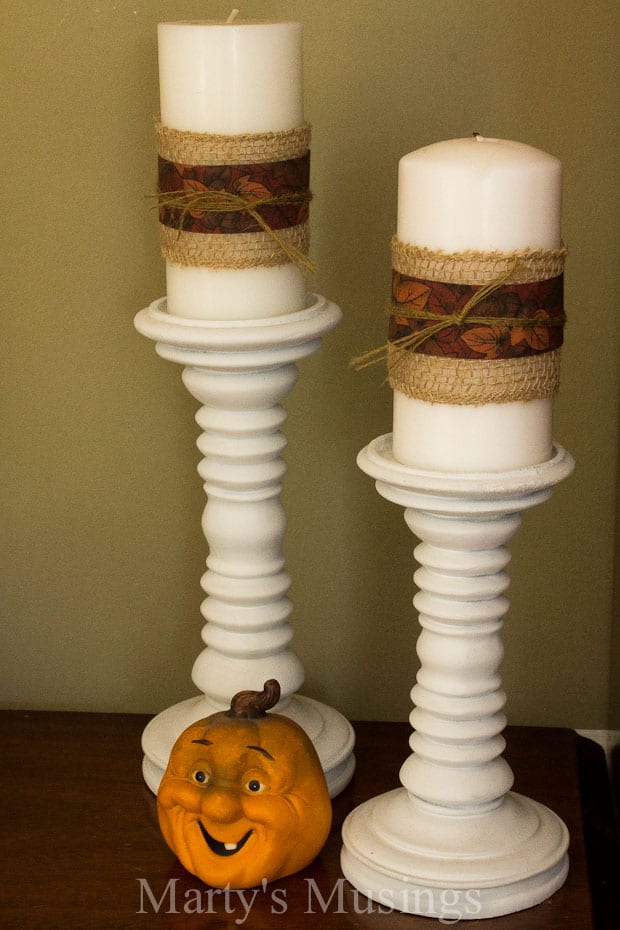 I hope you'll enjoy the little bits and pieces of fall scattered throughout my home.
Here's my happy chair with all the memories that I shared in my Summer 2013 Showcase of Homes tour. My rocker is now dressed up with a yard sale throw and a pillow made from an old sweater.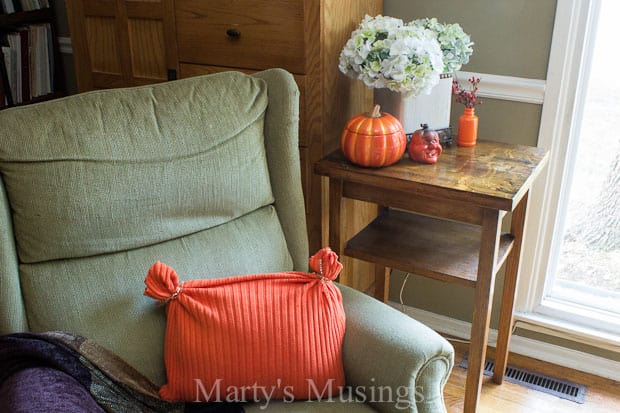 I adore this canister (which came with the coolest lid) and filled with hydrangeas it tones down some of the other fall accent colors.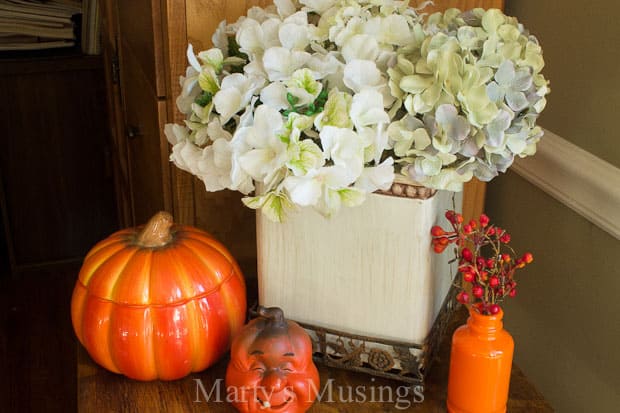 Last year this branch candle centerpiece was the anchor for my kitchen centerpiece but now it graces our rustic window table.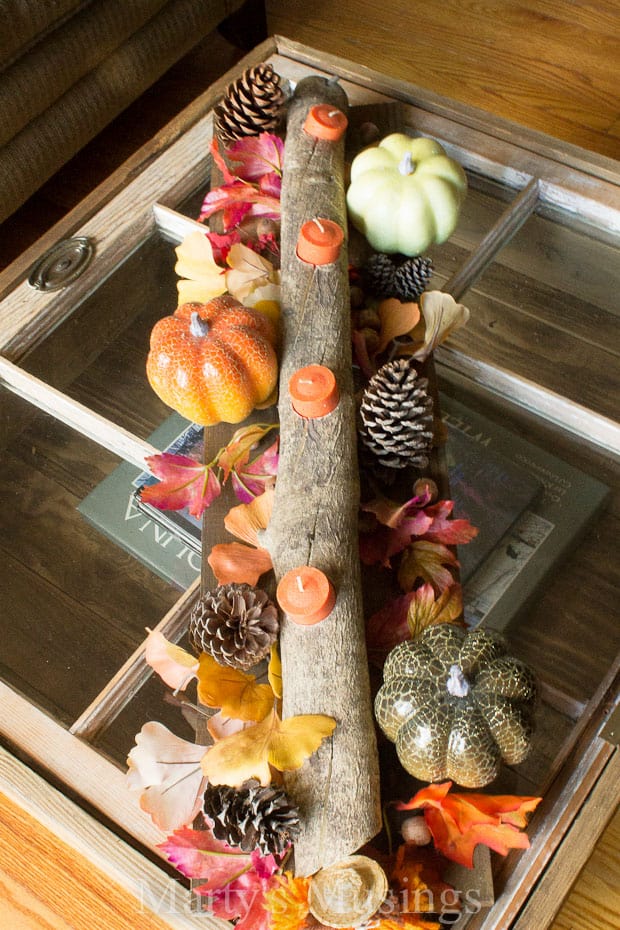 All the accessories were purchased on seasonal clearance at craft stores.
The little scarecrow was made by my now 24-year-old daughter during our first year of homeschooling.
Who am I kidding? She was 5 and I made it for her. Kinda like the Little House on the Prairie diorama we she made.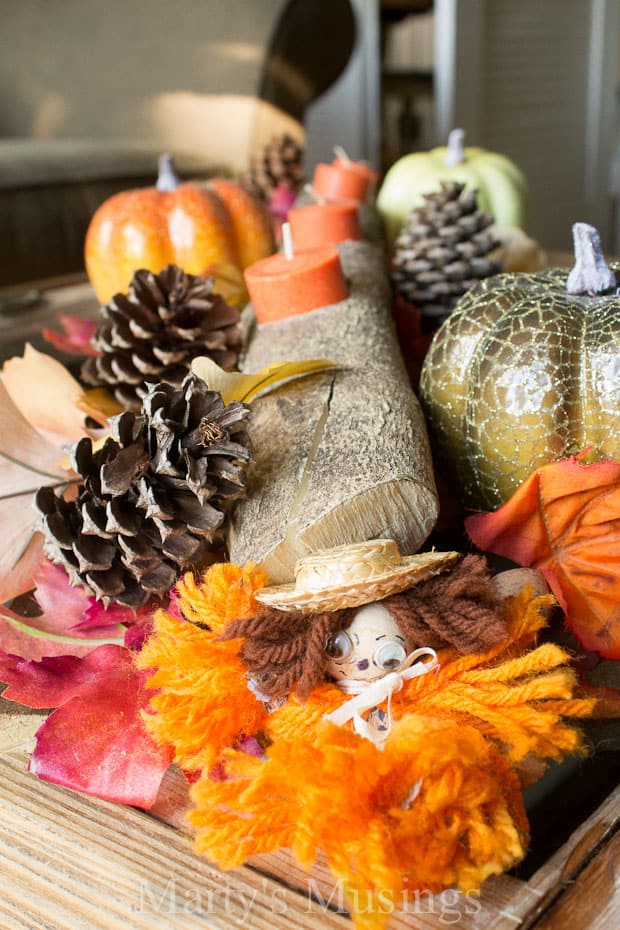 I still love this pinecone door arrangement that I made last year. Now it just resides on the back of the door instead of the front!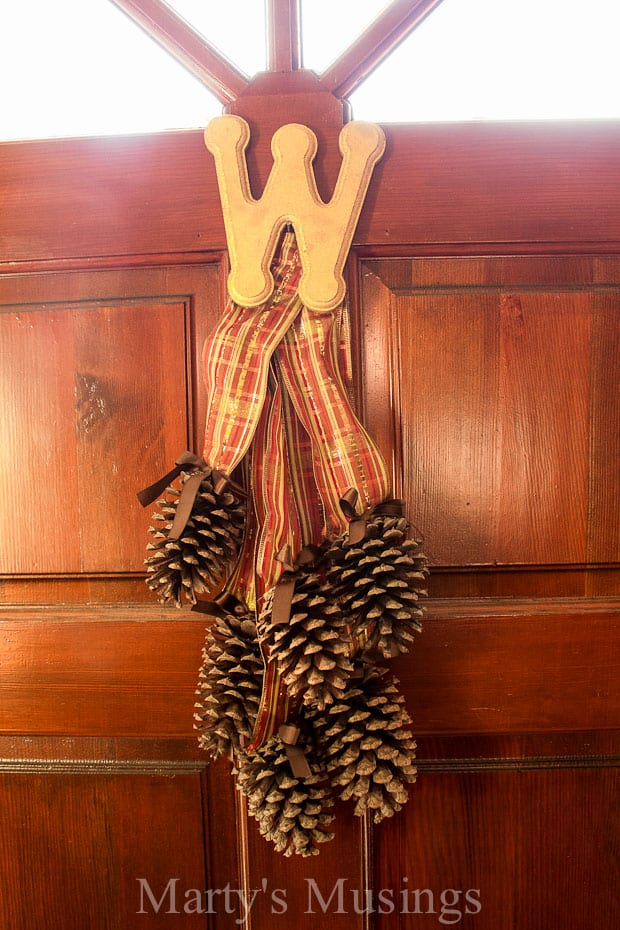 This 3 tiered stand is filled with both natural elements and craft picks.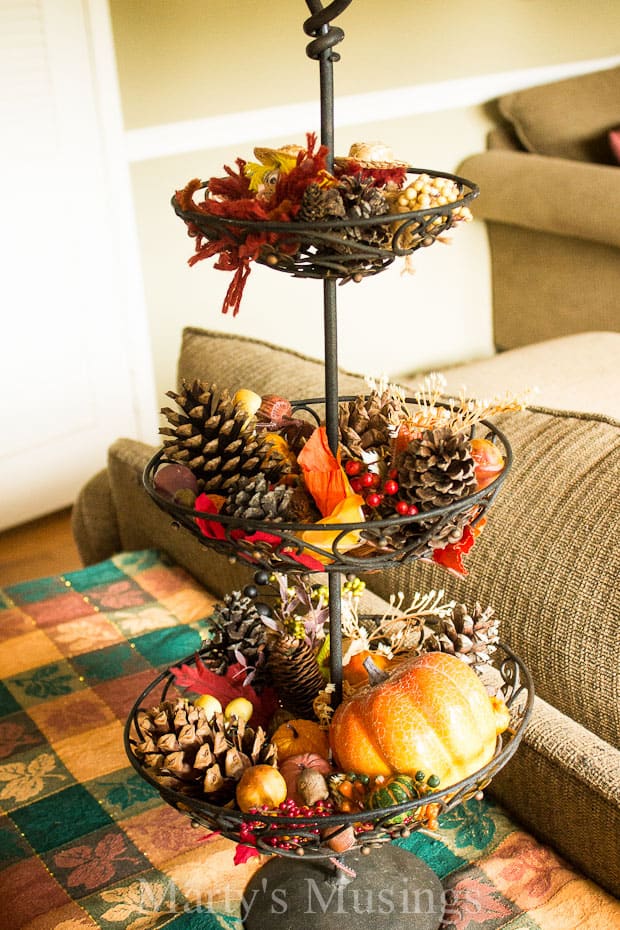 And here it is again…..my daughter's my little homemade scarecrow. Isn't it cute (even though its' pinecone legs are all askew).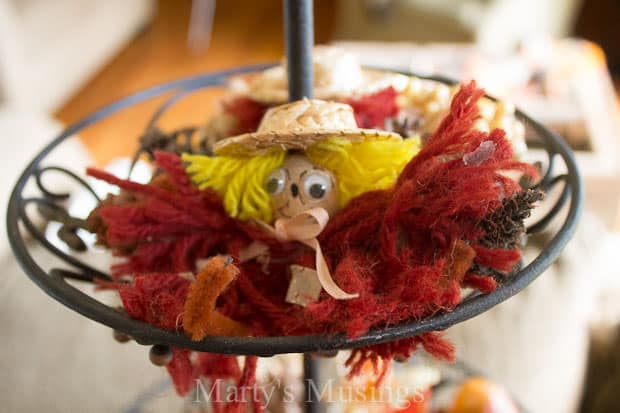 Let's move into the den and I'll show you my second mantel entertainment center that I decorate.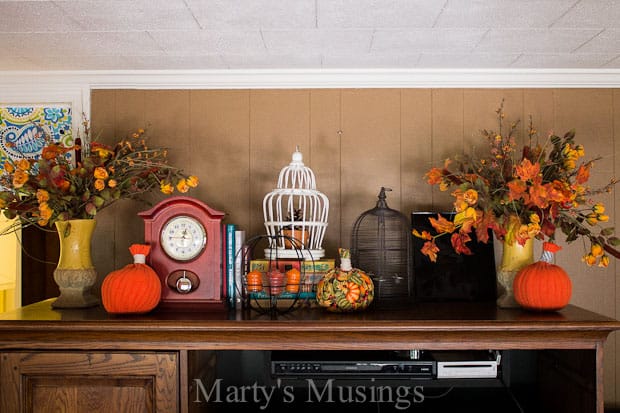 The big flower arrangements on either side were purchased just this past Saturday at a yard sale for $3. Aren't they amazing?
(And no, I didn't notice until just now that I forgot to take the black cable antenna off for the picture. Oops. Just pretend it's supposed to be there.)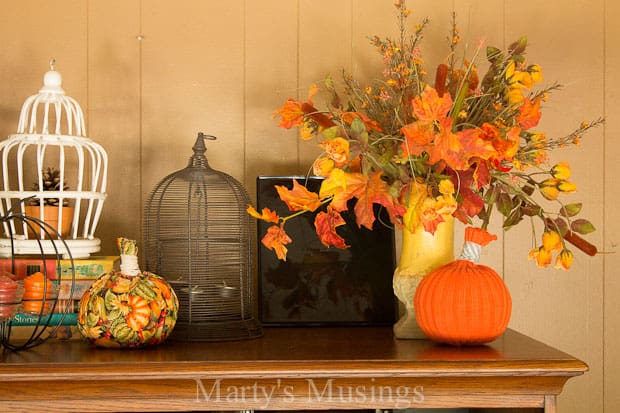 I made little fabric pumpkins and gave little fall accents to some of my normal everyday decor.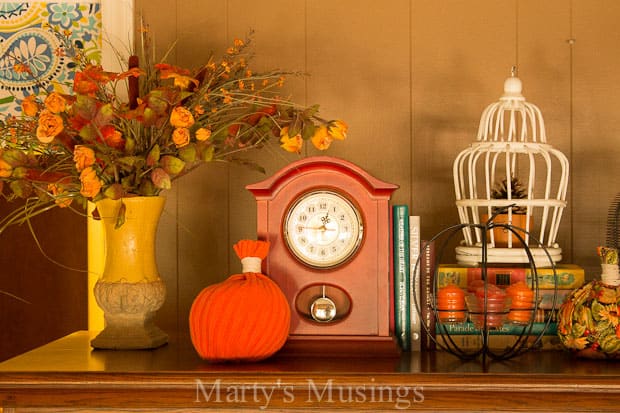 Another burlap wrapped candle with more of the orange accent candles.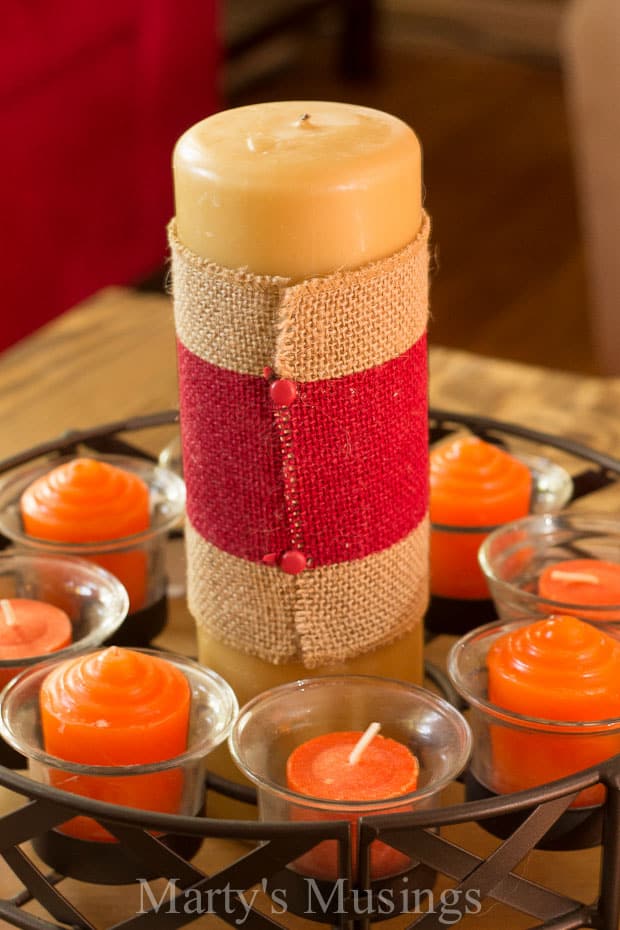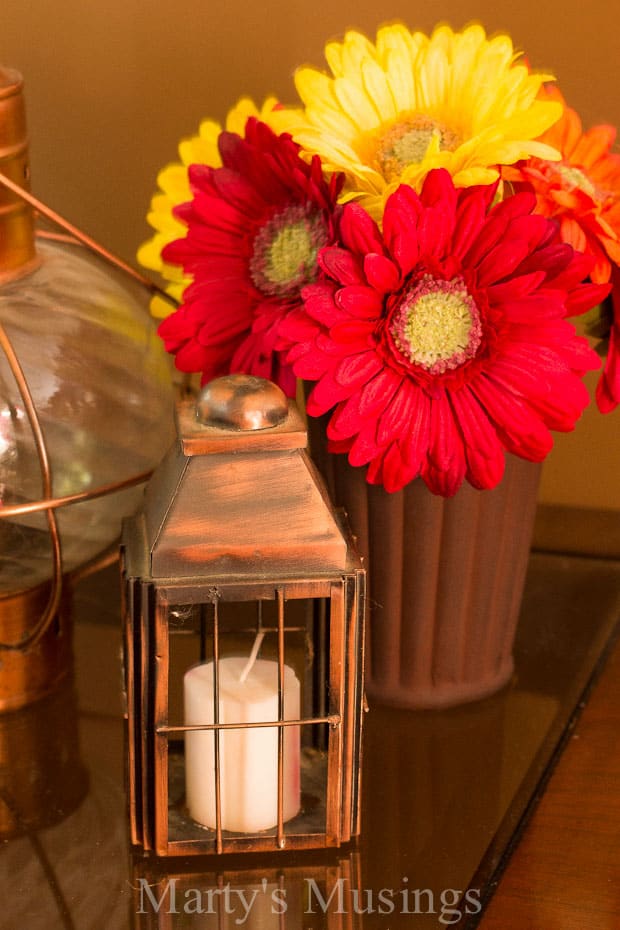 The window at my sink used to be an exterior one, but our house was added on to and it now looks into the den. Not a very interesting sight, but I like to decorate the sill so I have something pretty to look at while I'm washing dishes.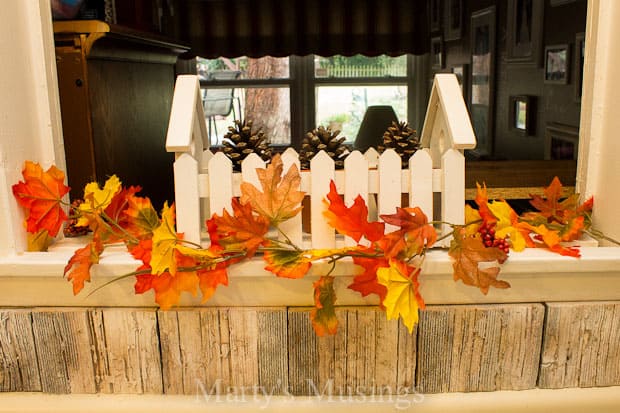 These pinecones in the little mini pots are my favorite frugal decorating items this year. I picked up this picket fence box for $1 this past weekend as well.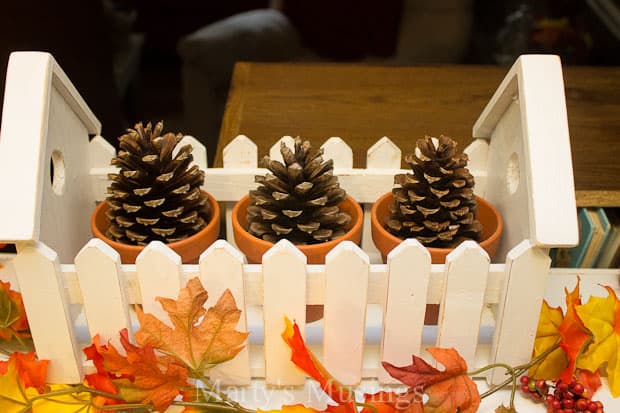 Just in case I haven't made you feel welcome yet, here's a reminder with my chalk message board made from an old bathroom mirror.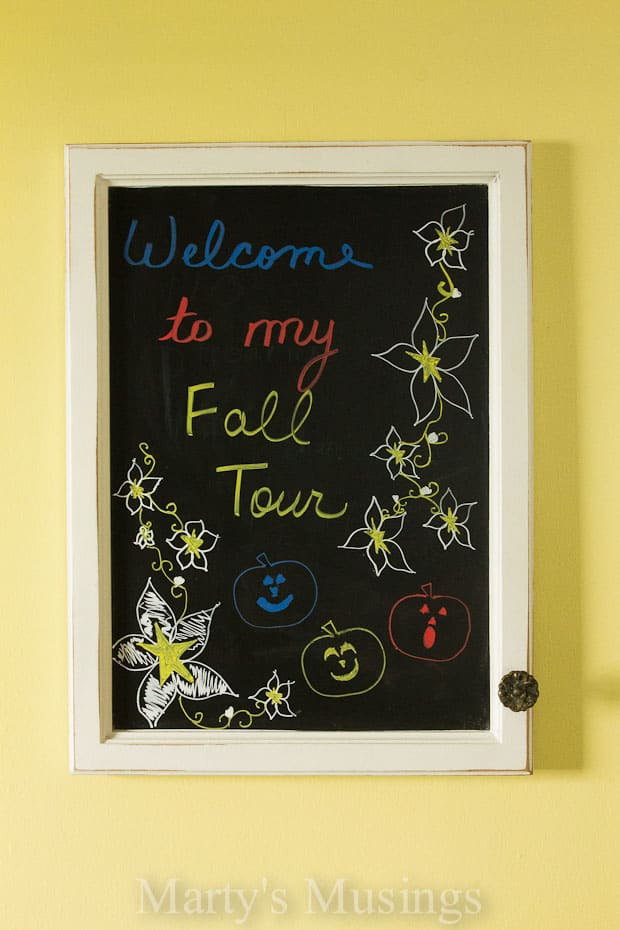 Won't you sit down and have a pumpkin muffin and some southern sweet iced tea?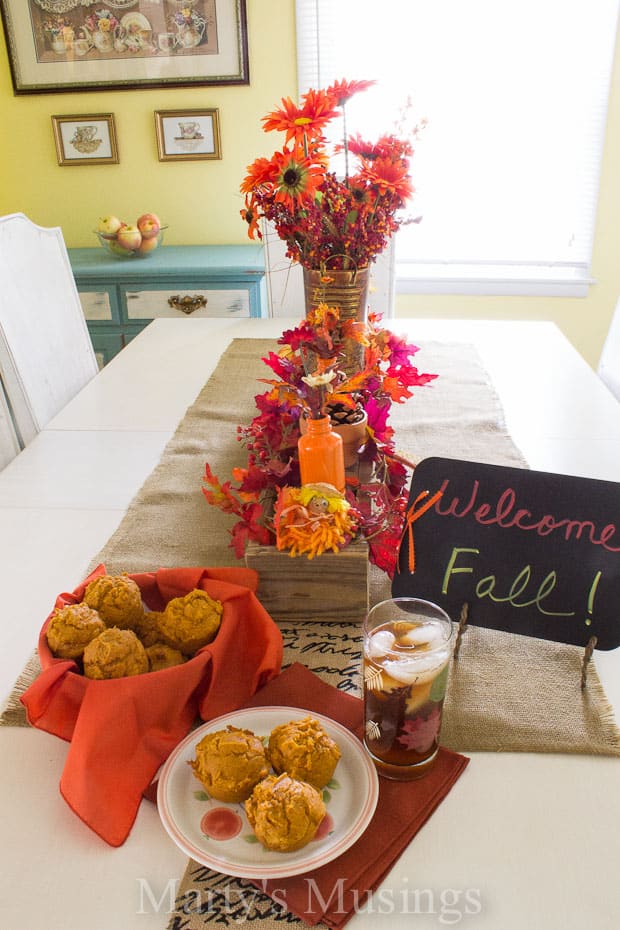 Since my kitchen is my happy place I love that the flowers and little bottles we painted are bright and fun as well.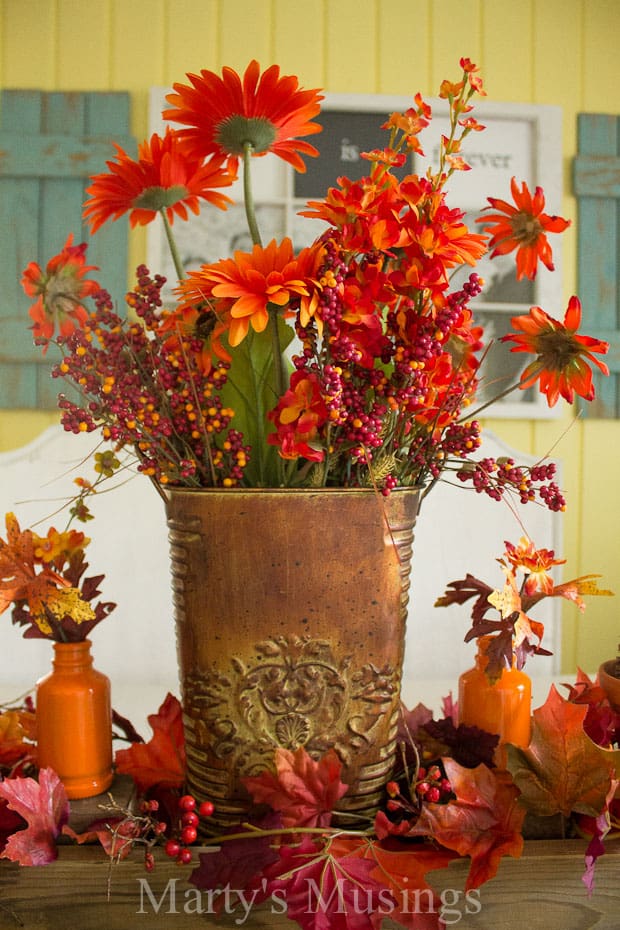 This rustic vase is one of my best finds this summer. Isn't the detailing so pretty with the rest of the tablescape?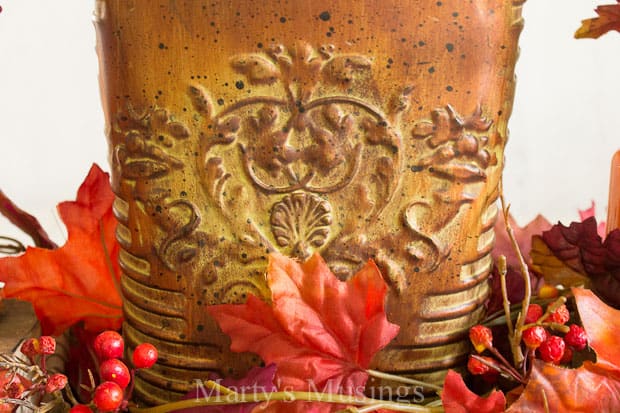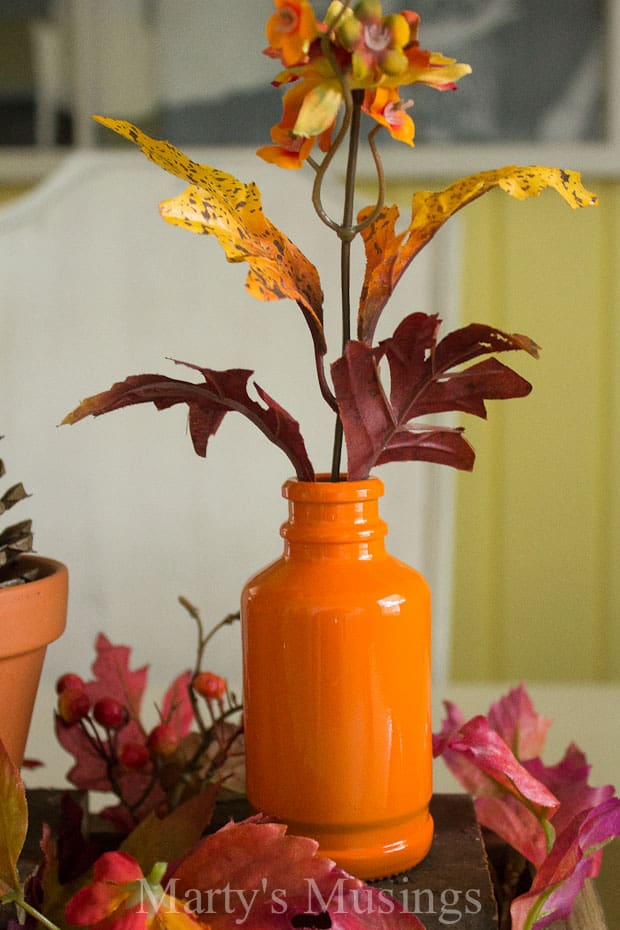 My fence board centerpiece box transitions from season to season.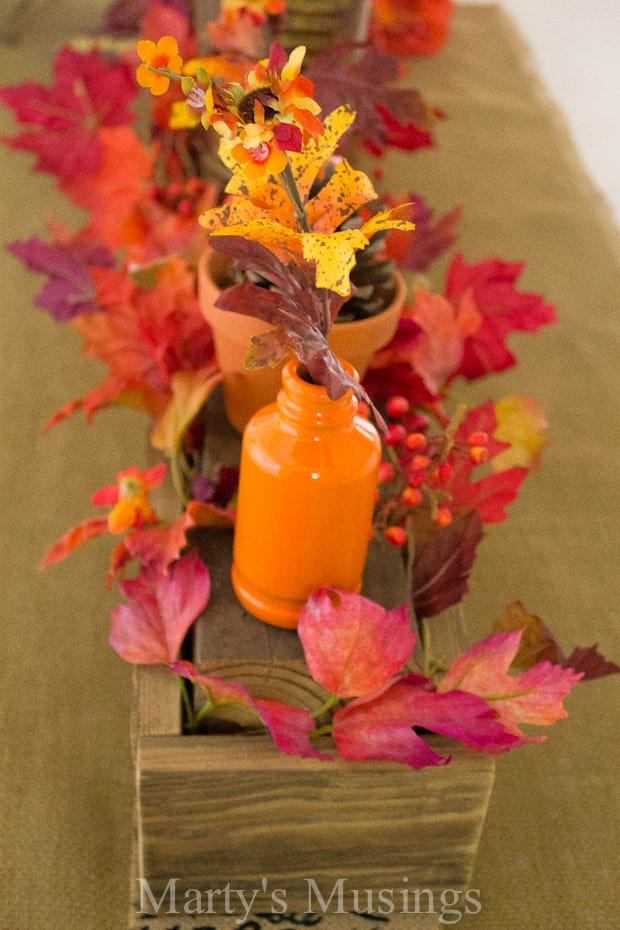 I hope you enjoyed our humble home. Make sure to take a pumpkin muffin on the way out!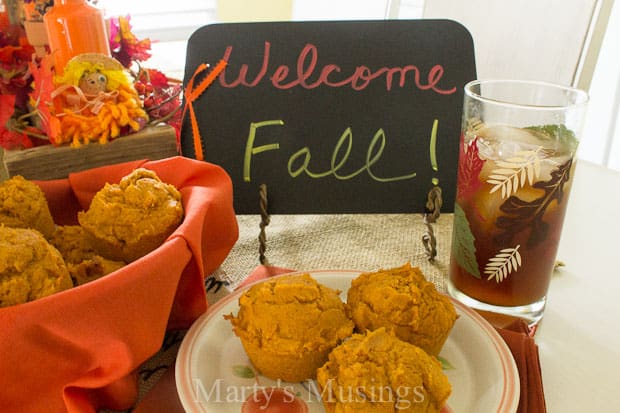 Y'all come back now 'ya hear? (That's Southern for thank you so much for stopping by to visit!)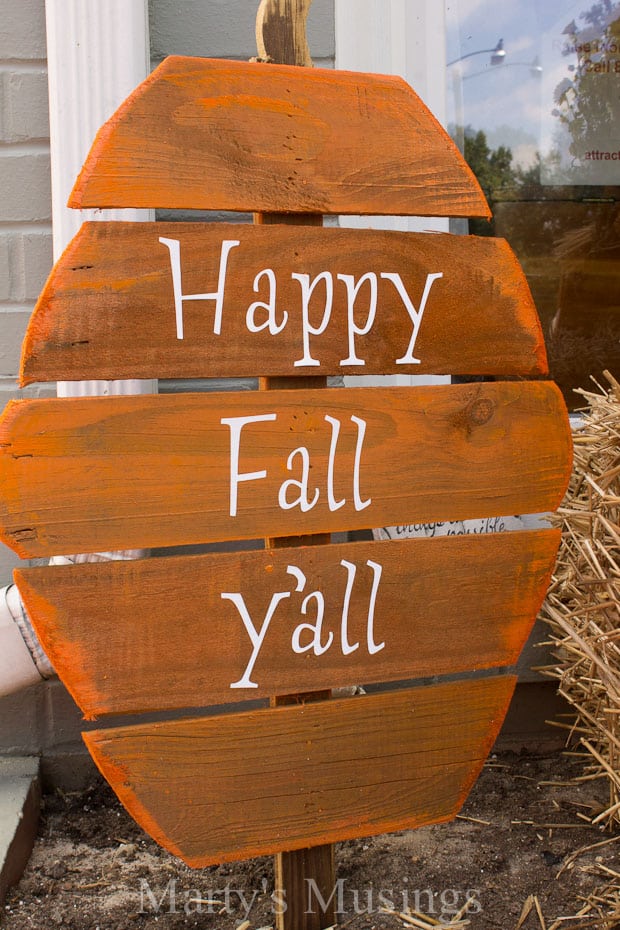 Whew! That was fun! Do you have any fall decorating ideas to share with me?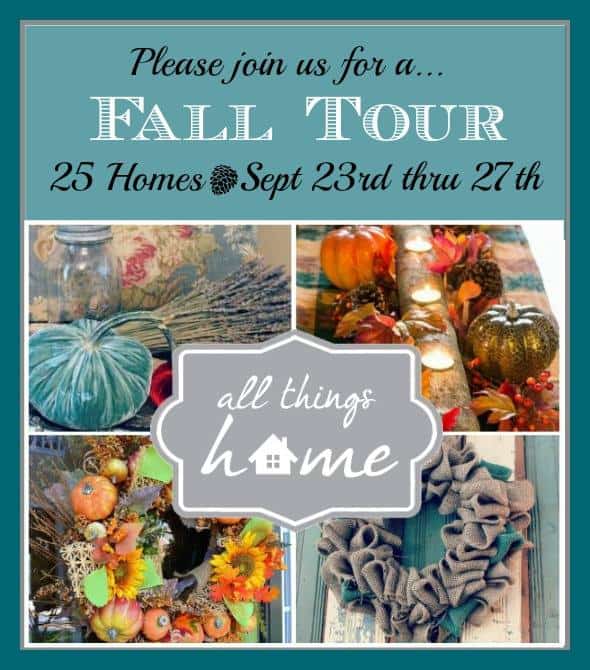 I hope you'll take a few moments and visit all the other wonderful bloggers listed below.
Monday, September 23
Nellie Bellie The Rustic Pig French Country Cottage House of Hawthornes Town and Country Living
Tuesday, September 24
Mom 4 Real Our Southern Home Stone Gable Fox Hollow Cottage So Much Better With Age
Wednesday, September 25
Marty's Musings A Button Tufted Life AKA Design Decor Adventures Confessions of a Plate Addict
Thursday, September 26
Worthing Court Everyday Home Back Porch Musings Inspirations for Moms House on the Way
Friday, September 27
Setting for Four My Uncommon Slice of Suburbia Imparting Grace DaisyMaeBelle At Home with the Barkers