Our Family Needs Your Prayers
This post may contain affiliate links which won't change your price but will share some commission. Read more here.
I had every intention of sharing an adorable post today full of pictures this weekend of our new puppy and, of course, our baby grandson.
Unfortunately, life sometimes shocks us into reality and heartbreak.
Saturday was one of those days.
We got a call early in the morning that my husband's brother had a heart attack.
No warning.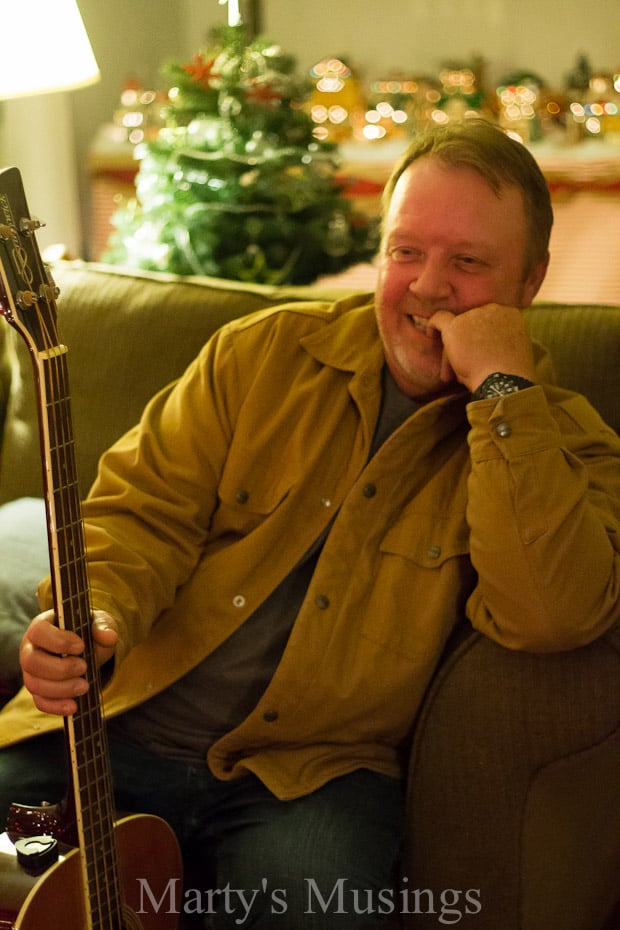 He was at home early Saturday morning with his wife Linda and she heard him fall in their small bathroom. When she ran in there he was lying in front of the door and she couldn't get to him. She called EMS and finally got the door open but couldn't turn him over to do CPR.
When the EMS got to him Todd had no blood pressure, pulse or heartbeat. The EMS shocked him and by God's grace he is still alive.
He was in a medically induced coma through hypothermia for several hours to reduce brain damage.
Sunday he underwent a heart catherization and a stent was put in and an impella inserted (temporary). Then they began the process of warming his body back to normal temperature. Unbelievably there doesn't seem to be any neurological damage and they're beginning to wean him off things with the ultimate goal of being off the ventilator with his heart functioning on its own.
Tim flew down Monday to be with the family.We believe in a God who is the divine Healer and know that He will be glorified in a mighty way through a complete healing.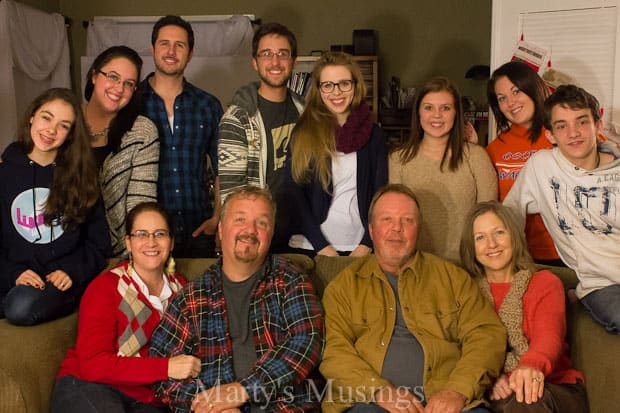 (Picture of our two families in December 2013)
I experienced the loss of my sister in 2000, at almost the exact same age as Todd. A heart attack stole her from our family.
This weekend I cried. I wept. I got down on my knees and begged God to spare Todd's life.
Then life went on even in our grief as we visited our son and daughter-in-law in Raleigh and watched Joshua lead worship at his church.
In the midst of great anxiety and pain we worshipped.
Here's just a snipped of our son leading us into the presence of God, our great hope and healer.
Our family needs your prayers for Tim's brother Todd, that our Maker will heal him and be glorified for the world to see.
We are so grateful for your support and love.
Read more about our family with the big news I shared, why I went to see a therapist and how I gave up my dreams.
(If you are reading this via email or reader just click on the post title to watch the video.)
I didn't realize this song was written by Joshua's worship leader at The Summit. Here's his original video:
Create in Me by Kelby Dover
Lord, you know my deepest sin
The secrets I've been keeping in
This fight is harder than I ever thought it'd be
O God, I need your grace to finally be set free
Create in me a clean heart
Fill me with your Spirit, God
Awake my soul to thirst for you alone
Lord, I'm wounded and worn out
Everyday a battleground
This fight is harder than I ever thought it'd be
O God, I need your grace to finally be set free
Prone to wander Lord I feel it
Prone to leave the God, the God I love
Here's my heart Lord take and seal it
Seal it for Thy courts, Thy courts above