How to Decorate a Bedroom (for Practically Nothing!)
This post may contain affiliate links which won't change your price but will share some commission.
Learn how to decorate a bedroom for practically nothing using yard sale finds, thrifted decor and creative DIY projects.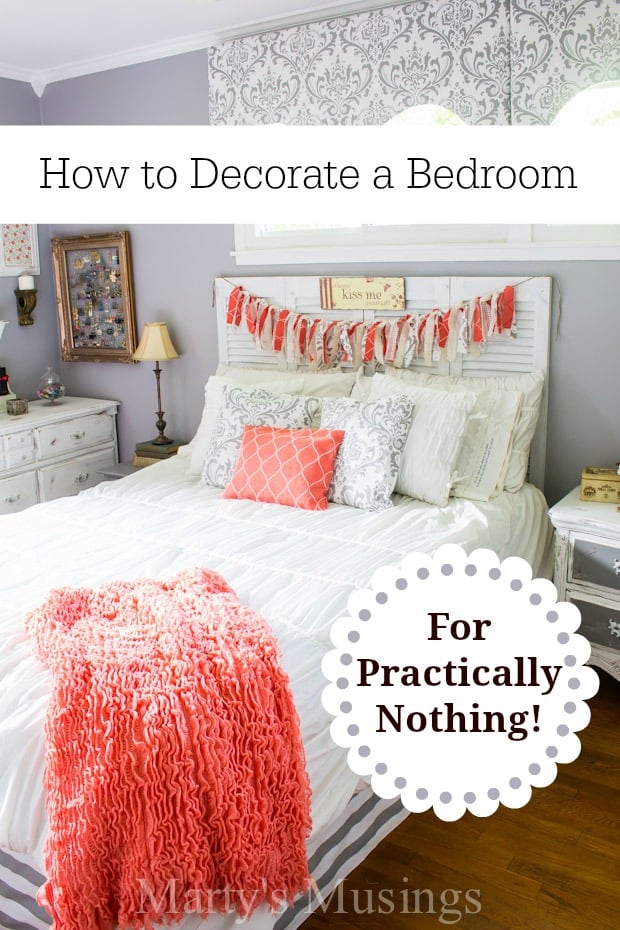 When I shared my master bedroom makeover a couple of weeks ago I told y'all it was a budget makeover where everything except for one or two items (and I mean EVERYTHING) was either a DIY project, a yardsale find or a hand me down.
Now hopefully y'all know I'm a painfully honest person (just ask my family) but I thought I'd back up those claims with a few details.
I would love to say I had this room all planned in my mind when we started, but that's far from the truth! My husband and I are totally backwards than most (shocker) because we pick out the paint color first and go from there!
Then when I decorate I literally go shopping in my attic and at yard sales to bring the room together one piece at a time.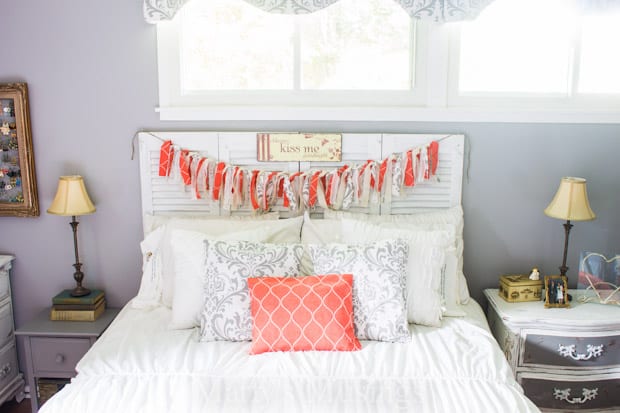 I think it would be delightful to go to a real store and buy all the accessories in one fell swoop, but where's the challenge in that?
The truth is this room means more to me because (much like our dream deck) it took some time and creative thinking to pull it together.
Now I'm not going to show you all my tricks because hopefully you'll want to come back for part two!
How to Decorate a Bedroom for Practically Nothing!
Here's a shot of one of the outside walls.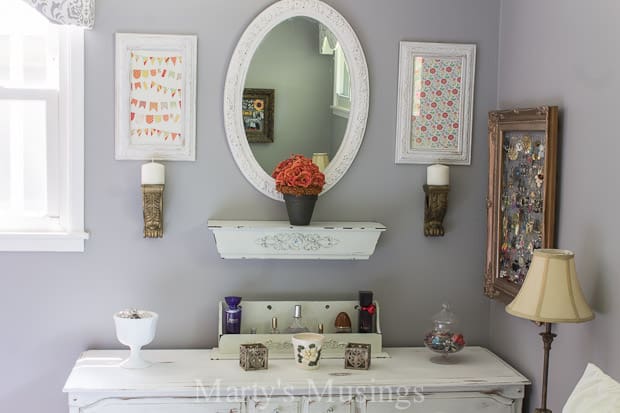 The shelf was a $1 and it was perfect as is with the little pot with coral flowers (also $1).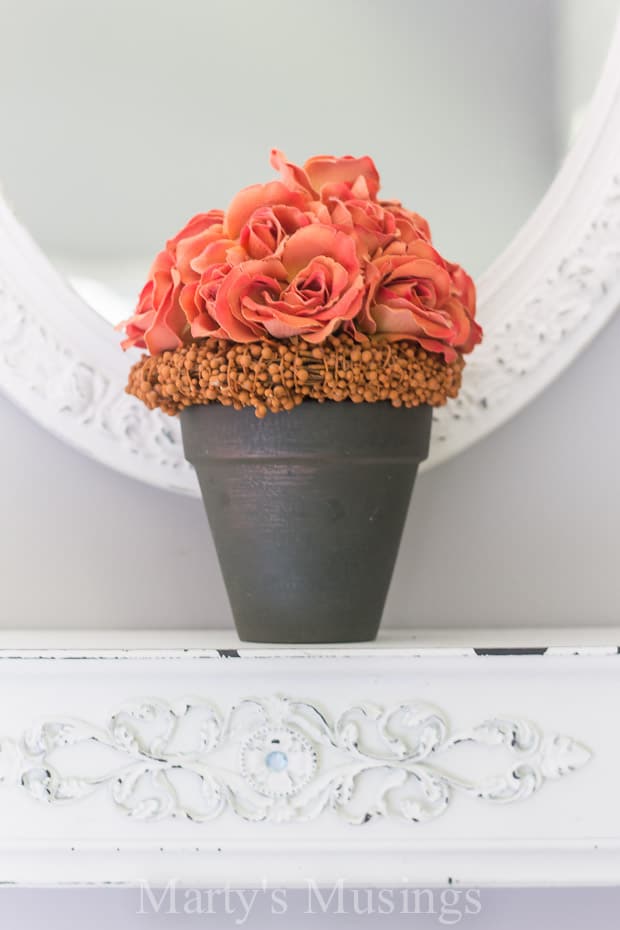 This little white milk glass vase was a $1 yard sale find that was previously in my chalk painted hutch and now stores bracelets.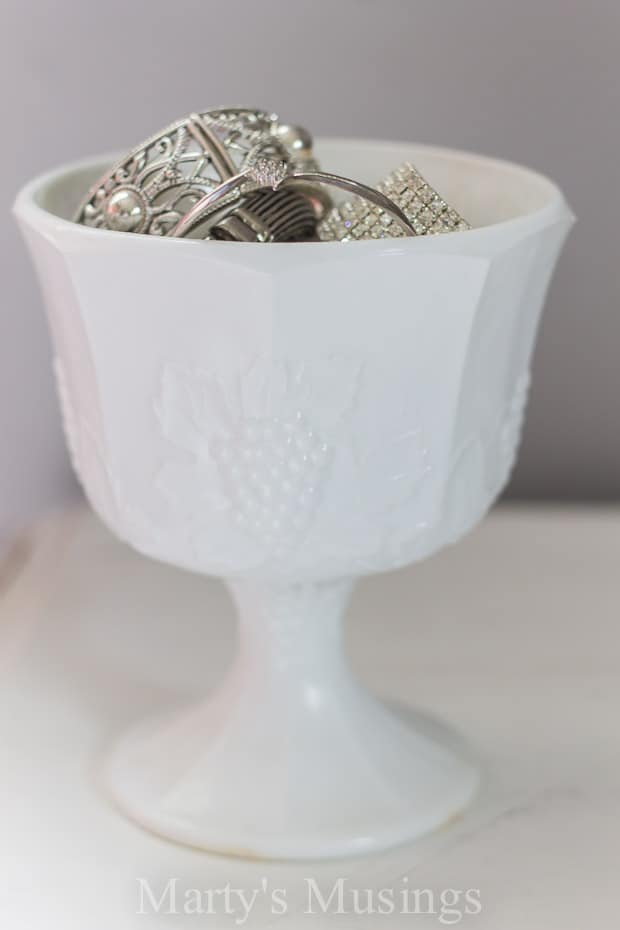 Details on the DIY Earring Organizer to come soon but I love the yard sale frame that I painted and Tim added chicken wire to the back for all these cute earrings!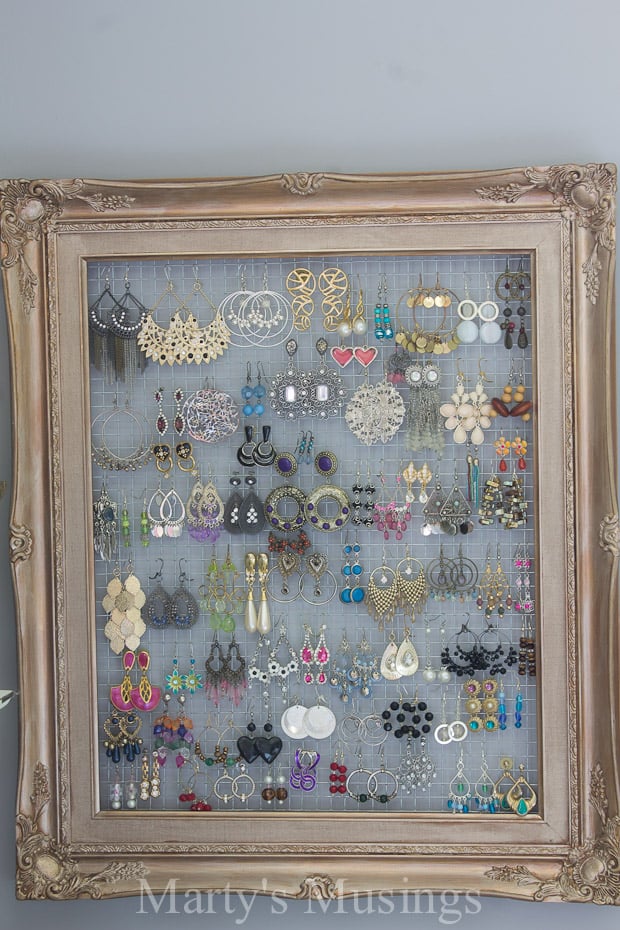 The white comforter was a hand me down from my married daughter and the smaller pillows were no sew projects.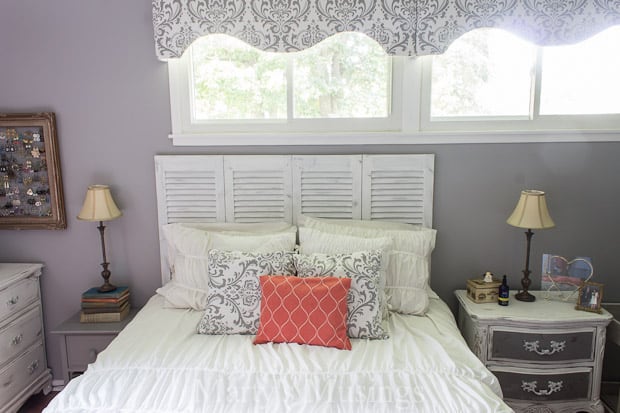 At $1 each these brand new pillowcases were a steal and are a treasure. What a sweet reminder as I lay my (exhausted) head down each night.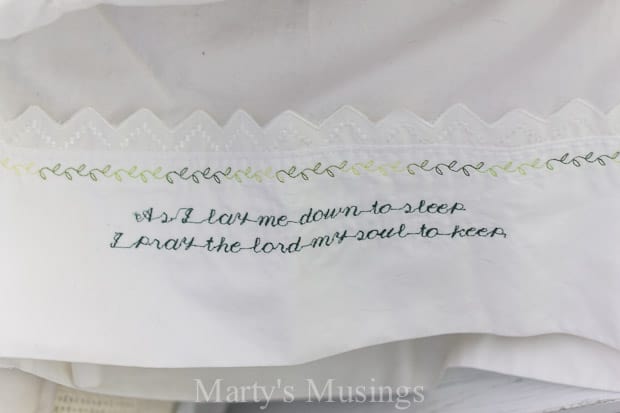 On either side of the bed are these matching lamps that were $5 for both. I know. A real splurge.
I wasn't sure when I bought them if I could make the gray, burnished gold and metals work together throughout the room, but I'm so glad I went with my gut and bought these!
The side table was $5 and was painted in an accent gray. The basket houses my husband's "stuff" next to the bed. Wasn't I generous to give him a whole basket? Poor thing.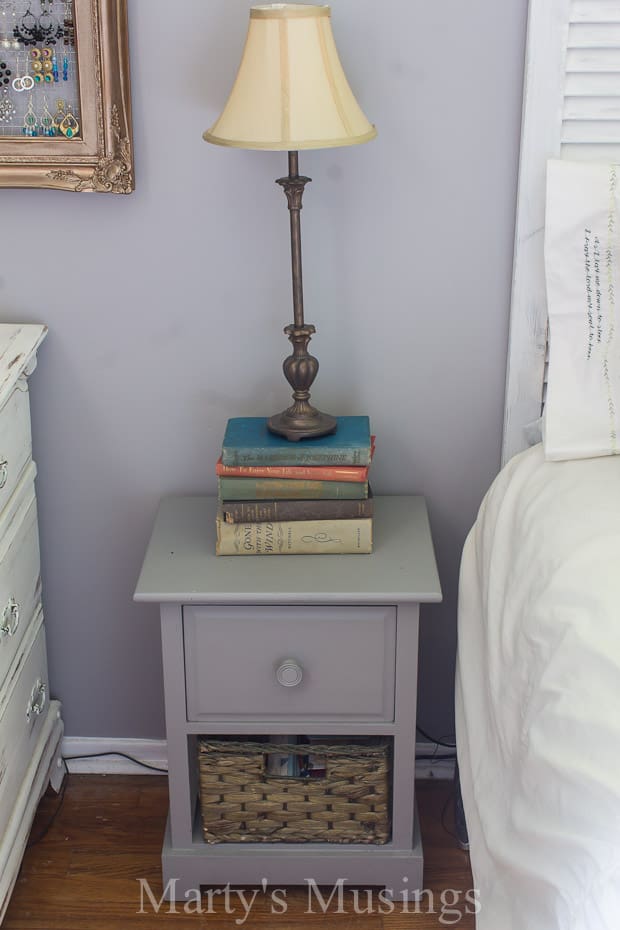 The books were found in a box on the side of the road as we were walking through the neighborhood. I especially like the one entitled How To Stop Working and Start Living! Surely there's a way to do both!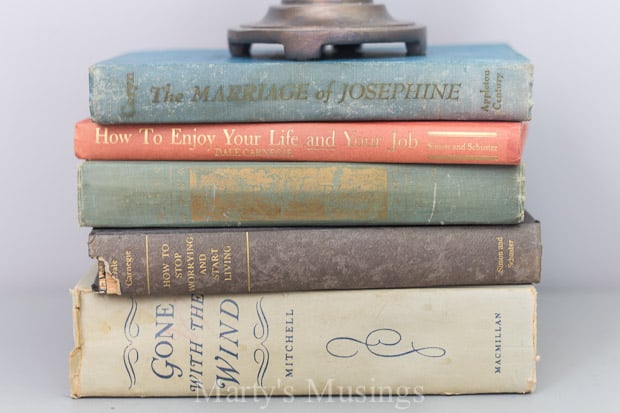 On this wall you can see the the yard sale frames and other items on the dresser.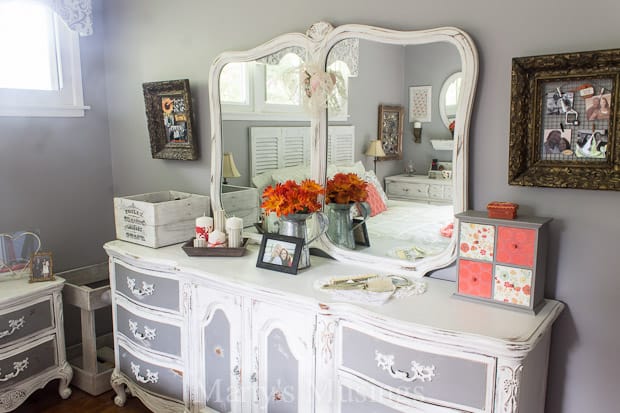 Would you believe if I told you these striped looking candle holders were actually wooden curtain rods a customer gave my husband? He just cut them in sections, cut out an opening for a tea light candle, and I grouped them all together in this little wooden box.
My favorite tip to make old candles new? Wrap with fabric and a little bit of ribbon!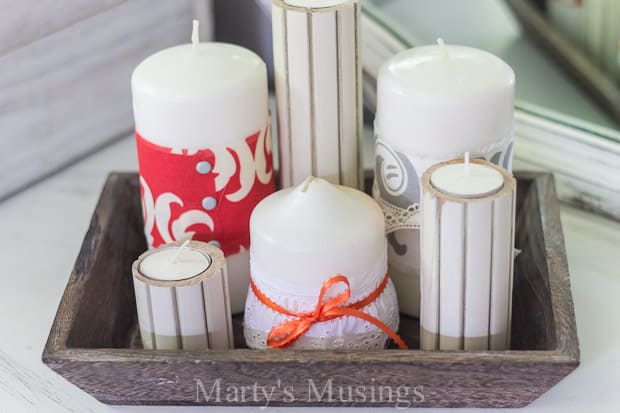 A vintage brush and comb set passed down from my mom rests on vintage handkerchiefs. Simple and free!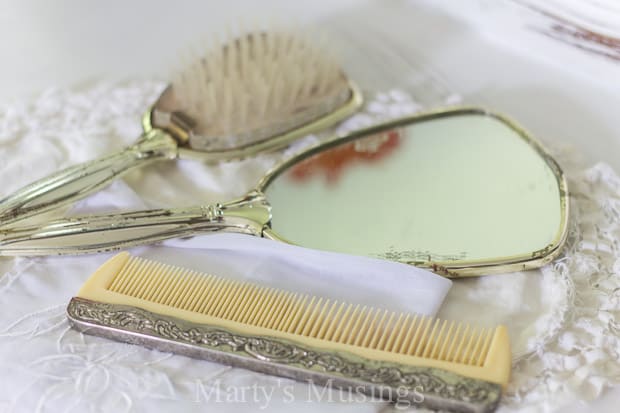 I needed something to corral my ugly "necessities" so Tim built this fence board box (did you know we love fence boards?) and my son and I together added the vintage graphic. ( I know. I know. Another tutorial coming soon!)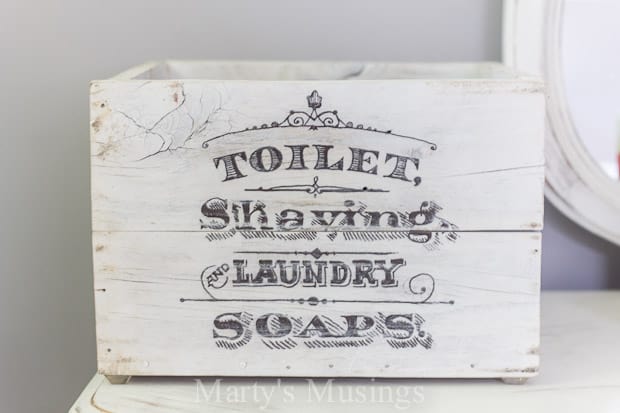 I know everyone should have real flowers in their bedroom, but let's get real. How many of us have enough time or money for that?
These silk ones add a pop of color to this $1 yardsale metal pitcher.
This picture? 27 years of wedded bliss, (Okay maybe there were lots a few rocky moments. Just keepin' it real!)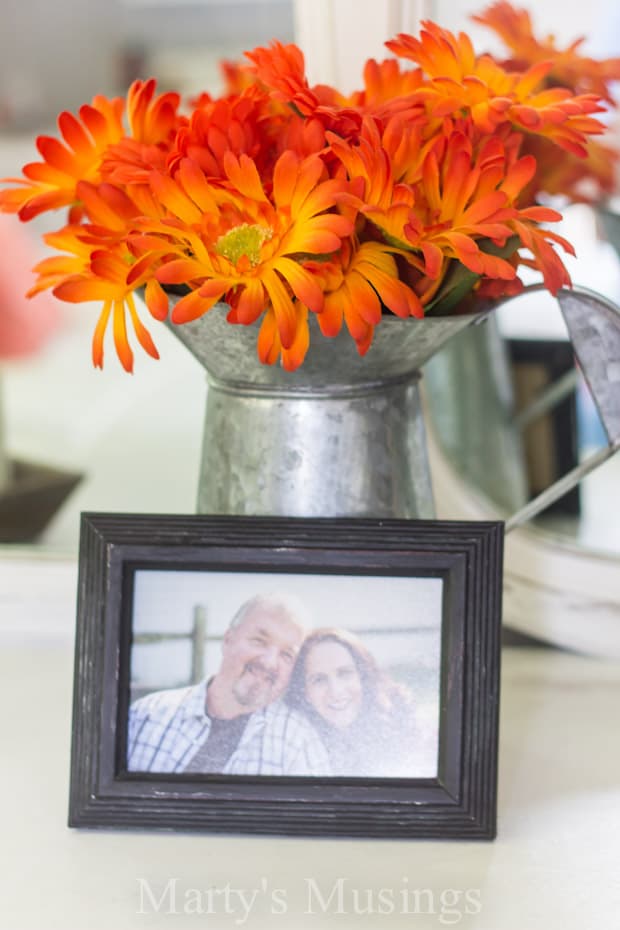 I hope you enjoyed learning how to decorate a bedroom for practically nothing and that you're inspired to make some changes in your own home without spending a lot of money!
In another upcoming post I'm also going to share some before and afters on how you can buy thrifted decor and make it work for your style. But until then take a look at this post for some great yard sale tips!