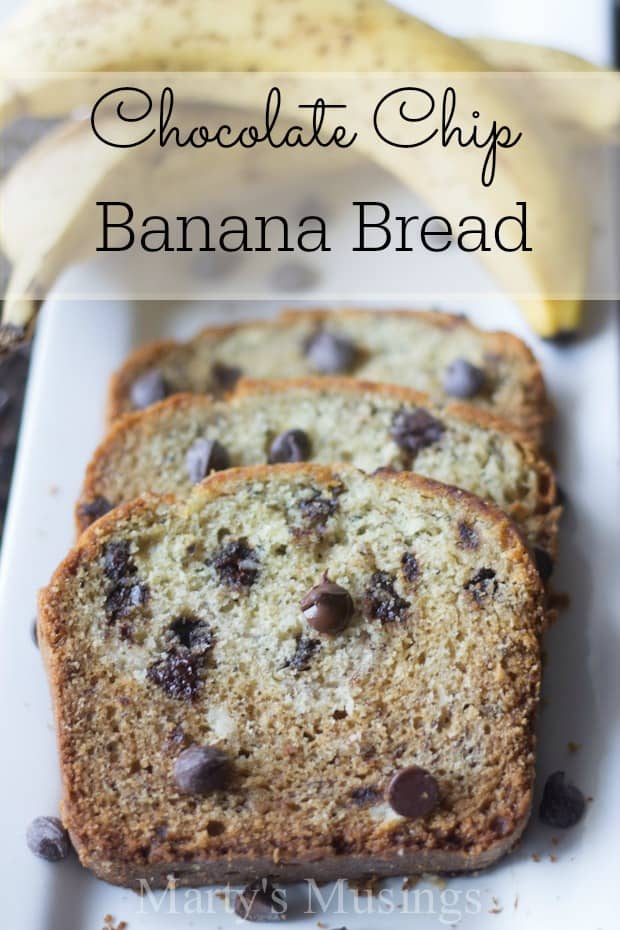 What do you get when you combine bananas and chocolate chips?
A most delicious bread to serve for family or friends.
Whenever I take this to get togethers I am always asked for the recipe.
My homeschooled kids learn to bake with this recipe (yes, it's that easy!) and I love that it only uses one mixing bowl!
***Easy Tip: This recipe is also a great way to use bananas that are starting to brown. You can also freeze them and then thaw to use in this recipe or smoothies.
Chocolate Chip Banana Bread is delicious served warm with cream cheese and a cup of Instant Russian Tea.
Enjoy!

Chocolate Chip Banana Bread
Ingredients
¾ cup sugar
1½ cups mashed banana (3 large)
¾ cup vegetable oil
2 eggs
2 cups all purpose flour
½ cup chocolate chips
1 tsp baking soda
2 tsp vanilla
½ tsp baking powder
½ tsp salt
Instructions
Grease loaf pan (approximately 9x5x3) with shortening and flour.
Mix sugar, bananas, oil and eggs in a large bowl with a wooden spoon.
Stir in remaining ingredients and pour into pan.
Bake at 325 degrees for 60 to 70 minutes or until wooden toothpick inserted into center of bread comes out clean.
If top starts to brown too much cover with foil until done.
Let cool 10 minutes, loosen sides of loaf from pan and remove.
Notes
I freeze bananas that are starting to turn brown and then thaw to use with this recipe. I love this recipe because it only uses one mixing bowl and one loaf pan. We love to double the recipe and freeze a loaf for later. Can also cook in smaller loaf pans but decrease cooking time.
Want some more bread recipe ideas?
Simply click on the link to be taken straight to the recipe.