Budget Decorating Ideas for the Deck
This post may contain affiliate links which won't change your price but will share some commission.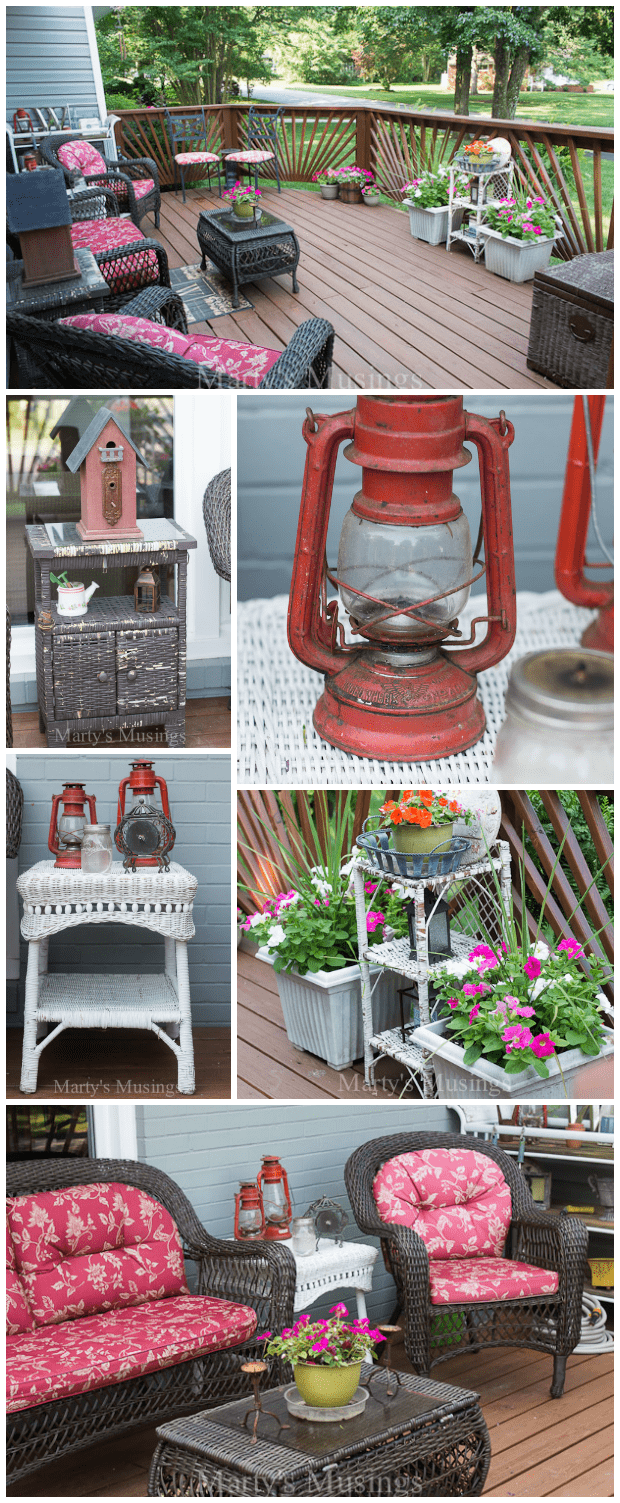 Do you love a good before and after as much as I do?
What is it that we love?
The ugly duckling picture of an unloved house/deck/piece of furniture dying for new life stirs something inside of us.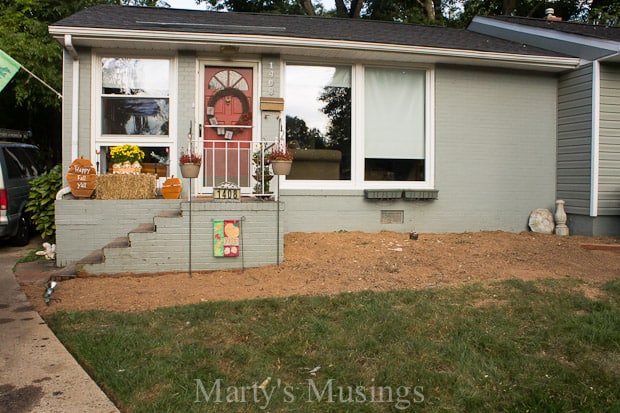 Why does this fascinate us so?
I think maybe it's because it gives us hope.
And permission to dream.
Because sometimes our everyday lives are just plain hard.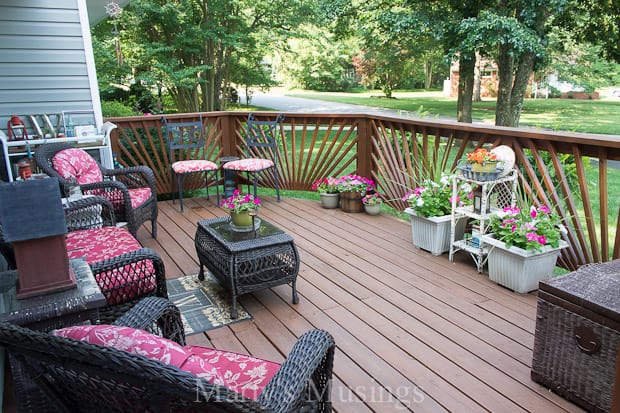 Okay, more than just sometimes. And hard just doesn't describe some of those particularly painful days, am I right?
I believe deep inside each of us is the desire to hold onto the hope that we can be better, stronger, happier, more amazing.
We surf the internet and Pinterest looking for inspiration.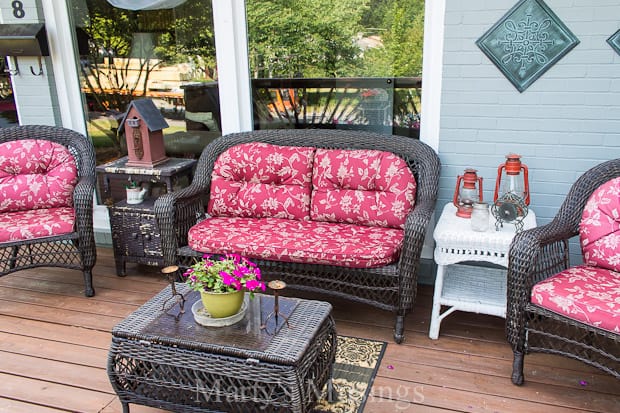 (Come on. Y'all know you do that, too! You can follow me here!)
What we probably don't realize is everything we need is inside of us, a gift from a loving God.
Strength. Beauty. Determination. Passion. Vision.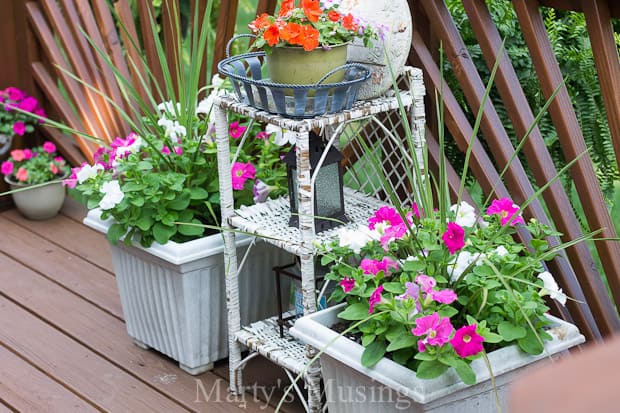 If I'm honest, I'll admit that I'm tired and more than a little discouraged.
Life has beaten me up pretty hard and I don't feel very strong, determined, passionate and certainly not so beautiful.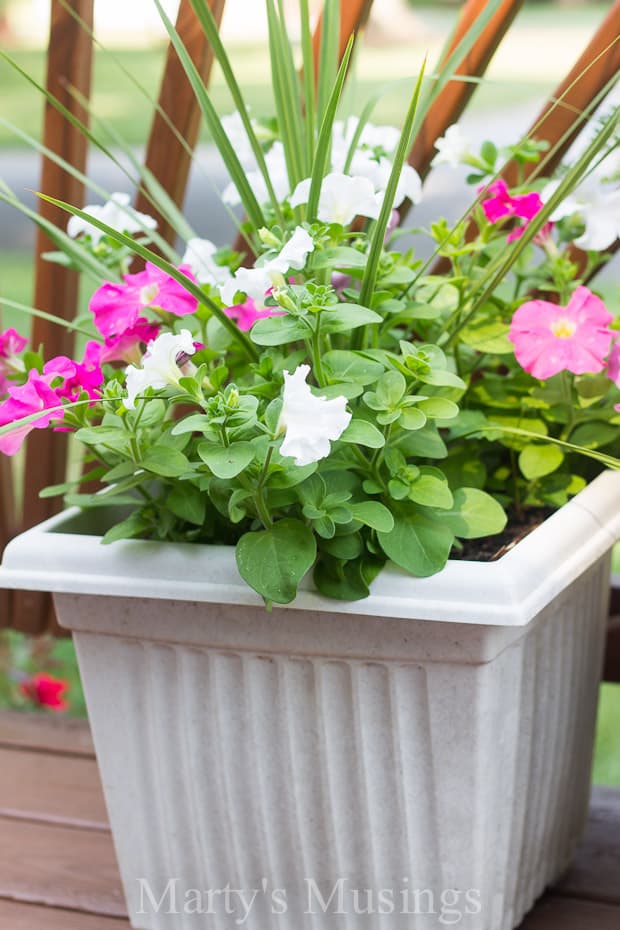 Yet when I spend time on our dream deck I look around at all the curbside, thrown away junk or yard sale treasures and see the new life they bring to our outdoor enjoyment.
I feel a little spark of hope being rekindled in me.
My house is not a show house. Better Homes and Gardens is not knocking down my door for their next issue (although that's still on my bucket list!)
My house is a home and our deck is the fulfillment of a dream. I couldn't have imagined all the joy this little piece of real estate would bring in the year since it was built.
Our rustic, chipped treasures are much like these muscles and bones of mine, aging in spite of my hopes to stay young.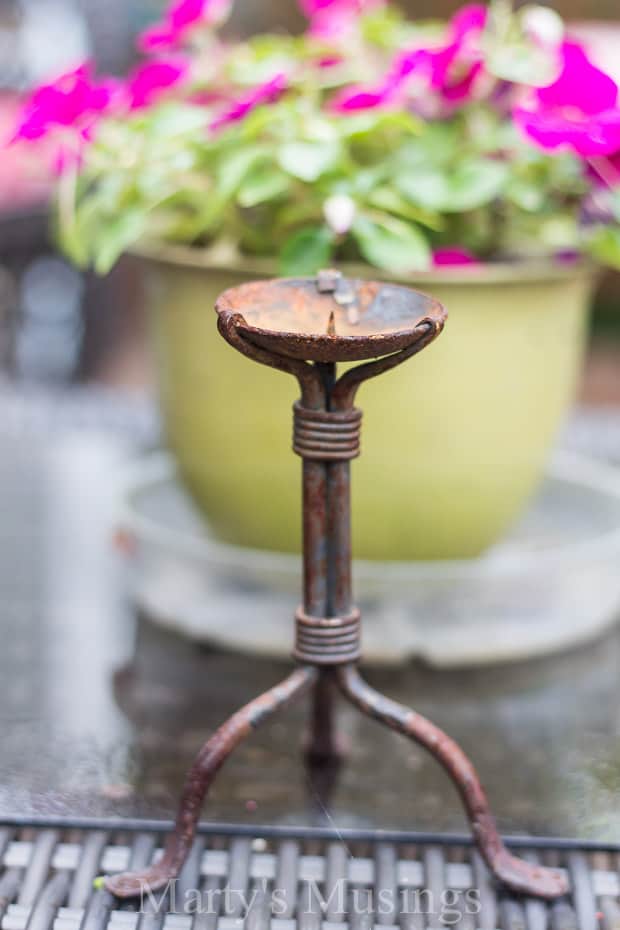 I love buying inexpensive little jewels like this vintage tea container and discovering how to turn these budget decorating ideas into perfectly arranged beauties.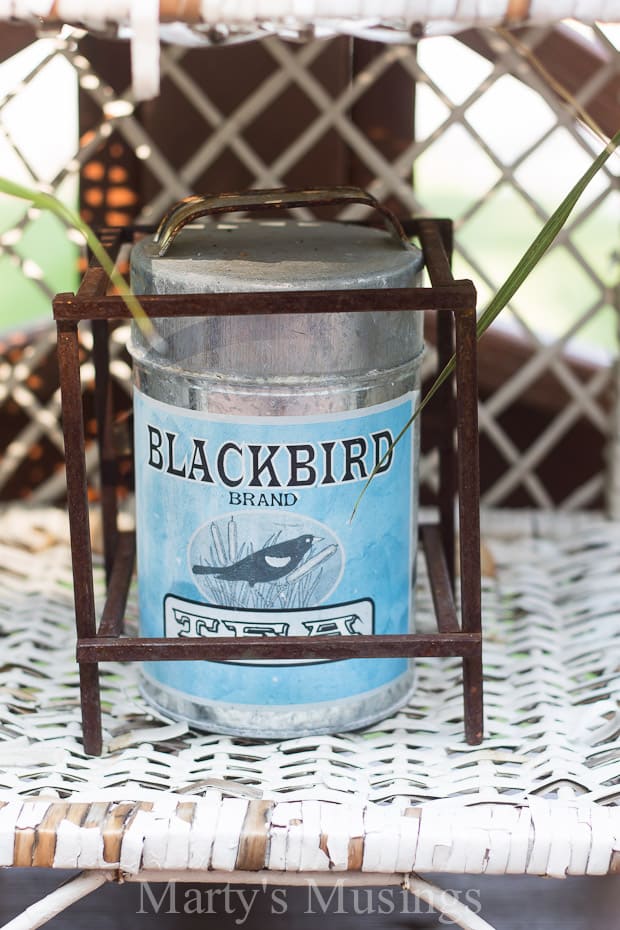 There is such history in these well worn, unusual, one of a kind little prizes I discover along the way.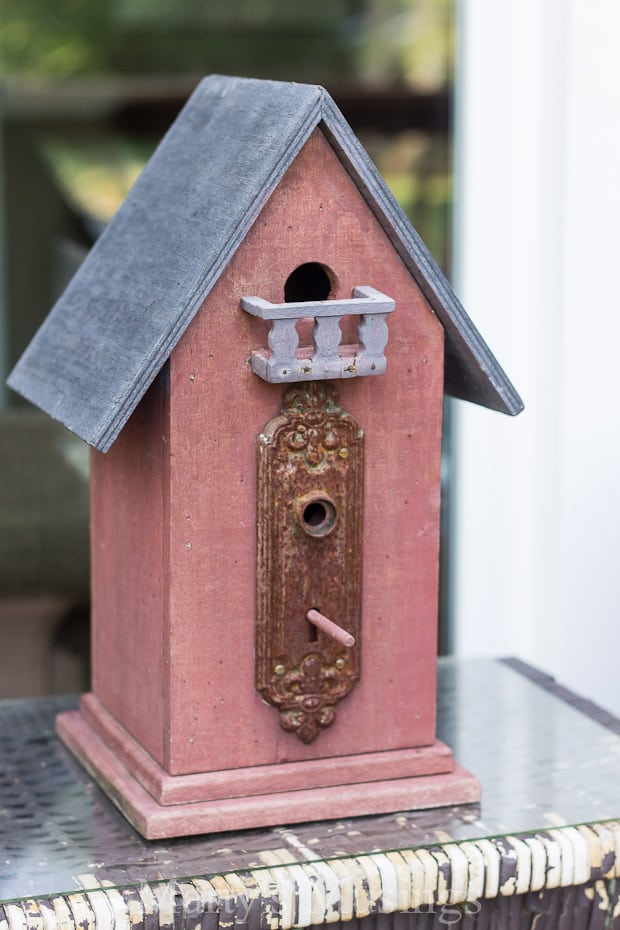 A watering can with a broken handle sits on a chipped castoff table beaten by the rains and storms of the past year.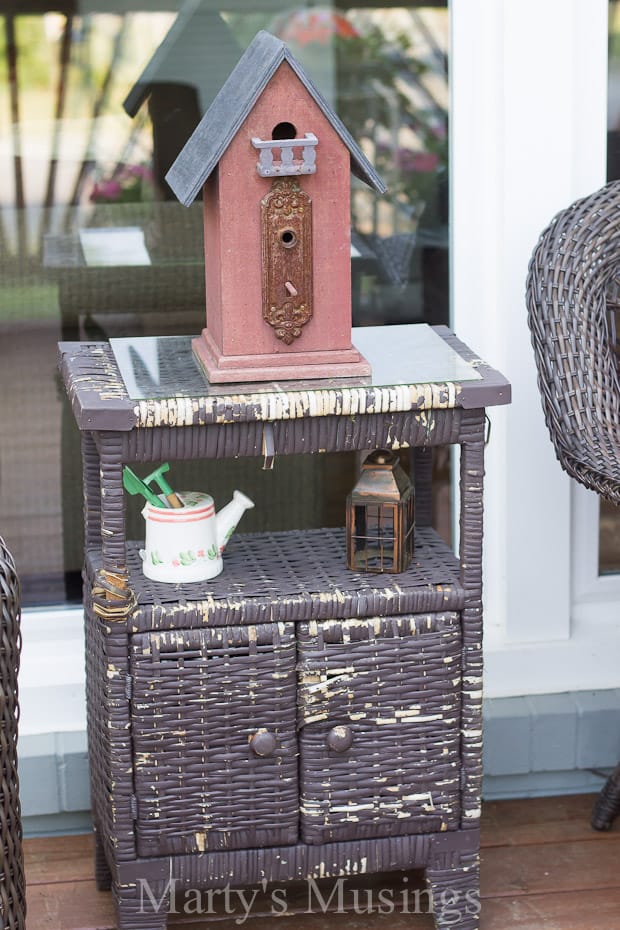 This $10 yard sale chest finds its perfect place by the stairs.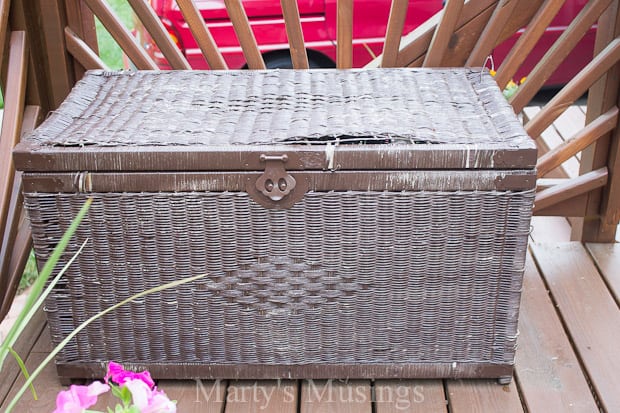 Flower petals drop all over the deck but their beauty lifts my spirits every day.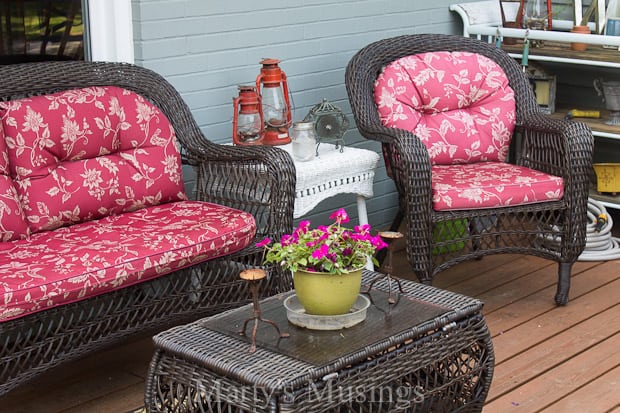 A sun dial marks the passage of time (a gift from a long time neighbor) and resides in a corner all its own.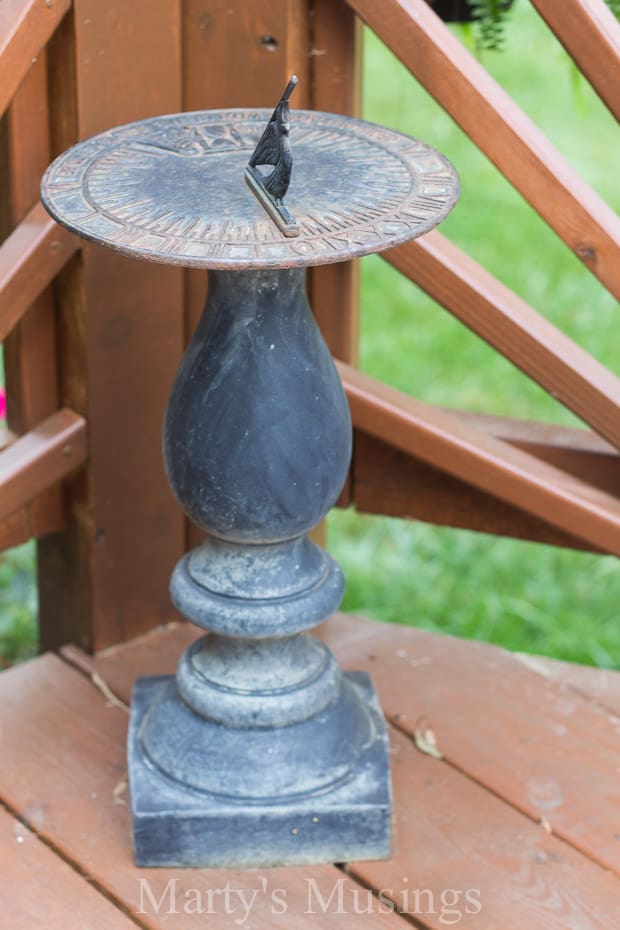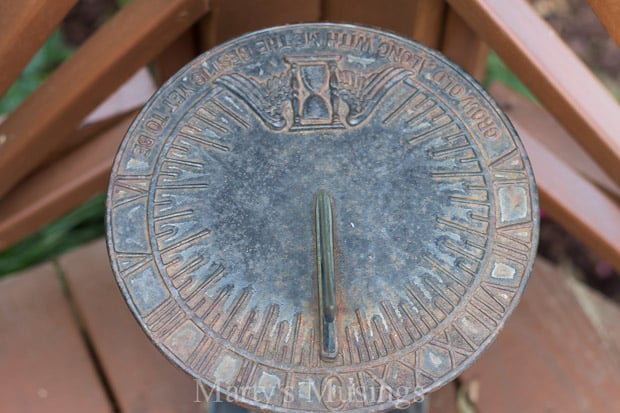 A metal clock that doesn't work (because who really needs to count time when you're relaxing and letting the cares of the world dissipate?) takes center stage on a $3 yard sale table with $1 red hurricane lanterns and a DIY mason jar citronella candle.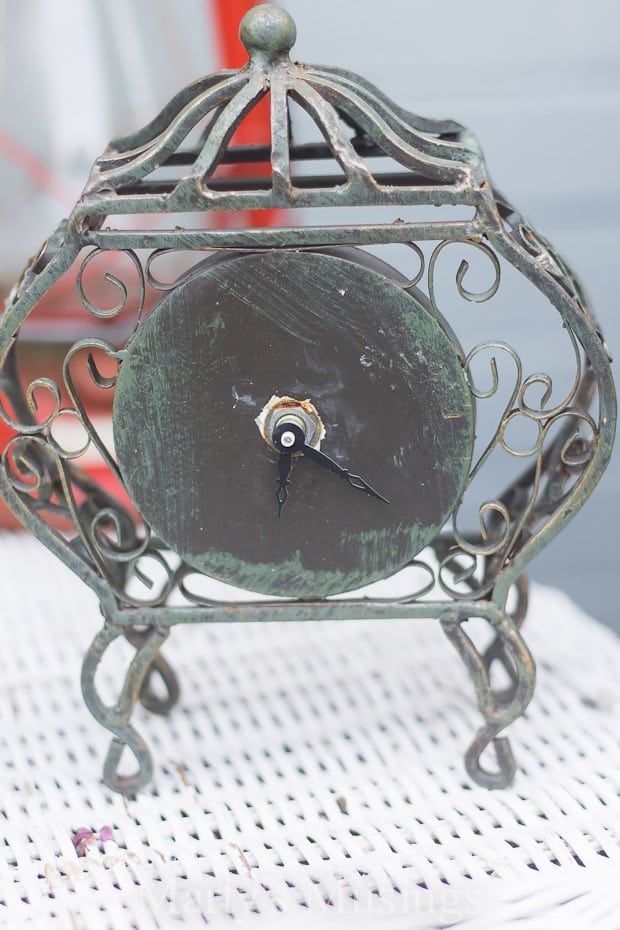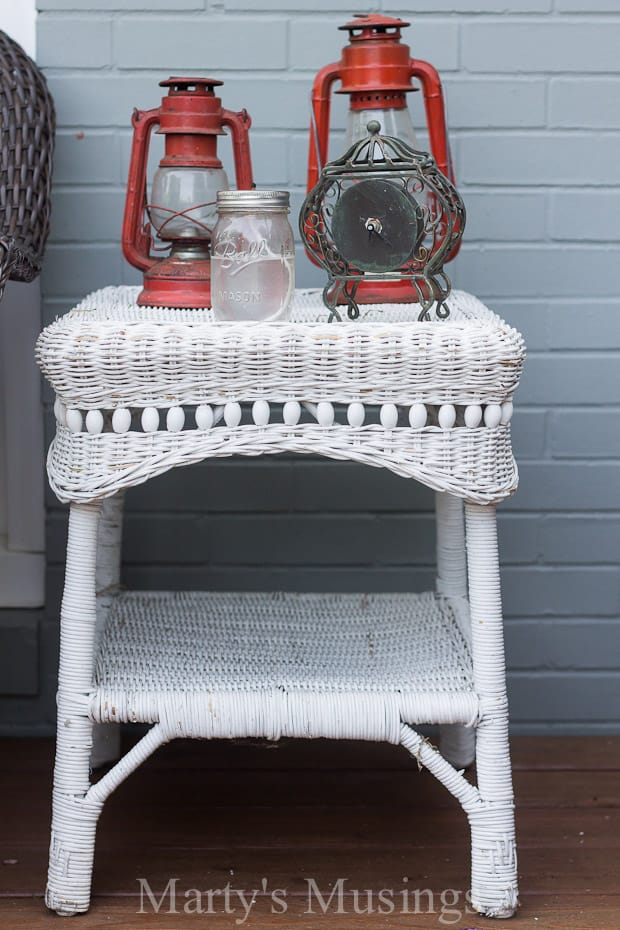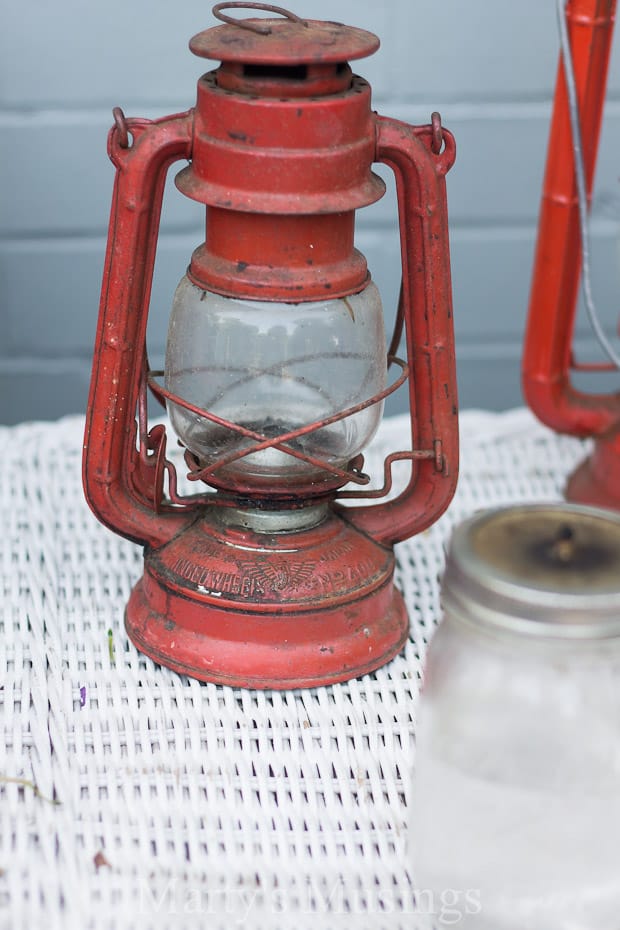 A quaint corner with a changing table turned garden cart provides a perfect nook for reading in the cooler shade of evening.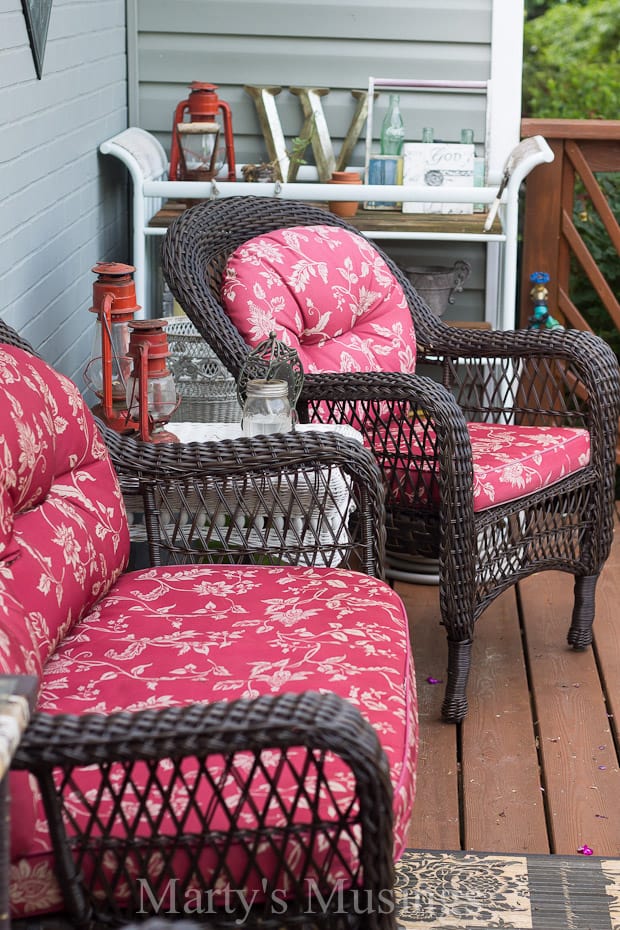 Sometimes you just have to grab tranquility wherever you can.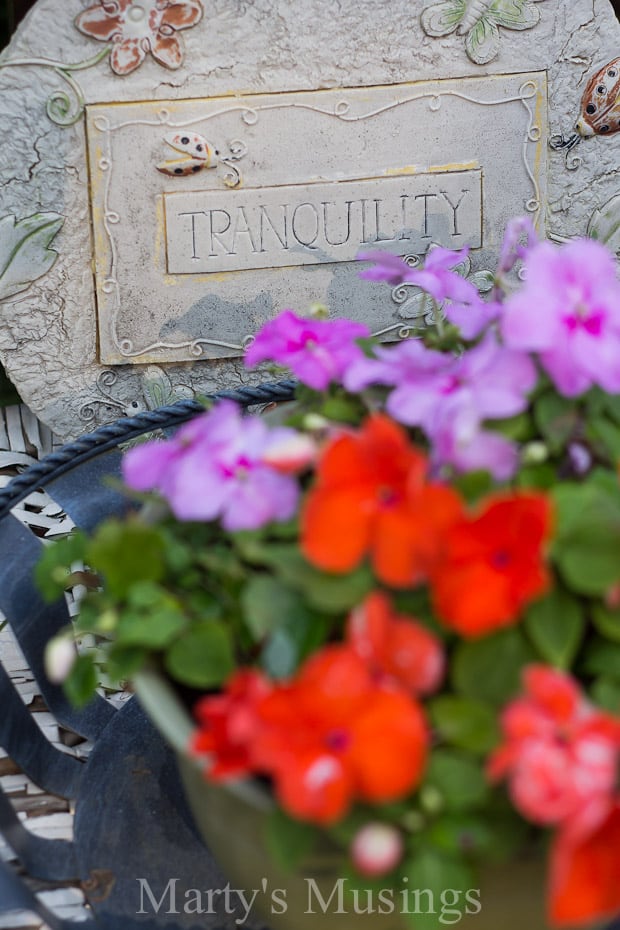 Because the sweetest and most profound dreams are often born in the tiniest slivers of leftover life.
***Other than the deck furniture (which we got on sale at Big Lots last year) everything is either from a yard sale, found on the side of the road or given to us.
What's your favorite treasure you've ever found?