Easy Fudge Brownie Recipe + Super Bowl Party
This post may contain affiliate links which won't change your price but will share some commission. Read more here.
By using inexpensive dollar store football themed decorations and supplies, simple recipes and snacks, plus an easy fudge brownie recipe, your Super Bowl party will rock!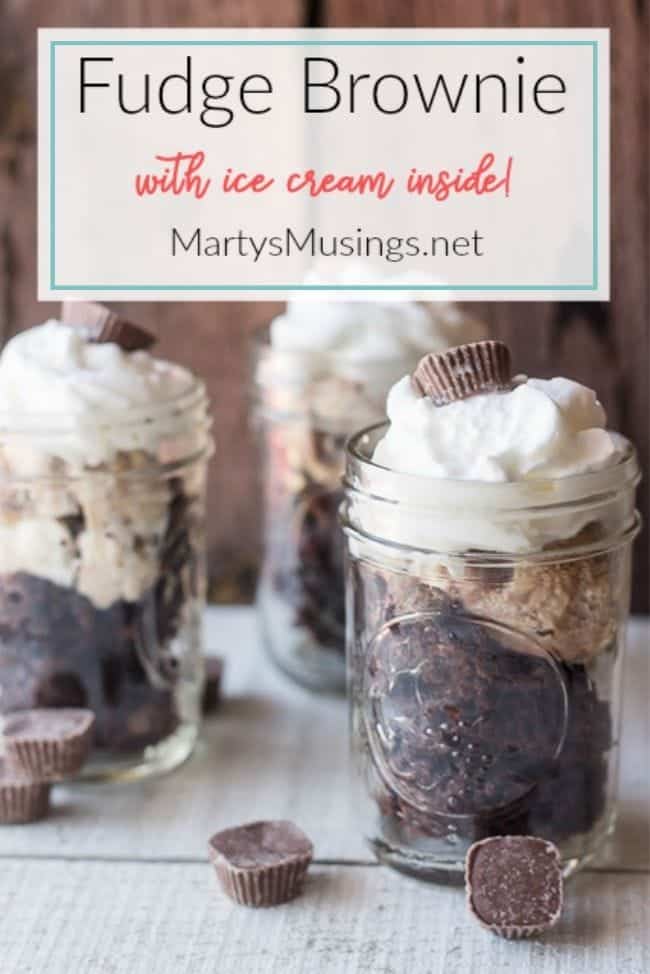 So often we miss out on the joy of community with others by believing parties and gatherings have to be expensive and completely from scratch.
I want to change your mind and show you how to use inexpensive items from the dollar store for decorations and party food from your local Walmart. You can throw a wonderful party to celebrate the Big Game without slaving so much you don't enjoy the game and your guests!
I cannot tell a lie. I love chocolate and no party is complete without it so I also picked up some ButterFinger® Peanut Butter Cups Minis to use for the amazing recipe to follow. (Seriously? ButterFingers® and peanut butter cups combined? How can you lose?)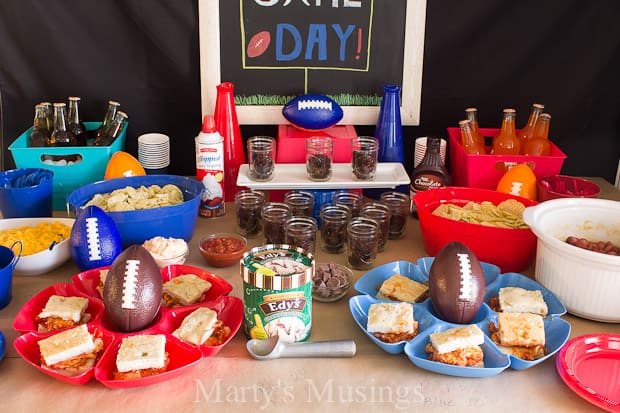 I also shopped my local dollar store and started picking up supplies that would go with my football themed party. I went with red and blue, colors that I will be able to use again.
One of my dollar stores favorites is plastic baskets and tubs. I've even used them for storage in my small bathroom.
Here they hold ice, drinks, chips, silverware and napkins.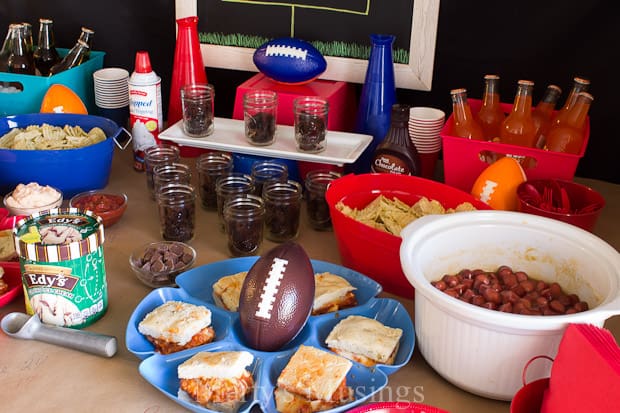 I also grabbed a bunch of nerf footballs and a couple of party trays.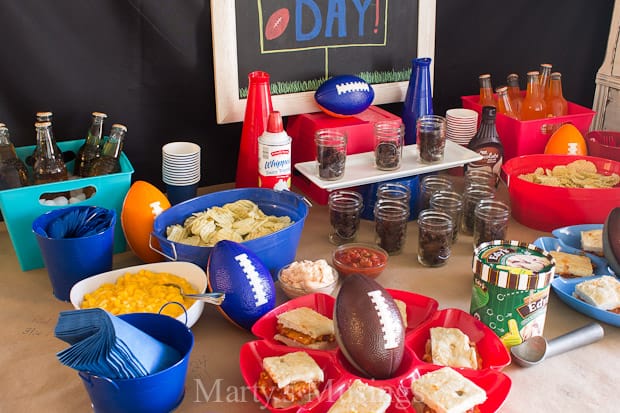 This chalkboard cardstock banner has been used for a gender reveal party, a baby shower and now a game day party!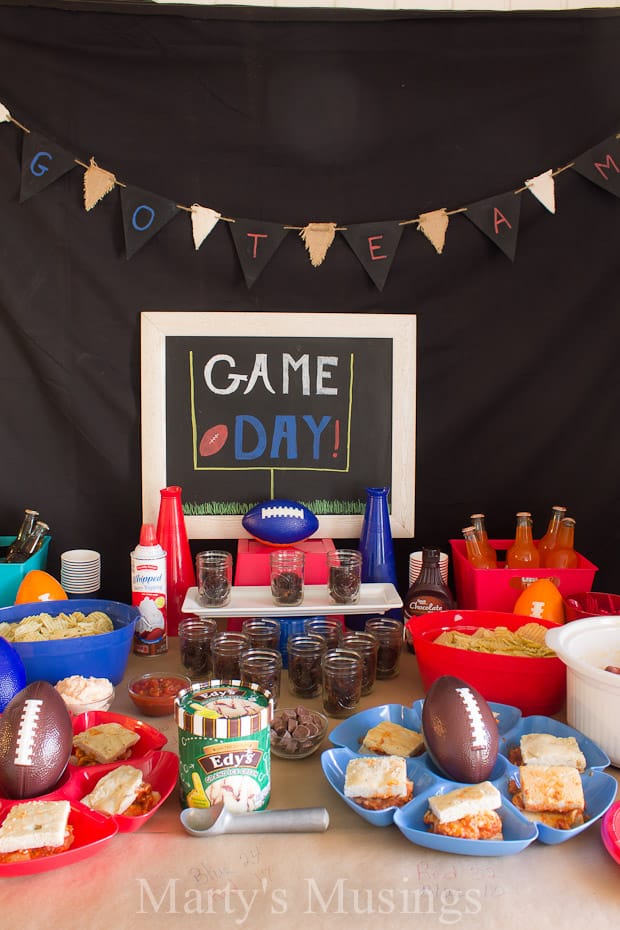 I set out permanent markers for guests to write on the kraft paper and make predictions of the final score.
If you have kids at your party give them some crayons and let them color away!
For the main dish I simply cooked the lasagna according to the instructions and sliced it for my bread machine focaccia bread sandwiches . You could also use store bought bread to make it easier for yourself.
This is a great way to feed a crowd and give them some hearty munchies!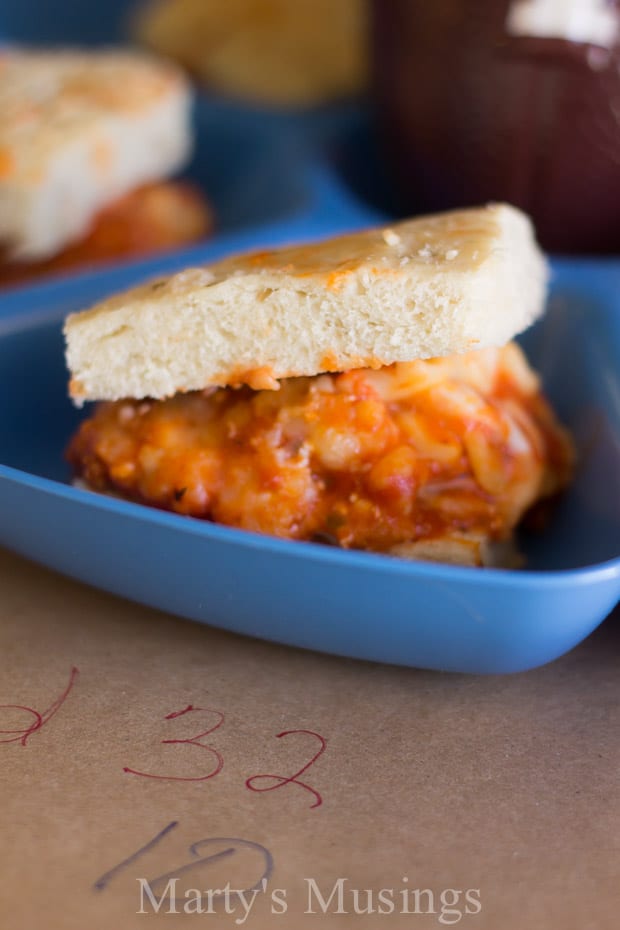 With macaroni and cheese and my slow cooker hot dogs, your guests are ready for the big game!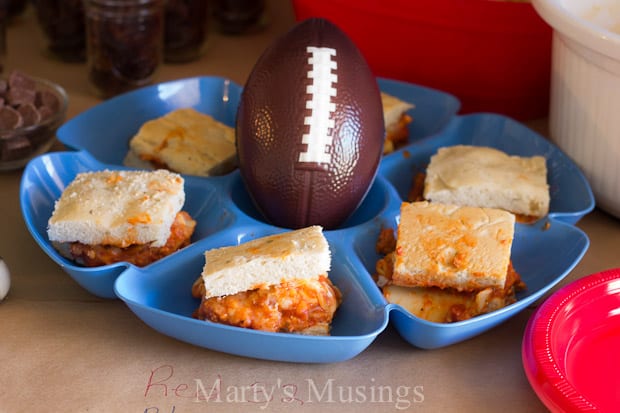 I cooked the STOUFFER'S® Party Size Macaroni & Cheese along with the lasagna and served it in a white dish. You can't go wrong with white serving pieces!
Want a fun addition? Use glass bottles of orange and cream sodas! We never buy glass but it's such a terrific treat for a sports theme party.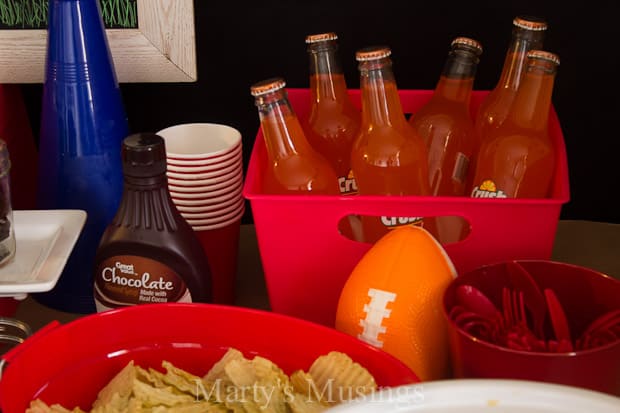 Now that you're all set with decorations and munchies here's the best part…..dessert!
Every good party has to have a great dessert and this easy fudge brownie recipe is it!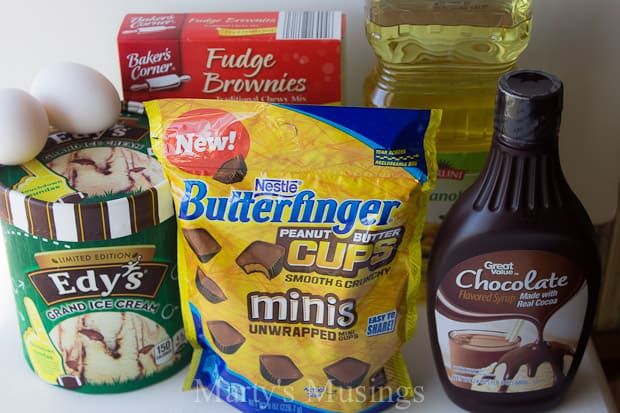 Can you believe there's ice cream inside? As much as I love chocolate, ice cream comes in a close second!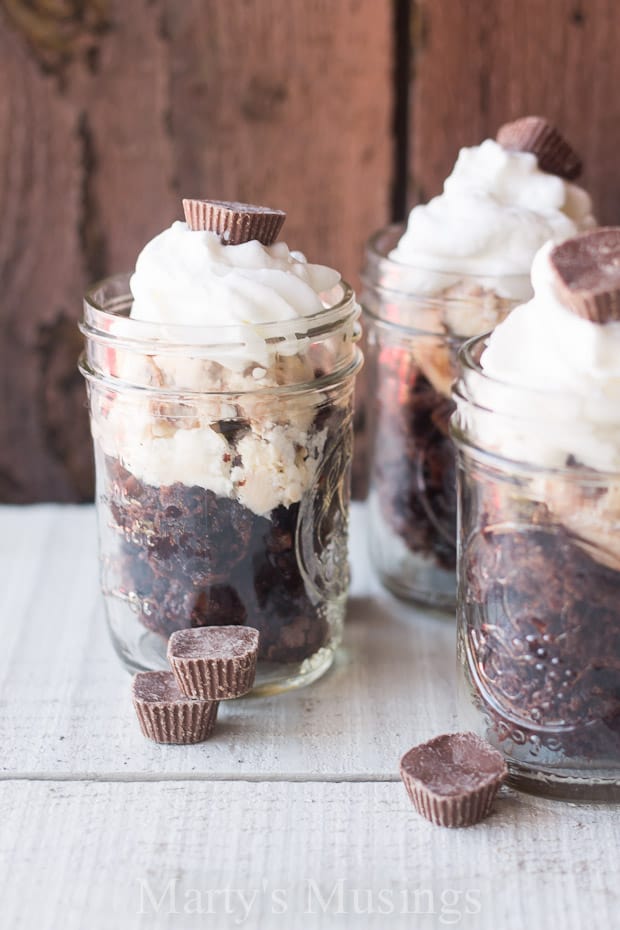 Add some candy and I am in chocolate heaven!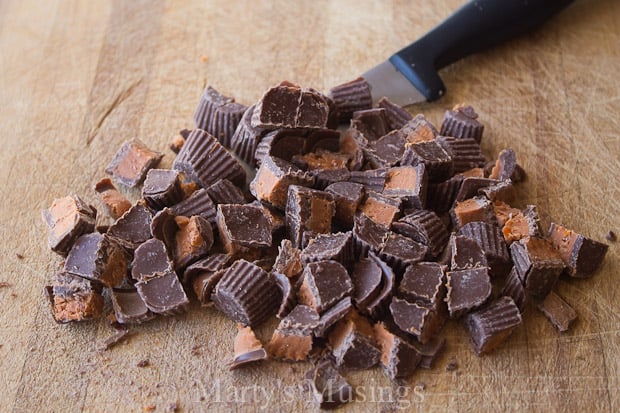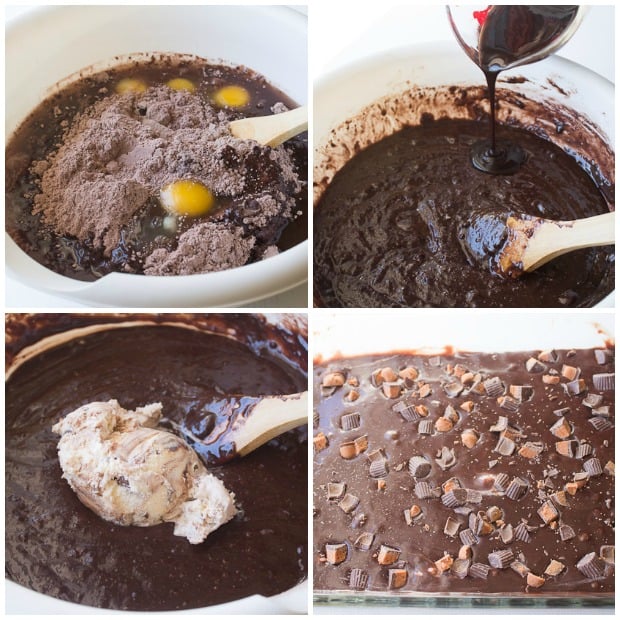 To serve I crumbled the brownies into these half pint mason jars,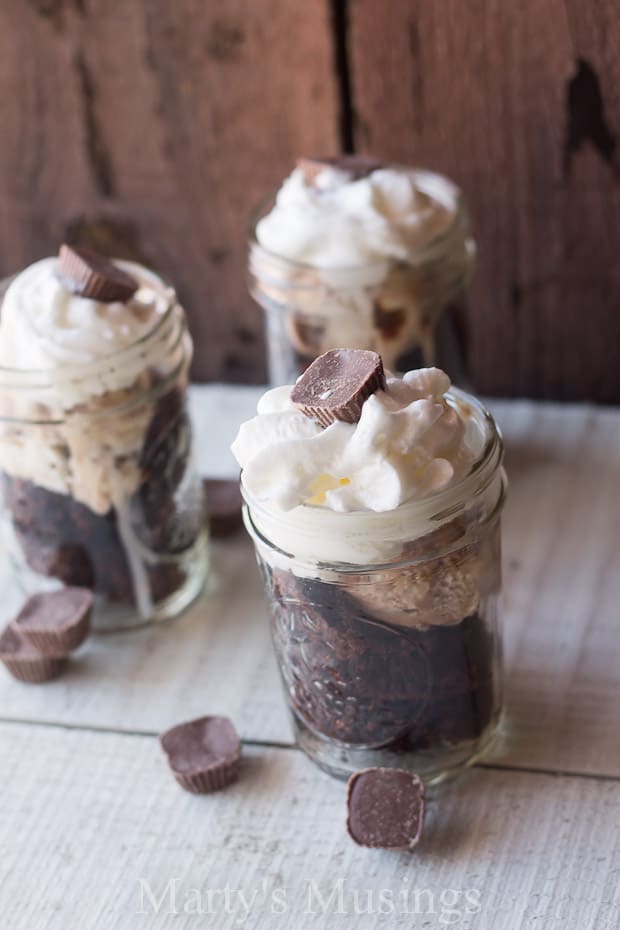 I topped them with Edy's Grand Ice Cream Touchdown Sundae and whipped cream and topped with a piece of chocolate.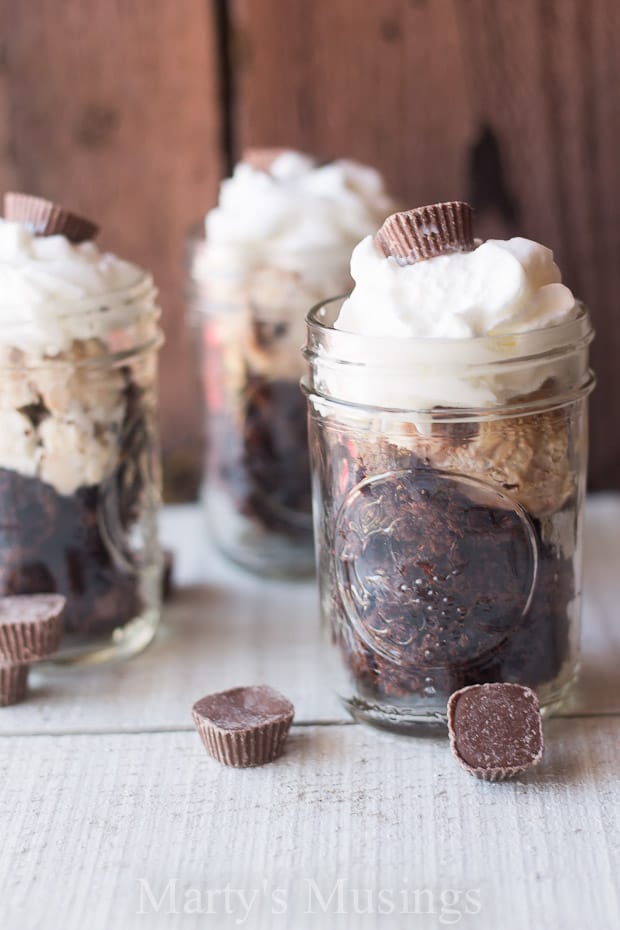 This easy fudge brownie recipe is scrumptious and as cute as can be!
I've shared all my inexpensive party ideas. Can you give me some more tips?
If you want some easy supplies for your party check out these Super Bowl goodies!
Super Bowl Party Supplies
(I've included some affiliate links for your convenience. Click here to read my full disclosure policy.)
Football table covers
Football face tattoos
Super Bowl party photo booth
Party table decorating kit
Easy Fudge Brownie Recipe
Easy Fudge Brownie with Candy Inside
These easy fudge brownies have ice cream and candy inside them!
Ingredients
2

boxes family size brownie mix

eggs and oil per box requirements

1

cup

packed ice cream

1/2

cup

chocolate syrup

1

cup

candy

cut into small pieces
Instructions
Preheat oven to 350 degrees and spray 9x13 baking dish with cooking spray.

Combine brownie mixes, eggs and oil as directed on back of box (plus the water called for on box).

Add ice cream and chocolate syrup to the mix and stir to combine.

Pour half of the brownie batter into the baking dish, layer with candy then top with remaining batter.

Bake for 40-50 minutes or as directed on back of box. Bake until center of brownies is done.

Serve warm and top with ice cream and additional syrup if desired.
Notes
For this double batch I used 4 eggs and 1 1/3 cup oil as well as 1/2 cup water.
I used Nestle Butterfinger Peanut Butter Cups Minis as the candy.
If you want the recipe less moist leave out the water.
I used a glass baking dish and baked for around 45 minutes.