How to Help a Grieving Dog
This post may contain affiliate links which won't change your price but will share some commission. Read more here.
Our pets are like family members and grieve losses just like we do as humans. These 5 tips will teach you how to help a grieving dog recover from that pain.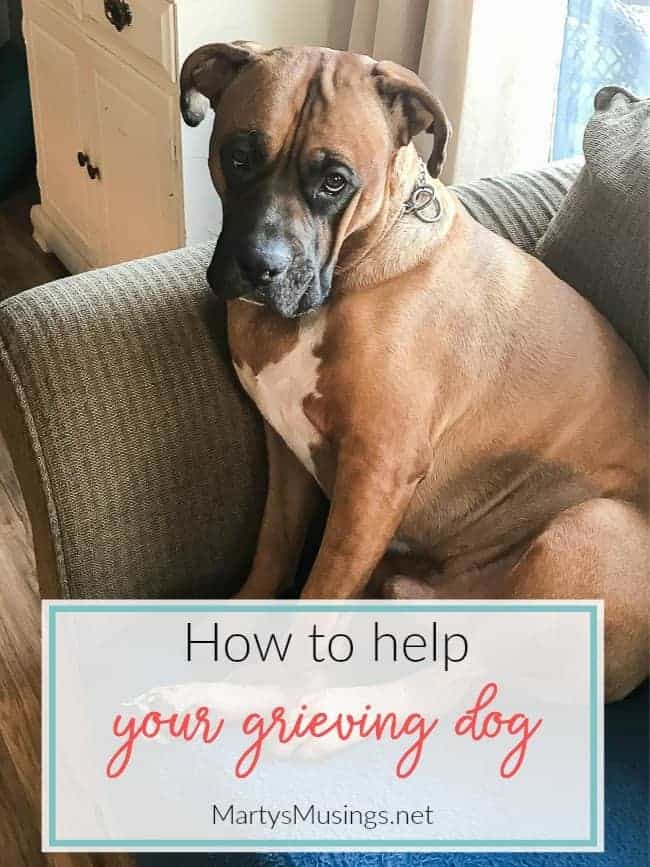 Disclosure: This shop has been compensated by Collective Bias, Inc. and its advertiser. All opinions are mine alone. #PurinaONEVisibleDifferences #CollectiveBias
It was a very hard day, the day we said goodbye to our oldest dog Holly (short for Hollywood because we were watching American Idol when we got her.)
She had been getting sicker over the last two months and we don't believe in taking extreme measures in prolonging a pet's life.
My husband and I have had many animals over the course of our marriage but this was the first time I've been the one to walk an animal through their last moments of life.
We've had to put pets to sleep through emergency situations that broke our hearts. Life lessons that taught our children about loss in the hardest of ways.
Holly was a unique dog who came to us as a stray off the side of the road. A kind hearted neighbor picked her up off the side of the highway and brought her to us. Because having 5 kids, 2 dogs and 4 cats at the time was NOT enough chaos!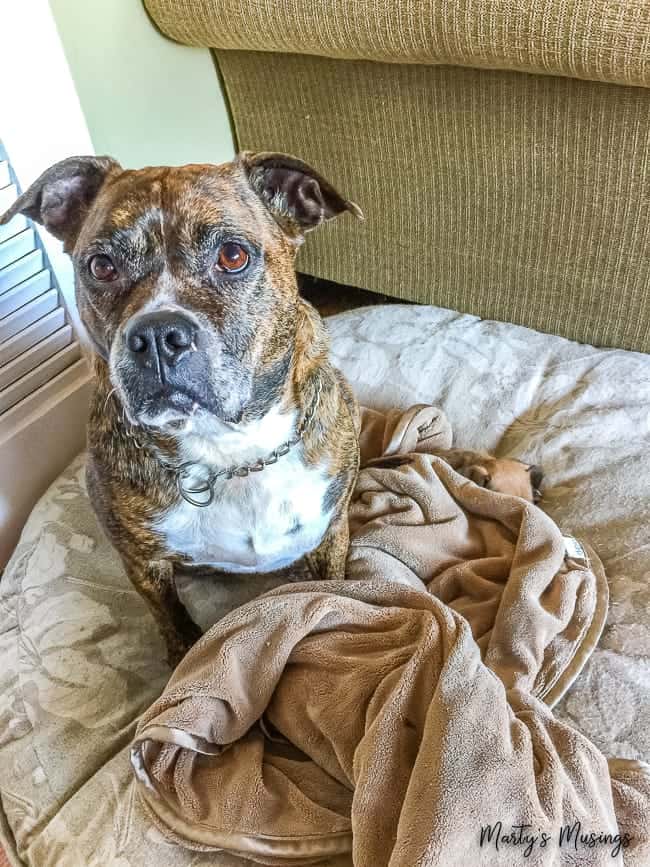 One look and we were all goners. She became a member of the Waldenbunch, a part of many character lessons for our adopted children especially.
We called her our RAD dog. Reactive Attachment Disorder (RAD), for those who've never heard of it, is a diagnosis that applies to children who don't attach in their earliest years of life because of many reasons, sometimes neglect, abuse, sickness, etc.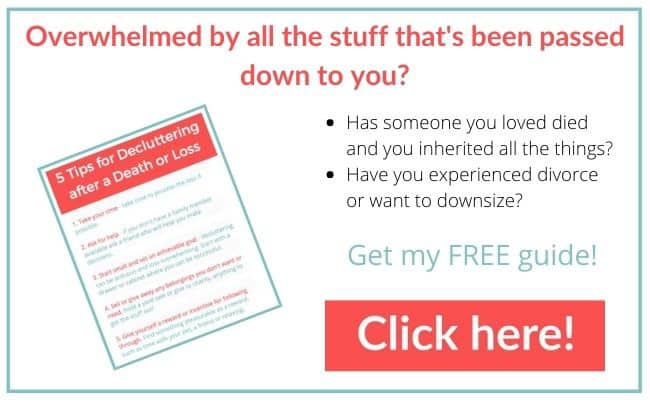 Holly was fearful for a long time and we could only imagine what her first four months of life looked like, if she ended up on the side of a four-lane highway.
She would easily let us love all over her, but she seemed to have a hard time returning that love. Often she would just lay cuddled up beside one of us, taking in all the love we had to give.
She became a lesson for my adopted children in their battle to attach to our family and let go of the wounds of their past.
Today as my daughter Stephanie and I held her and cried as we said goodbye, I was so grateful we allowed this stray dog into our hearts, to teach not only our adopted children, but all of us about unconditional love.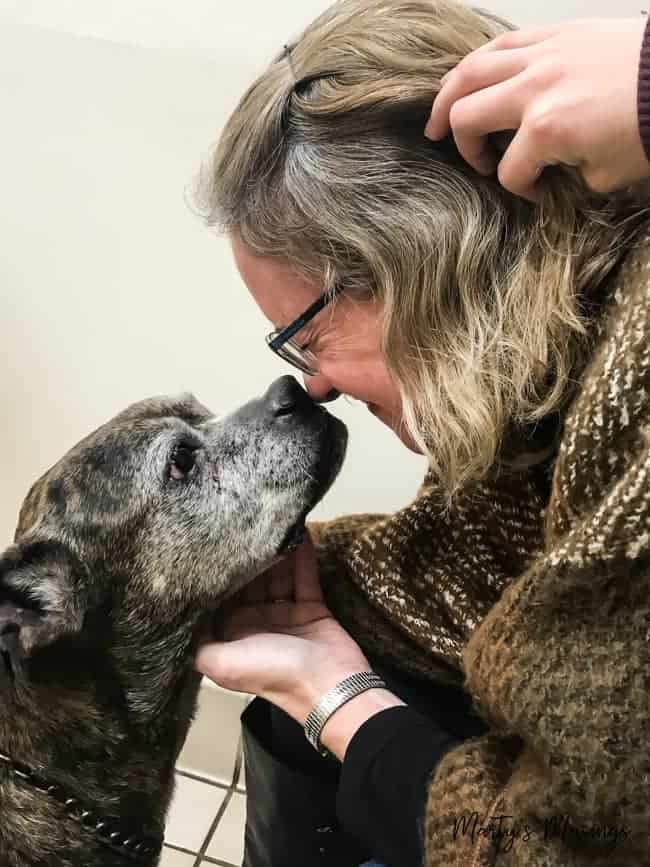 God always knows what we need to teach us about Himself, and Holly taught me that love given with a sacrificial heart is never in vain.
When we got home from the vet our second dog Carson (short for Mr. Carson from Downton Abbey) knew something wasn't right.
In the days that followed he would wait at the back door for Holly to go out with him. He wandered in and out of their crate, smelling but not seeing her.
Sometimes we don't consider how our pets are attached to each other. The loss of a treasured pet not only grieves the humans in the family but also the other animals.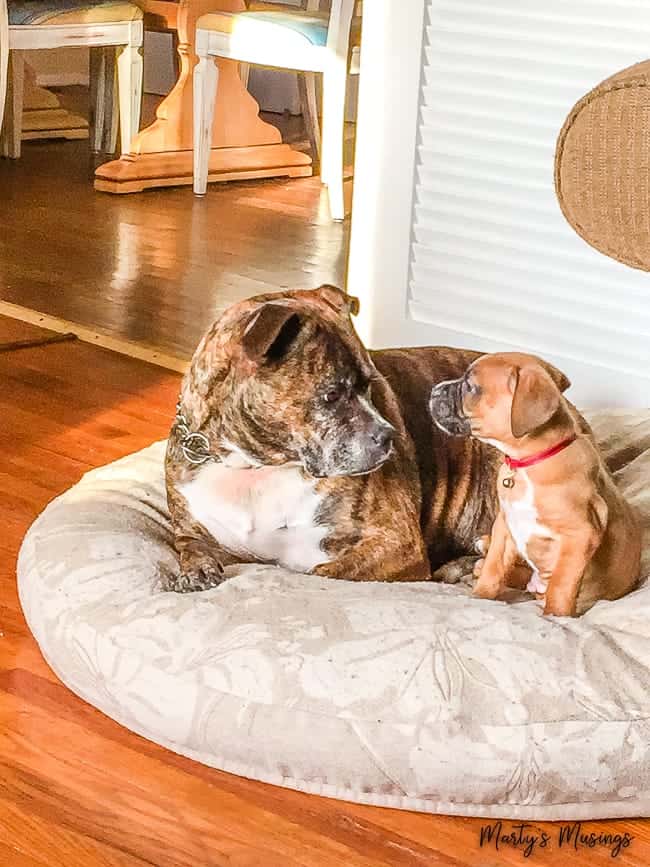 Carson is MY dog. I picked him out of a litter of ten puppies, did most of the potty training myself (ugh!) and now he's my 85-lb lap dog.
Seriously. There's no place else he'd rather be than curled up on my lap. He makes the perfect blanket. ~smile~
I knew that after losing Holly I wanted to make sure Carson stays as healthy and strong for as long as possible. Since he's only four years old we hope to have many more years to play and cuddle.
My readers have lifted my spirits so much after the loss of Holly when I shared the story on social media. Today I want to return the love by giving you my best tips on how to help a grieving dog through a loss.
Easy ways to help a grieving dog:
Take care of your dog's health.
Allow your dog to grieve just like the family does.
Keep things as normal as possible.
Keep your dog busy.
Love on them in ways only you know best.
How to Help a Grieving Dog
Tip 1: Take care of your dog's health.
I know the best way I can help Carson is by taking care of his health just like I do mine. Grief takes a toil on our bodies (and our pets!) so I want to be mindful of how Carson is doing physically in this season.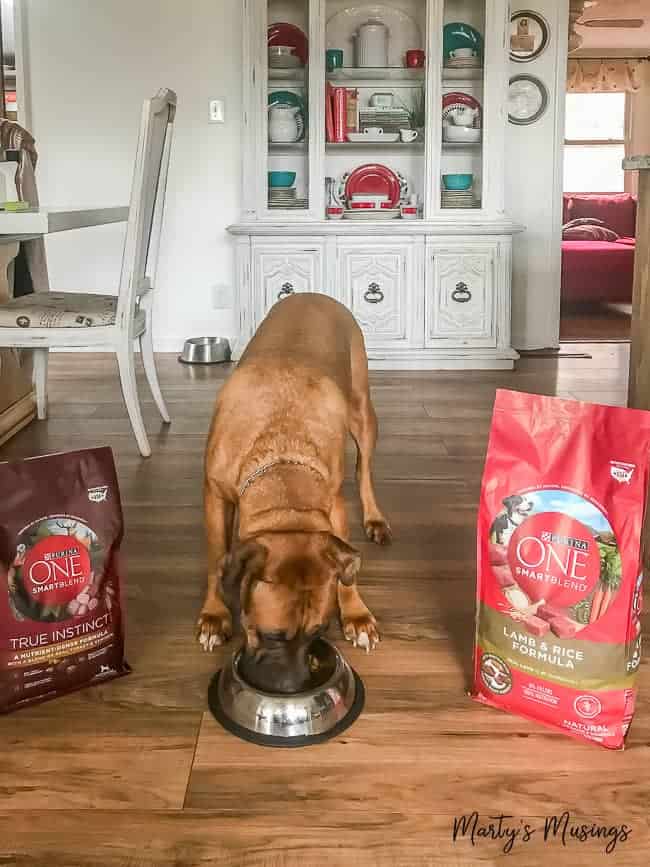 When Purina ONE® asked me to participate in their 28-Day Challenge it was the perfect opportunity to make sure he was eating a dog food recommended by veterinarians.
I purchased both Purina ONE® Lamb & Rice and Purina ONE® Turkey & Venison.
Carson was definitely excited to begin the challenge, as evidenced by his devouring the food on Day One! Thanks to the crunchy bites and tender, meaty morsels Carson loved the food immediately!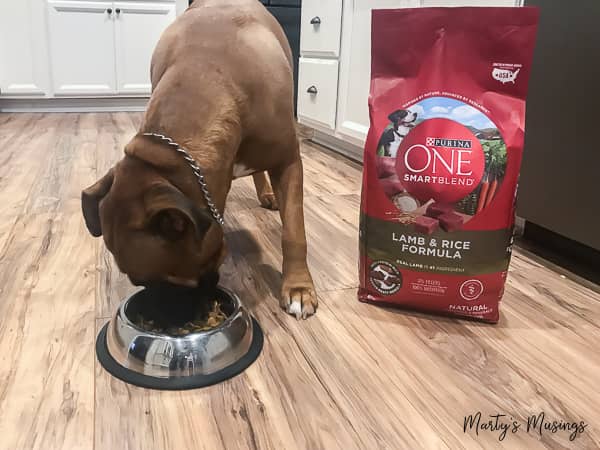 By Day 21 I could tell Carson was enjoying the 28-Day Challenge as much as I was loving seeing him with sparkling eyes, healthy skin and a radiant coat (thanks to the omega 6 fatty acids, vitamins and minerals provided by Purina ONE®!)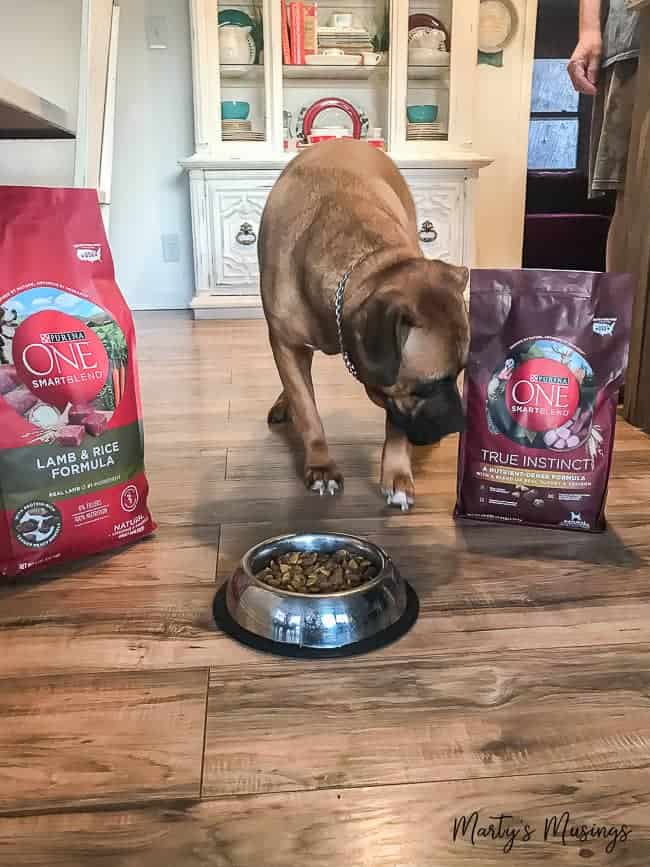 By Day 28 Carson was doing great with the high-quality sources of protein, including real meat as the #1 ingredient. This helps support all of his muscles, including a healthy heart, while a natural source of glucosamine helps support his healthy joints.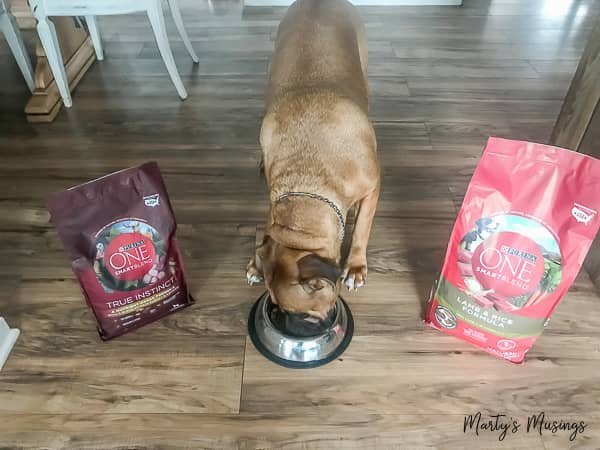 Tip 2: Allow your dog to grieve just like the family does.
Your dog may want to lie around and be sad, a reaction quite similar to your own. It's perfectly natural for them to be depressed, but you both can encourage each other by carving out time to be together.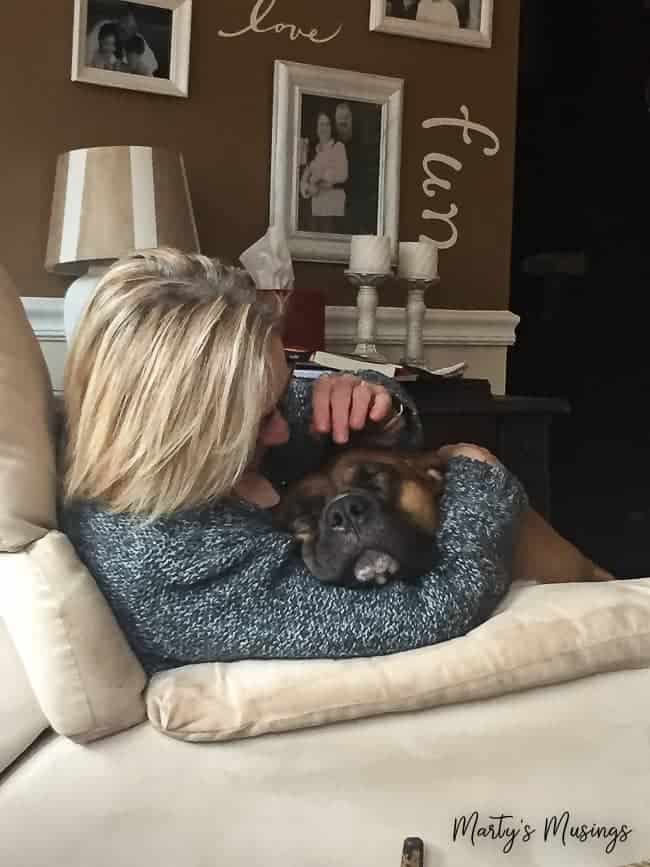 Tip 3: Keep things as normal as possible.
Routine is crucial to helping your dog recover from a loss. Feed your dog at the same time each day and take time to connect with them even if you are struggling yourself.
When we were remodeling our kitchen we had to remember to keep life on as even a keel as possible as well (read about my home remodeling tips for you and your dog.)

my grandson Aiden and Carson, born right around the same time!
Tip 4: Keep your dog busy.
PLAY WITH THEM! Exercise is as important to our pets as it is for humans. If you run around and get the heart pumping, the movement will help both of you feel better.
Do it even if you don't want to. Your body will release happy endorphins and your pet will know it's still a treasured part of your life.
I'm Carson's personal playmate since he spends a good amount of time each day bringing me his toy and trying to get me to play!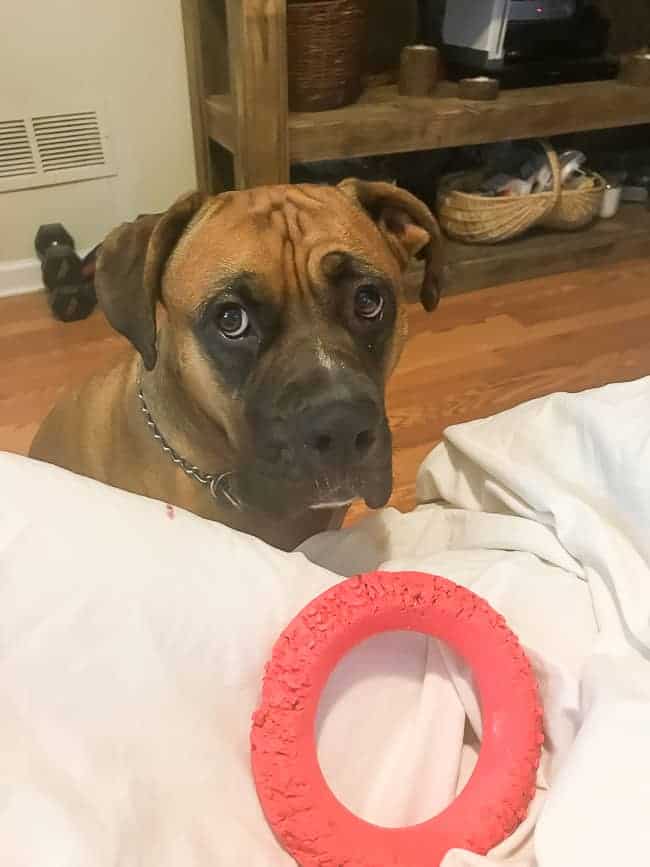 this is Carson's oh so subtle way to distract me and FORCE me to play with him (plus it's the only toy he can't destroy!
Tip 5: Love on them in ways only you know best.
When Carson was just a bitty thing he used to bury his nose under my arm.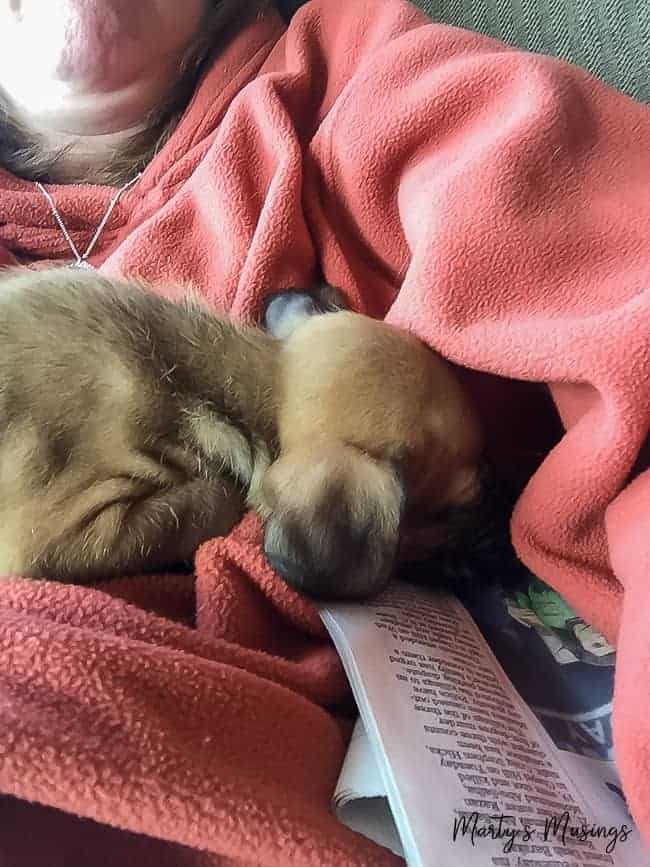 Some things haven't changed much! Puppies of all ages need love and devotion.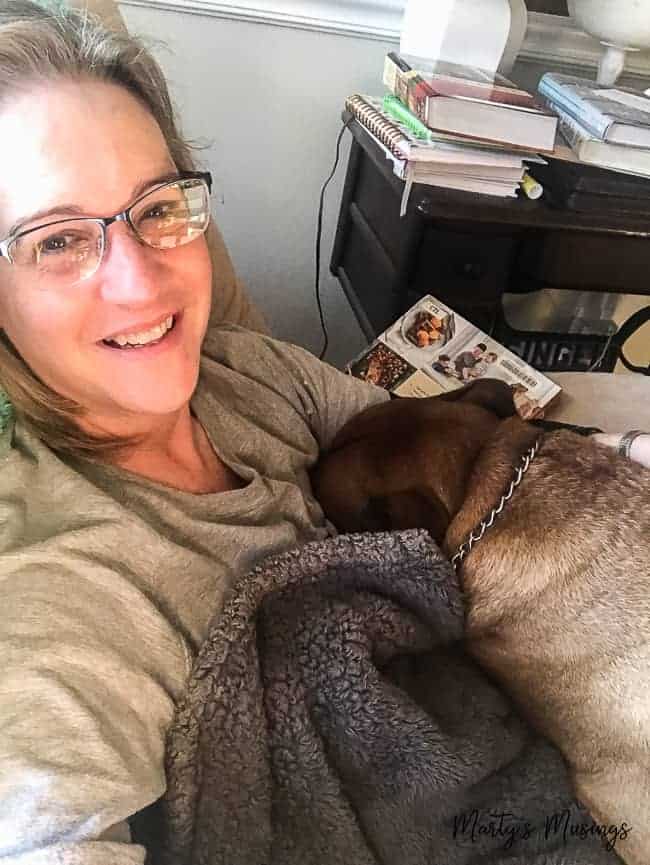 As dog (and pet) owners, it's up to us to learn how to help a grieving dog (and other pets) when difficult things happen in our families.
Just as with our children, we set the example for living and loving when a loss happens.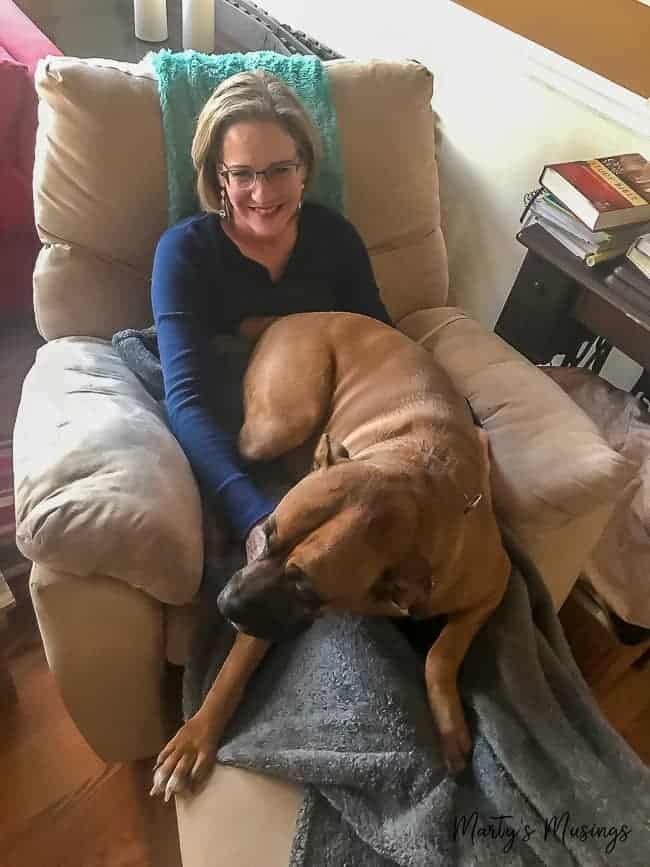 my personal lap blanket!
I'd love for you to share your experience with the loss of a cherished pet so we can all be encouraged!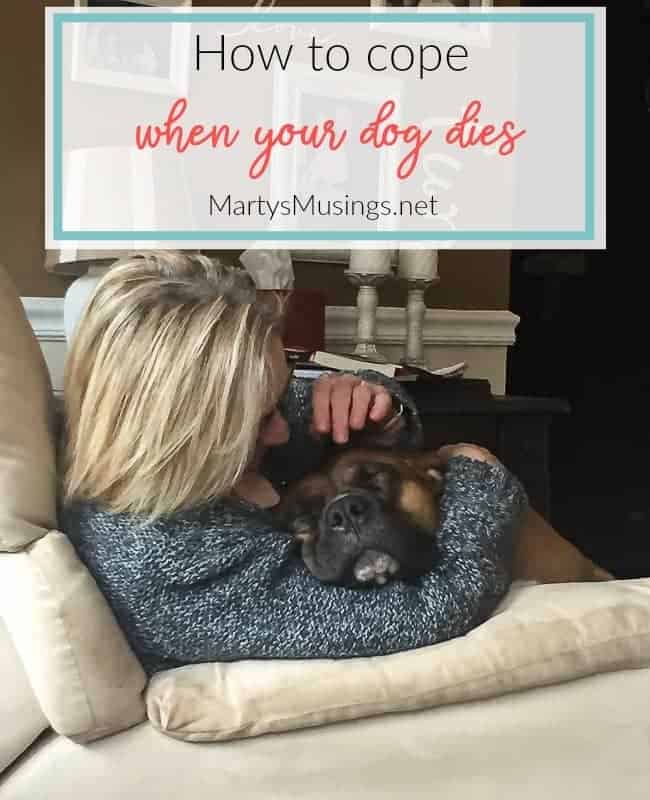 If you want to read more about my journey through grief these posts will get you started:
When Should You See a Therapist?
Living with Grief and Heartbreak
Clutter and Grief: Are They Connected and are You Stuck?
How to Declutter After a Death or Loss
What No One Wants to Talk About at Christmas
How to Overcome Stress and Anxiety When You're Stuck