31 Days to a Beautiful Home: House Tour
This post may contain affiliate links which won't change your price but will share some commission. Read more here.
Today I want to share just a little bit about myself and give you a house tour, in case you're new to Marty's Musings.
I have been blogging since 2008 and what began as a record of our family/adoption/faith journey has turned into a full time job writing about our DIY projects, easy family recipes, love of thrifty repurposing and living on less.
We are a very close family, having homeschooled for the last 20 years (with three more to go!) and shared all of life's ups and downs together.
My DIY hubby and I have lived in our ranch style home for 23 years. Tim has learned his way around power tools and has practiced every trick of his trade (as a painting contractor) in making the most of the space we've been blessed with.
Our home is modest, well loved and hard working! Nothing fancy or expensive, just a lot of elbow grease, hours of Pinterest gazing and frugal shopping thrown together with many budget DIY projects.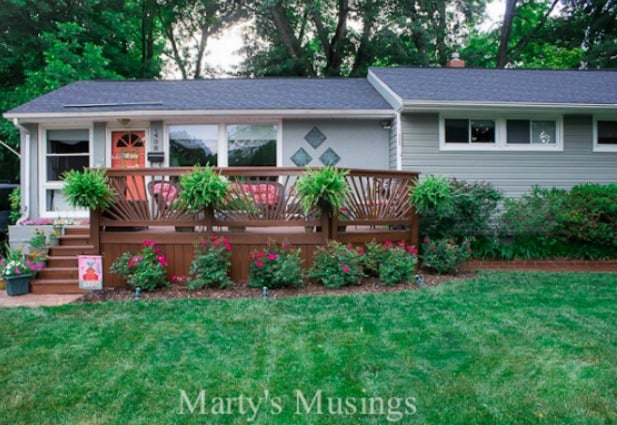 Living with 5 kids, numerous dogs and cats as well as various other critters, it's only been recently we've begun to transform our space as our older children have sadly (yet joyfully for them) begun to leave home.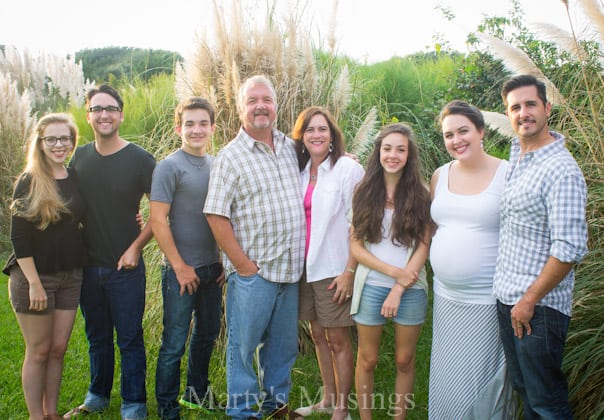 Our home is a definitely a work in progress but we're I'm having fun stretching our resources and creative muscles with DIY projects galore!
Our most recent project was our gray and coral master bedroom makeover.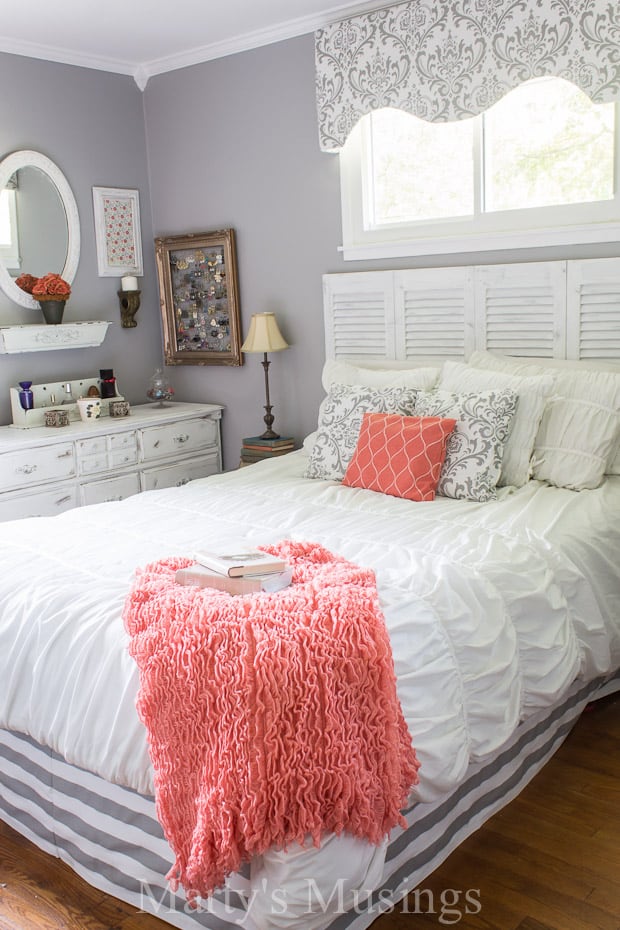 Except for one or two items, everything (and I mean EVERYTHING) is either a DIY project, a yardsale find or a hand me down.
And lest you think I'm tooting my own horn too much, I share all this because I am not a designer or decorator. I'm just a gal who has learned to create on a budget while spending seemingly endless hours on Pinterest, yardsaling and dreaming. If I can do this so can you!
Since everyone loves a good before and after picture, here is a picture of our bathroom makeover.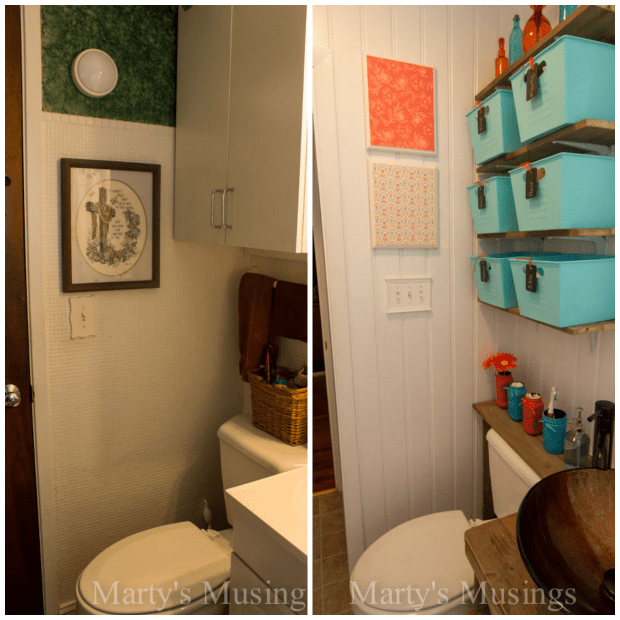 This small bathroom remodel was by far our hardest project. It was bad news before (as you can tell), but now it is light and bright!
The bathrooms in our home are tee-ninesy. That's Southern for "if you sit on the toilet your elbows touch the wall and your arms can reach the bathtub." Way overdue for some major help, Tim gutted the bathroom and we started over!
When my son Joshua graduated from high school and went off to college, his room was my first project! This craft room has been made over a couple of times and remains a room that nurtures my creative spirit (when I can find my way around the DIY projects!)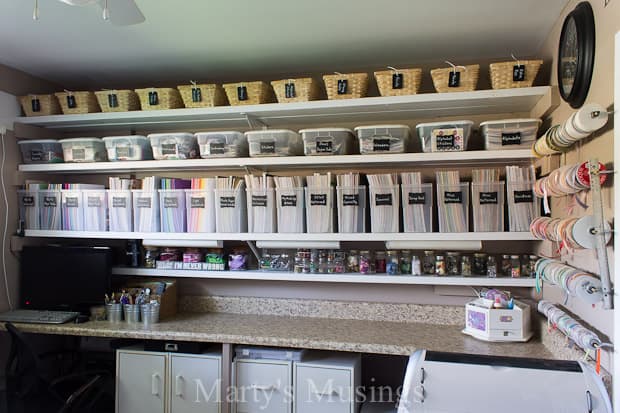 You can read all about the details that went into my kitchen, the happiest room in the house.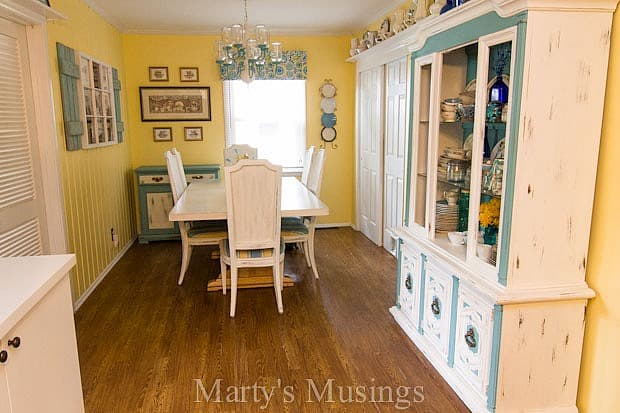 Our den makeover resulted from taking up 20-year-old carpet and installing Pergo flooring. The red was definitely a stretch for us, but I love the bold color set against the wood flooring.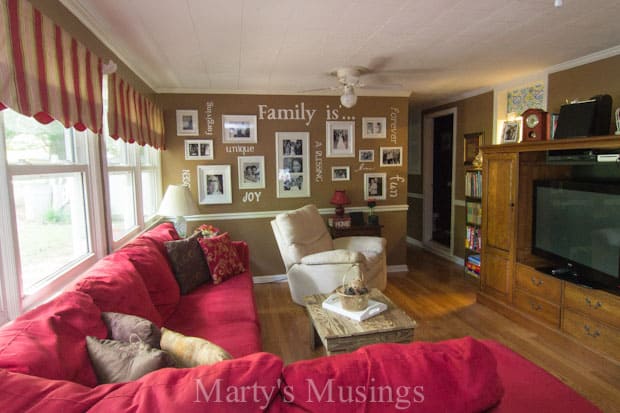 This gallery wall was created by all of our family to celebrate who we are as a family unit.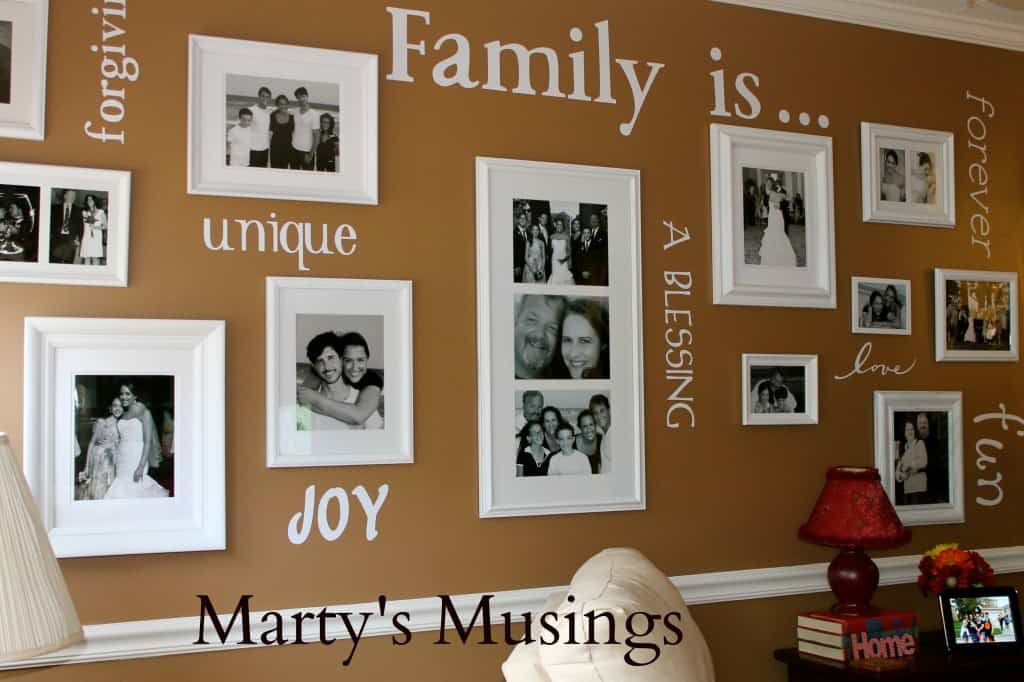 I've only shared my teenage daughter's room recently even though it was done a while ago. Her scripture wall is one of my favorites ways to personalize a room.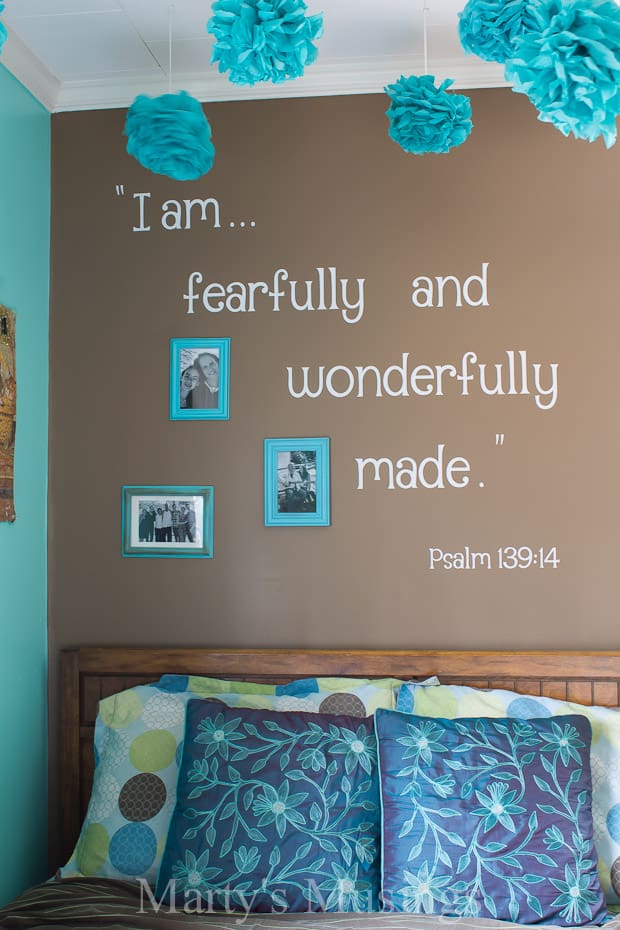 Here you can see a bit of our living room and this fabulous window table my husband built. He's my DIY guy!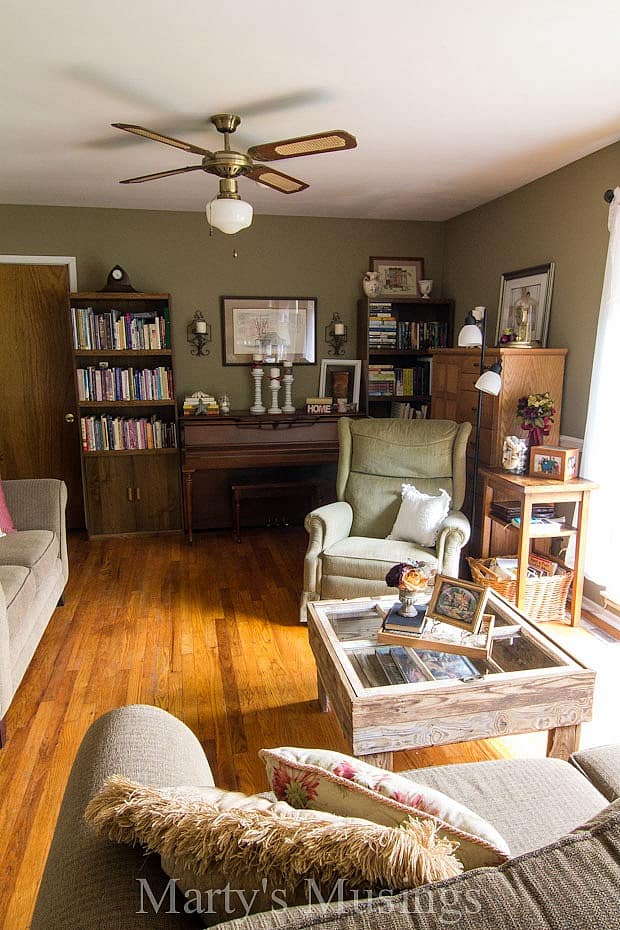 Last but not least, we've spent a lot of time this year working on our outdoor spaces.
Here's our back deck after some sprucing up and deck restoration. We love to entertain and sit around our fire pit relaxing.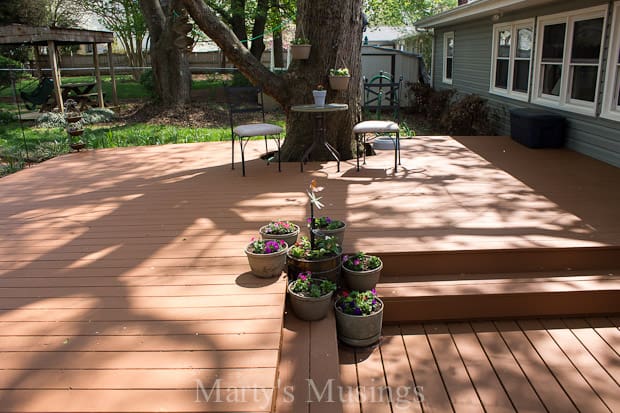 Our front deck has been a labor of love, from conception to hiring some help to Tim providing the finish details and my decorating with curbside finds and yardsale treasures.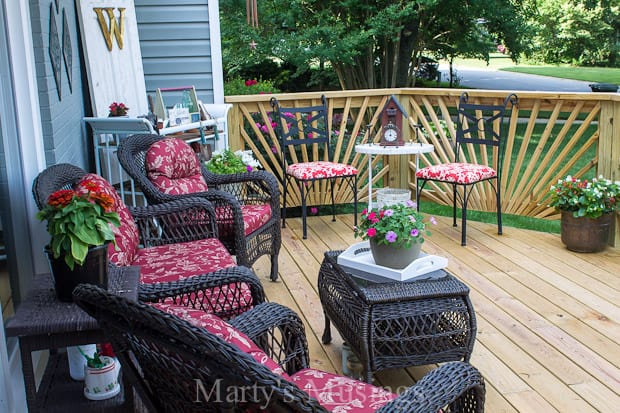 My hope is that my 31 Days to a Beautiful Home series will motivate and inspire you to spend just a bit of time creating a home you will love and embracing the life you have been given! Just click here to view all the posts.