First Mother's Day Gift Basket
This post may contain affiliate links which won't change your price but will share some commission.
Disclosure: The post First Mothers Day Gift Basket was sponsored by Expressionery.com but all opinions expressed are my own.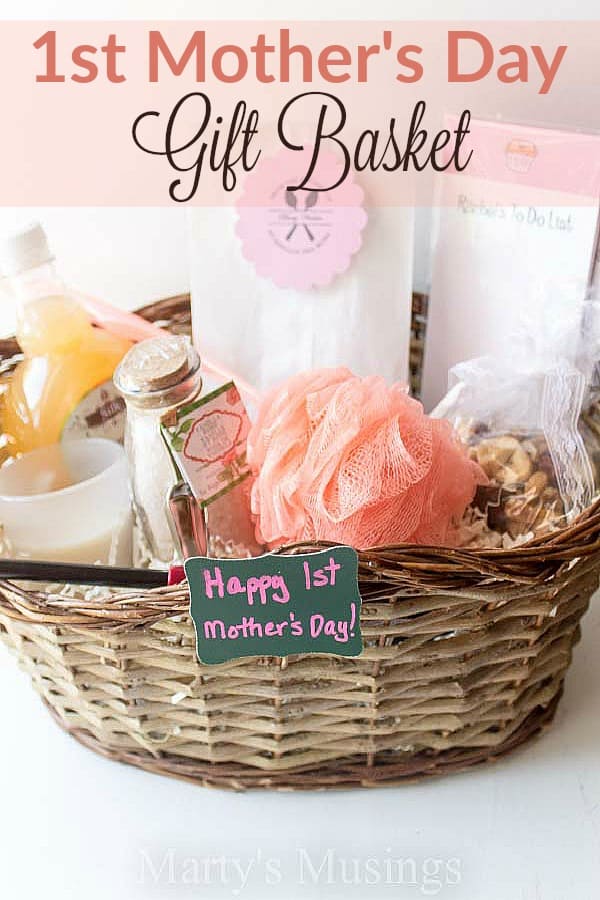 I remember my first Mother's Day like it was yesterday……only it wasn't.
It was 27 years ago.
I was madly in love with this precious bundle of dainty cuteness named Rachel Faith.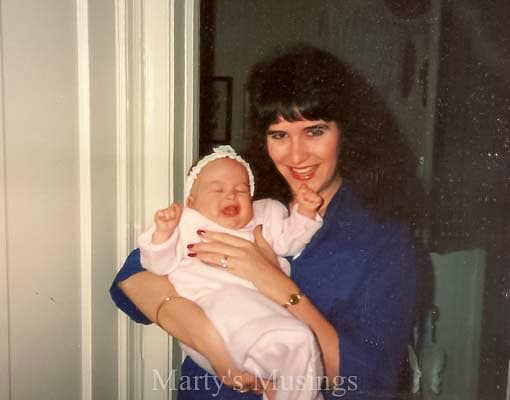 I had no idea what I was doing in my newfound role of mom (which is evidenced by Rachel's face in the picture!) but it was one of those learn on the job opportunities.
This was a good thing because at least I couldn't get fired!
I've always told Rachel she was my practice child and since I've always been an over-achiever I've practiced often!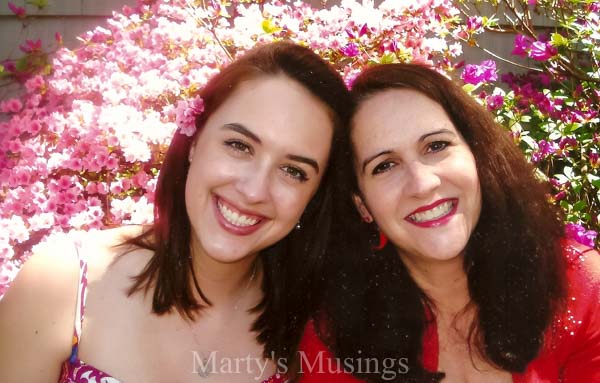 I'm not a perfect mom but I've given my best and my whole heart.
Now that fussy little baby has a beautiful son of her own and my heart bursts as a proud nana.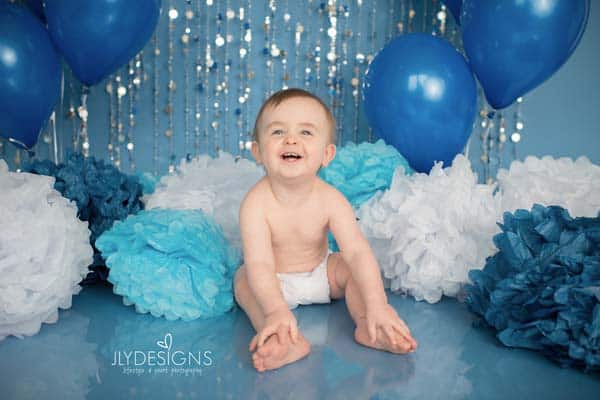 (Photo courtesy of jlydesigns)
The circle of life continues and Rachel understands me better as evidenced by a text I received last Christmas.
Thank you for all the hours you have spent in the kitchen. Preparing dinners or cooking for parties or holidays…I am thankful for your servants heart by giving to us in a way that satisfies our stomachs and hearts. You were the best example of a servant I could have asked for.
Oh yes. This daughter of mine knows one of my love languages is words of affirmation!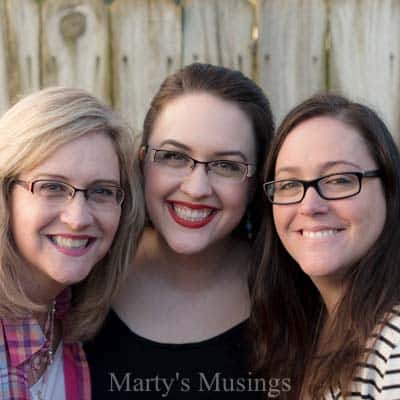 (Me, Rachel and my niece Jennifer)
When Rachel celebrated her first Mothers Day last year I knew I wanted to affirm and encourage her on this special day in her life.
She's an amazing first time mom and I'm grateful to be able to walk this path with her every step of the way. I knew (and remembered) new moms don't have much time or energy to spend on themselves.
My idea was to create a gift basket of goodies to help her recharge from those sleepless, difficult nights and months.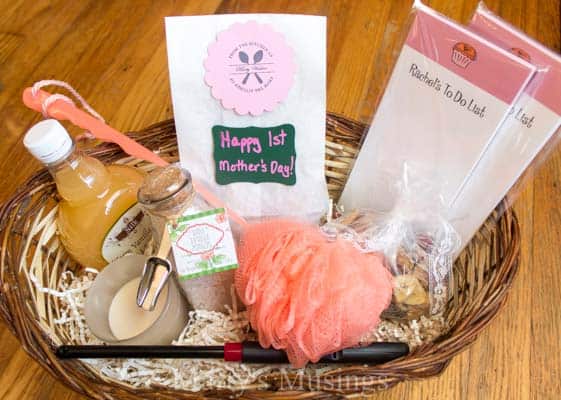 Here's a list of supplies to give you ideas for creating your own basket for that special mom on her first mothers day. (But honestly, any mom at any age would love this!. Hint! Hint!)
Supplies:
I grabbed a basket from my stash in the attic (one of my many yard sale tips) to keep the cost down.
Since moms with little babies rarely get five minutes alone I picked up some bath goodies at the dollar store so Rachel could could switch off responsibilities with her hubby and enjoy a relaxing bath! Anything along the lines of bath crystals, a wonderful scented candle and her favorite lotion would be perfect!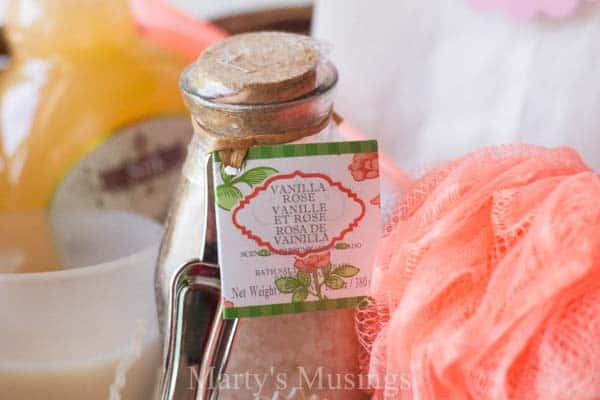 Moms also need to keep up their strength so I included a dried fruit snack for nibbling on (but not necessarily in the tub!) Presentation is everything so a bit of lace fancies up any little gift.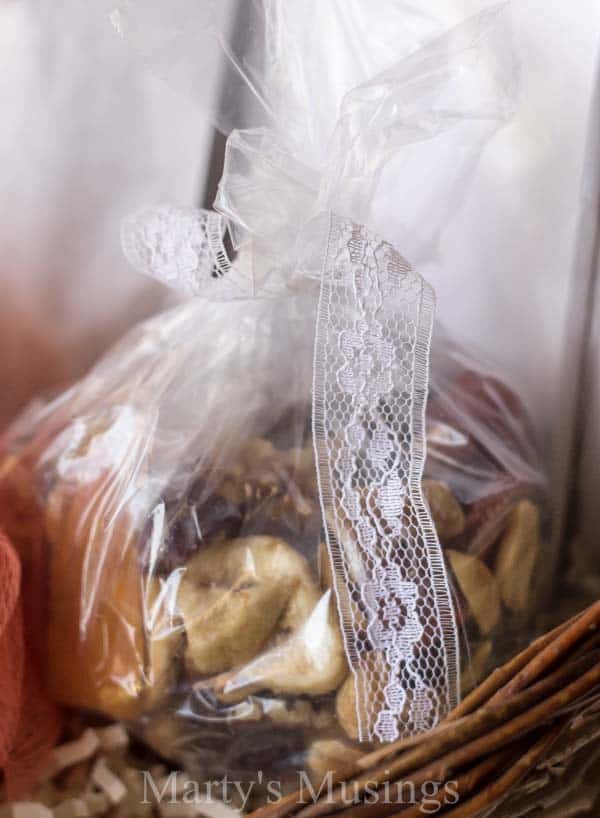 The basket included this cute little label cut out of DCWV Chalkboard Paper using my Cricut Diecutting machine. These could easily be cut out by hand. (There are all sorts of tips for making DIY chalkboard tags in this post.)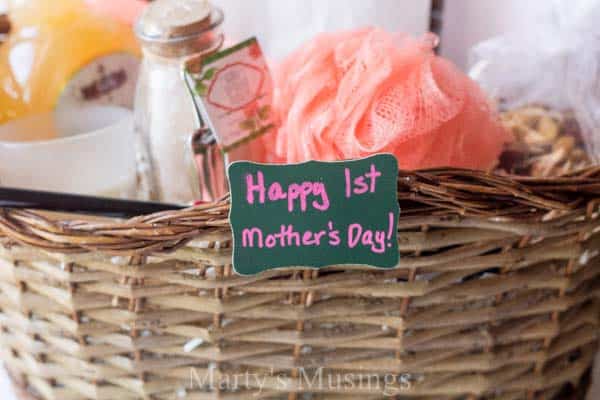 I personalized this self-inking stamp from Expressionery.com and used a flower punch as a cute tag for some chocolate goodies I included. Every gift basket MUST have chocolate! (This recipe is to DIE for!)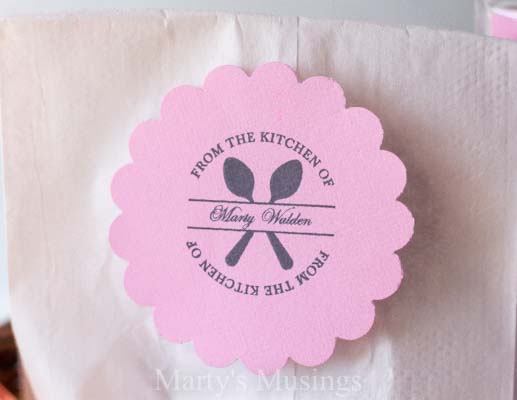 And yes, I ordered this adorable note pad and personalized it as well.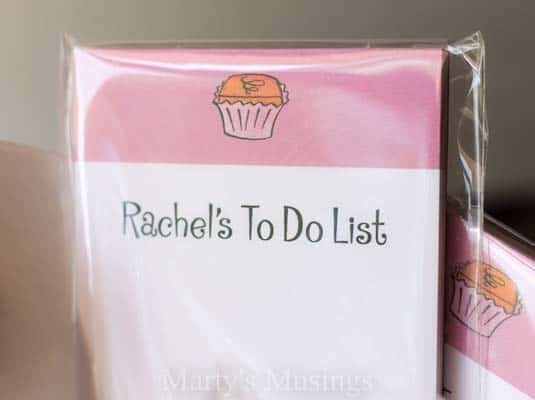 This is a simple gift that my daughter appreciated and enjoyed on her first Mother's Day. Do you know of a mom you can bless and encourage this year using these ideas?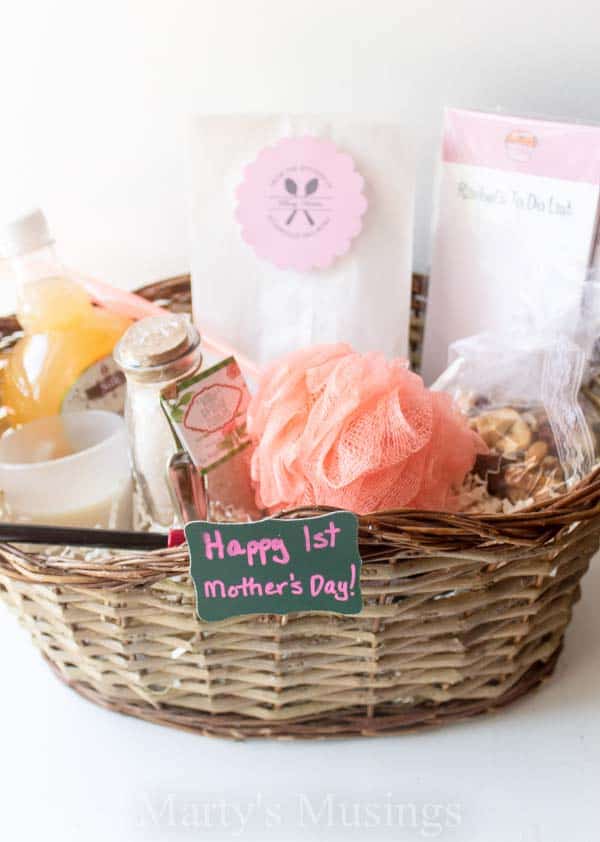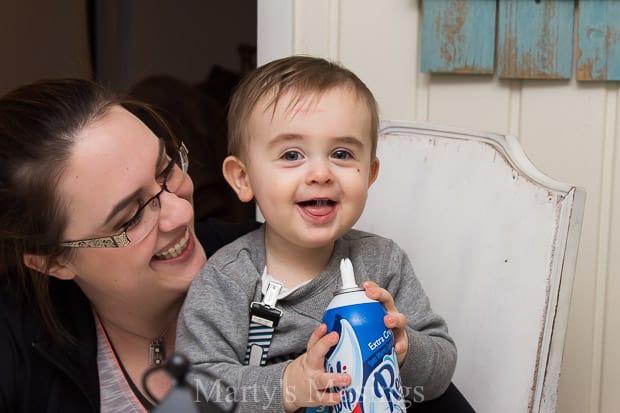 My sweet daughter has also shared her heart here on the blog. You can check out Rachel's wonderful writing in these posts:
Disclosure: This post contains affiliate links. If you click on an affiliate link and buy something, I may receive a very small commission. It does NOT result in additional charges to you or cost you anything extra.