Vintage Easter Tablescape
This post may contain affiliate links which won't change your price but will share some commission.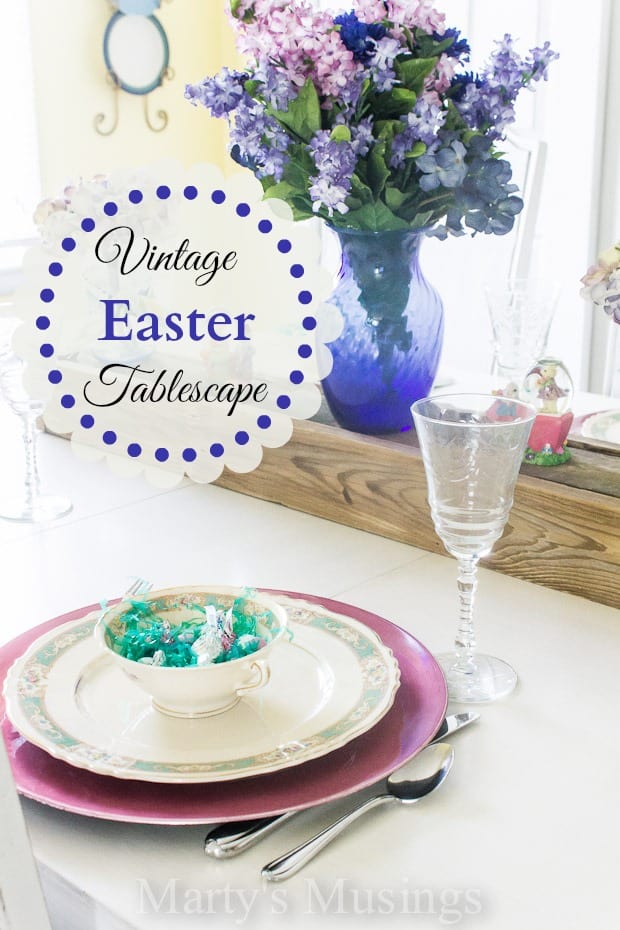 Other than a wreath on my front door this vintage Easter tablescape is the first sign of Easter in my home!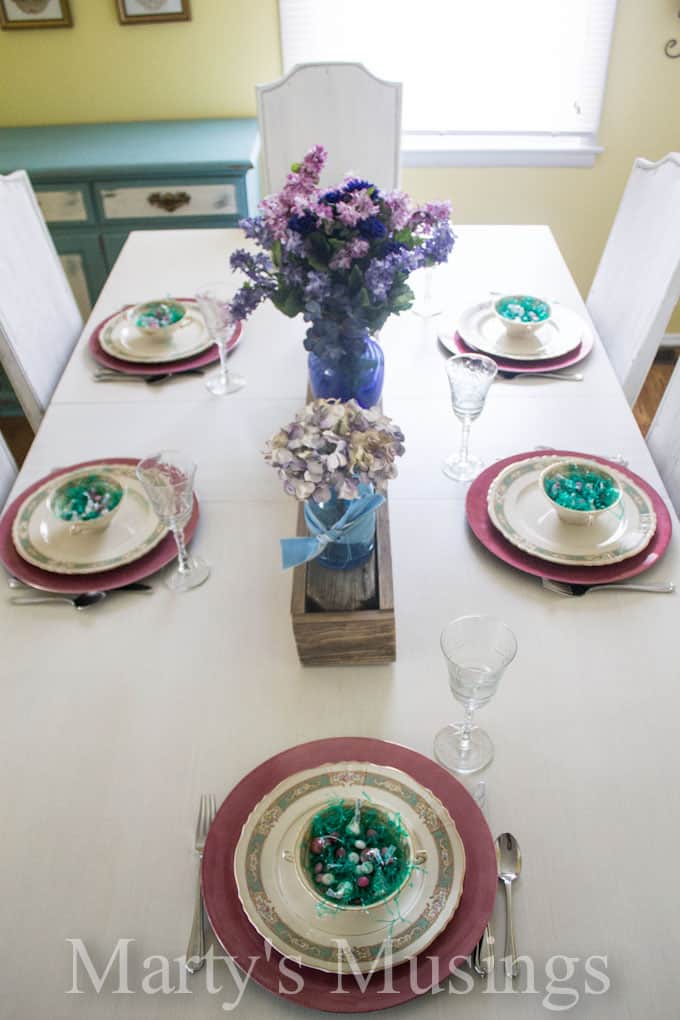 If you've been following along with our kitchen makeover you can see a sneak peek of our kitchen table and chairs makeover in these pictures. As usual, my DIY hubby did a great job!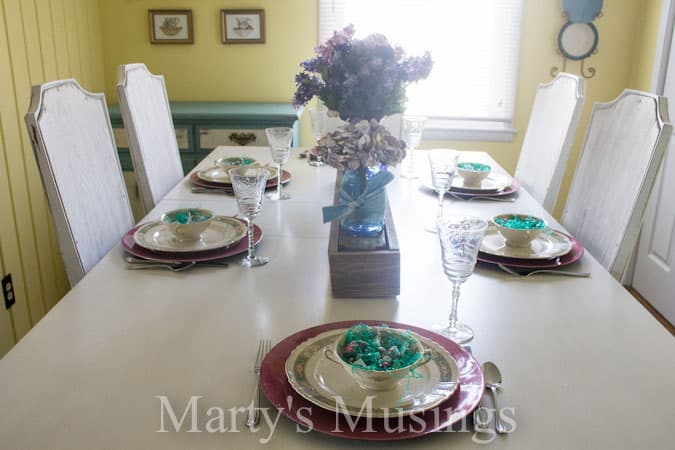 For my Easter tablescape I used pink/mauve chargers and my mom's china and crystal.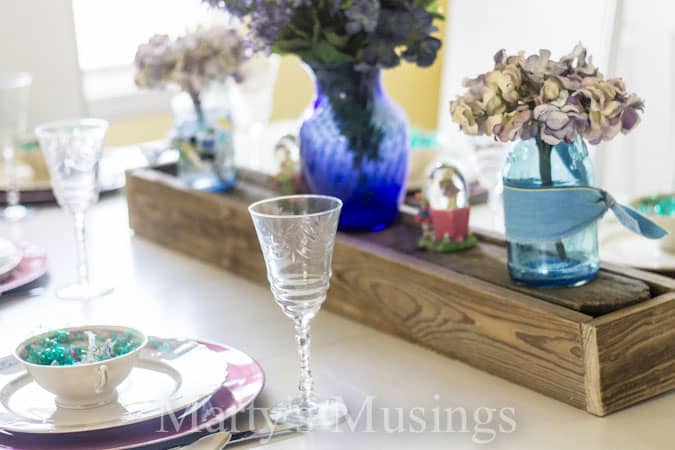 Do you recognize my favorite rustic box made of old fence slats?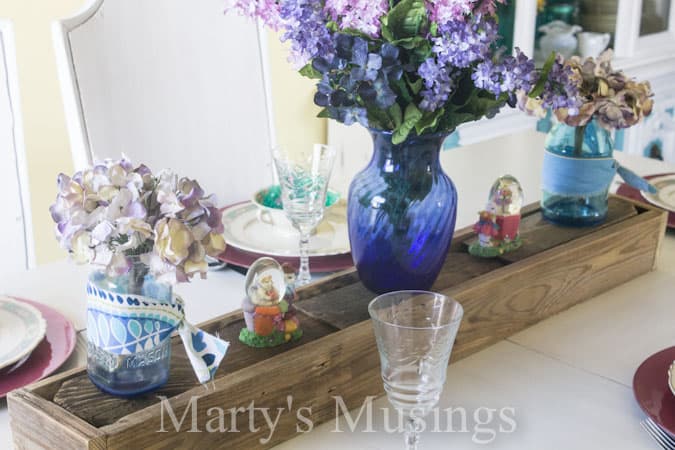 I used an old blue vase from my daughter's wedding and two glass jars I tinted blue to hold yard sale flowers.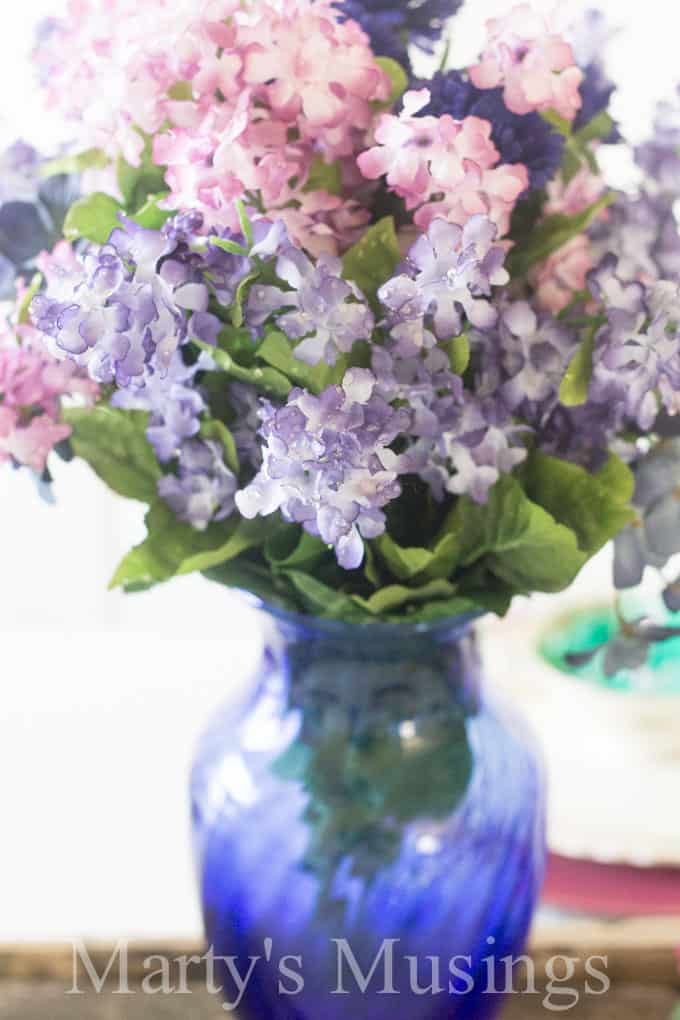 I wrapped the jars with strips I ripped out of leftover fabric used for the window treatments and chair covers.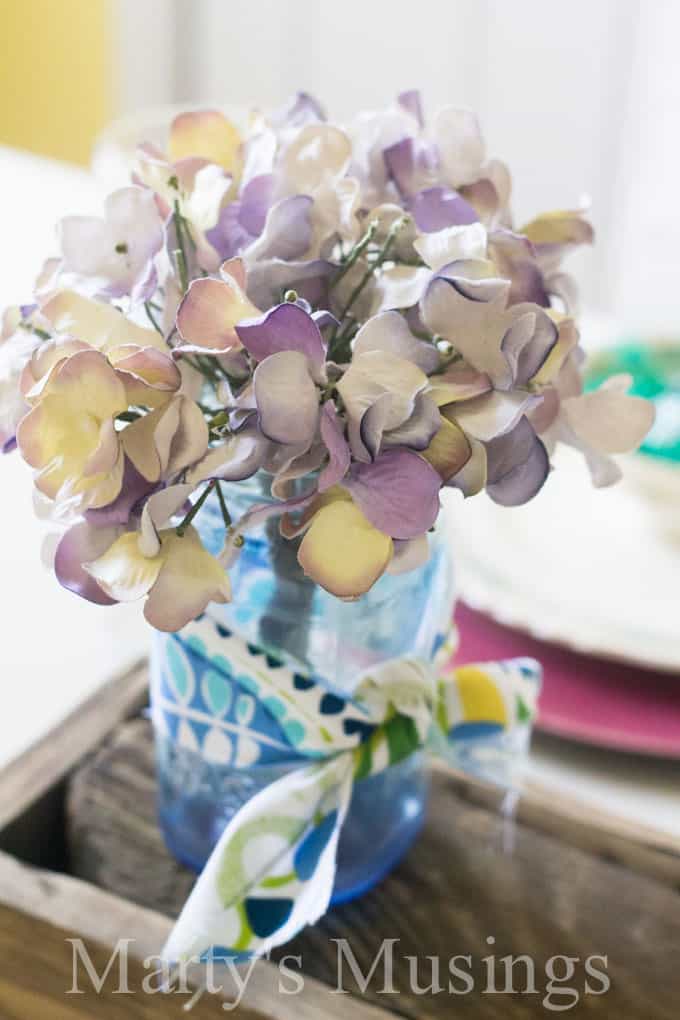 I am always looking for silk/paper flowers at yard sales because they are so inexpensive.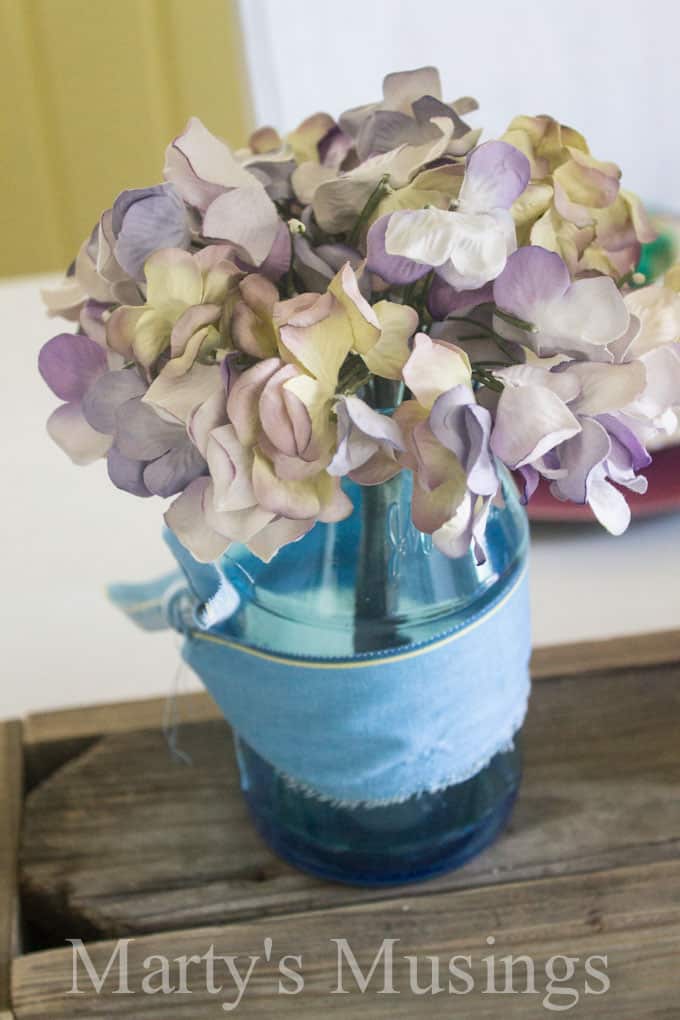 These two little bunnies were passed down from my mom and are the only knick knacks that give a hint of Easter rather than spring.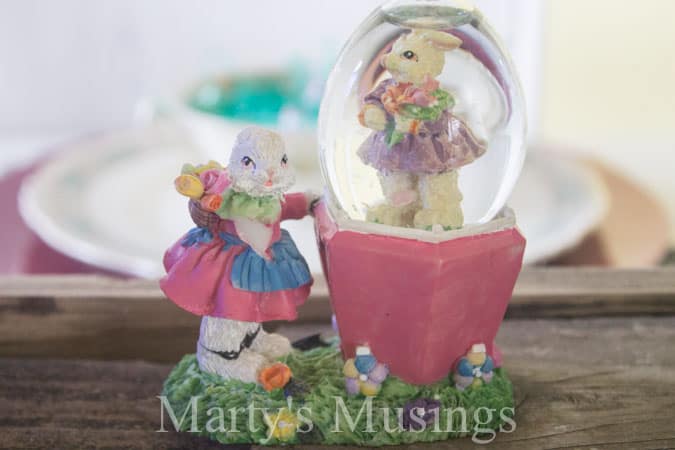 I decided to get creative and use china soup bowls and fill them with Easter grass, kisses and m&m's (picked out from 1/2 off Valentine candy!)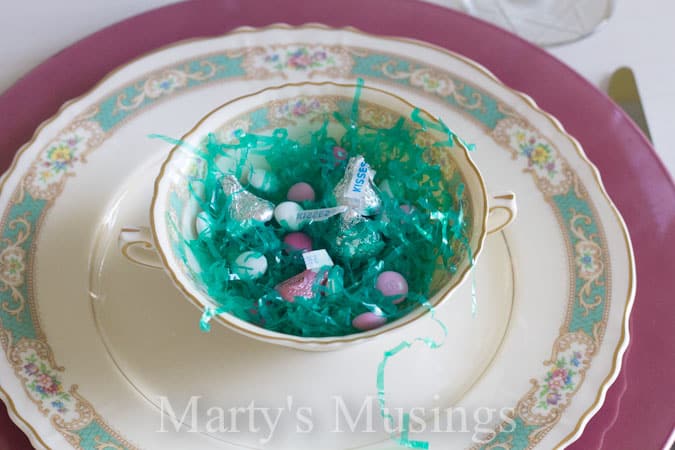 You can see the vintage details in my mom's china.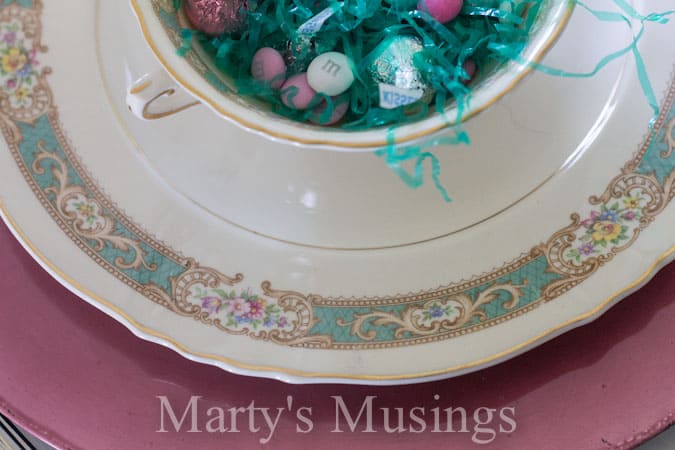 I have debated whether to sell or hand down my mom's crystal because it's not something I use often. I think, however, I want to keep it as long as I have space and continue to entertain. It adds a beautiful touch to the table and the only downfall (for the men in my family) is that it doesn't hold enough drink!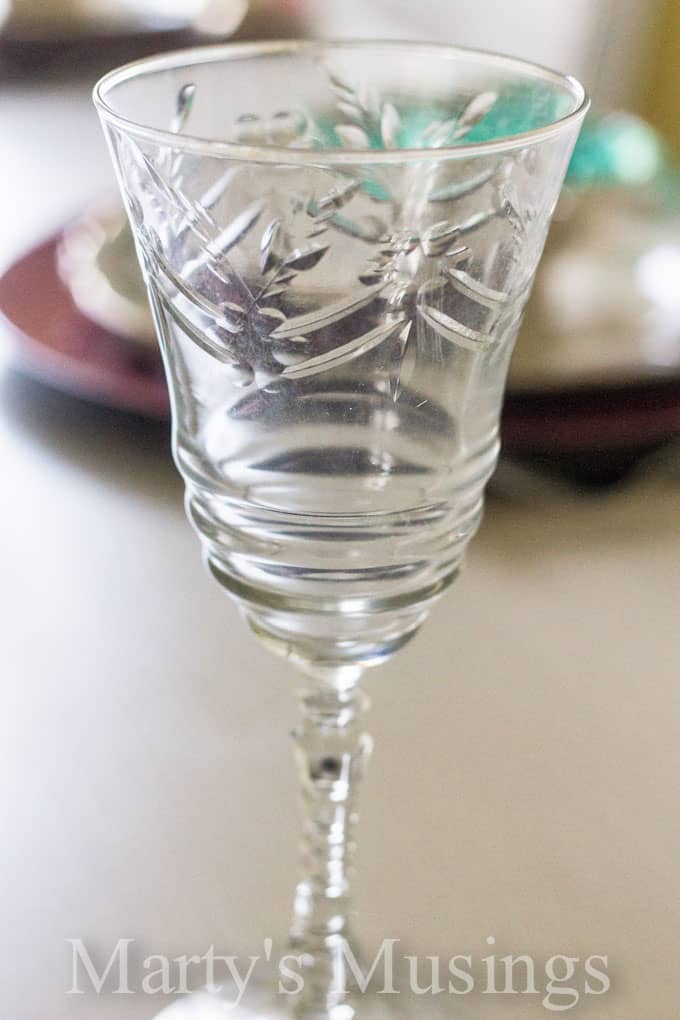 Now I'm going to ruin this glance at my "perfect" life. Since we had our family Easter dinner at my niece's house last week there were only four of us left at home for Easter day. For the first time ever I didn't even haul down Easter baskets and fill them with eggs. I simply put the kids' candy in a bag and gave them a $10 present of their choice.
Our dinner using the fancy china? Leftovers and pizza. But it was pretty and we were together! Isn't that what cultivating a heart of beauty is all about?
Want to see more of my favorite tablescapes?