Can You Really Decorate with Aqua and Red?
This post may contain affiliate links which won't change your price but will share some commission. Read more here.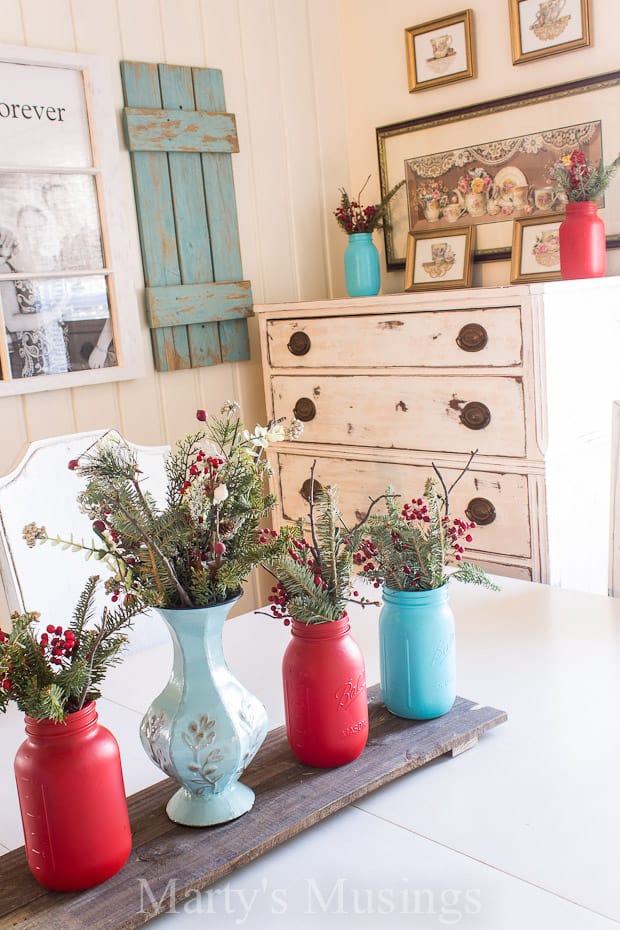 This past Christmas blogging wise didn't turn out like I expected. I had lots of great ideas and even a lot of photos but no time to put it all together. (You can read the crazy story here.)
I put together a beautiful aqua and red Christmas tablescape but blogging about it just didn't happen. (You can always pin it for next year!)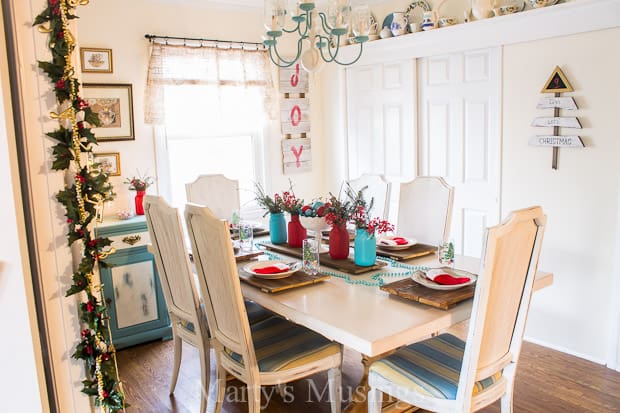 Funny thing, though. I loved the color scheme so much I decided to incorporate it into my kitchen makeover.
Our kitchen has been a work in progress over the last couple of years, beginning with our chalk painted hutch.
Then there was the mason jar chandelier, painted kitchen table, fence board backsplash and kitchen buffet.
Our latest DIY has been new countertops, kitchen sink, faucet, backsplash and painted cabinets are all part of the reveal I'm working on, but let me say how much I love it so far!
I absolutely adored our bright yellow kitchen, but the color didn't go at all with the countertops we picked.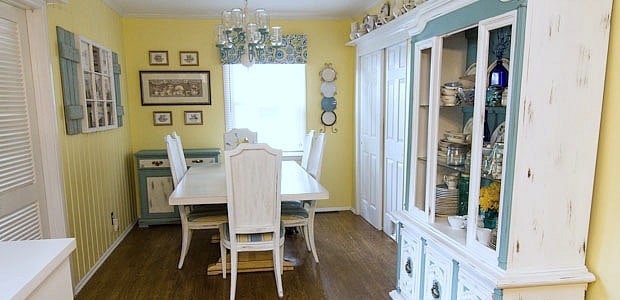 My handy hubby painted the walls not once, but twice (and that's a whole 'nother story!)
Here's just a teaser of the dining section of the room. I can't wait to share all the details on the chest I found on the side of the road and the burlap no sew curtains.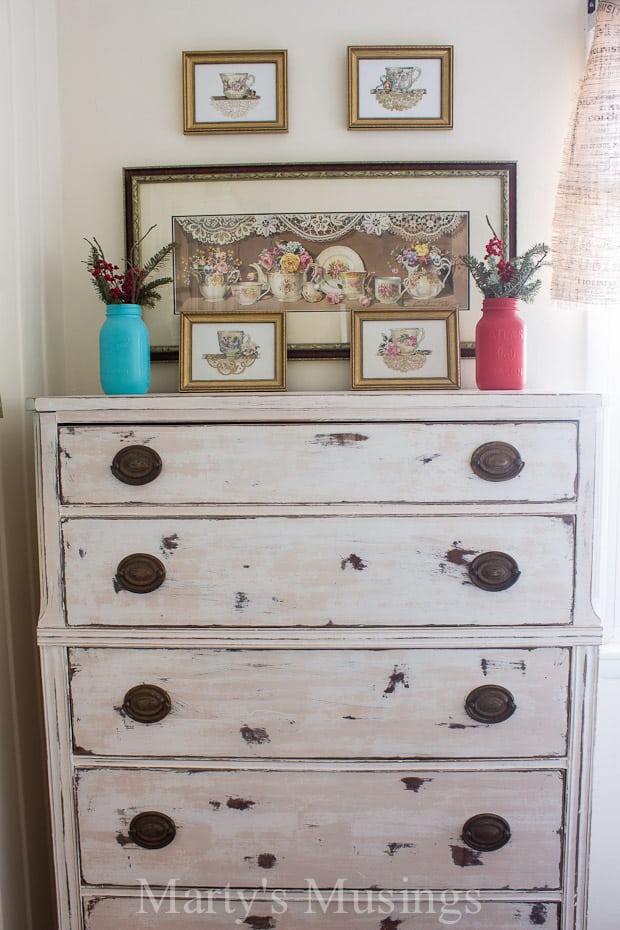 I loved this room before but I'm just crazy about it now!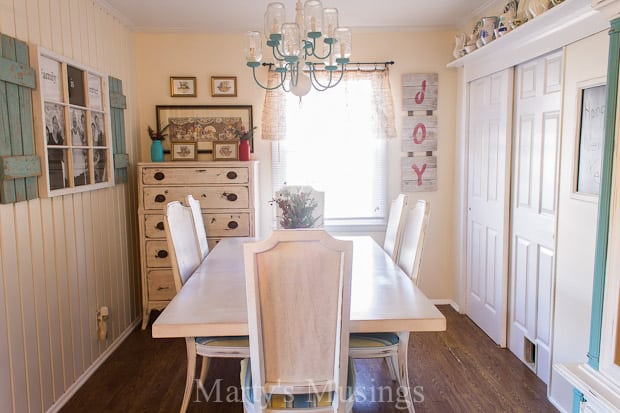 I'm now working with a neutral palette (no more in your face yellow that I absolutely loved go bold or go home longest run-on sentence ever!)
Bringing red into the kitchen just makes my heart sing. I'm definitely more of a bold color girl but I'm learning to use it more in the accents and accessories and not always in wall color.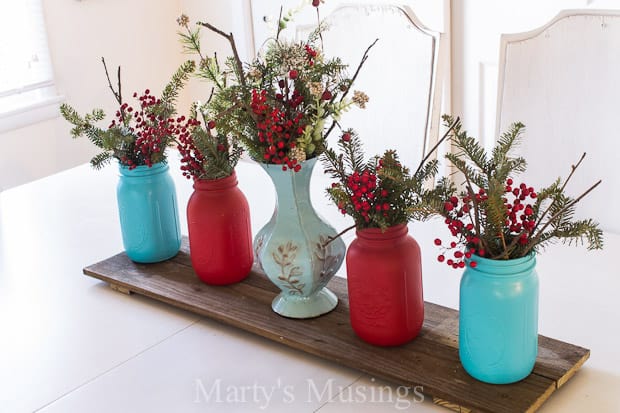 (Except for the purple here. Yes, I still love it. No, my husband isn't repainting it anytime soon!)
Since I'm not a decorator for real (I just play one at home ~smile~) I'm still discovering what works and why.
When I first mentioned where I was headed in the kitchen Tim just rolled his eyes but said nothing. He's learning to trust me to figure out what I love and how to make it work in our home.
This centerpiece was so simple to put together with spray painted aqua and red mason jars. I used branches clipped from our Christmas tree, sticks and red berries from a neighbor's bush.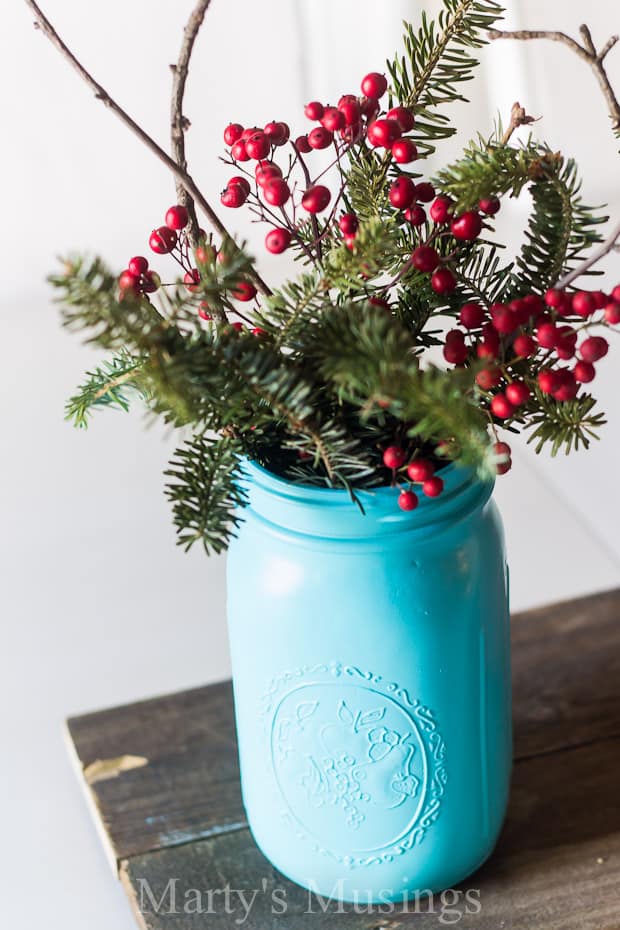 I'm going to replace the chair covers when I find the fabric I'm looking for but for now this end of the room is done.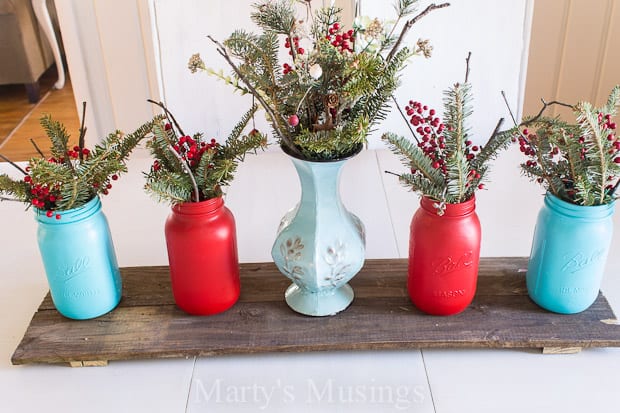 I left my Christmas Joy sign up because it reminds me to seek joy everyday.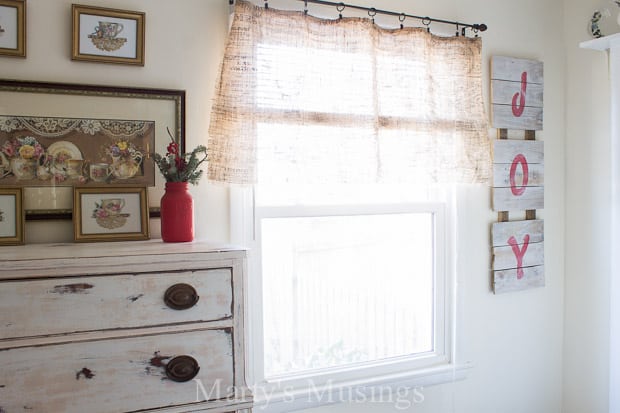 What do you think? Do you like it better now or before?