Welcome to my home tour! I'm honored to share a look into our well loved, hard working home!
Nothing fancy or expensive, just a lot of elbow grease, hours of Pinterest gazing and frugal shopping thrown together with many budget DIY projects.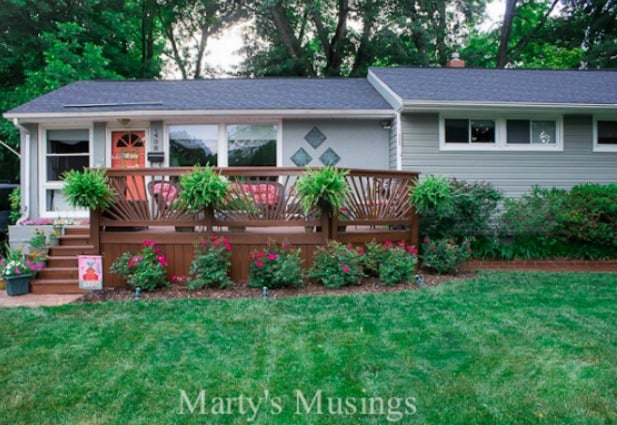 Our home is not big, fancy or new, but as our children have begun to leave the nest we've worked hard to transform each space with maximum efficiency while stamping our own signature style in each room.
I love yard sales and thrift stores, and the better the deal, the happier I am! If you're like me, you want to find a less expensive and more practical way to make your house a home. I hope you will find some inspiration below.
My Home Tour
You can see all the details on my budget decorating on our front deck and how we transformed our dated 1950's ranch home to one with curb appeal.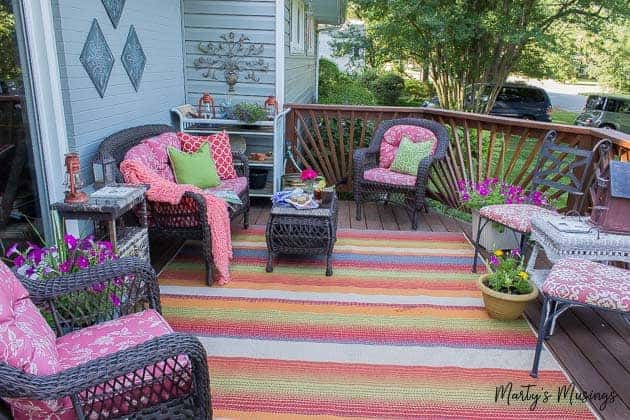 Our biggest transformation consisted of completely gutting our kitchen (which included taking down a wall between our kitchen and living room).
You can read about how our small ranch home kitchen remodel began (it was one heck of a conversation!) and how to save thousands of $$$ on a kitchen remodel. The transformation is ah-mazing!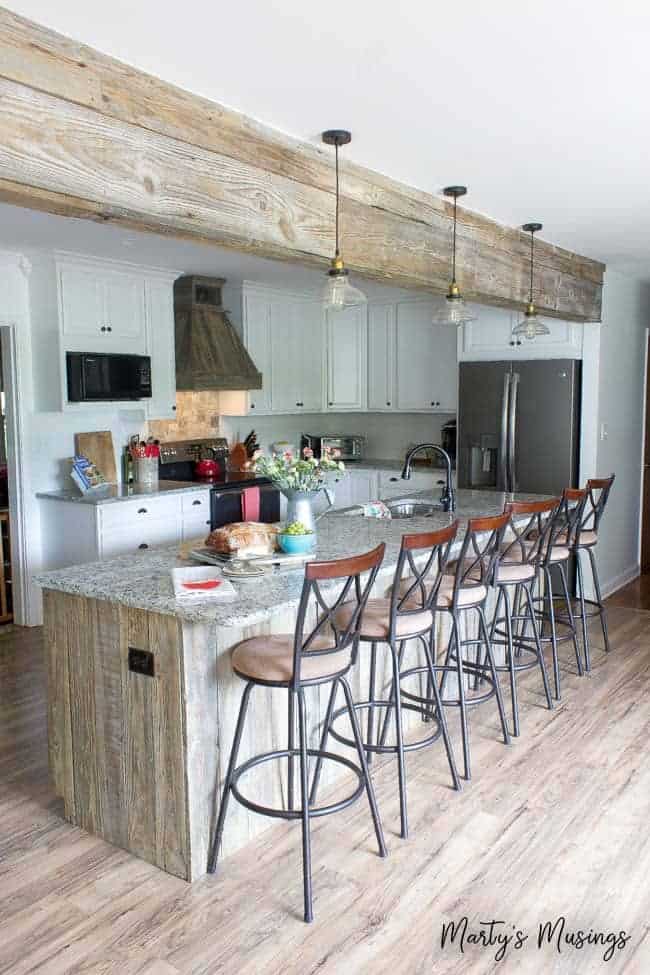 Our master bedroom is a recent project and contains a bit of my heart and soul.
Our second biggest project was totally gutting and remodeling a small bathroom. You can read all about the process and see the reveal here. (FYI: It's all pretty and farmhouse style now!)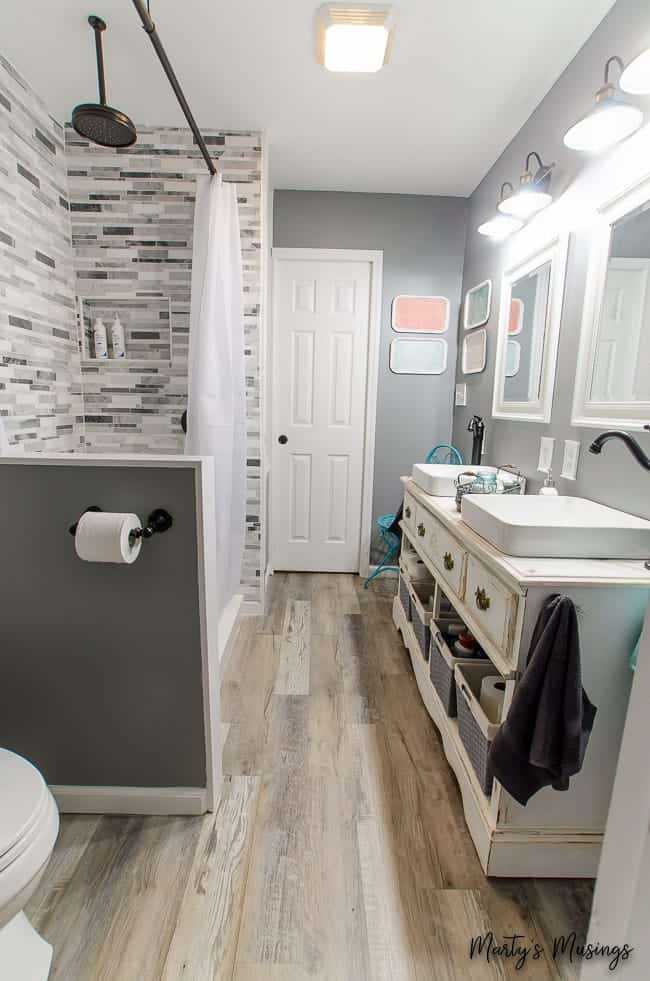 Since I work from home and am also a crafter, I have a craft room/office nook that makes me happy! You can see how we turned a closet into a home office in a room that also still has a twin bed and tons of craft storage.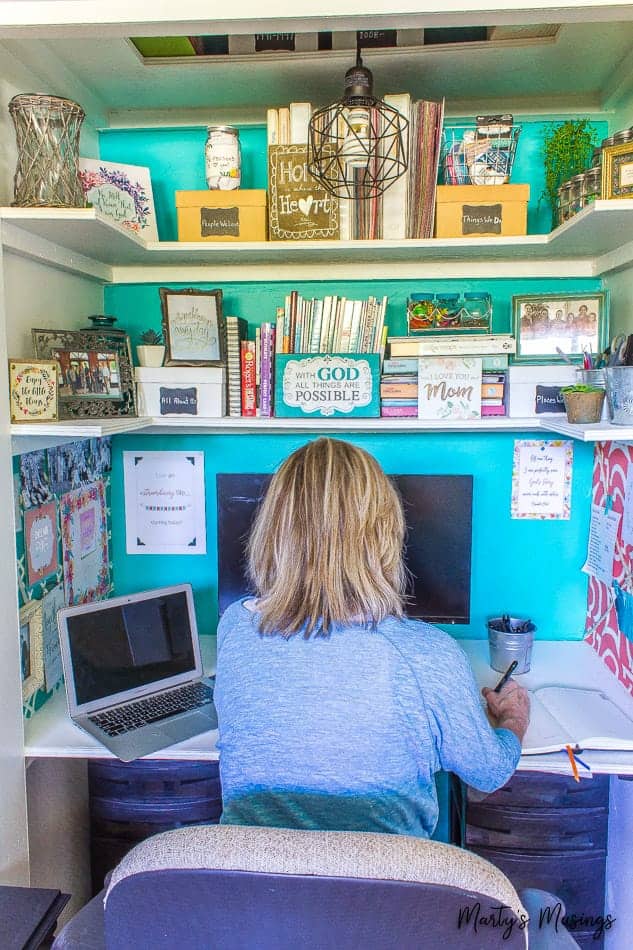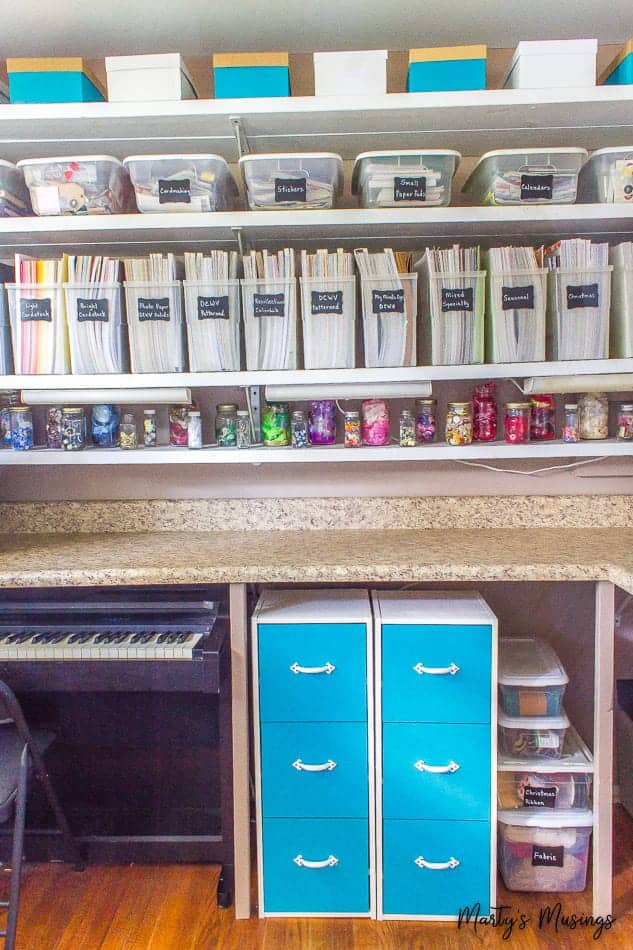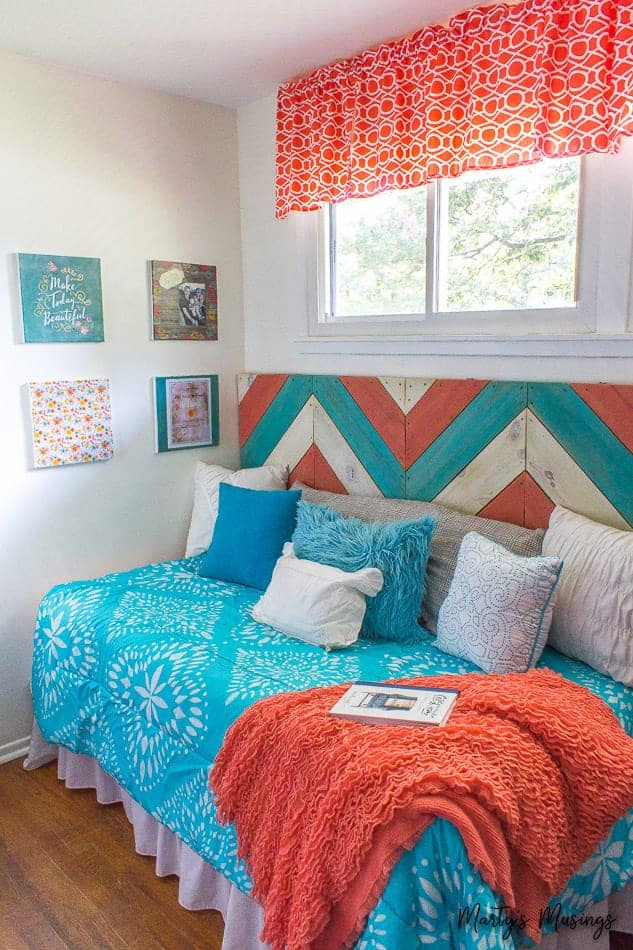 Our master bedroom contains a bit of my heart and soul. With the exception of one or two items, everything (and I mean EVERYTHING) is either a DIY project, a yardsale find or a hand me down. (Read all about how I decorate for practically nothing in this post.)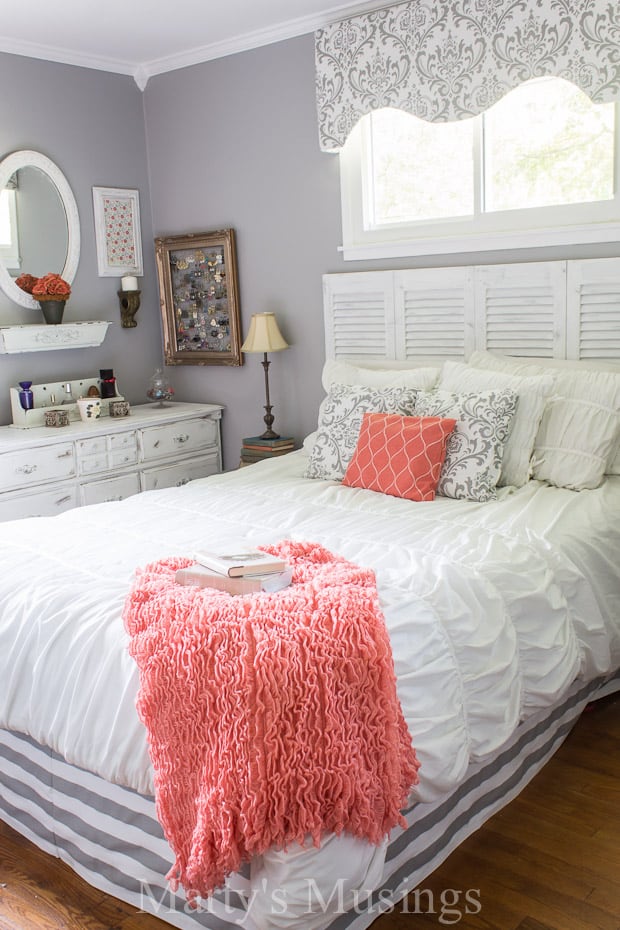 I transformed my son's teenage bedroom into an inexpensive coastal retreat. You can read all about the beginnings of the makeover here, the design inspiration here and this fabulous DIY plank wall with chalk paint!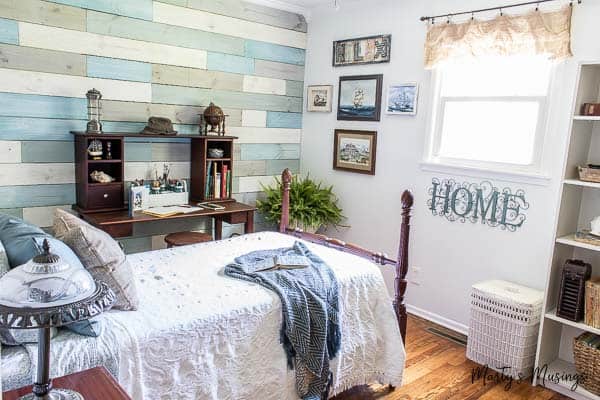 Our den makeover resulted from taking up 20-year-old carpet and installing Pergo flooring. The red was definitely a stretch for us, but I love the bold color set against the wood flooring with the family gallery accent wall.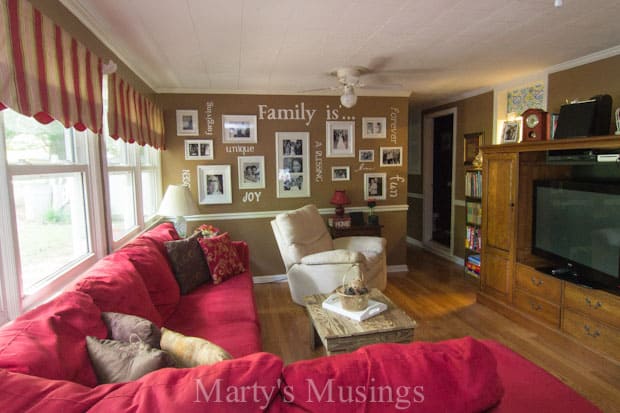 Before I created an office in my craft room we built this organized and thrifty home office nook with a DIY bulletin board and industrial pipe shelving.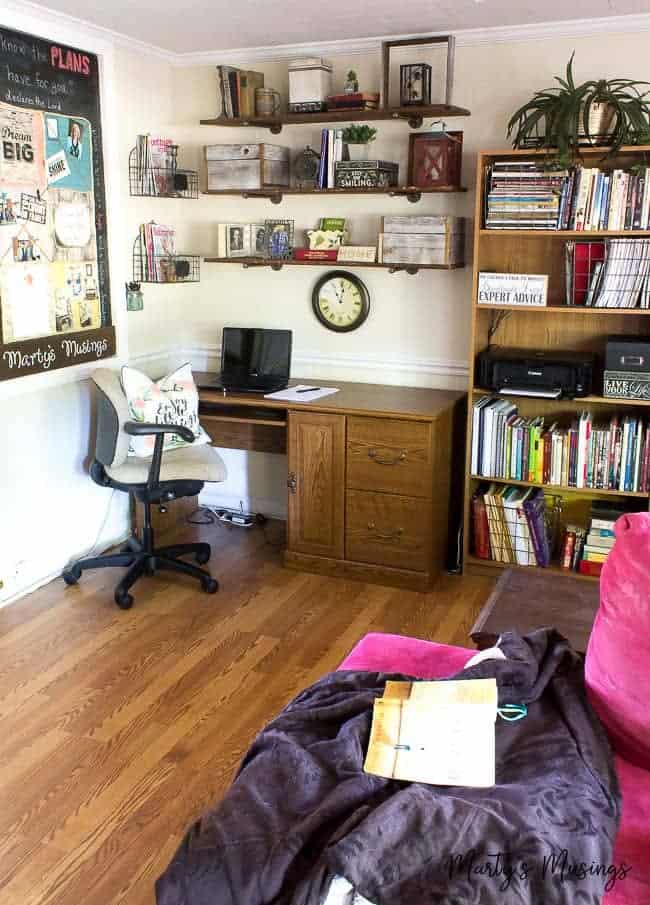 Last but not least, we gutted our first bathroom minus the toilet and tub. DIY projects combine with thrifted decor in one of our most challenging projects ever.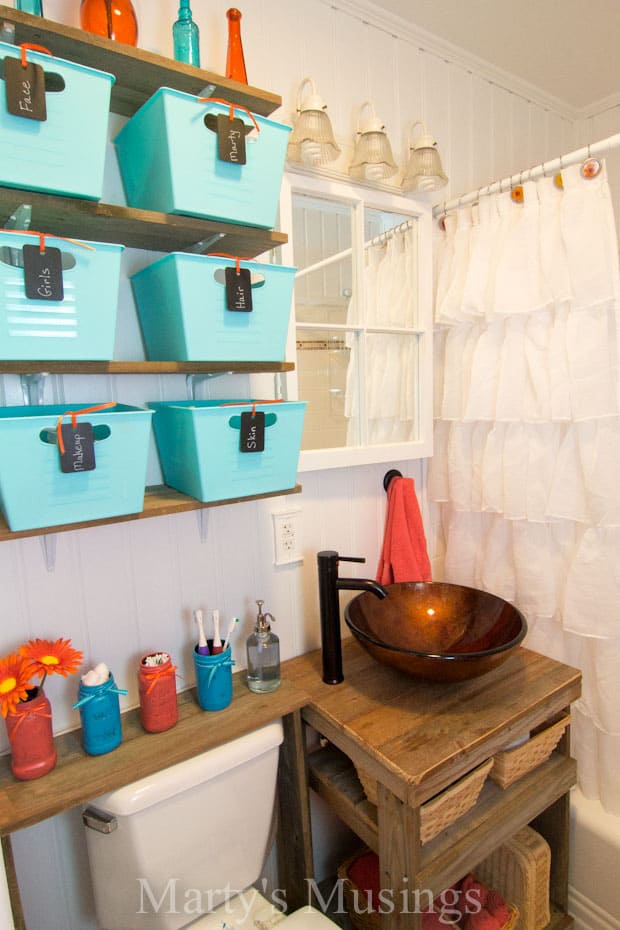 Here you can see my teenage daughter's room and inspiration wall where she is reminded of her value every day.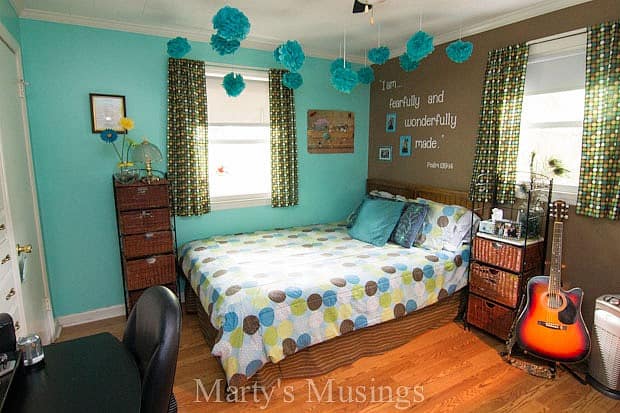 Want to see more? I love to decorate for Christmas and you can see my 2017 Christmas Home home tour here.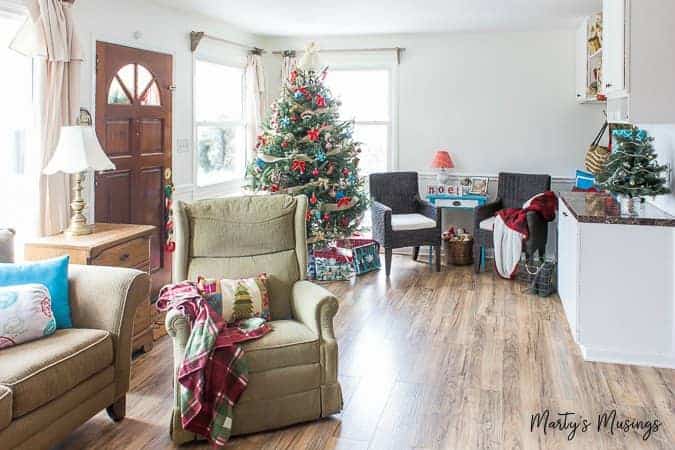 Rustic decorating is my style and you can see it in my Christmas kitchen here.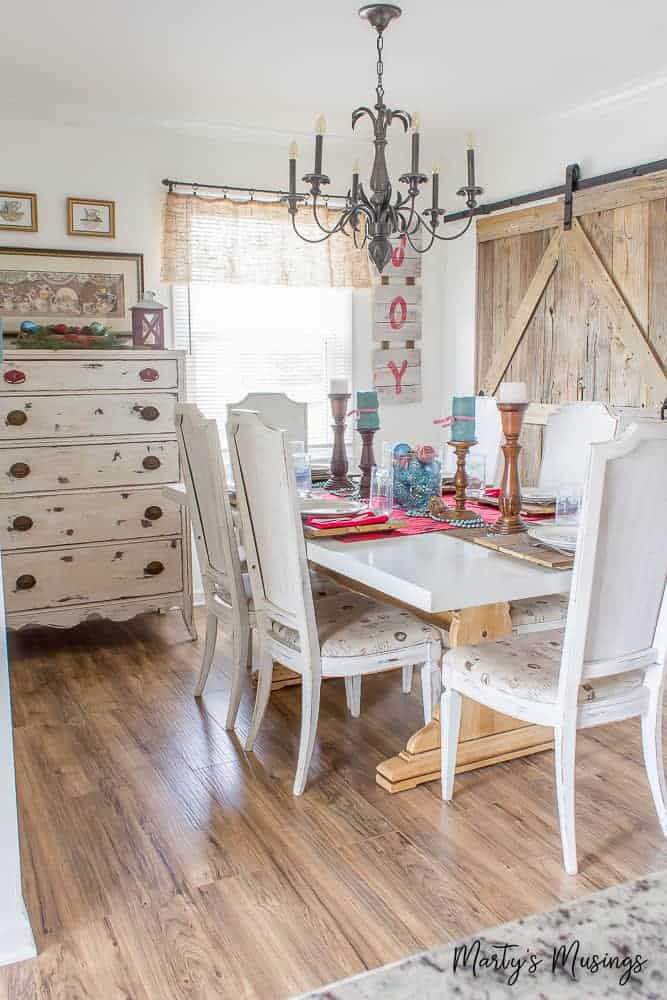 So there you have it! A lot of hard work combined with a little ingenuity, hours of plotting and planning and a desire to repurpose on a budget. Hope you enjoyed my home tour!
SaveSave
SaveSave
SaveSaveSaveSaveSaveSave