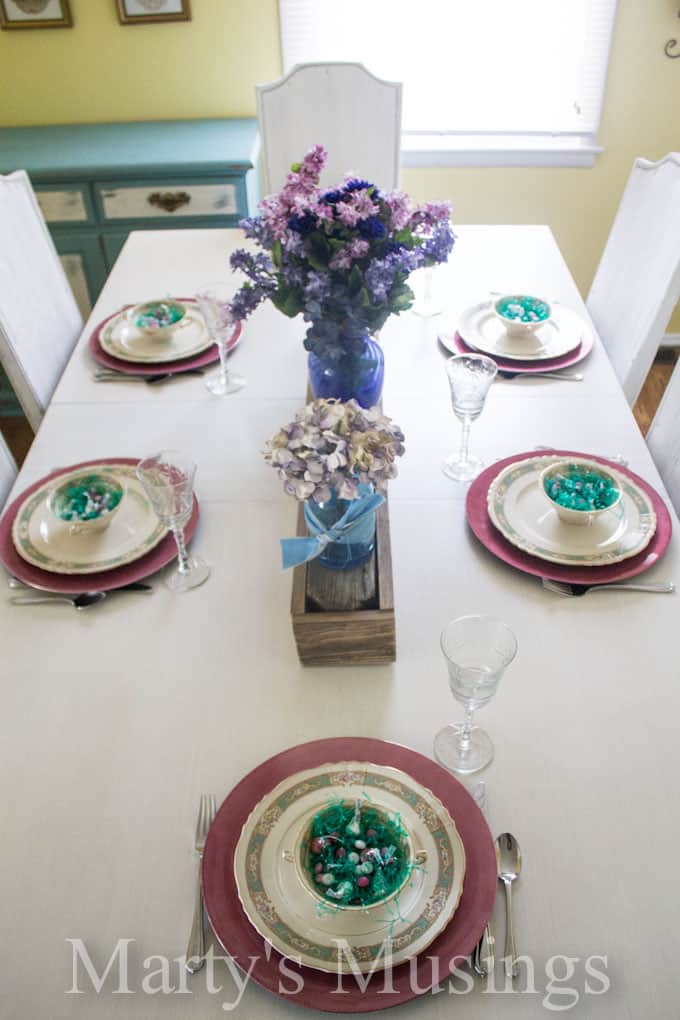 {Follow me on facebook for all my latest DIY projects!}
(If you like this post, you'll love the tutorial for part two!)
Our kitchen table has seen better days. I bought it for $150 (including 6 chairs) at a yard sale many, many years ago.
It is tired, having seen five children through homeschooling, games, dinners, puzzles and conversations.
I even applied for a makeover on a talk show for our lovely table. I sent them this picture. Don't you think they should have helped me?
Watermarks, scratches, pencil art. This table has been well loved.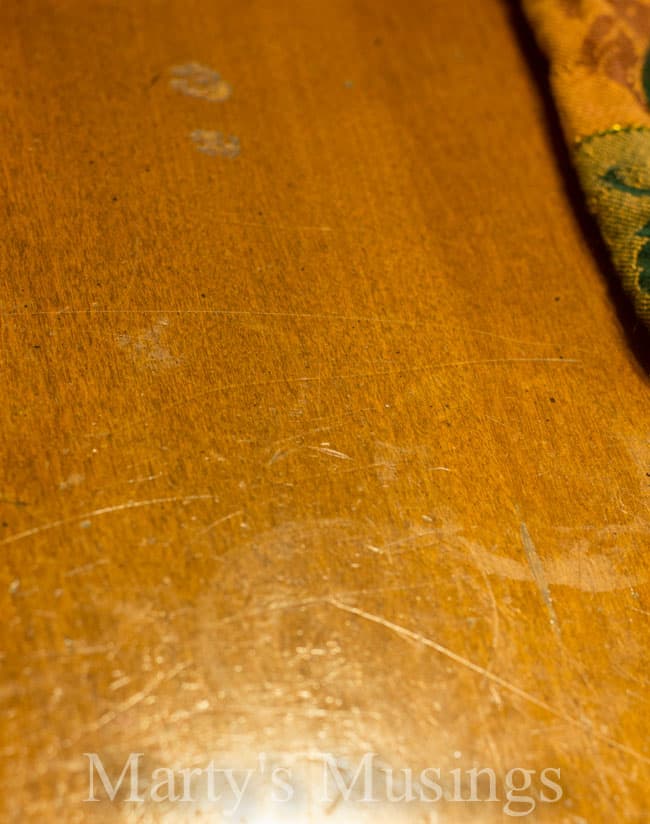 It was time.
Time to give this solid wood table a fresh look.
As usual, I enlisted my DIY hubby and after hours of debating tables and chairs he finally decided to give it a go with the table that has grown old along with us.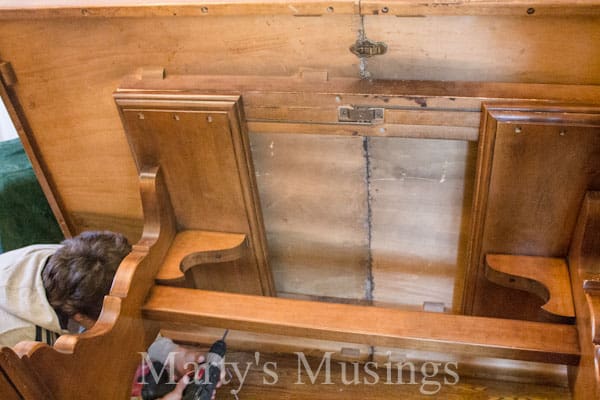 From Tim: Two factors mandated the decision to do this project out on the deck; the size of the table and the fact that we had to sand down to bare wood in order to achieve the option to do whatever we were going to do. That's right – I began this task with no idea where I was headed. I only knew that anything would be better than what we had!
So, we began to dismantle the behemoth and haul everything outside. The weather was perfect. The first step was to use a grinder to remove as much of the finish as possible without damaging the wood. This is the tool with a 60-grit pad on it; that's basically gravel glued to a circular disk! It makes quick work of anything, but you do have to be careful not to go too deep.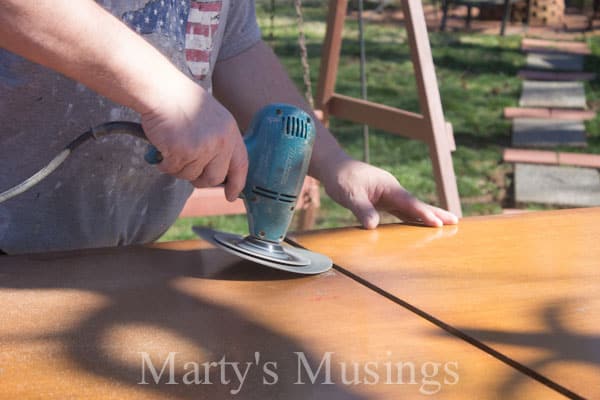 Because the grinder did leave swirly circles in the wood, we went back over the entire surface with a palm sander and 80-grit paper. This was just enough to even out the surface, revealing a really beautiful pine surface…exactly what I didn't want.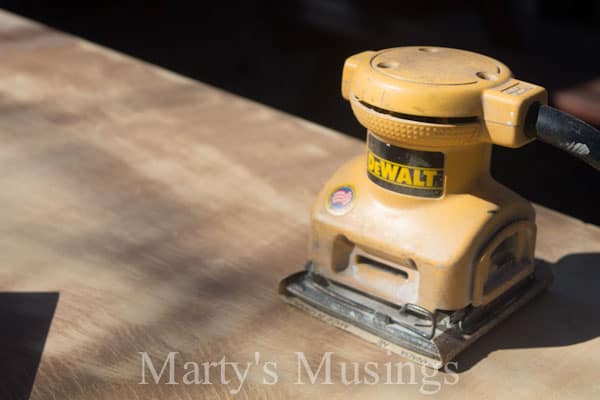 Here's the team working together; me on the grinder and our youngest son on the sander. Perhaps the biggest danger in a project like this is hitting the wall and getting sick of sanding. But once you make that first pass, you are committed. This big flat surface wasn't too bad, but the story changed when we moved down to the base.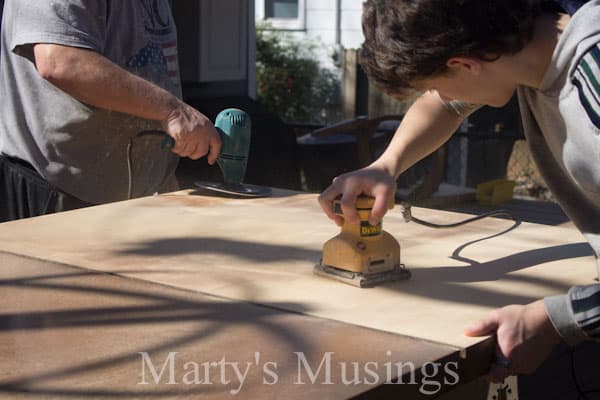 With no other choice, we flipped the base on top of the over-turned top to use as a workspace and started over. This was MUCH more tedious and difficult since we had curves, crevices, and sharp stops. There were, indeed, areas that had to be hand sanded and remained darker than the bare pine. However, this actually added some character in the end.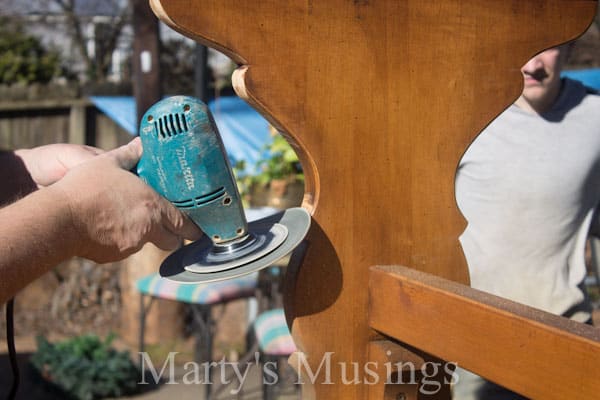 You get an idea of the variance in the surfaces. We also had to be mindful of the fact that we were working upside down; what we couldn't see as we sanded would be easily seen when the table was flipped over. But, again, I still didn't know how I was going to finish the table.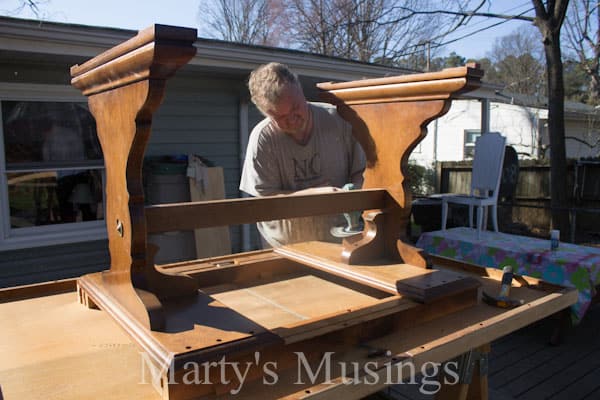 Progress, but still not finished. See the swirls from the grinder? The palm sander takes care of those.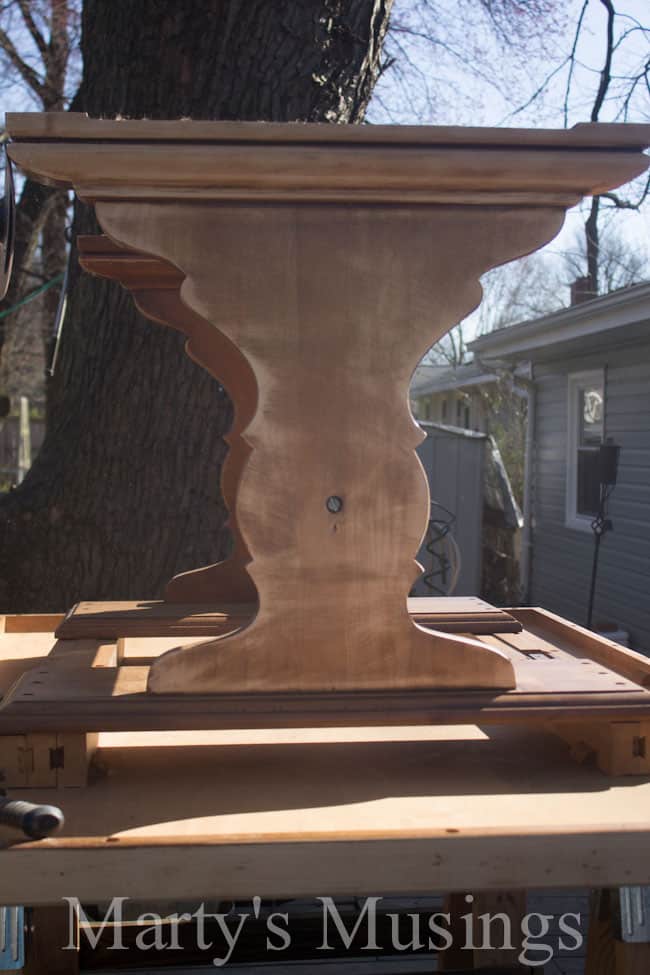 And here is the palm sander operator doing his job!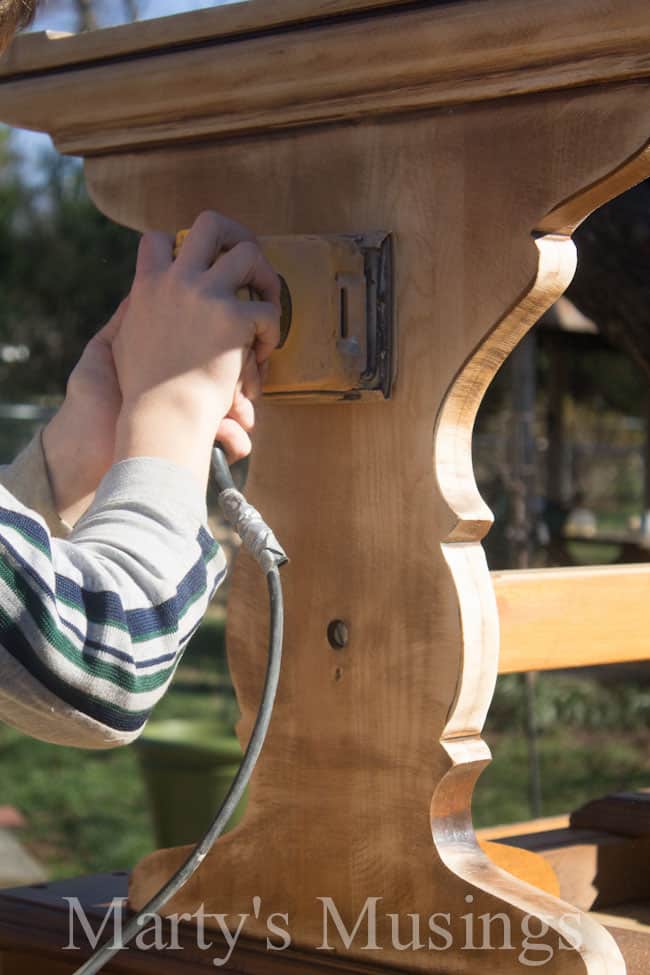 Before it was all over, the table was completely dismantled. I hadn't intended to do that, but it was clear that the more access we had to each nook and cranny, the better the result. It was a good choice and allowed for a suitable result.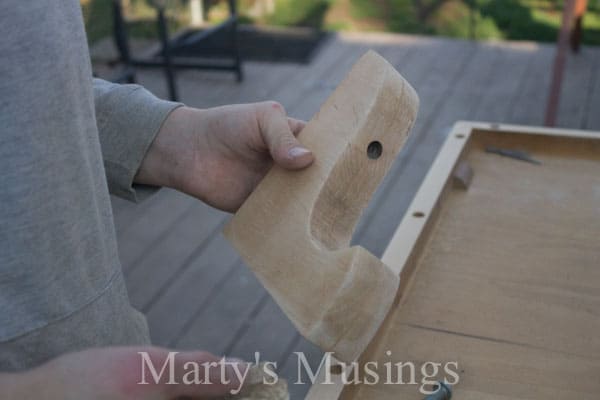 Here's some detail work, but I was really liking the dark color in the corners and valleys, especially in contrast to the light pine.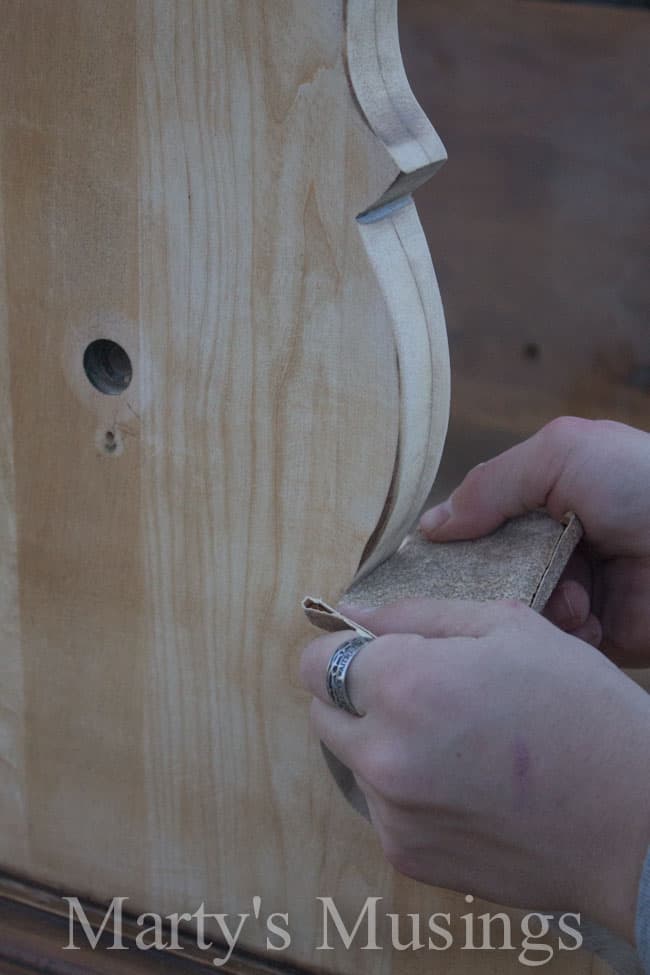 Getting close! These pieces are done and just waiting to be re-assembled.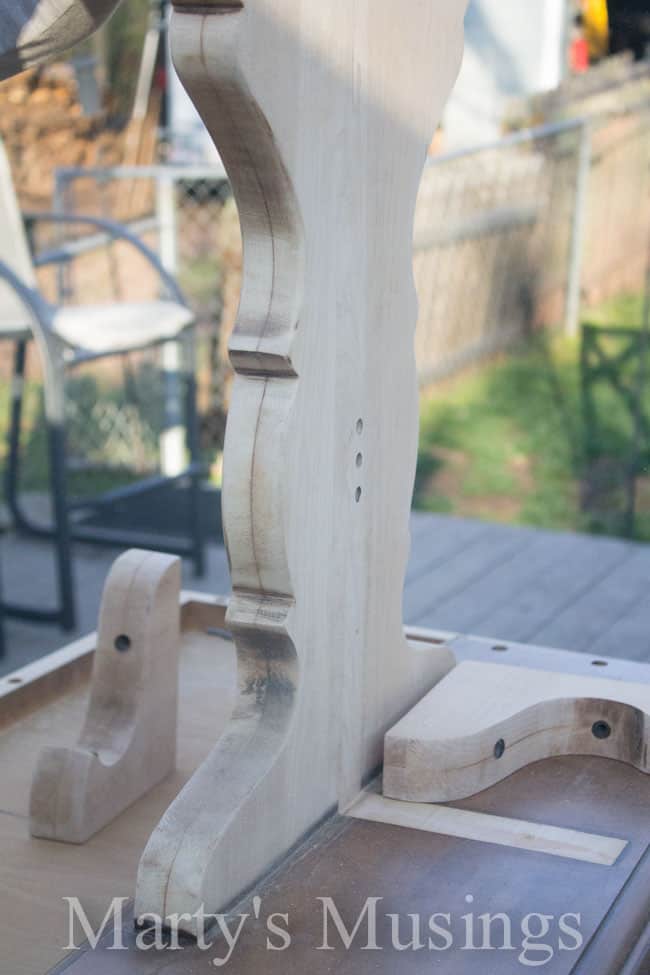 And this is the stripped table, top to bottom! It was attractive…in an unfinished, unattractive pine sort of way. But there was no way this was going to work with the kitchen makeover already in progress. This would end the outside work, since I decided to re-finish inside. Too many birds, bugs, critters, pollen and dust.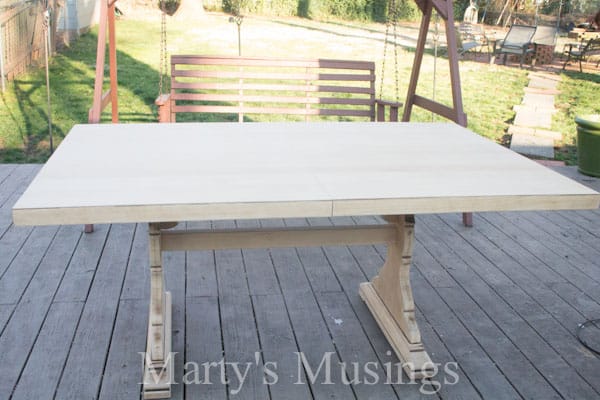 Tools – the most important part of a successful project. These three have more than paid for themselves…but I always relish putting the grinder away!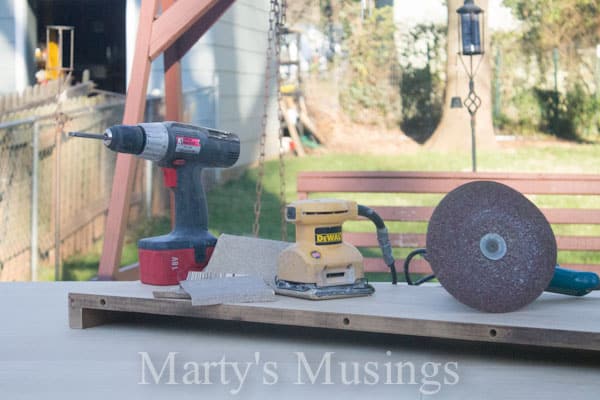 Because this post is so long and picture heavy we'll stop here for now. The finished product below is worth the wait, both for you and for me! Next time we'll go inside the house for the "rest of the story!"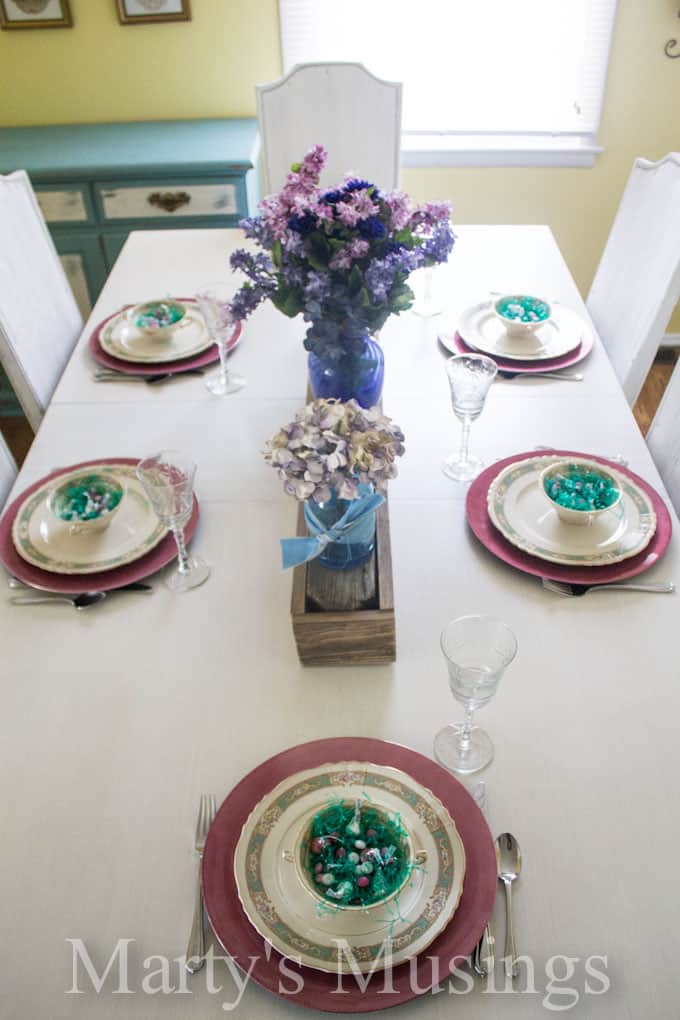 Ready to see Part Two?
My hubby has written great tutorials for our Mason Jar Chandelier, Chalk Painted Hutch, Fence Board Backsplash and small Kitchen Buffet. He also writes an Ask Tim column for his many DIY tips. Have a question for him? Leave it in the comments and he'll give it a shot!
Linking with: Today's Creative Blog,, Crafty Texas Girls, Chef in Training, Savvy Southern Style, Stone Gable, 36th Avenue, Somewhat Simple, French Country Cottage, Crafty Scrappy Happy, Imparting Grace, The Shabby Nest, 504 Main, Chic on a Shoestring Budget, Serenity Now, DIY Showoff, Between Naps on the Porch, Skip to my Lou, An Original Belle, Inside BruCrew Life, Home Stories A to Z