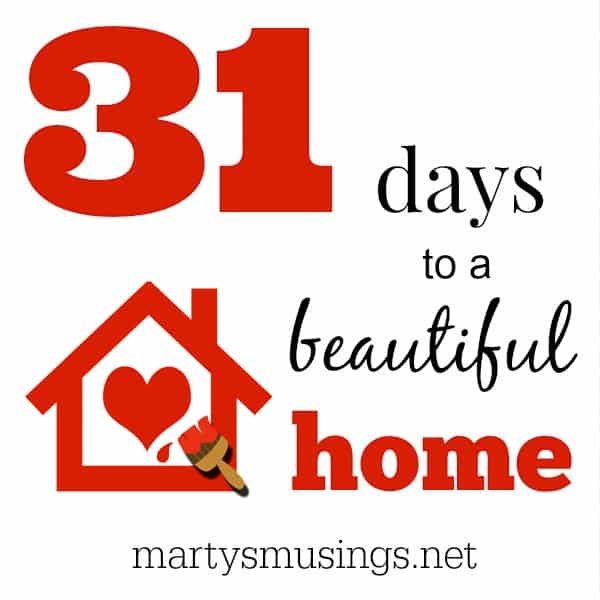 Welcome to my series of 31 Days to a Beautiful Home! Thank you so much for joining me!
Why am I writing for 31 days in a row, an idea that makes this A-personality, check list gal a little anxious?
Because I want to help you answer the question "what does a beautiful home really look like?"
My desire is to inspire you with our story of perseverance while parenting wounded children who stretched our hearts and lives more than we could imagine.
I hope to encourage you to change your idea of what home really is and embrace your life right where you are.
I hope to empower you to take small steps to change your family story one day at a time.
Are you ready? Let's get started!
Day One: Introduction
Day Two: House Tour
Day Three: 5 Ways Scrapbooking Will Make You a Better Mom
Day Four: 7 Easy Slow Cooker Soup Recipes
Day Five: Speak Words of Life
Day Six: Pumpkin Muffins with Streusel Topping
Day Seven: Dave Thomas Foundation for Adoption
Day Eight: Add a Touch of Fall Decorating
Day Nine: Why Take a Family Vacation?
Day Ten: Free Chalkboard Printable for Fall
Day Eleven: Easy Fall Table Setting Ideas
Day Twelve: "It is Well": Simple Gift Sunday
Day Thirteen: Baby Gender Reveal Party and Free Printables
Day Fourteen: Apple Pie Bars with Crumb Topping
Day Fifteen: Inspirational Home Projects
Day Sixteen: Easy Fall Vignette
Day Seventeen: What Does This Blogger Mom Do All Day?
Day Eighteen: 1000 Posts, a Piece of My Heart and a Giveaway!
Day Nineteen: Hillsong "Stronger": Simple Gift Sunday
Day Twenty: Inexpensive Fix for Your Decorating Challenges
Day Twenty One: Cookie Monster Brownie Cookies
Day Twenty Two: More Tips for Easy Fall Decorating
Day Twenty Three: Slow Cooker Potato Soup
Day Twenty Four: How to Stain Your Wood Deck
Day Twenty Five: The Day I Flunked my Homeschool Kid
Day Twenty Six: Bethel Music "We Dance": Simple Gift Sunday
Day Twenty Seven: Easy Fruit Salad
Day Twenty Eight: Family Blessing Jar and Instilling Gratitude
Day Twenty Nine: Christmas Mason Jar Labels, Printables and Giveaway!
Day Thirty: Simmering Homemade Potpourri
Day Thirty One: 15 Easy DIY Christmas Crafts and Ideas