Dogs Don't Eat Pizza Dining Room Makeover
This post may contain affiliate links which won't change your price but will share some commission.
Today my friend Karen from Dogs Don't Eat Pizza is sharing her amazing dining room makeover. She is a master at blending different styles and creating a relaxed home perfect for entertaining or just hanging out. She's also a fellow bargain hunter so it's probably good she lives a few hours away and can't fight me for treasures!
When we were going through one of our crisis situations last year Karen so sweetly sent food to our home and met a basic need while ministering to our hearts. This gal is a true friend so show her some love today, will you?
Hello! I'm Karen from Dogs Don't Eat Pizza, and I'm thrilled Marty asked me to hang out at her blog today!
My dining room had been a decorative disaster for me. I couldn't quite get the feel I wanted, which was a more casual, farmhouse, industrial, rustic, relaxed feel. I didn't want a formal room that we reserved only for special occasions.
Well, I finally got the farmhouse rustic industrial dining room I was going for.
It was a long time coming, for sure, but totally worth the wait.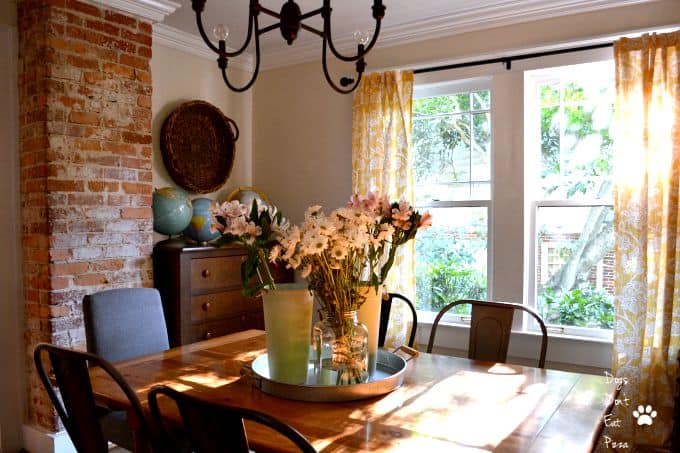 Here's the "before" of our dining room:
It was ok, but there were a few things I wanted to change:
Make it less formal, more rustic.
Move the buffet out of the room or at least away from the window. It blocked a lot of light coming in.
If we moved the buffet out of the room, then I needed to add more storage.
Add color!
Here's the after:
To make the room less formal, I sold the end chairs that were a more formal style and also the lamps that were on the buffet. I loved the color of the lamps, but they were too traditional-looking for what I was going for here.
I also removed the big mirror from the exposed brick chimney. No reason to hide that gorgeous brick. I'd rather have the rustic brick be the focal point, not a wood-framed mirror.
The buffet is now gone! Well, it's actually in our office now as a credenza for storage. I love how there's so much more light in this room without the buffet blocking the window.
The buffet is the perfect credenza in our office (more on that later!). But now that we moved the buffet to the office, we needed storage in the dining room.
This chest was on the other side of the room before, but it's the perfect size for this wall space. Like it was built to go there. I added my globe collection because I love my globes and want them front and center in our home.
This chest holds tablecloths, bar tools, and some serving pieces and utensils. For the larger stuff, though…
…we have this! I have swooned over this cabinet from World Market for years. With the buffet moved, we had the perfect place to put it and it is the perfect storage piece for this farmhouse/rustic/industrial dining room!
That's the kitchen sign that was above the sink in the kitchen, but was too big there. I added the metal basket frame from the Ballard's estate sale and some milk bottle vases from Scott Antique Market.
And color! With all the gray metals and wood, this room needed color. So, I added yellow floral curtains.
They are perfect. They really soften the room and add a beautiful, bright pop of color.
I was going to change the rug in this room – from gray to something with some color to it – but ultimately decided against it. This rug is where Bear slept every night, once she couldn't get up the stairs anymore. Now that she's gone, I can't bring myself to replace it. So, it stays. And it works fine in here now with the new elements in the room.
I LOVE THIS ROOM, y'all! I never thought I'd say that about a dining room, but I do.
I wanted a space with farmhouse, rustic, and industrial elements. I have all of those here: metal chairs, a metal storage cabinet, wood chest and table, vintage globes, a graphic rug, and colorful floral curtains. Plus, I love the different textures in this room: the metal, the wood, the wicker basket, the soft rug and curtains. It just works. I love it.
I'd love for you to see the rest of my home!
And, now that we're friends, follow me on social media!
Thank you again, Marty, for inviting me over!